What's PoCOM
PoCOM is diagnostic tool for Porsche. It supports all OBD2 compliant vehicles since 1996. We tried to maintain compatibility with PIWIS and PIWIS II dealer tools where possible. Also people who use VAG-COM/VCDS® or used Durametric scantool will be familiar with the application.
PoCOM comes with OBD2 to USB interface and is designed to work on Windows 2000/XP/Vista/7/8/10 or Linux or Mac OS/X (using Wine emulation). Hardware requirements are very low compared to dealer-tools.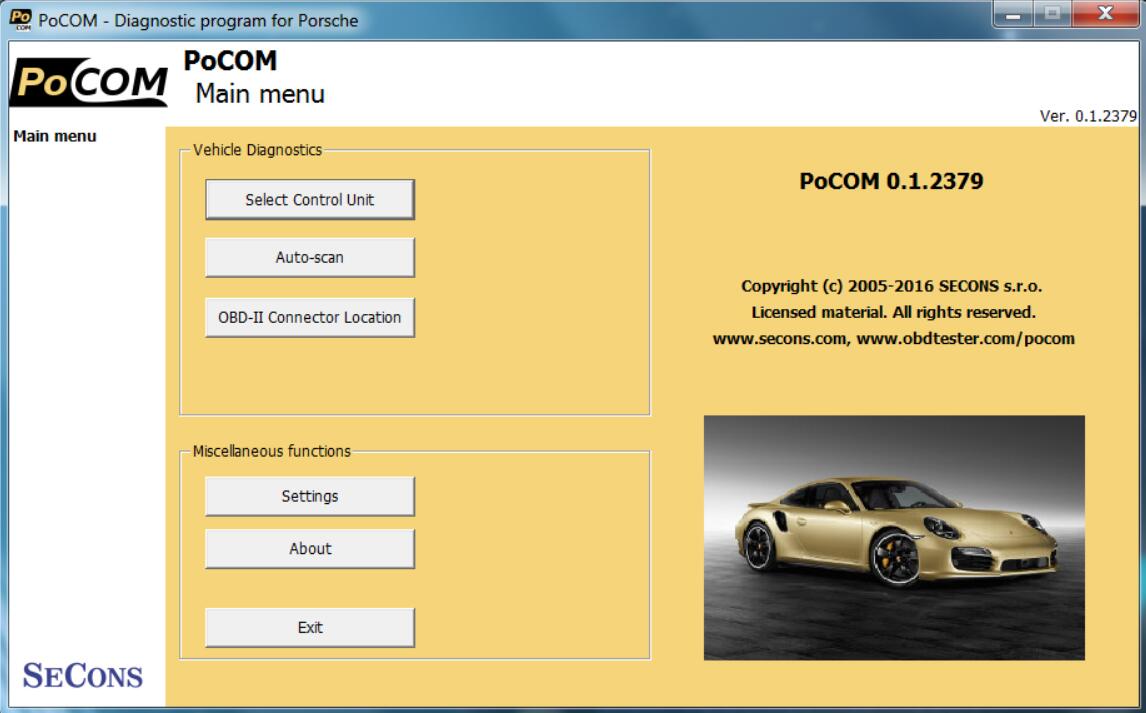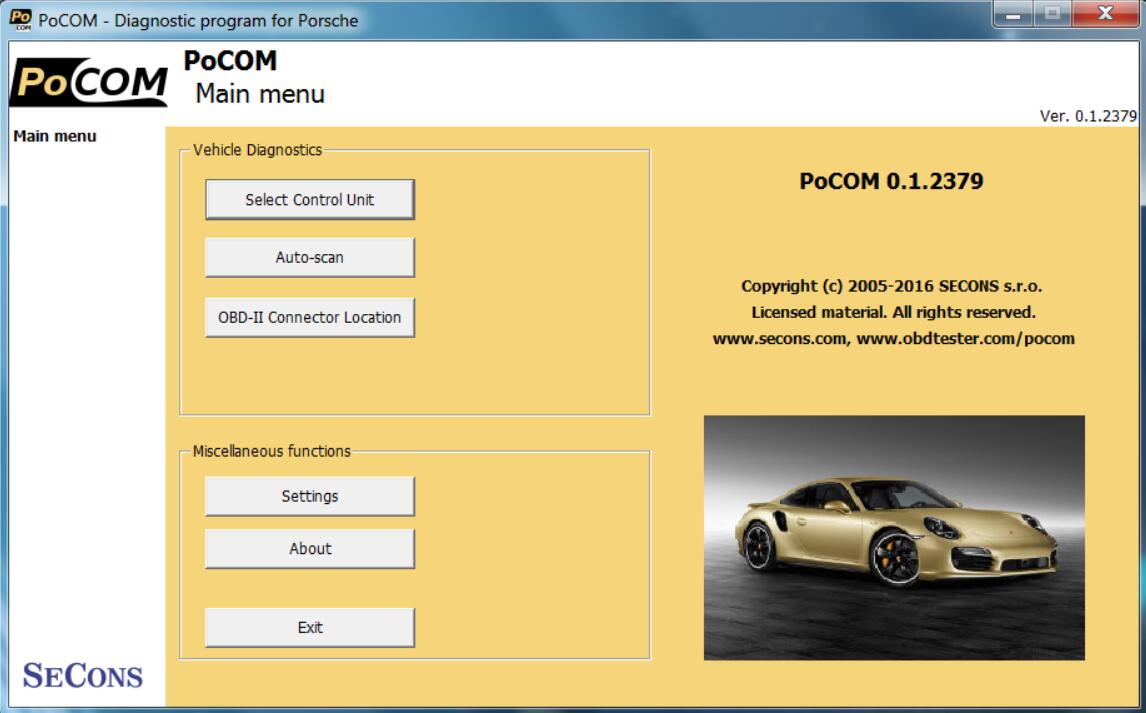 PoCOM features
Fault code reading and clearing from all modules, e.g. engine, airbag, ABS, automatic gearbox, air-con and many more
Automatic ECU recognition
Automatic vehicle scan
ECU Identification
Freeze frame reading
Measured values / live data
Live data recording
Actuator tests
Control unit coding
Configuration
PoCOM Functions
PoCOM supports a wide range of special functions including the following: (Please note – not all functions are available on all models)
Component actuations
Gearbox basic settings and adaptations
System calibrations
DPF regeneration
Fuel system bleeding
Diesel injector coding
Steering Angle Sensor calibration
Convertible top calibration
EPB servicing
Level control
Battery replacement
PoCOM Coverage
Porsche 718
Porsche 911
Porsche 918 Spyder
Porsche 928
Porsche 944
Porsche 968
Porsche Boxster
Porsche Carrera GT
Porsche Cayenne
Porsche Cayman
Porsche Macan
Porsche Panamera
PoCOM Update
Latest PoCOM version is 0.1.6684, dated Nov 18 2020
2020-11-25 0.1.6684
Fixed some incorrectly decoded live data on older ME7.x control units
2020-11-09 0.1.6610
Added parking brake coding to new Cayenne and Panamara (2018+)
2020-10-28 0.1.6601
Improved user interface – keyboard usage
2020-07-07 0.1.6518
Added workshop identification to all reports
2020-06-18 0.1.6488
Added Bosch diesel injector IMA code validity verification in injector coding
2020-05-20 0.1.6457
Fixed issues with some older ECUs (964, 993, 928, …)
2020-04-23 0.1.6343
Autoscan results are now alphabetically sorted
2020-02-15 0.1.6291
Fixed DTC support on older EDC KWP2000 systems
2020-02-02 0.1.6204
Added new coding in CAN/CAN GW for resolving battery drain issue
2020-01-30 0.1.6174
Fixed Siemens/Continental SDI8 CAN ECU live data
PoCOM Free Download
PoComSetup.exe – PoCOM setup program (version 0.1.6684, Nov 18)
The following downloads are password protected. Please use your interface serial number (characters after ELM-USB- for OBDTester and full serial number for other programs) as the username and leave password field blank (empty).
(Visited 381 times, 1 visits today)