What is Isuzu E-IDSS?
Isuzu E-IDSS is abbreviation of Isuzu Diagnostic Service System for Engine. E-IDSS Engineering Release is designed to support Isuzu Engines. With each new release of the E-IDSS program, additional vehicle engine configurations and controller systems may be supported. IDSS is designed to support Isuzu Motors. Engine configurations and controller systems will be supported for future engines.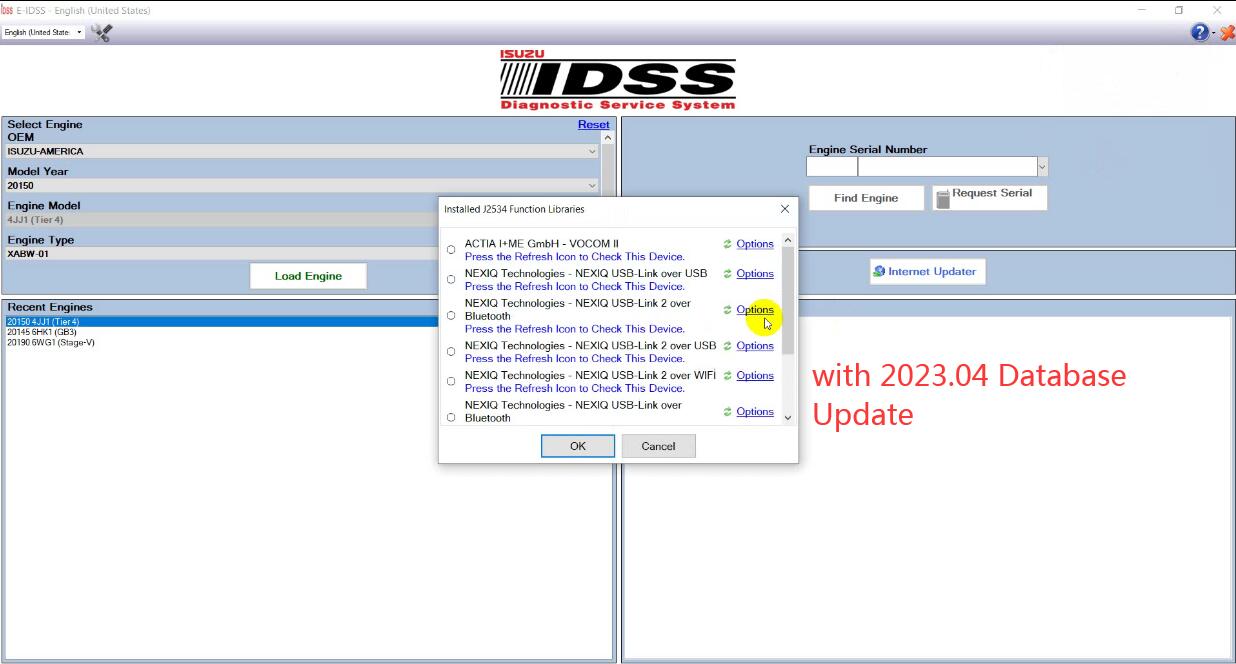 How to Connect Isuzu E-IDSS Interface?
There are two types of Control module,12V and 24V.
Please use the appropriate connection that matches the control module voltage specification and usage function for the Control Module that is connected.
Not connecting the appropriate power will cause damage to the control module.
It is not necessary to connect the power source when using Service information Utility Functions.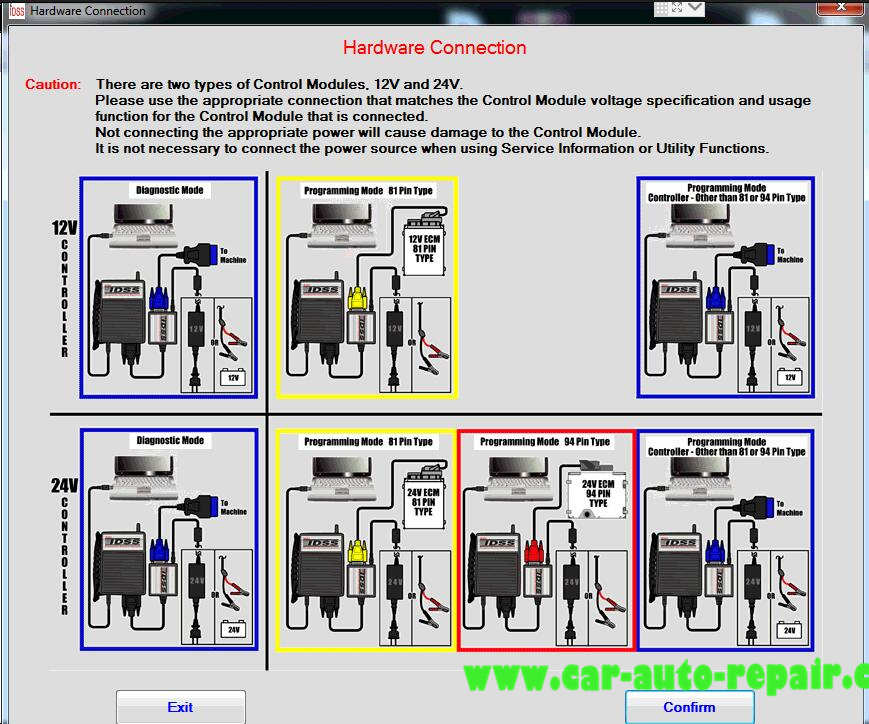 How To Use Isuzu E-IDSS
The IDSS main screen will be displayed at the start of every Isuzu Diagnostic Service System (IDSS) session. The main screen consists of the following:
Select OEM, Model Year, Engine Model and Engine Type drop down menus
Enter Engine Serial Number window
Internet Updater button
Recent Engines Loaded window
Recent Service Bulletins window
From the main screen, the user can perform the following:
Manually select the engine model, etc . through a series of drop-down menu boxes click Load Engine.
Manually enter the Engine Serial Number or click Find Engine button.
Automatically read the Engine Serial Number by clicking the Request Serial Number button.
Click one of the 30 most Recent Service Bulletins listed.
Click one of the listed Recent Engines Loaded selections.
Hardware
Hardware_Connections
IDSS_Controller_Programming
IDSS_Diagnostics
IDSS_Firmware_Update
IDSS_Main_Screen
IDSS_Overview
IDSS_Utility_Functions
PC_Requirements
Periodic_DVD_Update
Recent_Vehicles_Loaded
Service_Information
Toolbar
Troubleshooting_Tips
Uninstall_Instructions
Isuzu E-IDSS Support Models List:
DENYO 2005-2015 (4JJ1 Tier-4, 4HK1 Tier-4, 6WG1 Tier-4, 4LE2 Tier-4, 6WG1 INT-Tier-4, 4JJ1 Tier-3, 4HK1 Tier-3, 6HK1 Tier-3, 6WG1 Tier-3)
Doosan 2005-2010 (6WG1 Tier-3, 6UZ1 INT-Tier-4, 6WG1 INT-Tier-4)
Hidromek 2005-2012 (4JJ1 INT-Tier-4, 4HK1 INT-Tier-4, 6HK1 INT-Tier, 4JJ1 Tier-3, 6UZ1 Tier-3, 4HK1 Tier-3, 6HK1 Tier-3)
Hitachi 2005-2015 (4JJ1 Tier-4, 4HK1 GB3, 6HK1 GB3, 6UZ1 GB3, 6WG1 GB3, 4JJ1 GB3, 4HK1 tier-4, 6HK1 tier-4, 6UZ1 tier-4, 6WG1 tier-4, 4HK1 INT-Tier-4, 6HK1 INT-Tier-4, 6UZ1 INT-Tier-4, 6WG1 INT-Tier-4, 4JJ Tier-3, 4HK1 Tier-3, 6HK1 Tier-3, 6WG1 Tier-3)
Hokuetsu 2005-2014 (4LE2 Tier-4, 4JJ1 Tier-3, 6UZ1 Tier-3, 4HK1 Tier-3, 6HK1 Tier-3)
HSC 2005-2010 (6HK1 INT-Tier-4, 4HK1 Tier-3, 6HK1 Tier-3, 6WG1 Tier-3)
IHI 2005-2006 (4JJ1 Tier-3, 4HK1 Tier-3, 6HK1 Tier-3)
ISEKI 2006-2012 (4JJ1 INT-Tier-4, 4JJ1 Tier-3)
Isuzu PT-China 2005-2015 (6WG1 GB3, 4HK1 INT-Tier-4, 6HK1 INT-Tier-4, 4JJ1 Tier-3, 4HK1 Tier-3, 6HK1 Tier-3)
Isuzu America 2005-2013 (4JJ1 Tier-4, 4LE1 Tier-4, 4JJ1 Tier-3, 6UZ1 Tier-3, 4HK1 Tier-3, 6HK1 Tier-3, 6WG1 Tier-3)
IWAFUJI 2005-2006 (4JJ1 Tier-3, 4HK1 Tier-3)
JCB HP 2005-2010 (6HK1 INT-Tier-4, 4HK1 INT-Tier-4, 4JJ1 Tier-3, 4HK1 Tier-3, 6HK1 Tier-3)
KATO 2006-2013 (4LE2 Tier-4, 4JJ1 INT-Tier-4, 4HK1 INT-Tier-4, 4JJ1 Tier-3)
KCM 2005-2014 (6WG1 Tier-4, 6WG1 INT-Tier-4, 4HK1 Tier-3)
KG Flowtechno 2005 (4HK1 Tier-3)
Kobelko 2013 (4LE2 Tier-4)
Madill 2005 (6HK1 Tier-3)
Maeda Seisakusho 2013 (4LE2 Tier-4)
Morooka 2010 (4HK1 INT-Tier-4)
NH Kobelco 2005 (6HK1 Tier-3)
Nihon Josetsu 2005-2013 (4LE2 Tier-4, 4JJ1 INT-Tier-4, 4HK1 INT-Tier-4, 4JJ1 Tier-3, 4HK1 Tier-3)
Nihon Sharyou 2005-2006 (4JJ1 Tier-3, 6UZ1 Tier-3, 4HK1 Tier-3, 6HK1 Tier-3)
Sakai 2005-2012 (4JJ1 INT-Tier-4, 4JJ1 tier-3, 4HK1 Tier-3)
Sanward 2005-2006 (4JJ1 Tier-3, 4HK1 Tier-3)
Sany 2005-2014 (6WG1 GB3, 4HK1 INT-Tier-4, 6HK1 INT-Tier-4, 4JJ1 Tier-3, 4HK1 Tier-3)
Shinko Engineering 2005 (4HK1 Tier-3, 6HK1 Tier-3)
Sumitomo 2005-2015 (4JJ1 Tier-4, 4HK1 GB3, 6HK1 GB3, 4HK1 Tier-4, 4JJ1 GB3, 6HK1 Tier-4, 4LE2 Tier-4, 4JJ1 INT-Tier-4, 4HK1 INT-Tier-4, 6HK1 INT-Tier-4, 6UZ1 INT-Tier-4, 4JJ1 Tier-3, 6UZ1 Tier-3, 4HK1 Tier-3, 6HK1 Tier-3, 6WG1 Tier-3)
Takeuchi 2006-2013 (4JJ1 Tier-4, 4JJ1 INT-Tier-4, 4JJ1 Tier-3)
Unicarriers 2005-2010 (4HK1 INT-Tier-4, 6HK1 INT-Tier-4, 4HK1 Tier-3, 6HK1 Tier-3)
Uotani 2005 (4HK1 Tier 3)
Yamabiko 2005 (4HK1 Tier-3, 6HK1 Tier-3)
Isuzu E-IDSS Engine Diagnostic Service System Download:
Isuzu E-IDSS 2019 Free Download
https://easyupload.io/w2p4w2
ISUZU E-IDSS 2023.04 100% Work Solution
Isuzu G-IDSS Export 2022 Diagnostic Software Free Download
Visited 98 times, 2 visit(s) today