What is Tolerance Data?
Tolerance Data is a database similar to Autodata or Vivid Workshop Data, but the strong point is that it includes many types of Diesel engines rarely found in other databases.With Tolerance Data installed on your PC you are well equipped to carry out repairs, service and fault finding on your customers' vehicles. With current version 2009.1, Tolerance Data offers workshops even more technical repair and diagnostic data for trucks, vans and passenger vehicles.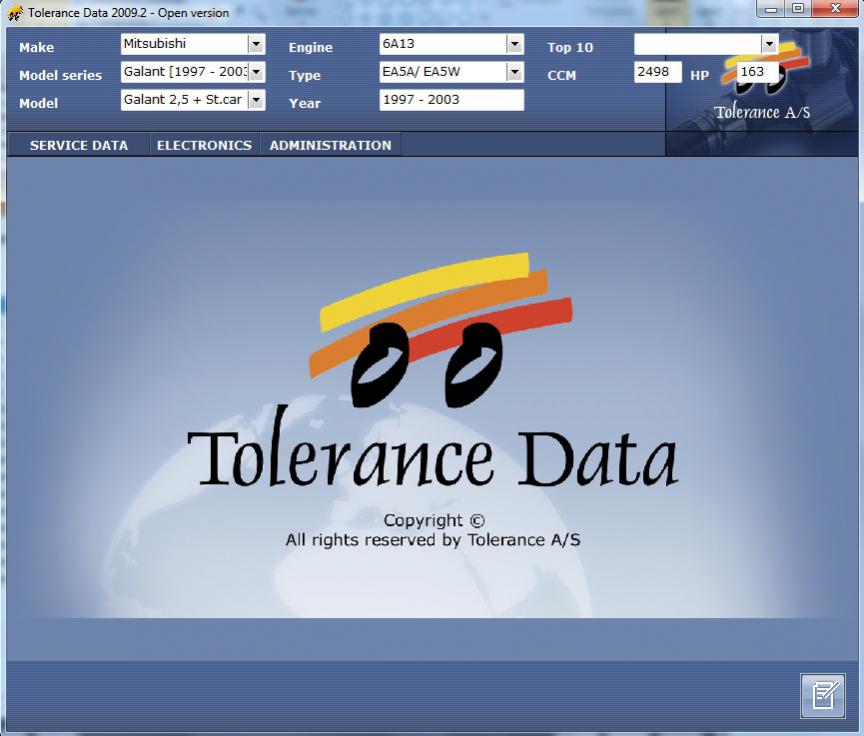 Tolerance Data Features:
* Wiring diagrams for all systems
* Detailed fault searching data
* Component descriptions
* Air condition fault searching
* Placement pictures of fuses/relays
* Market adapted service schedules
* Reparation times
* Directions for exchange of transmission belt
Tolerance Data Functions List:
* Technical data
* Service schedules
* Repair times
* Wiring diagrams
* Engine management
* ABS
* Air Condition
* Airbag
Tolerance Data Support Languages:
English,Dansk, Swenska,  Norska, deutsch
Tolerance Data Vehicle Coverage:
All European, Japanese and Korean and English cars are presented in the program Tolerance Data
Tolerance Data Installation Requirements:
• O.S.: Windows XP, Windows Vista, Windows 7
• CPU: Pentium/Athlon 2 GHz or higher
• RAM: 512 MB of system memory
• Hard Drive: 5 GB of available space
• Optical Drive: DVD-ROM
Tolerance Data Free Download:
Tolerance Data [2009.2] Multilingual Free Download:
https://mega.nz/#!K9NhEIzI!c9ltX2VH2RoFvtdWyGatqg2V980JIydBsqxjG3ZIuJ0
Tolerance Data Updates:
Service data and technical specifications on more than 6500 vehicles – news are:
Alfa 159, Audi A4, BMW 3 series, Citroen C3 II, citroen C5 III, Citroen Berlingo, Mazda 2, Mazda 6, Opel Zafira, Peugeot 308, Peugeo Partner, Renault Kangoo, Renault Laguna III, Volvo V70…and many more.
More than 5000 wiring diagrams – on:
Alfa 147, BMW 1 series, Ford C-Max, Ford Focus, Kia Sorento, Mazda 6, Mercedes A-Class, Mercedes Vito, Opel Astra H, Seat Leon, Toyota Corolla and many, many more….
Aprox. 350 CAN-BUS diagrams with explanations on virous systems
Many new pictures of engine compartment and component location.
Pictures of alignment points
Easy overview of P- and U- engine codes on newer models (from year 2000)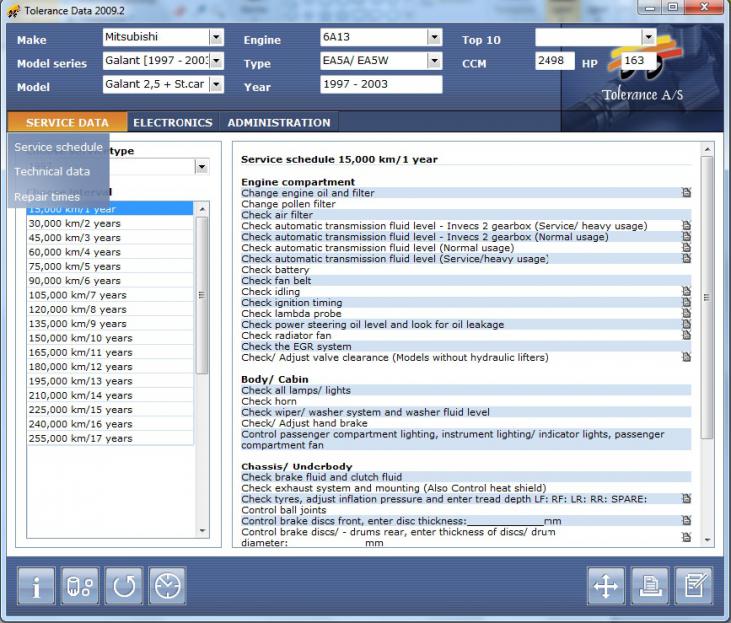 (Visited 1,538 times, 1 visits today)