What is Scania XCOM?
Scania XCOM – is a diagnostic tool to read, save and modify ECU data such as trouble codes, parameters, statistic data etc. VCI2/VCI3 interface is used to connect to ECU via CAN protocol.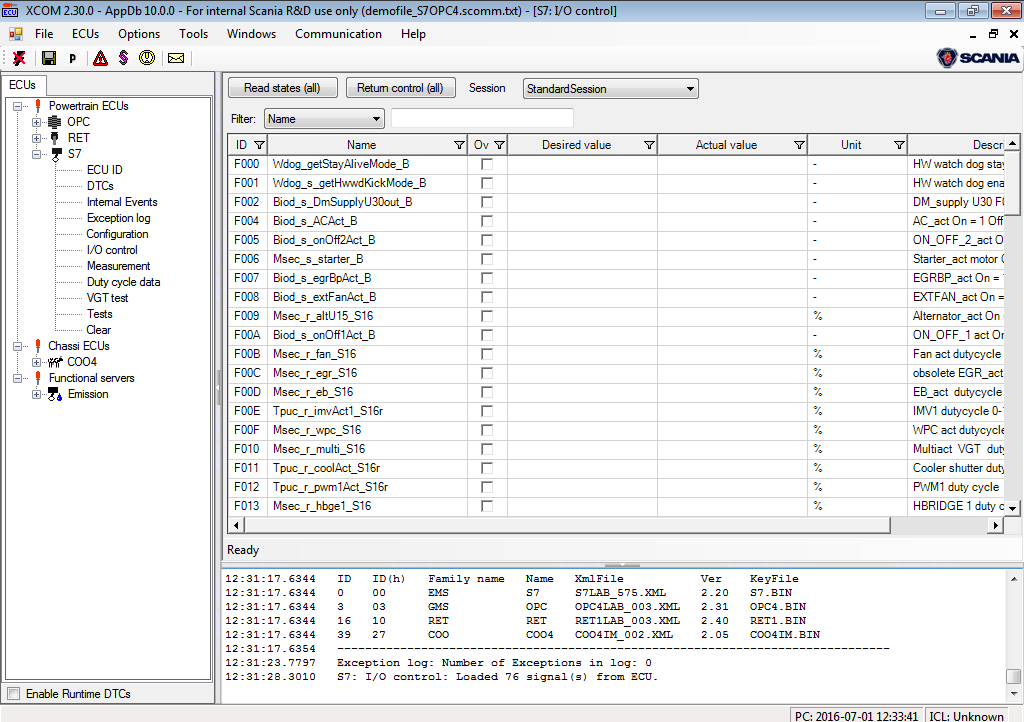 Scania XCOM Support System:
EMS – Engine management system.
GMS – Gearbox management system.
RET – Retarder system.
AWD – All wheel drive system.
CLS – Clutch Control.
EEC – Exhaust Emission Control.
COO (COO7) – Coordinator.
BWS (BCI1) – Bodywork system.
Supported resolving trouble codes to text description for the following types:
EMS (S6, S7, S8).
GMS (OPC4, OPC5).
RET (RET1, RET2).
AWD (AWD1).
EEC (SCR1, EEC3).
COO (COO6, COO7).
HMS (HMS1).
Scania XCOM Support Functions:
Read stored fault codes and Freeze Frames.
Clear inactive fault codes.
Read information about stored working cycles.
Measure internal variables such as the engine speed, pressure, temperature and save.
Program certain parameters
AdBlue ON/OFF.
EGR ON/OFF.
Chassis ID/VIN Change.
Immobilizer ON/OFF.
Truck Power INCREASE.
ECU Recovery.
ECU Reset.
ECU Unlock without PIN.
Supported languages: English
Scania XCOM Support Operations Requirements:
– O.S.: Windows XP; Windows Vista; Windows 7; Windows 8
– CPU: Pentium/Athlon 1 GHz or higher
– RAM: 256 MB of system memory
– Hard Drive: 500 MB of available space
– CD-ROM
Scania XCOM+ Dongle Emulator Free Download:
Scania XCOM 2.27.1.2 + Dongle Emulator
http://www.nitroflare.com/view/C353B3EB5C928EF/Scania_XCOM_2.27.1.2.rar
Scania XCOM 2.30 Download(Paid version)
Scania XCOM 2.30 Installation Service (Tested work 100%)
How to Install Scania XCOM V2.30 Diagnostic Software
(Visited 506 times, 19 visits today)