What is Porsche PET?
Porsche PET is the Porshe electronic parts catalog. It contains part numbers for For porsche genuine parts.
Electronic spare parts catalogue Porsche contains the full information on spare parts.The catalogue occupies one CD, it is possible to establish for work with use of CD, or completely on the winchester.The spare parts catalog Porsche allows to enter VIN number of the machine and carries out a filtration, using it, but thus number of a body is not taken into account, that is the program Porsche will define on VIN model and modelling year (using first 11 symbols VIN), the rest should be chosen independently. It means, that the program Porsche easy digests VIN numbers with thought up last figures that can lead to to mistakes in identification of units. In the program there is a function of search of application spare parts, she allows to search application of a detail, and also the information concerning to replacements and returnable parts, the information about "fractional" the deputy. At work with the given catalogue, it is necessary to pay special attention to various footnotes and notes, and also if necessary to look in lists of fractional replacements and V, S and P-page more often to not receive a detail which you did not wait. The price-list is delivered separately either on CD, or on several diskettes.
Legally access a host of manufacturer parts data at www.partslink24.com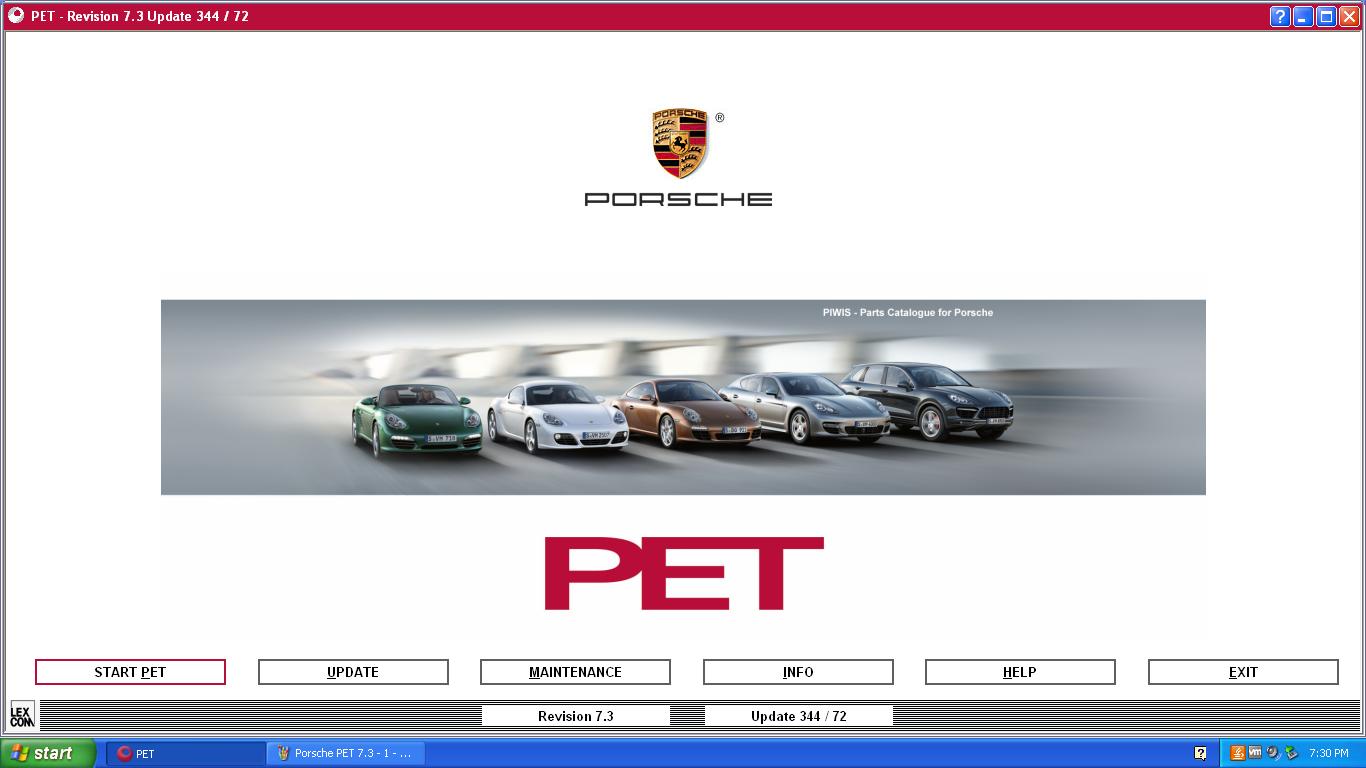 2019.05 Porsche PET2 504-91 EPC Download (Promise Work 100%)
Porsche PET 7.3 Support Languages:
Dutch,English, French, Italian,Spanish, Portuguese,Russian,Chinese,Japanese
Porsche PET 7.3 Support OS:
Only Windows XP or Windows 7 32-bit Have Tested,and you need to test for other operation system.
Porsche PET 7.3 Installation Requirements:
– O.S.: Windows XP, Windows Vista, Windows 7, Windows 8, Windows 8.1, Windows 10
– CPU: Intel/AMD 2 GHz or higher
– RAM: 1 GB of system memory
– Hard Drive: 5 GB of available space
– Optical Drive: DVD-ROM
Free Download is not available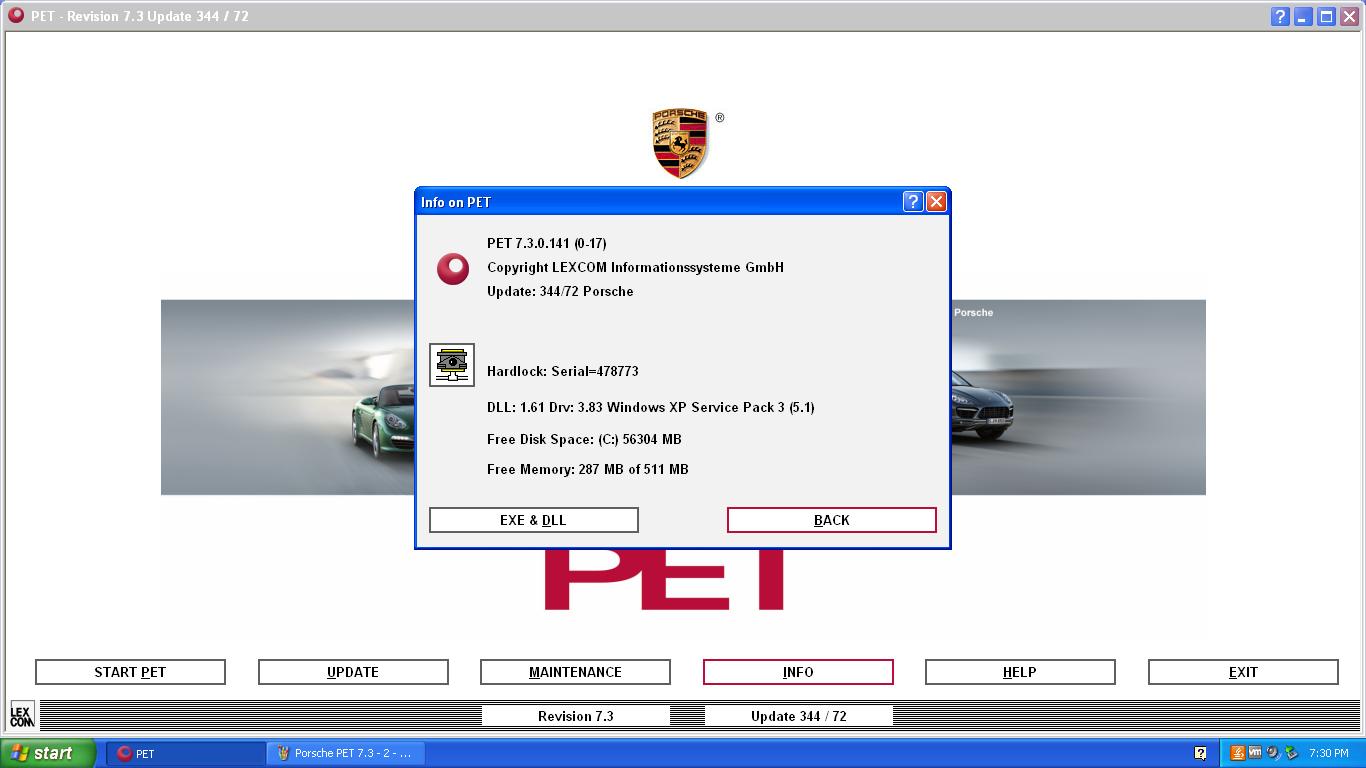 Models Covered by Porsche PET 7.3 Link 3:
For porsche 918 Spyder [918] 2015 ->
For porsche Macan [95B] 2014 ->
For porsche P anamera [970] 2010 ->
For porsche C ayenne [9PA] 2003 – 2006
For porsche C ayenne [9PA1] 2007 – 2010
For porsche C ayenne [92A] 2011 ->
For porsche 911 Carrera [996] 1998 – 2005
For porsche 911 Carrera [997-1] 2005 – 2008
For porsche 911 Carrera 2nd gen. [997-2] 2009 – 2012
For porsche 911 [991] 2012 ->
For porsche 996 GT3 [GT3-1] 1999 – 2005
For porsche 997 GT3 [GT3-2] 2007 – 2011
For porsche 991 GT3 [GT3-3] 2014 ->
For porsche 911 Turbo/GT2 [996T] 2001 – 2005
For porsche 911 Turbo/GT2 [997T] 2007 – 2009
For porsche 911 T / GT2 RS 2nd gen. [997T2] 2010 – 2013
For porsche 991 Turbo [991T] 2014 ->
For porsche Boxster [986] 1997 – 2004
For porsche Boxster [987] 2005 – 2008
For porsche Boxster, 2nd generation [987-2] 2009 – 2012
For porsche Boxster [981] 2012 ->
For porsche Cayman [987C] 2006 – 2008
For porsche Cayman, 2nd generation [987C2] 2009 – 2012
For porsche Cayman [981C] 2014 ->
For porsche 356 356A [356] 1950 – 1959
For porsche 356B 356C [356.] 1960 – 1965
For porsche 911 Turbo/GT2 [911E] 1975 – 1977
For porsche 911 912 [911-1] 1965 – 1969
For porsche 911 [911] 1970 – 1989
For porsche 911 Carrera 2/4 [964] 1989 – 1994
For porsche 911 Carrera [993] 1994 – 1998
For porsche 914 [914] 1970 – 1976
For porsche 924 [924] 1976 – 1985
For porsche 924S [924S] 1986 – 1988
For porsche 944 [944] 1982 – 1985
For porsche 944 [9442] 1985 – 1991
For porsche 968 [968] 1992 – 1995
For porsche 928 [928] 1978 – 1995
For porsche Carrera GT [GT] 2004 – 2006
For porsche 959 [959] 1987 – 1988
Special Catalogues:
Tequipment Catalogue [TEQ] 1985 – 2012
Tequipment 981 991 [TEQ1] 2012 ->
Tequipment Cayenne [TEQ2] 2003 ->
P anamera Tequipment [TEQ3] 2010 ->
Tequipment Macan [TEQ4] 2014 ->
Classic accessories [CLA] 1950 – 1998
Exchange Catalogue [ATK] 1963 – 2012
After Sales Seivice literature [LIT] 1950 – 2011
Seats Catalogue – 944/968/911/928 [STZ] 1985 – 1998
(Visited 231 times, 2 visits today)