What is Techstream Lite?
Techstream Lite is a supplemental, low cost diagnostic platform comprised of Techstream diagnostic software, a generic Laptop/PC and a Techstream Lite kit.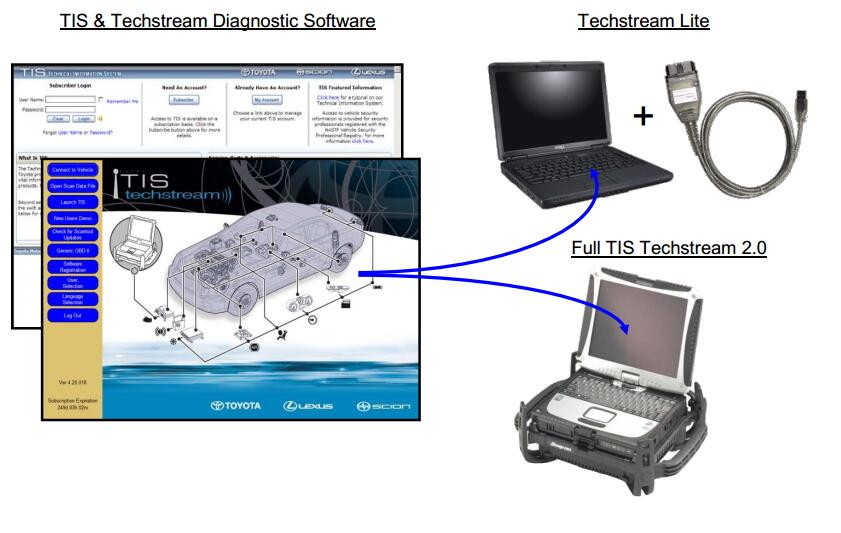 What do I need to operate Techstream Lite?
1) PC – Obtain a PC that meets the Techstream Lite minimum requirements and ensure proper
connection to the internet. A persistent internet connection is not required but a weekly
connection to TIS is necessary.
2) TIS Access – http://techinfo.toyota.com
3) Techstream Lite Kit – Purchase a Techstream Lite Kit from Approved Dealer Equipment. Please
review kit options and order details on the next page to determine which kit you will need.
Toyota TIS Techstream Video+PDF Tutorial
I already have an annual Standard TIS subscription. Can I convert it to a Professional Diagnostic
subscription?
The Techstream Lite Kit includes a one year Professional Diagnostic subscription. If you already have an annual Standard TIS subscription, please call Techinfo Support at 1-877-762-7666 so we can help upgrade your account.
Techstream software use is limited to one registered Techstream Lite software installation per
professional TIS subscription. You must purchase additional Professional Diagnostic TIS subscriptions to use Techstream software on additional PCs.
*NOTE: The Techstream Software expiration is determined based on the duration of your Professional Diagnostic TIS subscription. When your TIS subscription expires, your Techstream software will no longer connect to a vehicle. Once your subscription is renewed, you will need to obtain a new registration key to enable the Techstream application.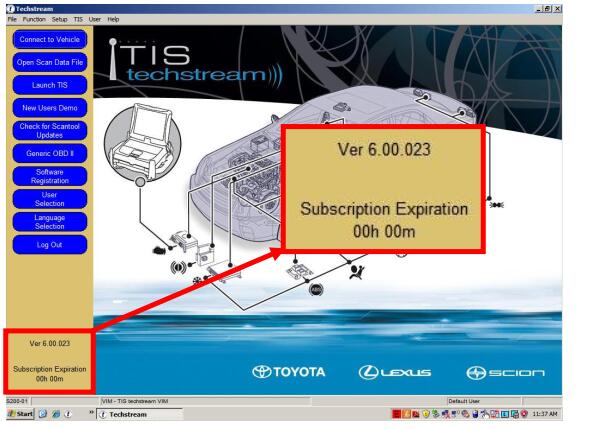 What support is offered with the Techstream Lite?
Our support team will help with Techstream Lite installation, software configuration and
Mongoose/MongoosePro VIM hardware issues. Due to the potential differences in PCs, operating
systems, and configuration, it is impossible for us to guarantee that we can resolve all issues. You may need to work with your PC manufacturer to resolve some issues.
How does Techstream Lite connect to a PC/Laptop?
The Mongoose/MongoosePro MFC VIM connects with a standard USB port. Installation requires the following simple four step process. Detailed instructions are available on TIS.
1) Run Mongoose/MongoosePro MFC Setup Software (available from TIS)
2) Connect Mongoose/MongoosePro MFC to the laptop/pc via a USB port
3) Perform Mongoose/MongoosePro MFC driver installation
4) Install Techstream software and confirm VIM selection. From the Techstream main menu select Setup>VIM Select> select Mongoose/MongoosePro MFC from the Interface setup file menu
5) Use Techstream software normally
Toyota TIS Techstream v12.20.024 Installation Guide
Latest Toyota TIS Techstream V13.00.022 Software Free Download
What is a Vehicle Interface Module (VIM)?
A Vehicle Interface Module is a protocol interpreter that allows a PC to communicate with the various vehicle systems through the DLC3 (J1962) diagnostic connector.
What is J2534?
J2534 is an SAE standard that establishes common VIM specifications across the automotive industry so that a single J2534 VIM can be used to reprogram any manufacturer's vehicle. Toyota is required by CARB/EPA to support specific J2534 functions. This SAE J2534 standard was originally focused on ECU reprogramming. Toyota has modified the Techstream software to use the J2534 standard for a majority of the diagnostic functions.
Why did Toyota select the Mongoose/MongoosePro MFC J2534 VIM for the Techstream Lite Kit?
The Techstream software has been modified to meet the SAE J2534 standard for vehicle interface
modules. While there are many J2534 devices available, Toyota cannot validate all of them. The
Mongoose/MongoosePro MFC is an elegantly packaged VIM that is competitively priced. We have done extensive pilot testing with the Mongoose/MongoosePro MFC and have received overwhelmingly positive feedback from technicians and regional office personnel. While we cannot claim the Techstream Lite will support all Techstream functions, we tracked over 2,000 Techstream Lite / Mongoose/MongoosePro MFC connections during pilot and we estimate the Techstream Lite / Mongoose/MongoosePro MFC set will perform 95+% of all functions. We are actively working to address any Techstream Lite bugs found when using the Mongoose/MongoosePro MFC VIM.
Can the Mongoose/MongoosePro MFC VIM work on other manufacturer's vehicles/software?
Toyota has not tested the Mongoose/MongoosePro MFC with other manufacturer's vehicles/software. For more information on the Mongoose/MongoosePro MFC capabilities, please contact Drew Technologies at 734-222-5228.
Will other J2534 devices work with Techstream software?
Likely, but Toyota has not tested other configurations. Techstream software validation is focused on the full Techstream system and the Mongoose/MongoosePro MFC VIM. At this time, we do not recommend or support other J2534 devices for diagnostics.
Toyota has approved other J2534 devices, can I use those?
Toyota has approved a number of J2534 devices for reprogramming only. Toyota has not validated or approved these devices for diagnostics. The Mongoose/MongoosePro MFC is the only J2534 device that Toyota recommends for diagnostic functions.
Toyota no longer offers the Flash Reprogramming DVD. How do I access calibration information?
Flash reprogramming or vehicle calibration files are now available for download from TIS. A two day or annual Professional Diagnostic TIS subscription is required to access the calibration file information.Please visit https://techinfo.toyota.com to learn more.
Can I use a USB extension cable with the Mongoose/MongoosePro MFC VIM?
Yes, USB extensions can be used in conjunction with the Mongoose/MongoosePro MFC VIM. USB cable extensions are relatively inexpensive and can be purchased from a number of common electronics retailers. If you use a generic USB extension cable with the Mongoose/MongoosePro MFC VIM, ensure that you do not exceed a total length (device + extension) of 16 feet or communication errors may occur. Active USB extension cables are available if you need to extend more than 16 feet.
(Visited 98 times, 1 visits today)