What is Mitsubishi Fuso Truck EPC?
Mitsubishi Fuso Truck EPC is a new version of electronic parts catalog for Mitsubishi Fuso Trucks, intended for European, General Export, North American, Mexican, Japanese markets.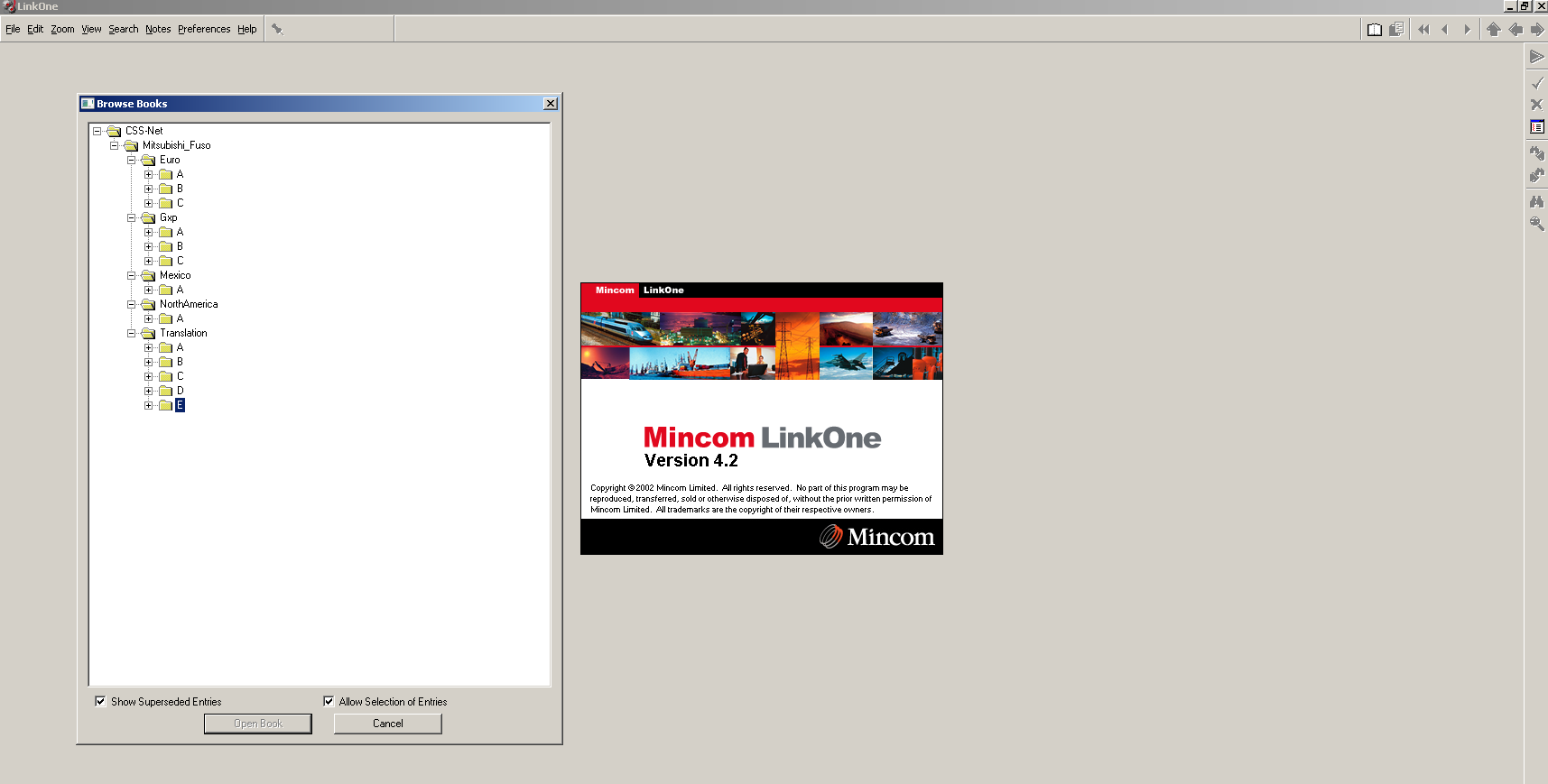 Parts catalog covers spare parts and accessories information, detailed parts list, lots of parts diagrams and pictures, other technical parts information for Mitsubishi FUSO Trucks.
The parts catalog has the simple and convenient interface (LinkOne shell) that makes it easier to work with this catalog. Parts catalog contains simple search function that allows you to search by Page Titles, Part Descriptions, Part Numbers, Documents and other parameters.
This parts catalog is delivered on 1 DVD-DL, works with disk and a full installation on your computer.
Mitsubishi Fuso Truck EPC Support Regions:
Europe,General Export,USA, Mexico
Mitsubishi Fuso Truck EPC Support Langauges:
English Only
Mitsubishi Fuso Truck EPC Support Systems:
Windows XP 32 bit, Windows 7 32 & 64 bit, Windows 8/8.1 32 bit, Windows 10
Mitsubishi Fuso Truck EPC Download (It is paid version)
We make a VMware version,it is very easy to use.
This is better solution,because after some update on WIN10 it will cause EPC can not work.
Mitsubishi FUSO LinkOne EPC 2018 VM 100% Work Solution
Mitsubishi Fuso Truck EPC Support Models:
Models covered by Regions:
NorthAmerica
o    FE434NA
o    FE439NA
o    FE444NA
o    FE449NA
o    FE639NA
o    FE640NA
o    FE649NA
o    FE83DNA
o    FE84DNA
o    FE85DNA
o    FEC52NA
o    FEC72NA
o    FEC92NA
o    FECX2NA
o    FG434NA
o    FG439NA
o    FG639NA
o    FG649NA
o    FG84DNA
o    FGB72NA
o    FH100NA
o    FH210NA
o    FH211NA
o    FK415NA
o    FK417NA
o    FK455NA
o    FK457NA
o    FK617NA
o    FK61FNA
o    FK62FNA
o    FK65FNA
o    FM555NA
o    FM557NA
o    FM617NA
o    FM61FNA
o    FM64FNA
o    FM657NA
o    FM65FNA
?   Mexico
o    FE84DMX
o    FEC91MX
?   Europe
o    FB83BEU
o    FE71AEU
o    FE71BEU
o    FE73BEU
o    FE74BEU
o    FE83BEU
o    FE84BEU
o    FE85BEU
o    FB300EU
o    FB431EU
o    FB433EU
o    FB436EU
o    FB631EU
o    FB634EU
o    FB641EU
o    FC432EU
o    FE331EU
o    FE431EU
o    FE441EU
o    FE444EU
o    FE511EU
o    FE515EU
o    FE519EU
o    FE531EU
o    FE534EU
o    FE544EU
o    FE635EU
o    FE639EU
o    FE649EU
o    FE659EU
o    FE83PEU
o    FE84DEU
o    FE84PEU
o    FE85DEU
o    FE85PEU
o    FH100EU
o    FH215EU
o    FK415EU
o    FK417EU
o    FK455EU
o    FK457EU
o    FM515EU
o    FM555EU
o    FM557EU
o    FP415EU
o    FP418EU
o    FU418EU
o    FV438EU
o    KJ508EU
o    KV208EU
o    FB73SEU
o    FB83SEU
o    FE74SEU
o    FE84SEU
o    FE85SEU
o    FEA01EU
o    FEA21EU
o    FEA51EU
o    FEB01EU
o    FEB21EU
o    FEB71EU
o    FEB74EU
o    FEB91EU
o    FEC71EU
o    FECX1EU
o    FGB71EU
?   General Export
o    FB510GP
o    FB511GP
o    FB70AGP
o    FB70BGP
o    FB71AGP
o    FB71BGP
o    FB73BGP
o    FC633GP
o    FE515GP
o    FE519GP
o    FE535GP
o    FE537GP
o    FE539GP
o    FE635GP
o    FE637GP
o    FE639GP
o    FE645GP
o    FE649GP
o    FE657GP
o    FE659GP
o    FE71BGP
o    FE71CGP
o    FE71PGP
o    FE73BGP
o    FE73CGP
o    FE73PGP
o    FE74PGP
o    FE75PGP
o    FE83BGP
o    FE83CGP
o    FE83DGP
o    FE83PGP
o    FE84BGP
o    FE84CGP
o    FE84DGP
o    FE84PGP
o    FE85BGP
o    FE85CGP
o    FE85DGP
o    FE85PGP
o    FE8BDGP
o    FEA01GP
o    FEA21GP
o    FEA51GP
o    FEA61GP
o    FEA71GP
o    FEA91GP
o    FEB21GP
o    FEB51GP
o    FEB71GP
o    FEB74GP
o    FEB91GP
o    FEC71GP
o    FEC81GP
o    FEC91GP
o    FECX1GP
o    FG535GP
o    FG635GP
o    FG637GP
o    FG639GP
o    FG649GP
o    FG83CGP
o    FG83PGP
o    FG84DGP
o    FG84PGP
o    FGB71GP
o    FAV1PGP
o    FH211GP
o    FH215GP
o    FH217GP
o    FH221GP
o    FIV1PGP
o    FIV2PGP
o    FJX3WGP
o    FJY1WGP
o    FK615GP
o    FK617GP
o    FK618GP
o    FK61FGP
o    FK62FGP
o    FK65FGP
o    FL617GP
o    FM615GP
o    FM617GP
o    FM618GP
o    FM61FGP
o    FM657GP
o    FM658GP
o    FM65FGP
o    FM67FGP
o    FN617GP
o    FN618GP
o    FN61FGP
o    FN627GP
o    FN628GP
o    FN62FGP
o    FN63FGP
o    FN64FGP
o    FP415GP
o    FP515GP
o    FP517GP
o    FP519GP
o    FP51JGP
o    FP51SGP
o    FP547GP
o    FP54JGP
o    FP54SGP
o    FS520GP
o    FS525GP
o    FS527GP
o    FS529GP
o    FS52JGP
o    FS52SGP
o    FT517GP
o    FU517GP
o    FU519GP
o    FU51JGP
o    FU51SGP
o    FU547GP
o    FV415GP
o    FV510GP
o    FV515GP
o    FV517GP
o    FV519GP
o    FV51JGP
o    FV51SGP
o    FV540GP
o    FV54JGP
o    FV54SGP
o    T850GP
o    BC633GP
o    BE635GP
o    BE637GP
o    BE639GP
o    BE63DGP
o    BE641GP
o    BE647GP
o    BE649GP
o    BE64DGP
o    BM115GP
o    BM117GP
o    MP35FGP
o    MP37FGP
o    RM11FGP
o    W61GP
?   Translation
o    FP50JEN
o    FP50KEN
o    FP50LEN
o    FP50MEN
o    FP510EN
o    FP511EN
o    FP512EN
o    FP514EN
o    FP515EN
o    FP519EN
o    FP540EN
o    FP541EN
o    FP542EN
o    FP543EN
o    FP544EN
o    FP545EN
o    FP549EN
o    FP54JEN
o    FP54LEN
o    FP54MEN
o    FP54VEN
o    FP55JEN
o    FR415EN
o    FR50JEN
o    FR50MEN
o    FR529EN
o    FS50JEN
o    FS50KEN
o    FS50MEN
o    FS50VEN
o    FS510EN
o    FS511EN
o    FS512EN
o    FS515EN
o    FS517EN
o    FS519EN
o    FS525EN
o    FS540EN
o    FS54JEN
o    FS54KEN
o    FS54VEN
o    FS55JEN
o    FS55VEN
o    FS570EN
o    FT50JEN
o    FT50KEN
o    FT510EN
o    FT515EN
o    FT517EN
o    FT520EN
o    FT527EN
o    FT54JEN
o    FU50JEN
o    FU50KEN
o    FU50MEN
o    FU50VEN
o    FU510EN
o    FU511EN
o    FU512EN
o    FU515EN
o    FU517EN
o    FU519EN
o    FU540EN
o    FU549EN
o    FU54JEN
o    FU54MEN
o    FU54VEN
o    FU55JEN
o    FU55VEN
o    FU577EN
o    FV500EN
o    FV501EN
o    FV502EN
o    FV505EN
o    FV507EN
o    FV509EN
o    FV50JEN
o    FV50KEN
o    FV50LEN
o    FV50MEN
o    FV50NEN
o    FV50VEN
o    FV510EN
o    FV511EN
o    FV512EN
o    FV513EN
o    FV514EN
o    FV515EN
o    FV519EN
o    FV540EN
o    FV54JEN
o    FV54VEN
o    FV55JEN
o    FW419EN
o    FW422EN
o    FW429EN
o    FW444EN
o    FW445EN
o    FW449EN
o    FW451EN
o    FW455EN
o    FW464EN
o    FW50JEN
o    FW50MEN
o    FW522EN
o    FW529EN
o    FX50JEN
o    FX50LEN
o    FX50MEN
o    FX50VEN
o    FY50JEN
o    FY50KEN
o    FY50MEN
o    FY50VEN
o    FY510EN
o    FY515EN
o    FY517EN
o    FY519EN
o    FY54JEN
o    FY54VEN
o    4D310EN
o    4D320EN
o    4D322EN
o    4D333EN
o    4D341EN
o    4D342EN
o    4D343EN
o    4DR52EN
o    4M400EN
o    4M401EN
o    4M501EN
o    4M502EN
o    6D143EN
o    6D144EN
o    6D152EN
o    6D153EN
o    6D161EN
o    6D162EN
o    6D163EN
o    6D221EN
o    6D240EN
o    6D241EN
o    6D310EN
o    6D311EN
o    6D340EN
o    6D341EN
o    6M600EN
o    6M604EN
o    6M605EN
o    6M610EN
o    6M700EN
o    6M704EN
o    8DC81EN
o    8DC82EN
o    8DC91EN
o    8DC93EN
o    8M221EN
o    FH217EN
o    FH218EN
o    FH21GEN
o    FH21HEN
o    FH227EN
o    FH228EN
o    FK603EN
o    FK612EN
o    FK615EN
o    FK616EN
o    FK617EN
o    FK618EN
o    FK619EN
o    FK61FEN
o    FK61GEN
o    FK61HEN
o    FK61REN
o    FK622EN
o    FK627EN
o    FK628EN
o    FK629EN
o    FK62FEN
o    FK64FEN
o    FK64HEN
o    FK64REN
o    FK65FEN
o    FK662EN
o    FK666EN
o    FK667EN
o    FK668EN
o    FK66FEN
o    FK66REN
o    FK672EN
o    FK678EN
o    FK71DEN
o    FK71FEN
o    FK71GEN
o    FK71HEN
o    FK71REN
o    FK727EN
o    FK728EN
o    FK72FEN
o    FK74FEN
o    FK74HEN
o    FK74REN
o    FK75FEN
o    FL618EN
o    FL61HEN
o    FL628EN
o    FL638EN
o    FL639EN
o    FL63FEN
o    FL63HEN
o    FM612EN
o    FM616EN
o    FM618EN
o    FM619EN
o    FM622EN
o    FM628EN
o    FM629EN
o    FM62FEN
o    FM62HEN
o    FM652EN
o    FM656EN
o    FM658EN
o    FN612EN
o    FN61FEN
o    FN622EN
o    FQ61FEN
o    FQ62FEN
o    K1500EN
o    K203EN
o    K303EN
o    K450EN
o    K602EN
o    KA606EN
o    KA904EN
o    KS303EN
o    KS305EN
o    KS30KEN
o    KS506EN
o    KS509EN
o    KS50MEN
o    KV207EN
o    KV208EN
o    KV20JEN
o    FA500EN
o    FA510EN
o    FA523EN
o    FA580EN
o    FA590EN
o    FB500EN
o    FB501EN
o    FB50AEN
o    FB510EN
o    FB511EN
o    FB51AEN
o    FB523EN
o    FB700EN
o    FB70AEN
o    FB70BEN
o    FBA00EN
o    FBA20EN
o    FBA2WEN
o    FBA30EN
o    FBA3WEN
o    FBA50EN
o    FBA5WEN
o    FBA60EN
o    FBA6WEN
o    FC563EN
o    FD501EN
o    FD50AEN
o    FD70AEN
o    FD70BEN
o    FDA00EN
o    FDA20EN
o    FDA2WEN
o    FDA40EN
o    FDA4WEN
o    FDA50EN
o    FDA60EN
o    FE425EN
o    FE431EN
o    FE434EN
o    FE435EN
o    FE437EN
o    FE439EN
o    FE444EN
o    FE445EN
o    FE447EN
o    FE449EN
o    FE465EN
o    FE467EN
o    FE507EN
o    FE508EN
o    FE50CEN
o    FE50EEN
o    FE512EN
o    FE516EN
o    FE517EN
o    FE518EN
o    FE51CEN
o    FE51EEN
o    FE527EN
o    FE528EN
o    FE52CEN
o    FE52EEN
o    FE532EN
o    FE533EN
o    FE536EN
o    FE537EN
o    FE538EN
o    FE53CEN
o    FE53EEN
o    FE542EN
o    FE548EN
o    FE562EN
o    FE566EN
o    FE567EN
o    FE568EN
o    FE59EEN
o    FE62EEN
o    FE632EN
o    FE636EN
o    FE637EN
o    FE638EN
o    FE639EN
o    FE63CEN
o    FE63DEN
o    FE63EEN
o    FE642EN
o    FE648EN
o    FE649EN
o    FE652EN
o    FE658EN
o    FE659EN
o    FE662EN
o    FE667EN
o    FE668EN
o    FE669EN
o    FE69EEN
o    FE70BEN
o    FE70CEN
o    FE70DEN
o    FE70EEN
o    FE71BEN
o    FE71CEN
o    FE71DEN
o    FE71EEN
o    FE72BEN
o    FE72CEN
o    FE72DEN
o    FE72EEN
o    FE73BEN
o    FE73CEN
o    FE73DEN
o    FE73EEN
o    FE74BEN
o    FE74DEN
o    FE78DEN
o    FE78EEN
o    FE82BEN
o    FE82CEN
o    FE82DEN
o    FE82EEN
o    FE83CEN
o    FE83DEN
o    FE83EEN
o    FE84BEN
o    FE84DEN
o    FE88DEN
o    FE88EEN
o    FEA13EN
o    FEA20EN
o    FEA2WEN
o    FEA50EN
o    FEA53EN
o    FEA5WEN
o    FEA5XEN
o    FEA70EN
o    FEA80EN
o    FEA8WEN
o    FEB20EN
o    FEB2WEN
o    FEB50EN
o    FEB5WEN
o    FEB70EN
o    FEB73EN
o    FEB7XEN
o    FEB80EN
o    FEB8WEN
o    FEB90EN
o    FEB9WEN
o    FEC90EN
o    FF63DEN
o    FF63EEN
o    FF658EN
o    FF659EN
o    FF83DEN
o    FF83EEN
o    FG325EN
o    FG327EN
o    FG335EN
o    FG337EN
o    FG435EN
o    FG437EN
o    FG507EN
o    FG508EN
o    FG50EEN
o    FG52EEN
o    FG537EN
o    FG538EN
o    FG53EEN
o    FG62EEN
o    FG638EN
o    FG63EEN
o    FG68EEN
o    FG70DEN
o    FG70EEN
o    FG72DEN
o    FG72EEN
o    FG73DEN
o    FG73EEN
o    FG74DEN
o    FG82DEN
o    FG82EEN
o    FG83DEN
o    FG83EEN
o    FG84DEN
o    FG88DEN
o    FG88EEN
o    FGA20EN
o    FGA2WEN
o    FGA50EN
o    FGB70EN
o    FGB7WEN
o    RWS2JEN
o    RWS2KEN
o    RWSFJEN
o    RWSFKEN
o    SWS2JEN
o    SWS2KEN
o    SWS6JEN
o    SWSFJEN
o    SWSFKEN
o    SWSLJEN
o    4D683EN
o    BE434EN
o    BE435EN
o    BE436EN
o    BE437EN
o    BE438EN
o    BE439EN
o    BE449EN
o    BE459EN
o    BE632EN
o    BE636EN
o    BE63CEN
o    BE63DEN
o    BE63EEN
o    BE640EN
o    BE642EN
o    BE644EN
o    BE64DEN
o    BE64EEN
o    BE654EN
o    BE66DEN
o    BG437EN
o    BG438EN
o    BG642EN
o    BG64DEN
o    BG64EEN
o    ME17DEN
o    MJ117EN
o    MJ217EN
o    MJ218EN
o    MJ219EN
o    MJ23HEN
o    MJ25HEN
o    MJ26HEN
o    MJ26REN
o    MJ27HEN
o    MJ527EN
o    MJ628EN
o    MJ629EN
o    MK117EN
o    MK218EN
o    MK219EN
o    MK23HEN
o    MK25FEN
o    MK25HEN
o    MK26FEN
o    MK27FEN
o    MK27HEN
o    MK516EN
o    MK517EN
o    MK525EN
o    MK526EN
o    MK527EN
o    MK595EN
o    MK612EN
o    MK616EN
o    MK618EN
o    MK619EN
o    MK622EN
o    MK626EN
o    MK628EN
o    MK629EN
o    MM117EN
o    MM218EN
o    MM219EN
o    MM319EN
o    MM33HEN
o    MM35HEN
o    MM516EN
o    MM517EN
o    MM526EN
o    MM527EN
o    MM618EN
o    MM619EN
o    MM719EN
o    MM812EN
o    MM816EN
o    MM822EN
o    MM826EN
o    MM85FEN
o    MM86FEN
o    MM96FEN
o    MP217EN
o    MP218EN
o    MP237EN
o    MP317EN
o    MP337EN
o    MP33JEN
o    MP35FEN
o    MP35JEN
o    MP35UEN
o    MP37FEN
o    MP37JEN
o    MP37TEN
o    MP617EN
o    MP618EN
o    MP627EN
o    MP628EN
o    MP637EN
o    MP717EN
o    MP737EN
o    MP747EN
o    MS713EN
o    MS715EN
o    MS716EN
o    MS725EN
o    MS726EN
o    MS729EN
o    MS815EN
o    MS819EN
o    MS821EN
o    MS822EN
o    MS826EN
o    MS829EN
o    MS85KEN
o    MS85MEN
o    MS86JEN
o    MS86MEN
o    MS96JEN
o    MU515EN
o    MU525EN
o    MU612EN
o    MU66JEN
o    W21EN
o    W41EN
o    MS96VEN
o    FB300EN
o    FB308EN
o    FB328EN
o    FD378EN
o    FE300EN
o    FE301EN
o    FE305EN
o    FE307EN
o    FE311EN
o    FE315EN
o    FE317EN
o    FE320EN
o    FE321EN
o    FE325EN
o    FE331EN
o    FE334EN
o    FE335EN
o    FE337EN
o    FE355EN
o    FK315EN
o    FK316EN
o    FK325EN
o    FK330EN
o    FK335EN
o    FK337EN
o    FK345EN
o    FK415EN
o    FK416EN
o    FK417EN
o    FK418EN
o    FK425EN
o    FK427EN
o    FK435EN
o    FK445EN
o    FK467EN
o    FK515EN
o    FK516EN
o    FK517EN
o    FK518EN
o    FK545EN
o    FK567EN
o    FL417EN
o    FM515EN
o    FM516EN
o    FM517EN
o    FN427EN
o    FN428EN
o    FP410EN
o    FP411EN
o    FP412EN
o    FP413EN
o    FP414EN
o    FP415EN
o    FP416EN
o    FP418EN
o    FP419EN
o    FP424EN
o    FP440EN
o    FP441EN
o    FP442EN
o    FP444EN
o    FP445EN
o    FP446EN
o    FP449EN
o    FS410EN
o    FS411EN
o    FS415EN
o    FS416EN
o    FS417EN
o    FS418EN
o    FS419EN
o    FS425EN
o    FS477EN
o    FS478EN
o    FT410EN
o    FT413EN
o    FT415EN
o    FT416EN
o    FT417EN
o    FT418EN
o    FU410EN
o    FU411EN
o    FU413EN
o    FU415EN
o    FU416EN
o    FU417EN
o    FU418EN
o    FU419EN
o    FU440EN
o    FU470EN
o    FU477EN
o    FU478EN
o    FV410EN
o    FV411EN
o    FV412EN
o    FV413EN
o    FV414EN
o    FV415EN
o    FV416EN
o    FV418EN
o    FV419EN
o    FV424EN
o    FV439EN
(Visited 771 times, 3 visits today)