This article show a easy step-by step guide on how to perform electronic throttle idle learning for Jeep Wrangler.For more detail,please watch the video at end of article. Hope it helps!
And here are some articles related to throttle topic:
How to Remove & Install Auto Throttle Body
How To Clean Throttle Body By Yourself (Step By Step)
Ford F150 Throttle Response Adjustment (No Need Tools)
FIAT 2012 Throttle Body Self Learning Guide(Video)
How to Adjust/Calibrate Throttle Position for Benz 212 2014
Procedures of Jeep Wrangler Electronic Throttle idle learning:
Connect X431PRO to vehicle,power on and enter the menu to select the manufacturer  "Chrysler"
Then select "Chrysler V31.40"
Note:The software can diagnose the elec control system of Chrysler Dodge Jeep up to 2017.The operation is the same as the original scan tool.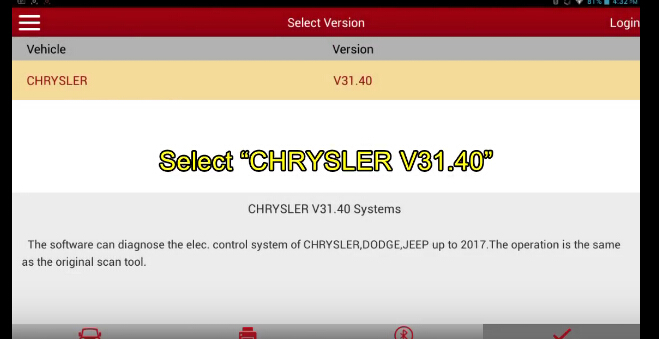 Select "16 PIN Connector"
Select "Manually Select"
Select "Jeep"
Select "2009 (VIN 10th)"
Select "Wrangler"
Select "PCM(Powertrain Control Module)"
Processing,please wait…
Select "Special Function"
Select "Learn ETC(Electronic Throttle Control)"
The screen will prompt "This Feature will learn TP voltages and AP position",select "OK"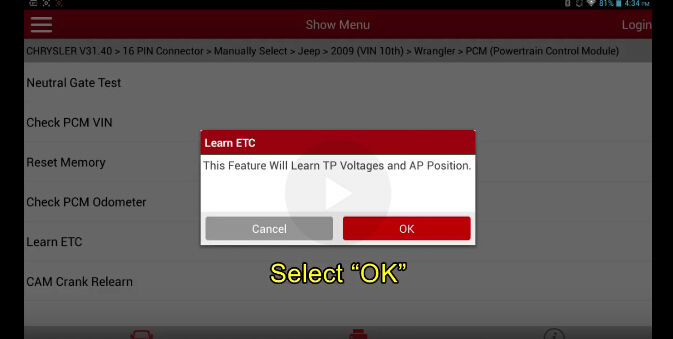 Follow the guide showing on the screen "Press and hold accelerator pedal to the floor.The throttle must be held to the floor"
Note:Steadily depress the accelerator pedal to he floor,it will take a few seconds.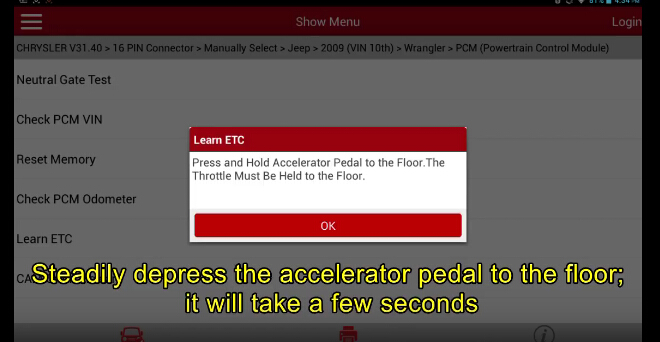 Tips:Hold accelerator pedal firmly to the floor
Release accelerator pedal and press OK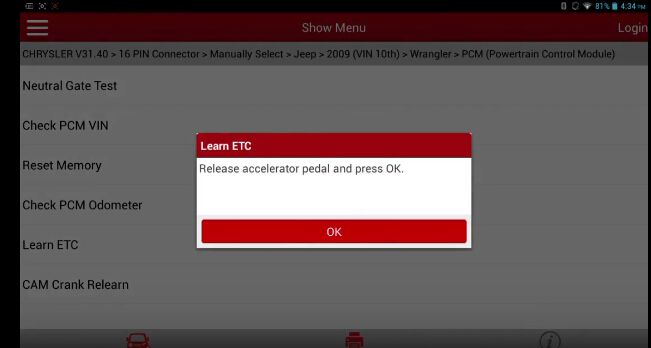 Do not touch the accelerator pedal
ETC(Electronic Throttle Control) learn succeeded then turn the ignition off
The it prompts "Learn Passed.Press OK to exit."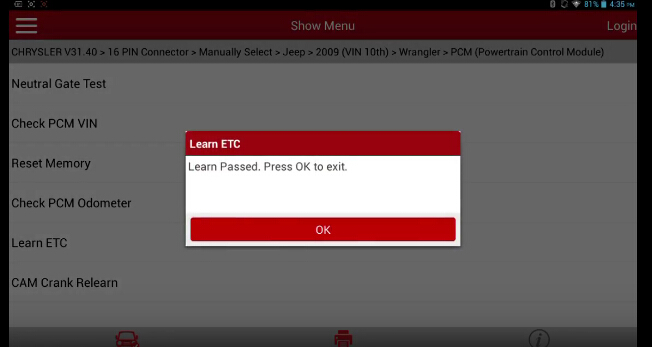 Mission complete!
More electronic throttle idle learning detail,watch below video operations:
(Visited 71 times, 1 visits today)