Many green hands of auto locksmith believe that it is difficult to program key for BMW EWS & CAS IMMO.Here I share a guide on how to program key for BMW EWS and CAS system.After reading,you will get auto key programming skills of unless two BMW models.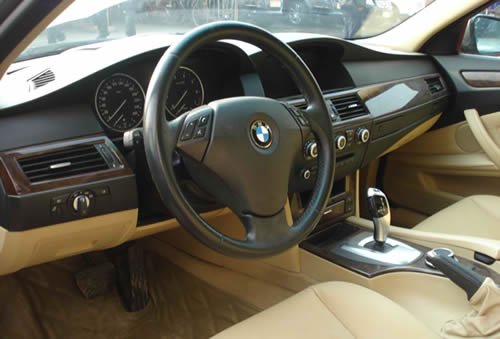 You need to have a common knowledge of BMW immobilizer,before starting programming key for BMW.It means that you have ability of telling which BMW IMMO you meet,EWS or CAS?
EWS immobilizer:EWS1,EWS2,EWS3,EWS4
CAS immobilizer:CAS1,CAS2,CAS3,CAS3+,CAS4.
How to tell BMW IMMO EWS or CAS?
Straiht Key with 3 botton and a blue white BMW logo on it's centre,just show below: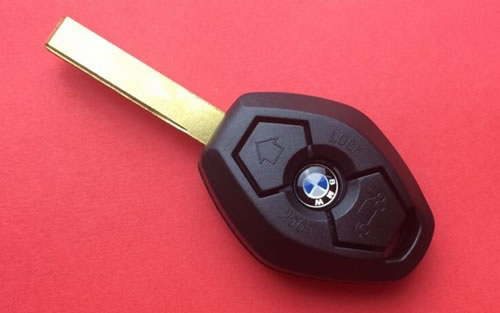 We divide them base on years:
EWS IMMO: Straight remote key of 3 series,5 series and 7 series of 2000-2004 model.Below shows the immobilizer box.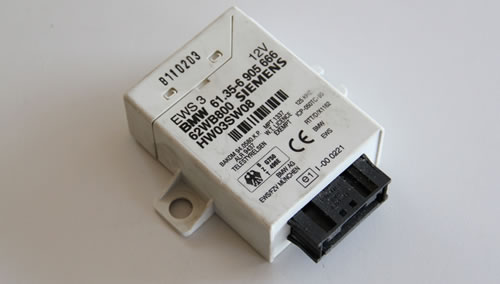 CAS2 IMMO:3 series,5 series,Z4,X5 and X3 equiped CAS2 immobilizer system.Below shows the CAS2 and CAS3 immobilizer box.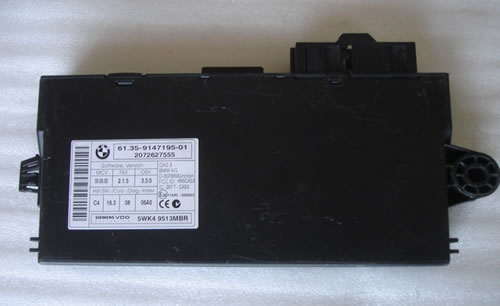 And another type BMW straight key is similar as Land Rover where is black BMW logo on.It also belongs to CAS IMMO system.
Usually,older BMW 7 series  is equiped with BMW CAS1 immobilizer system.
Usually,BMW 3 series and 5 series before 2010 is equiped with BMW CAS3 immobilizer system.
And usually BMW 3 series 2010– is equiped with BMW CAS3+ immobilizer system.
And BMW 1 series after 2011 is equiped with BMW CAS4 immobilizer system.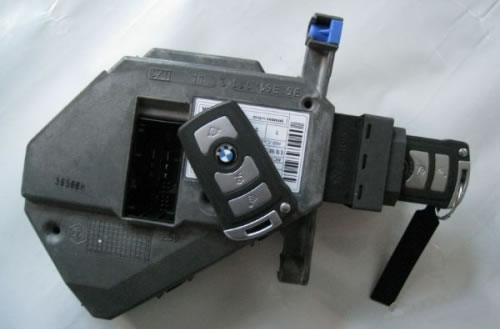 How can we comfirm CAS system?
If it need to plug smart card to card slot,then press on-key-start.You can make sure it belongs to CAS immobilizer,and usually it is CAS3.The key of CAS2 immo is straight key.
For example: BMW 5 series 09.We can confirm it belongs to CAS3 immobilizer.
Which device can do BMW key program?
Here I introduce some bmw key programmer:
AK90 Key Programmer
AK300 Key Programmer
BMW OBD2 Multitool
Here we take bmw obd2 multitool as example: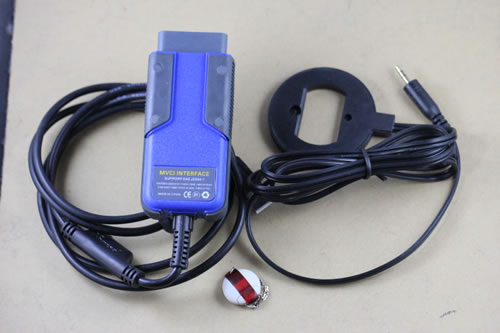 BMW OBD2 Multi-tool mainly applied to CAS3 and CAS3+.If you need to program for BMW CAS1,you can use BMW OBD2 Multi-tool write key function to program key.There is no devices to program BMW CAS2 in no need disassembling,you must to remove CAS module form car to read out data.After reading out data,you can use BMW multi-tool to program key.
There are two ways to program key for BMW if you use BMW OBD2 Multi-tool.
1. Use file to program key directly off-line.
2 Programing key by OBD port online.
Method 1:Off-line program bmw key.
In this method,you do not need to connect BMW Multi-tool to car.But you need to read out the data file from CAS already.
For example,if you want to program key for CAS2 immobilizer,you need to use R270 to read out data.
And then,open BMW Multi tool software on you computer.
Select "data file generate key" function,then upload the data read out by R270 key programmer.
Put the new key into the coil of BMW Multi tool.
Select "CAS2" on software,and click to generate key.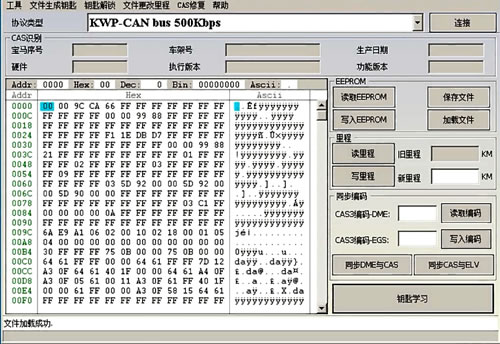 Method 2:Online Programming.
Connect you car to compute with BMW Multi tool via OBD port.
Read out EEPROM data,and save it on your computer.
Select key learn function,you will see below software interface and some botton.
"Generate dealer key- use programmer" it means program key by BMW Multi too coi.l
"Generate dealer key-use ignition swithch" it means program key by ignition switch.
Here we recommend to use programmer: BMW Multi tool coil to program key.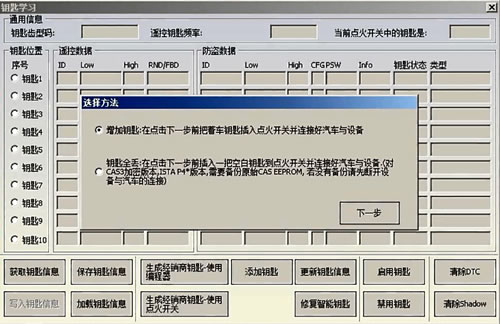 Click to get key information,it will show the key information.We need to select one of key position to generate key.Usually,we choose one of position 3,position 4 or position 5 to generate new key.After selecting key position,put you new key into bmw multi tool coil,then select "Generate dealer key-use by programmer"
After it ,software show a dialog box as above picture.We select first option "Add key ",then click next setp.
It will remind you dealer key generate successfully.Now you can try this new key on your car.
Conclusion: Only click 5 botton to programe bmw key by BMW Multi tool.
1.Click to read out EEPROM data.
2.Save the data file on your compute.
3.Select key learn function to get key information.
4.Select key position we need to generate key.
5.Click "Generate dealer key–use programmer".
In some situation,the new dealer key you program can not work on your car.Here,you need to do this operation:
Back to software main interface to click botton of "synchronize DEM to CAS".
The way to program key for BMW EWS IMMO system is the same as CAS IMMO system.You can use AD900 to program key,but you need to use R270 Programmer to read out data before.
(Visited 461 times, 3 visits today)