This article show the guide on how to update Durametric Diagnostic software and Durametric cable hardware.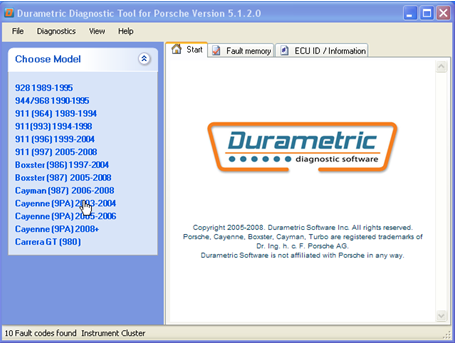 Articles topic on Durametric:
Durametric Reset Service Reminders for Porsche Cayenne
How to Install Durametric Porsche Diagnostic Software
Durametric Porsche Diagnostic Software Free Download
Durametric Software Update:
You can check for software updates direct from the Durametric program. This process requires an existing Internet connection.
To check for software updates:
Open the Durametric program.
Click on the Tools menu option.
Select Check for updates.
This action opens your default Internet browser to the http://www.durametric.com/downloadv6.aspx page. Compare the installed version on your computer with the current release indicated on the Download page. You will find your software version at the top of the Durametric program screen. To update your software:
Close the Durametric program.
Uninstall the version of Durametric currently installed.
Click the Durametric Software Program link on the Durametric website.
Durametric Cable Hardware Update:
The standard interface cable manages communication between the Durametric software and your car's control units. Periodically, Durametric releases firmware updates to ensure our cables continue to perform as expected across various models and software versions. To update the firmware:
Click the Tools menu item.
5. Click Tool Information from the menu.
(Visited 57 times, 1 visits today)