What is Dashboard Service Tool?
Dashboard Service Tool is a window-base automotive software that use to change mileage,service details,service parametrs..Dashboard Service Tool support many vehicle in the world.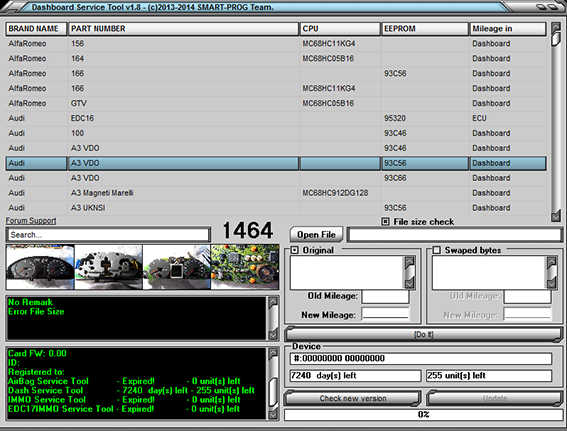 Dashboard Service Tool Function List:
– change mileage
– change service details
– change service parametrs (days, km)
– tachograph off
– tachograph on
– DASH with EZS synchronization
Dashboard Service Tool Support Vehicle List:
Acura, Admiral, Alfa Romeo, Aprilla, Audi, Bentley, BMW, Bogdan, Buick, BYD, Chana, Cadillac, Case, Cherry, Chevrolet, Chrysler, Peugeot, Citroen, Claas, Dacia, Daewoo, Daf, Daihatsu, Deutz Fahr, Dodge, DongFeng, Farmtrac, FAW, Fendt, Fendt, Fiat, Ford, Freightliner, GAZ, Geely, Gilera, GMC, GreatWall, HarleyDavidson, Harley, Hino, Hitachi, Honda, Hummer, Hyosung, Hyundai, Infinity, IranKhodro, Isuzu, Iveco, Jaguar, Jeep, John Deere, Kawasaki, KIA, Kubota, Lancia, Land Rover, Lexus, Lincoln, MAN, Mazda, Mercedes Benz, Mercury, Mini, Mitsubishi, NewHolland, Nissan, Opel, Pontiac, Porsche, Renault, RollsRoyce, Saab, Samsung, Scion, Seat, SkiDoo, Skoda, Smart, SsangYong, Subaru,Suzuki, Toyota, VAZ, Volvo, VW, Yamaha, Valtra.
For the vehicle list of each manufacturer,please visit: https://www.car-auto-repair.com/wp-content/uploads/2017/12/Dashboard-Service-Tool-Support-Vehicle-List.txt
Dashboard Service Tool Installation Requirements:
– O.S.: Windows XP; Windows Vista; Windows 7; Windows 8
– CPU: Pentium/Athlon 1 GHz or higher
– RAM: 256 MB of system memory
– Hard Drive: 50 MB of available space
– CD-ROM
Dashboard Service Tool V1.8 Free Download:
https://mega.nz/#!aSAGmASS!zFCKckSBd0cKoaTbzgL-y9zmal_MwQy3Rz42_QYr8h4
(Visited 1,237 times, 7 visits today)