What is Diamond Logic Builder?
The Diamond Logic builder software is an advanced tool that allows users to take full advantage of the multiplexed architecture and electronic integration capabilities of the International Diamond Logic electrical system.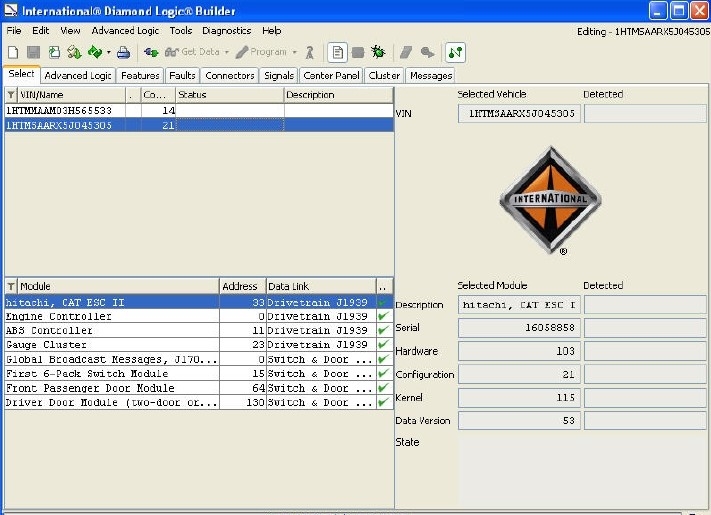 Beyond easy integration of chassis and body electrical systems, Diamond Logic builder software accommodates an infinite variety of vehicle configuration options, enabling dealers and Truck Equipment Manufacturers (TEMs) to create customized electronic features for your customers. The Diamond Logic builder software allows both simple and complex customization – from relocating switches to load management and sequencing capabilities. The result: a higher level of performance and functionality from International ® trucks. With Diamond Logic builder software, International makes it easier to build the right truck.
The International Diamond Logic Builder Functions:
-The International Diamond Logic electrical system brings added simplification and integration to your application by allowing the engine, transmission, cab and body to talk to each other.
-Self-diagnosing and self-monitoring, the system allows drivers and technicians to accurately pinpoint electrical problems for quicker troubleshooting, faster repairs and increased uptime.
-The fully programmable system allows for automation of tasks and customized vehicle performance.
-Add-on equipment and body wiring are connected outside the cab to remote power modules, providing solid-state power switch control outlets for driving body equipment. This eliminates wire-routing problems and running wires from outside to inside of the cab.
-Rocker switches that control remote power modules are factory-installed in the cab,eliminating the need for drilling in the cab to route wires, and improving reliability.A package of switch labels makes it easy to find locations for body switches in the instrument panel.
-Integration eliminates the need to remove the instrument panel and splice into wires.
-The Diamond Logic electrical system is completely flexible and expandable, with features and functionality that can be added,modified or removed at any time to meet specific application needs.
International Diamond Logic Builder Features:
-Designed for International 4000, 7000 and 8000 Series trucks, International Diamond Logic builder software is a PC-based program that facilitates easier integration of chassis and body electrical systems –for higher levels of electronics customization to meet specific customer requirements.
-Body integrators such as certified International dealers and TEMs are able to easily customize the existing Electrical System Controller (ESC) software.
-Developing customized electronic features is fast and simple – with an easy-to-use graphical interface featuring drop-down menus, toolbars and tabs in conjunction with factory-installed and pre-wired hardware modules.
-Programming can be easily executed using drag-and-drop screens that allow the user access to a wealth of vehicle signals for the purpose of constructing custom logic-driven features.
-Programmable parameters are available for use to modify existing feature performance.For example, lights can be programmed to come on with windshield wipers, PTO programmed to disengage at predetermined vehicle speed, etc.
-With the Diamond Logic builder software,body builders can simulate newly created equipment control logic configurations before uploading onto the vehicle.
-Software configurations can be saved and reused on multiple vehicles for optimum cost efficiency and time savings.
-Diagnostic capabilities are built into Diamond Logic builder software for diagnosing chassis and integrated body equipment controls,reducing troubleshooting and repair times.
-The custom programming environment makes even low-volume configurations cost-effective
Diamond Logic Builder Optional Hardwares:
NEXIQ™ Technologies – USB-Link2
Dearborn Group Technologies – DPA 5
Noregon® Systems, Inc. – DLA+, DLA+ Wireless
Diamond Logic Builder Free Download:
International Diamond Logic Builder DLB 2021 100% Work Solution
Diamond Logic Builder Free
https://d2mutuy95x2dyc.cloudfront.net/servicetools/dlb/download/Diamond%20Logic%20Builder%20Setup.exe
Diamond Logic Builder User Manuals:
Diamond Logic Builder User Guide
Diamond Logic Builder Quick Start User's Guide
Advanced Logic Programming User Manual
Diamond Logic Builder Installation OS Requirements:
NAVISTAR® DLB can be run on most PCs with a least 512 MB RAM (1 GB preferred), 10 MB available hard drive space, and CD-ROM running in the Window 7 operating system or newer. The appropriate interface adapter must be used to communicate with the vehicle.
This software is for reading International cab controllers, not the engines. If you need engine software, please look for the ServiceMaxx software.
(Visited 56 times, 1 visits today)