What is IMMO Service Tool?
IMMO Service Tool is a program for pin code,key code,immo off calculating.A new version of software for professionals working with immobilizers of cars of various brands (both passenger cars and trucks). Used to restore the immobilizer's operability or to completely shut it down (immo off). Also, the program allows you to calculate a pin by dump (Dump to Pin), bind keys and clean the block for binding (Virgin).The program has a built-in database with information and photos on working with immobilizers of various cars.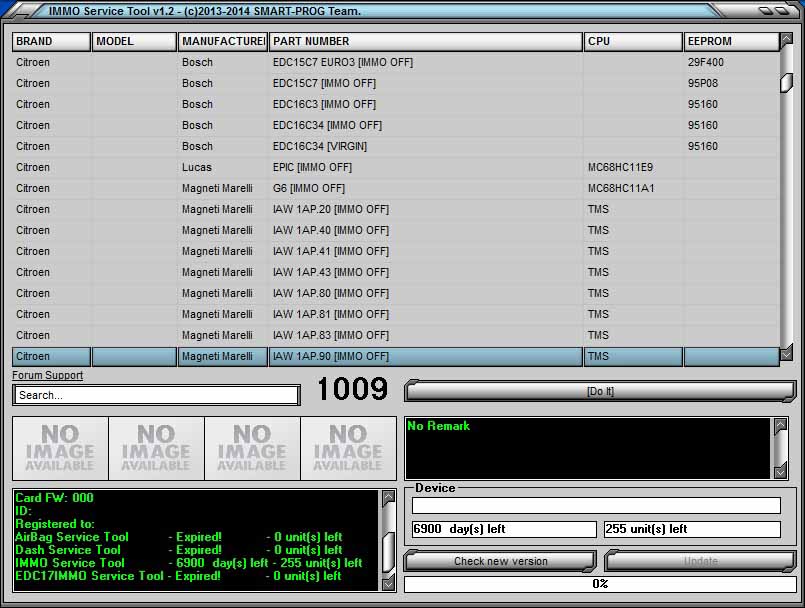 IMMO Service Tool Functions:
– Pin Code / Key Code Calculator by dumps.
– Immo OFF Calculator by dumps
– Photos and descriptions of the program
– Intuitive software menu
– Search System of any name of the controller housing
– Calculation files 1-2 seconds
– Working on Multiple PCs(USB dongle)
IMMO Service Tool 1.2 Free Download:
Download link 1:
https://mega.nz/#!FlZjGRzS!eX__dW4565YhEdniVUATBT7vKpD9dGqHCFrAC2z3YVw
Password:CarTechnoloGY.co.uk
Supported windows 7 to 8.1, Windows 10 (32 / 64 Bits)
This download link provide the free download,and you need to go to link:https://cartechnology.co.uk/showthread.php?tid=24830 to get license.
Original software cost 495,00€
Download link 3:
https://yadi.sk/d/aTkOZjFX3LUbhh
https://cloud.mail.ru/public/AWuu/nnJoHVUNL
https://mega.nz/#!gbI1EDwL!NmhkuJEcd3PsOw_oIDx_xtZZfNEf9nP8yrgLjQw_v-I
Extract, run program, you will see ID. Push CTRL+C (no message), open a new txt and paste there
Select only ID , open KG, generate key and then copy Mirosoft.key to program location.
Download link3:
http://www.mediafire.com/file/itsri8saots3o35/ImmoServiceTool1.2.rar
IMMO Service Tool EDC17:
http://www.digital-kaos.co.uk/forums/attachment.php?attachmentid=274894&d=1409276278
No pass for all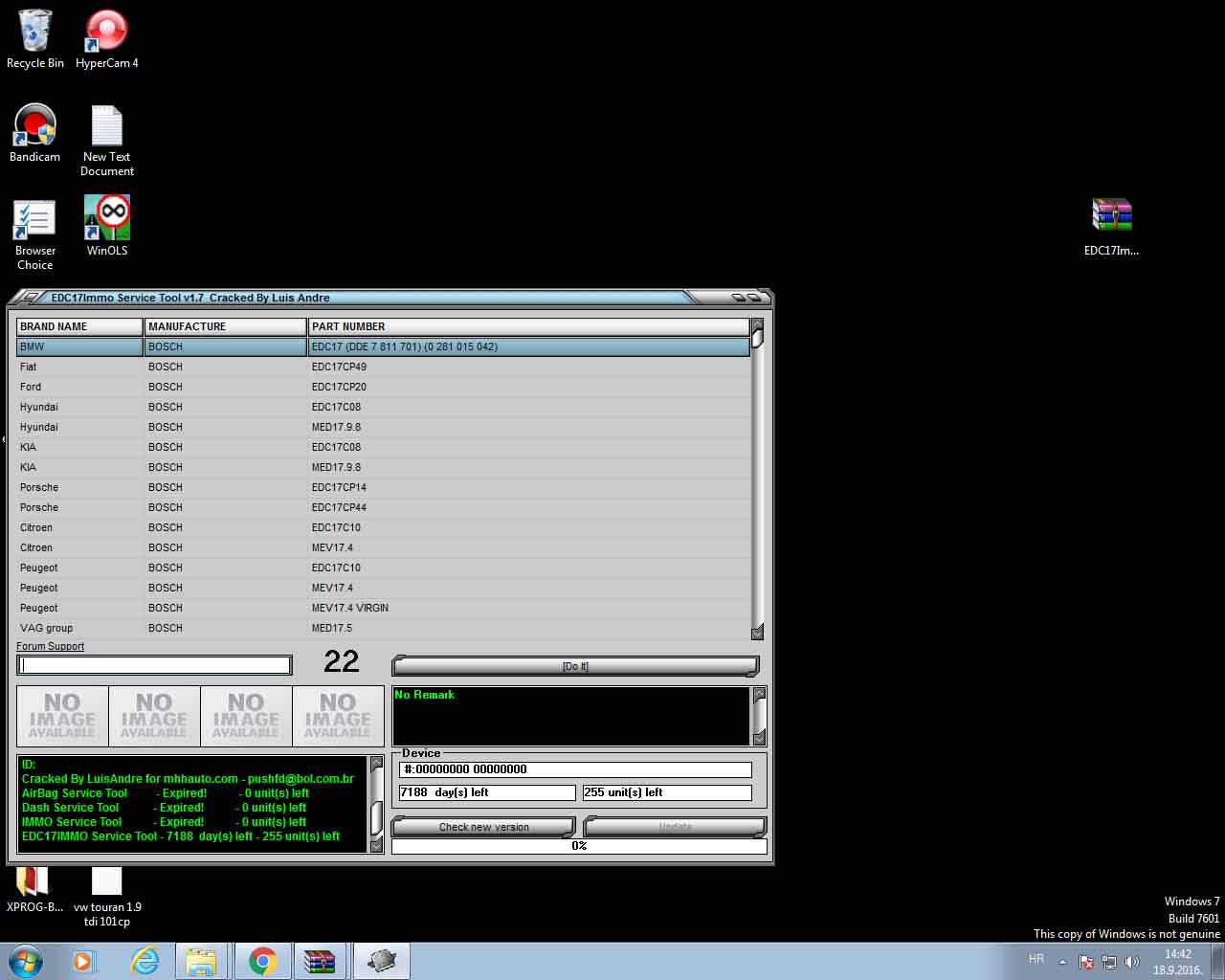 EDC17 Immo Service Tool v 1.7
https://mega.nz/#!TYZgzTiT!n7zhTvZmZNMF9eyrcq_wVW7IIDNeg61IEsUPIJJN-tM
IMMO Service Tool 1.2 Requirements:
– O.S.: Windows XP; Windows Vista; Windows 7; Windows 8,Win 10
– CPU: Pentium/Athlon 1 GHz or higher
– RAM: 256 MB of system memory
– Hard Drive: 50 MB of available space
– CD-ROM
IMMO Service Tool 1.2 ECU Support List:
IMMODB APRILIA APRILIA TEMIC 24C16,
IMMODB AUDI A4 DELPHI 93C46,
IMMODB AUDI A6 DELPHI 93C46,
IMMODB AUDI A6 ECU EDC16 95P080,
IMMODB AUDI A4 MM73 MC68HC912DG128 DASH,
IMMODB AUDI A6 MM73 MC68HC912DG128 DASH,
IMMODB AUDI A6 VDO V1 93C66 DASH,
IMMODB AUDI A6 VDO V2 93C66 DASH,
IMMODB AUDI A6 VDO 93C86 DASH,
IMMODB AUDI A8 VDO 93C66 DASH,
IMMODB AUDI A8 VDO V1 24C17 DASH,
IMMODB AUDI TT MM73 MC68HC912D60 DASH,
IMMODB AUDI TT MM73 MC68HC912DG128 DASH,
IMMODB CITROEN BERLINGO 93C46,
IMMODB CITROEN EVASION 93C66,
IMMODB CITROEN JAMPER 93LC46,
IMMODB CITROEN JAMPY 25040,
IMMODB CITROEN JAMPY 93LC66,
IMMODB CITROEN RELAY 93C46,
IMMODB CITROEN SAXO 93C46,
IMMODB CITROEN XANTIA 93LC66,
IMMODB CITROEN XSARA 93LC66,
IMMODB CITROEN BERLINGO BSI NEC,
IMMODB CITROEN BERLINGO V1 BSI 95160,
IMMODB CITROEN C2 V1 BSI 95160,
IMMODB CITROEN C2 V2 BSI 95160,
IMMODB CITROEN C2 V4 BSI 95160,
IMMODB CITROEN C3 V1 BSI 95160,
IMMODB CITROEN C5 BSI 95160,
IMMODB CITROEN C5 BSI MC68HC912DG128,
IMMODB CITROEN XSARA BSI 95040,
IMMODB DACIA SOLENZA 93C46,
IMMODB DACIA SUPERNOVA 93C46,
IMMODB DAEWOO ESPERO MC68HC05B8 3D33J ,
IMMODB DAEWOO LANOS MC68HC05B8 3D33J ,
IMMODB DAEWOO LEGANZA MC68HC05B8 3D33J ,
IMMODB DAEWOO MATIZ MC68HC05B8 3D33J ,
IMMODB DAEWOO NEXIA MC68HC05B8 3D33J ,
IMMODB DAEWOO NUBIRA MC68HC05B8 3D33J ,
IMMODB DAIHATSU CHARADE 93C66,
IMMODB DAIHATSU CUORE 93C66,
IMMODB DAIHATSU MOVE V1 93C66,
IMMODB DAIHATSU MOVE V2 93C66,
IMMODB DAIHATSU SIRION 93C66,
IMMODB DAIHATSU STORIA V1 93C66,
IMMODB DAIHATSU STORIA V2 93C66,
IMMODB DAIHATSU TERIOS 93C66,
IMMODB FIAT BARCHETTA 93C46,
IMMODB FIAT BRAVA 93C46,
IMMODB FIAT BRAVO 93C46,
IMMODB FIAT BRAVO MC68HC705E6 0F82B ,
IMMODB FIAT BRAVO MC908AZ32,
IMMODB FIAT CINQUECENTO 93LC46,
IMMODB FIAT DUCATO 93LC46,
IMMODB FIAT FIORINO MC68HC05B6,
IMMODB FIAT FIORINO MC908AZ32,
IMMODB FIAT MAREA MC908AZ32,
IMMODB FIAT MAREA V1 MC68HC705E6 0F82B ,
IMMODB FIAT MARENGO 93LC46,
IMMODB FIAT PALIO MC68HC705E6 0F82B ,
IMMODB FIAT PALIO MC908AZ32,
IMMODB FIAT PANDA 93C46,
IMMODB FIAT PUNTO 93C46,
IMMODB FIAT SCUDO 25040,
IMMODB FIAT SCUDO 93C66,
IMMODB FIAT SEICENTO 93C46,
IMMODB FIAT SIENA MC68HC705E6 0F82B ,
IMMODB FIAT STRADA MC908AZ32,
IMMODB FIAT TEMPRA 93LC46,
IMMODB FIAT ULYSSE 25040,
IMMODB FIAT ULYSSE 93C66,
IMMODB FORD KA 7701,
IMMODB FORD MONDEO ECU TMS370,
IMMODB FORD PROBE MC68HC05P3 1E25B ,
IMMODB FORD TRANZIT TMS370C002,
IMMODB GILERA RUNNER 50 MC68HC05B16,
IMMODB HONDA ACCORD MC68HC705B16 0D28J ,
IMMODB HONDA CIVIC 93C46,
IMMODB HONDA CIVIC MC68HC705B16  0D28J ,
IMMODB HONDA CR V 93C46,
IMMODB HONDA HLI 502 93C46,
IMMODB HONDA HONDA HC705B16 0D28J ,
IMMODB HONDA SHUTTLE 93C46,
IMMODB HYUNDAI ELANTRA 93C56,
IMMODB HYUNDAI H200 V1 93C56,
IMMODB HYUNDAI H200 V2 93C56,
IMMODB HYUNDAI LANTRA 93C56,
IMMODB HYUNDAI SONATA 93C56,
IMMODB HYUNDAI TUCSON 93LC66,
IMMODB IVECO IVECO 93C56,
IMMODB KIA CLARUS 93C46,
IMMODB KIA KIA 93LC46,
IMMODB KIA PRIDE 93C46,
IMMODB KIA RIO 93LC46,
IMMODB KIA SHUMA 93C46,
IMMODB KIA SPORTAGE 93C46,
IMMODB LANCIA DEBRA 93C46,
IMMODB LANCIA DEBRA MC68HC705E6 0F82B ,
IMMODB LANCIA DEBRA MC908AZ32,
IMMODB LANCIA DELTA 93C46,
IMMODB LANCIA Y MC68HC705E6 0F82B ,
IMMODB LANCIA Y MC908AZ32,
IMMODB LEXUS ECU INSIDE 93C56,
IMMODB LEXUS LX300 V1 93C56,
IMMODB LEXUS LX300 V2 93C56,
IMMODB LEXUS LX470 V1 93C56,
IMMODB LEXUS LX470 V2 93C56,
IMMODB MAZDA 323 MC68HC705P3 1E25B ,
IMMODB MAZDA 626 MC68HC705P3 1E25B ,
IMMODB MAZDA XEDOS 6 MC68HC705P3 1E25B ,
IMMODB MAZDA XEDOS 9 MC68HC705P3 1E25B ,
IMMODB MERCEDES ACTROS 93C66,
IMMODB MERCEDES ACTROS 93C86,
IMMODB MERCEDES ACTROS ECU 93C56,
IMMODB MERCEDES ATEGO 93C66,
IMMODB MERCEDES ATEGO ECU 93C86,
IMMODB MERCEDES SPRINTER 310D MC68HC05X16 D62J ,
IMMODB MERCEDES TEMIC12 05X16 D62J ,
IMMODB MERCEDES TEMIC12 908AZ32 0J66D ,
IMMODB MERCEDES VARIO 93C66,
IMMODB MERCEDES VITO TEMIC 908AZ32 0J66D ,
IMMODB MITSUBISHI GALANT 24C01,
IMMODB MITSUBISHI LANCER 24C01,
IMMODB MITSUBISHI PAGERO 24C01,
IMMODB MITSUBISHI SPACE RUNNER V1 24C01,
IMMODB MITSUBISHI SPACE RUNNER V2 24C01,
IMMODB MITSUBISHI SPACE WAGON 24C01,
IMMODB NISSAN ALMERA MC68HC05B6 0F10V ,
IMMODB NISSAN BCM L66,
IMMODB NISSAN INTERSTAR 25040,
IMMODB NISSAN MAXIMA MC68HC05B6  1E50H ,
IMMODB NISSAN MAXIMA MC68HC05B6 3D33J ,
IMMODB NISSAN MICRA MC68HC05B8 3D33J ,
IMMODB NISSAN PATROL TMS370,
IMMODB NISSAN PRIMERA MC68HC05B6 0F10V ,
IMMODB NISSAN PRIMERA MC68HC05B6 1E50H ,
IMMODB NISSAN PRIMERA TMS370,
IMMODB NISSAN PRIMERA V1 MC68HC05B8 0D54J ,
IMMODB NISSAN PRIMERA V2 MC68HC05B8 0D54J ,
IMMODB NISSAN TERRANO II MC68HC05B8 3D33J ,
IMMODB NISSAN TERRANO MC68HC05E6,
IMMODB OPEL CORSA MC68HC05B6,
IMMODB OPEL FRONTERA 93C46,
IMMODB OPEL GM 90 532 624 MC68HC05B6 0F10V ,
IMMODB OPEL HITAG2 93C66,
IMMODB OPEL MOVANO V1 93C46,
IMMODB OPEL MOVANO V2 93C46,
IMMODB OPEL OMEGA MC68HC05B6,
IMMODB OPEL SINTRA MC68HC05B8 3D33J ,
IMMODB OPEL VECTRA MC68HC05B8 3D33J ,
IMMODB PEUGEOT 106 93C46,
IMMODB PEUGEOT 306 25040,
IMMODB PEUGEOT 306 93LC66,
IMMODB PEUGEOT 406 V1 93C46,
IMMODB PEUGEOT 406 V2 93C46,
IMMODB PEUGEOT 806 V1 93C66,
IMMODB PEUGEOT 806 V2 93C66,
IMMODB PEUGEOT BOXER 93LC46B,
IMMODB PEUGEOT ELISEO 125 MC68HC05B8 0D54J ,
IMMODB PEUGEOT ELYSTAR MC68HC05E6 0G72G ,
IMMODB PEUGEOT EXPERT 25040,
IMMODB PEUGEOT EXPERT 93LC66,
IMMODB PEUGEOT JETFORCE MC68HC05E6 2F82B ,
IMMODB PEUGEOT PARTNET 93C46,
IMMODB PEUGEOT SPEEDFIGHT MC68HC05B8 0D54J ,
IMMODB PEUGEOT SQUAB 50 MC68HC05B16 0D60J ,
IMMODB PEUGEOT 307 V1 BSI MC68HC912DG128,
IMMODB PEUGEOT 307 V2 BSI 95160,
IMMODB PEUGEOT 307 V2 BSI MC68HC912DG128,
IMMODB PEUGEOT 307 V3 BSI 95160,
IMMODB PEUGEOT 307 V4 BSI 95160,
IMMODB PEUGEOT 307 V5 BSI 95160,
IMMODB PEUGEOT 308 V5 BSI 95160,
IMMODB PEUGEOT 807 V1 BSI MC68HC912DG128A,
IMMODB PEUGEOT 807 V2 BSI MC68HC912DG128A,
IMMODB PEUGEOT PARTNER BSI NEC,
IMMODB PIAGGIO BEVERLY 200 MC68HC05B6,
IMMODB PIAGGIO BEVERLY 250 MC68HC05B16 0D60J ,
IMMODB PIAGGIO BEVERLY 500 MC68HC705E6 0F82B ,
IMMODB PIAGGIO LIBERTY 125 MC68HC05B6,
IMMODB PIAGGIO VESPA 150 MC68HC05B16 0D60J ,
IMMODB RENAULT CLIO C46CM6,
IMMODB RENAULT KANGOO 93C46,
IMMODB RENAULT MASCOTT 93C46,
IMMODB RENAULT MASTER C46CM6,
IMMODB RENAULT TRAFIC C46CM6,
IMMODB ROVER ROVER MC68HC705B16 0D28J ,
IMMODB SEAT AROSA MC68HC05B8,
IMMODB SEAT CORDOBA MC68HC05B8 3D33J ,
IMMODB SEAT IBIZA MC68HC05B8 3D33J ,
IMMODB SEAT MARBELLA MC68HC05B6,
IMMODB SEAT TOLEDO MC68HC05B8 3D33J ,
IMMODB SEAT ALHAMBRA V1 DASH 93C86,
IMMODB SEAT ALTEA DASH 24C16,
IMMODB SEAT CORDOBA DASH 93C86,
IMMODB SEAT CORDOBA DASH MC9S12H256,
IMMODB SEAT CORDOBA V1 DASH 93C86,
IMMODB SEAT IBIZA DASH 93C86,
IMMODB SEAT IBIZA DASH MC9S12H256,
IMMODB SEAT LEON DASH 24C32,
IMMODB SEAT LEON DASH 93C86,
IMMODB SEAT LEON V1 DASH 93C86,
IMMODB SEAT LEON V2 DASH 93C86,
IMMODB SEAT LEON V3 DASH 93C86,
IMMODB SEAT TOLEDO DASH 24C16,
IMMODB SEAT TOLEDO V2 DASH 93C86,
IMMODB SKODA FELICIA MC68HC05B8 3D33J ,
IMMODB SKODA FABIA V1 DASH 93C86,
IMMODB SKODA FABIA V2 DASH 93C86,
IMMODB SKODA FABIA V1 DASH 93C86 CRYPTO,
IMMODB SKODA FABIA V2 DASH 93C86 CRYPTO,
IMMODB SKODA OKTAVIA DASH 24C16,
IMMODB SKODA OKTAVIA V1 DASH 24C32,
IMMODB SKODA OKTAVIA DASH 93C66,
IMMODB SKODA OKTAVIA DASH 93C86,
IMMODB SKODA PRAKTIK DASH 93C86 CRYPTO,
IMMODB SKODA SUPERB V1 DASH 93C86,
IMMODB SKODA SUPERB V2 DASH 93C86,
IMMODB SKODA SUPERB DASH 93C86 CRYPTO V1,
IMMODB SKODA SUPERB DASH 93C86 CRYPTO V2,
IMMODB SUBARU LEGACY OUTBACK MC68HC05B8 3D33J ,
IMMODB SUZUKI ALTO 24C01,
IMMODB SUZUKI BALENO 93C66,
IMMODB SUZUKI GRAND VITARA V1 24C01,
IMMODB SUZUKI GRAND VITARA V2 24C01,
IMMODB SUZUKI GRAND VITARA V3 24C01,
IMMODB SUZUKI SWIFT 93C66,
IMMODB SUZUKI WAGON R  24C01,
IMMODB TOYOTA AVENSIS 93C66,
IMMODB TOYOTA AVENSIS MC68HC05E6 0F82B ,
IMMODB TOYOTA AVENSIS MC68HC705E6 0F82B ,
IMMODB TOYOTA CAMRY 93C66,
IMMODB TOYOTA CAMRY ECU 93C86,
IMMODB TOYOTA COROLLA 93C66,
IMMODB TOYOTA COROLLA 93LC56,
IMMODB TOYOTA COROLLA ECU 93C56,
IMMODB TOYOTA DUET 93C66,
IMMODB TOYOTA LAND CRUISER 93C66,
IMMODB TOYOTA PASEO 24C04,
IMMODB TOYOTA PRADO 93C66,
IMMODB TOYOTA RAV4 93LC66,
IMMODB TOYOTA YARIS ECU 25040,
IMMODB VW CADDY MC68HC05B8 3D33J ,
IMMODB VW CARAVELLA MC68HC05B8 1E50H ,
IMMODB VW GOLF MC68HC05B8 3D33J ,
IMMODB VW LT28 MC68HC05X16 0D62J ,
IMMODB VW LT35 MC68HC05X16 0D62J ,
IMMODB VW PASSAT MC68HC05B8 3D33J ,
IMMODB VW POLO MC68HC05B8 3D33J ,
IMMODB VW SHARAN MC68HC05B8 3D33J ,
IMMODB VW TRANSPORTER MC68HC05B8 1E50H ,
IMMODB VW VENTO MC68HC05B8 1E50H ,
IMMODB VW BORA DASH 93C66,
IMMODB VW BORA DASH 93C86,
IMMODB VW GOLF4 DASH 93C66,
IMMODB VW GOLF4 V1 DASH 93C86,
IMMODB VW GOLF4 V2 DASH 93C86,
IMMODB VW JETTA V1 DASH 93C86,
IMMODB VW JETTA V2 DASH 93C86,
IMMODB VW JETTA V3 DASH 93C86,
IMMODB VW PASSAT B5 VDO DASH 93C86,
IMMODB VW PASSAT B5 VDO V1 DASH 93C66,
IMMODB VW PASSAT B5 VDO V2 DASH 93C66,
IMMODB VW PASSAT B5  FROM 2001 VDO DASH 93C86,
IMMODB VW PASSAT B5  FROM 2004 VDO DASH 93C86,
IMMODB VW POLO V1 DASH 93C86,
IMMODB VW POLO V2 DASH 93C86,
IMMODB VW SHARAN V1 DASH 93C86,
IMMODB VW TRANSPORTER T5 V1 DASH 93C86,
IMMODB VW TRANSPORTER T5 V2 DASH 93C86,
IMMO OFF:
AlfaRomeo  GM Multec  29F010
AlfaRomeo  GM Multec  MC68HC11F1
AlfaRomeo  Hitachi   24C02
AlfaRomeo  Hitachi   93C46
AlfaRomeo  Bosch  EDC15C5 24C04
AlfaRomeo  Bosch  EDC15C6 95080
AlfaRomeo  Bosch  EDC15C7 95080
AlfaRomeo  Bosch  EDC16C39 95320
AlfaRomeo  Bosch  EDC16C39 95640
AlfaRomeo  Bosch  EDC16C8 95160
AlfaRomeo  Bosch  EDC16C9 95160
AlfaRomeo  Magneti Marelli  IAW 18F.XX 27C512
AlfaRomeo  Magneti Marelli  IAW 18F.XX MC68HC11F1
AlfaRomeo  Magneti Marelli  IAW 4Q-J-W MC68HC11E1
AlfaRomeo  Magneti Marelli  IAW 8F.XX MC68HC11F1
AlfaRomeo  Bosch  M2.10.3 24C02
AlfaRomeo  Bosch  M2.10.4 24C02
AlfaRomeo  Bosch  M2.7 27C256
AlfaRomeo  Bosch  ME 7.1.1 95080
AlfaRomeo  Bosch  ME 7.9.10 95160
AlfaRomeo  Bosch  MED 7.1.1 95080
AlfaRomeo  Bosch  MED 7.6.1 95080
AlfaRomeo  Bosch  MED 7.6.2 95080
AlfaRomeo  Hitachi  MFI 003BC2 93C46(59C11)
AlfaRomeo  Bosch  MSA11 EDC1.3.1 93C46
Aprilia  Magneti Marelli  59M Hybrid ST10F269
Aprilia  Magneti Marelli  59M Hybrid v2 ST10F269
Aprilia  Magneti Marelli  5AM Hybrid ST10F269
Aprilia  Magneti Marelli  5AM Hybrid v2 ST10F269
Aprilia  Magneti Marelli  5DM Hybrid ST10F269
Aprilia  Magneti Marelli  5DM Hybrid v2 ST10F269
Audi  Digifant  3.2 27C256
Audi  Siemens  5WP4 SIMOS 1.X 93C56
Audi  Siemens  5WP4 SIMOS 3.X 93C76
Audi  Bosch  EDC16CP34 95320
Audi  Bosch  EDC16U1 95320
Audi  Bosch  EDC16U31 95320
Audi  Bosch  EDC16U34 95320
Audi  Bosch  M2.3.1 24C02
Audi  Bosch  M2.3.2 27C512
Audi  Bosch  M3.8.X v1 24C02
Audi  Bosch  M3.8.X v2 24C02
Audi  Bosch  M5.4.1 24C02
Audi  Bosch  M5.9.2 24C02
Audi  Bosch  M7.X.X 95040
Audi  Bosch  M7.X.X 95080
Audi  Bosch  M7.X.X 95160
Audi  Bosch  MED 9.5.10 95080
Audi  Bosch  MSA 15.X 24C02
Audi  Bosch  MSA11 EDC1.3.1 93C46
Audi  Siemens  SIMOS 7.X 93C86
Audi  Siemens  SIMOS 8.1 93C86
Audi  Siemens  SIMOS 9.1 93C86
BMW  Siemens  BMS 46 29F200
BMW  Bosch  EDC15C4 95P08
BMW  Bosch  EDC15M-6 DDE 3.0 24C04
BMW  Bosch  M 1.7.2 27C256
BMW  Siemens  MMS 50 29F200
BMW  Siemens  MMS 52 29F200
BMW  Siemens  MS 41.0 DME 29F200
BMW  Siemens  MS 42 29F400
BMW  Bosch  MSA 11 EDC1.3.1 93C46
BMW  Bosch  MSA 15.5 93C46
Blazer  Bosch  M2.8 24C02
Chevrolet  GM Multec  29F010
Chevrolet  GM Multec  MC68HC11F1
Chevrolet  Bosch  M2.8 24C02
Chevrolet Aveo Delphi Korea  Hybrid 1400cc 95020
Chevrolet Matiz Kemsco   29F400
Chrysler  Bosch  EDC MSA 15.5-5.3 v1 24C04
Chrysler  Bosch  EDC MSA 15.5-5.3 v2 24C04
Chrysler  Bosch  EDC MSA 15.5-5.5 v1 24C04
Chrysler  Bosch  EDC MSA 15.5-5.5 v2 24C04
Chrysler  Bosch  EDC15C2 95P08
Chrysler  Siemens  SIRIUS 34 29F400
Chrysler  Chrysler  White Box MC68HC11E9
Citroen  Magneti Marelli  1AF.13-14-15-16-17 27C512
Citroen  Magneti Marelli  48P.10 29F200
Citroen  Magneti Marelli  48P.3X 95080
Citroen  Magneti Marelli  48P2.XX 29F400
Citroen  Magneti Marelli  4MP.XX 29F200
Citroen  Magneti Marelli  4MP2.XX 29F200
Citroen  Magneti Marelli  5NP 95160
Citroen  Bosch  EDC15C2 1socket 29F400
Citroen  Bosch  EDC15C2 3socket 29F400
Citroen  Bosch  EDC15C2 3socket 95080
Citroen  Bosch  EDC15C6 EURO3 95P08
Citroen  Bosch  EDC15C7 95P08
Citroen  Bosch  EDC15C7 EURO3 29F400
Citroen  Bosch  EDC16C3 95160
Citroen  Bosch  EDC16C34 95160
Citroen  Bosch  EDC16C34 virgin 95160
Citroen  Lucas  EPIC MC68HC11E9
Citroen  Magneti Marelli  G6 MC68HC11A1
Citroen  Magneti Marelli  IAW 1AP.20 TMS
Citroen  Magneti Marelli  IAW 1AP.40 TMS
Citroen  Magneti Marelli  IAW 1AP.41 TMS
Citroen  Magneti Marelli  IAW 1AP.43 TMS
Citroen  Magneti Marelli  IAW 1AP.80 TMS
Citroen  Magneti Marelli  IAW 1AP.81 TMS
Citroen  Magneti Marelli  IAW 1AP.83 TMS
Citroen  Magneti Marelli  IAW 1AP.90 TMS
Citroen  Magneti Marelli  IAW 8P.XX MC68HC11A1
Citroen  Bosch  M7.4.4 95080
Citroen  Bosch  M7.4.4 v2 95080
Citroen  Bosch  MA 3.0 93C46
Citroen  Bosch  MA 3.1 93C46
Citroen  Bosch  MA 3.2 93C46
Citroen  Bosch  ME 7.4.4 29F400
Citroen  Bosch  ME 7.4.4 95160
Citroen  Bosch  ME 7.4.4 v2 95160
Citroen  Bosch Motronic MP 3.1 93C46
Citroen  Bosch Motronic MP 3.2 93C46
Citroen  Bosch Motronic MP 5.1 93C46
Citroen  Bosch Motronic MP 5.1.1 93C46
Citroen  Bosch Motronic MP 5.2 93C46
Citroen  Bosch Motronic MP 7.0 24C02
Citroen  Bosch Motronic MP 7.2 24C02
Citroen  Bosch Motronic MP 7.3 24C02
Citroen  Bosch MSA 11 EDC1.3.8 93C46
Citroen  Sagem  S2000 95080
Citroen  Siemens  SID 801 29F400
Citroen  Siemens  SID 801 93C56
Citroen  Siemens  SID 801A 29F400
Citroen  Siemens  SID 801A 93C56
Citroen  Siemens  SID 802 29F400
Citroen  Siemens  SID 804 29F400
Citroen  Siemens  SID 806 29F400
Citroen  Sagem  SL96 1x28F512 TMS374
Citroen  Sagem  SL96 2x28F512 TMS374
Citroen C1 Valeo  IMMO 1000cc Virgin 24C04
Citroen C2 Siemens BSI Virgin 95128
Citroen C3 Siemens BSI Virgin 95160
Citroen C4  BSI Virgin 95128
Citroen XARA Valeo  BSI 2002 Virgin 95040
Citroen XARA Valeo  BSI 2003 Virgin 95040
Dacia  Delphi TRW  95080
Dacia  Delphi  DCM 1.2 95160
Dacia  Delphi  DCM 1.2 v2 95160
Dacia  Delphi TRW DDCR 95080
Dacia  Siemens  EMS 3132 29F200
Dacia  Siemens  SIRIUS 32 29F200
Dacia  Siemens  SIRIUS 32 without CAN 29F200
Dacia  Siemens  SIRIUS 34 29F200
Dacia  Siemens  SIRIUS 34 29F400
Daewoo  Siemens   TMS374
Daewoo  Kemsco  D3 29F200
Daewoo  Delphi-Delco  Hybrid 95020
Daewoo  GM Multec socket blue and grey 27C256
Daewoo  GM Multec socket blue and grey MC68HC11F1
Daewoo  GM Multec socket light blue MC68HC11F1
Daewoo  GM Multec socket red and brown MC68HC11F1
Daewoo  GM Multec socket red and white MC68HC11F1
Daf  Bosch  EDC7 95640
Daf  Bosch  EDC7 v2 95640
Daf  Bosch  MS 6.2 24C16
Dodge  Bosch  EDC MSA 15.5-5.3 24C04
Dodge  Bosch  EDC MSA 15.5-5.3 v2 24C04
Dodge  Bosch  EDC MSA 15.5-5.5 24C04
Dodge  Bosch  EDC MSA 15.5-5.5 v2 24C04
Ducati  Magneti Marelli  59M Hybrid ST10F269
Ducati  Magneti Marelli  59M Hybrid v2 ST10F269
Ducati  Magneti Marelli  5AM Hybrid ST10F269
Ducati  Magneti Marelli  5AM Hybrid v2 ST10F269
Fendt  Bosch  MS 6.4 24C16
Fiat  Hitachi   24C02
Fiat  Hitachi   59C11
Fiat  Hitachi   93C46
Fiat  Magneti Marelli  1AB.XX 27C512
Fiat  Magneti Marelli  1AF.13-14-15-16-17 27C512
Fiat  Magneti Marelli  1AG7.XX MC68HC11F1
Fiat  Magneti Marelli  48P 29F400
Fiat  Magneti Marelli  48P.3X 95080
Fiat  Magneti Marelli  49F 95040
Fiat  Magneti Marelli  49F v1 95040
Fiat  Magneti Marelli  49F v2 95040
Fiat  Magneti Marelli  4AF 95160
Fiat  Magneti Marelli  4AF v2 95160
Fiat  Magneti Marelli  4EF 95080
Fiat  Magneti Marelli  4EF v2 95080
Fiat  Magneti Marelli  4GF 95040
Fiat  Magneti Marelli  4GF v2 95040
Fiat  Magneti Marelli  4MP 29F400
Fiat  Magneti Marelli  59F Hybrid HW v.100 ST10F269
Fiat  Magneti Marelli  59F Hybrid HW v.100 v2 ST10F269
Fiat  Magneti Marelli  59FBTX 95160
Fiat  Magneti Marelli  5AF Hybrid ST10F269
Fiat  Magneti Marelli  5AF Hybrid v2 ST10F269
Fiat  Magneti Marelli  5NF 95160
Fiat  Magneti Marelli  5NF v2 95160
Fiat  Magneti Marelli  5SF 95160
Fiat  Magneti Marelli  5SF3 ST10F280
Fiat  Magneti Marelli  5SF8 ST10F296
Fiat  Magneti Marelli  5SF9 ST10F296
Fiat  Visteon  DCU 102 ST10F276
Fiat  Lucas  DCU3F 95080
Fiat  Lucas  DCU3F v2 95080
Fiat  Bosch  EDC15C2 95P08
Fiat  Bosch  EDC15C39 95320
Fiat  Bosch  EDC15C39 95640
Fiat  Bosch  EDC15C5 (5 socket) 24C04
Fiat  Bosch  EDC15C6 95P08
Fiat  Bosch  EDC15C7 95P08
Fiat  Bosch  EDC15C8 95160
Fiat  Bosch  EDC15C8 95320
Fiat  Bosch  EDC16C9 95160
Fiat  Lucas  EPIC MC68HC11E9
Fiat  Magneti Marelli  IAW 16F.XX MC68HC11F1
Fiat  Magneti Marelli  IAW 18F.XX MC68HC11F1
Fiat  Magneti Marelli  IAW 1ABB.92 TMS374
Fiat  Magneti Marelli  IAW 1AF.1G TMS374
Fiat  Magneti Marelli  IAW 4Q-J-W MC68HC11E1
Fiat  Magneti Marelli  IAW 8F.XX MC68HC11F1
Fiat  Magneti Marelli  IAW 8P.XX MC68HC11A1
Fiat  Bosch  M1.7 27C256
Fiat  Bosch  M2.10.3 24C02
Fiat  Bosch  M2.10.4 24C02
Fiat  Bosch  M2.7 27C256
Fiat  Bosch  M3.8.2 24C02
Fiat  Bosch  MA 1.7.3 24C02
Fiat  Bosch  ME 7.9.10 95080
Fiat  Bosch  ME 7.9.10 95160
Fiat  Bosch  ME 7.9.6 95080
Fiat  Magneti Marelli  MJD 6F3 95320
Fiat  Magneti Marelli  MJD 6F3 v2 95320
Fiat  Magneti Marelli  MJD 6J3 95320
Fiat  Magneti Marelli  MJD 6J3 v2 95320
Fiat  Magneti Marelli  MJD 8DF and 8F2 virgin 95640
Fiat  Bosch Motronic MP3.2 93CS46
Fiat  Bosch  MSA EDC1.3.1 93C46
Fiat  GM Multec socket red and brown MC68HC11F1
Fiat  GM Multec socket red and white MC68HC11F1
Ford  Bosch  EDC16C3 95160
Ford  Bosch  M3.8.1 24C02
Ford  Bosch  ME7.1 95040
Ford  Bosch  MSA 15.X 24C02
Ford  Siemens  SID 804 29F400
Guzzi  Magneti Marelli  59M Hybrid ST10F269
Guzzi  Magneti Marelli  59M Hybrid v2 ST10F269
Guzzi  Magneti Marelli  5AM Hybrid ST10F269
Guzzi  Magneti Marelli  5AM Hybrid v2 ST10F269
Honda  Bosch  EDC15C7 95P08
Honda  Bosch  EDC16C31 95160
Honda  Bosch  MSA 11 EDC1.3.1 93C46
Honda  Hitachi  P9L 93C56
Hyundai  Kefico   95160
Hyundai  Zexel   93C46
Hyundai  Kefico  Accent 29F400
Hyundai  Bosch  EDC15C7 95P08
Hyundai  Siemens  S-11 – ATOC 1000cc – DOHC 27C512
Hyundai  Siemens  S-11 – ATOC 1100cc – DOHC 27C512
Hyundai  Kefico  X170 27C512
Isuzu  Bosch  EDC15M 24C04
Iveco  Bosch  EDC15C7 95P08
Iveco  Bosch  EDC15C8 1.31 95320
Iveco  Bosch  EDC16C39 95320
Iveco  Bosch  EDC16C39 95640
Iveco  Bosch  EDC16C8 95640
Iveco  Bosch  EDC7 95640
Iveco  Bosch  EDC7 v2 95640
Iveco  Bosch  MS 6.2 24C16
Iveco  Bosch  MS 6.3 24C16
Jeep  Bosch  EDC MSA 15.5-5.3 24C04
Jeep  Bosch  EDC MSA 15.5-5.3 v2 24C04
Jeep  Bosch  EDC MSA 15.5-5.5 24C02
Jeep  Bosch  EDC MSA 15.5-5.5 v2 24C02
Jeep  Bosch  EDC15C2 95P08
KIA  Siemens   TMS374
KIA  Zexel   93C46
KIA  Bosch  EDC15C7 95P08
KIA  Zexel  K04R OKI M951G(93C46)
KIA  Zexel  K04R OKI M951G(93C56)
KIA  KIA MOST K2BC 24LC02
KIA  Siemens  K348 1300cc 28F512
KIA  KIA MOST K9AB EU 27C512
KIA  KIA MOST K9BA 27C512
KIA  KIA MOST K9BC 27C512
KIA  Siemens  KC11C 1300cc 28F512
KIA  Siemens  S-II 1500cc – DOHC 27C512
Kawasaki  Denso   93C66
Lada    TMS374
Lada  BOSCH IMMO MP 7.0 and 7.3 24C02
Lada  Bosch  M 7.9.7 95080
Lada  Bosch  M1.5.4 24C02
Lada  Bosch  MP 7.0 24C02
Lada  Bosch  MP 7.3 24C02
Lancia  Hitachi   24C02
Lancia  Hitachi   59C11
Lancia  Hitachi   93C46
Lancia  Magneti Marelli  1AB.XX 27C512
Lancia  Magneti Marelli  1AF.13-14-15-16-17 27C512
Lancia  Magneti Marelli  48P 29F400
Lancia  Magneti Marelli  48P.3X 95080
Lancia  Magneti Marelli  49F 95040
Lancia  Magneti Marelli  49F v1 95040
Lancia  Magneti Marelli  49F v2 95040
Lancia  Magneti Marelli  4AF 95160
Lancia  Magneti Marelli  4AF v2 95160
Lancia  Magneti Marelli  4EF 95080
Lancia  Magneti Marelli  4EF v2 95080
Lancia  Magneti Marelli  4GF 95040
Lancia  Magneti Marelli  4GF v2 95040
Lancia  Magneti Marelli  4MP 29F200
Lancia  Magneti Marelli  4SF ST10F280
Lancia  Magneti Marelli  59F Hybrid HW ver.100 ST10F269
Lancia  Magneti Marelli  59F Hybrid HW ver.100 v2 ST10F269
Lancia  Magneti Marelli  5AF Hybrid ST10F269
Lancia  Magneti Marelli  5AF Hybrid v2 ST10F269
Lancia  Magneti Marelli  5NF 95160
Lancia  Magneti Marelli  5NF v2 95160
Lancia  Magneti Marelli  5SF 95160
Lancia  Bosch  EDC15C2 95P08
Lancia  Bosch  EDC15C5 (5 socket) 24C04
Lancia  Bosch  EDC15C6 95P08
Lancia  Bosch  EDC15C7 95P08
Lancia  Bosch  EDC16C39 95320
Lancia  Bosch  EDC16C39 95640
Lancia  Bosch  EDC16C8 95160
Lancia  Bosch  EDC16C9 95160
Lancia  Lucas  EPIC MC68HC11E9
Lancia  Magneti Marelli  IAW 16F.XX MC68HC11F1
Lancia  Magneti Marelli  IAW 18F.XX MC68HC11F1
Lancia  Magneti Marelli  IAW 1ABB.92 TMS374
Lancia  Magneti Marelli  IAW 1AF.1G TMS374
Lancia  Magneti Marelli  IAW 4Q-J-W MC68HC11E1
Lancia  Magneti Marelli  IAW 4Q5 27C256
Lancia  Magneti Marelli  IAW 8F.XX MC68HC11F1
Lancia  Magneti Marelli  IAW 8P.XX MC68HC11A1
Lancia  Bosch  M2.10.3 24C02
Lancia  Bosch  M2.10.4 24C02
Lancia  Bosch  M2.7 24C256
Lancia  Bosch  MA 1.7.3 24C02
Lancia  Bosch  ME 7.9.10 95080
Lancia  Magneti Marelli  MJD 6F3 95320
Lancia  Magneti Marelli  MJD 6F3 v2 95320
Lancia  Magneti Marelli  MJD 6J3 95320
Lancia  Magneti Marelli  MJD 6J3 v2 95320
Lancia  Magneti Marelli  MJD 8DF and 8F2 95640
Lancia  Bosch  MP3.2 93CS46
Lancia  Bosch  MSA 11 EDC1.3.1 93C46
Lancia  GM Multec socket red and brown MC68HC11F1
Lancia  GM Multec socket red and white MC68HC11F1
LandRover  MEMS  1.9 MKC 93C46
LandRover  MSB  1011XX (socket red and black) 93C46
LandRover  MSB  1011XX (socket red and black) 93C66
LandRover  MEMS  3 93C66
LandRover  Bosch  EDC15C4 95080
LandRover  Bosch  EDC15M 24C04
LandRover  MEMS  MKC 93C46
LandRover  Bosch  MSA 11 EDC1.3.1 93C46
LandRover  Bosch  MSA 15.5 93C46
LandRover  ROVER  MSB 93C46
LandRover  Siemens  SID 901 29F400
Lexus  Denso   93C56
MAN  Bosch  EDC7 95640
MAN  Bosch  EDC7 v2 95640
MAN  Bosch  MS6.1 24C16
MG  Bosch  EDC15C4 95P08
MG  Siemens  EMS 2 29F400
MG  Siemens  EMS 2 v2 29F400
MG  Bosch  MSA 11 EDC1.3.1 93C46
MV_Agusta  Magneti Marelli  59M Hybrid ST10F269
MV_Agusta  Magneti Marelli  59M Hybrid v2 ST10F269
MV_Agusta  Magneti Marelli  5AM Hybrid ST10F269
MV_Agusta  Magneti Marelli  5AM Hybrid v2 ST10F269
Mazda  Denso   93C56
Mazda  Bosch  EDC16C3 95160
Mazda  Siemens  SID 802 29F400
Mazda  Siemens  SID 804 29F400
Mercedes  Lucas   27C010
Mercedes  Lucas   MC68HC11E9
Mercedes  Default  DAS EDC15 CR1 Diesel 24C04
Mercedes  Default  DAS EDC15 CR2 Diesel 95P08
Mercedes  Default  DAS EDC16CP3 Diesel 95P08
Mercedes  Default  DAS HFM VDO 24C04
Mercedes  Default  DAS ME2.0 MC68HC11
Mercedes  Default  DAS Temic Diesel AutoSync 95P08
Mercedes  Bosch  EDC15.5 24C02
Mercedes  Bosch  EDC15C0 24C04
Mercedes  Bosch  EDC15C6 v1 95080
Mercedes  Bosch  EDC15C6 v2 95080
Mercedes  Bosch  EDC16 v1 95320
Mercedes  Bosch  EDC16 v2 95320
Mercedes  Bosch  EDC16C2 95160
Mercedes  Siemens Immo Class-A 1.7 CDI MC68HC05
Mercedes  Bosch  ME 2.0 MC68HC11E9
Mercedes  Bosch  ME 2.1 MC68HC11E9
Mercedes  Siemens VDO Repair MSE H10 v1 29F200
Mercedes  Siemens VDO Repair MSE H10 v2 29F200
Mercedes  Siemens VDO Repair MSM 1.X v1 29F200
Mercedes  Siemens VDO Repair MSM 1.X v2 29F200
Mercedes  Temic  Truck 93C66
Mercedes Sprinter Temic Immo Repair Start Error MC68HC08
Mercedes Vito Temic Immo Repair Start Error MC68HC05
Mercedes Vito Temic Immo Repair Start Error MC68HC08
Mini  MEMS  3 93C66
Mini  Bosch  EDC15C4 95080
Mini  MEMS  MKS 93C46
Mitsubishi  Bosch  EDC15C3 95P08
Mitsubishi  Bosch  EDC16 95160
Morini  Magneti Marelli  59M Hybrid ST10F269
Morini  Magneti Marelli  59M Hybrid v2 ST10F269
Morini  Magneti Marelli  5AM Hybrid ST10F269
Morini  Magneti Marelli  5AM Hybrid v2 ST10F269
NewHolland  Bosch  EDC7 95640
NewHolland  Bosch  EDC7 v2 95640
Nissan  Lucas   93C46
Nissan  Delphi  DCM 1.2 95160
Nissan  Delphi  DCM 1.2 v2 95160
Nissan  Bosch  EDC15C3 95P08
Nissan  Bosch  EDC16C3 95160
Nissan  Bosch  EDC16C36 Virgin 95320
Nissan  Siemens  EMS 3132 29F200
Nissan  Bosch  M1.9.5 93C46
Nissan  Bosch  MSA 15.5-6 24C02
Nissan  Bosch  MSA 15.5-6 v2 24C02
Nissan  Delphi  TRW 95080
Nissan  Delphi  TRW DDCR 95080
Nissan  Bosch  Truck MS6.4 24C16
Nissan Almera Bosch  EDC15C7 24C04
Opel_Vauxhall  Simtec  56.1 93C56
Opel_Vauxhall  Simtec  56.1 v2 93C56
Opel_Vauxhall  Simtec  56.5 27C010
Opel_Vauxhall  Bosch  EDC15C13 Virgin 5P08C3
Opel_Vauxhall  Bosch  EDC15C3 95P08
Opel_Vauxhall  Bosch  EDC15M 24C04
Opel_Vauxhall  Bosch  EDC15M v2 24C04
Opel_Vauxhall  Bosch  EDC16C9 95160
Opel_Vauxhall  Bosch  M1.5.X 24C02
Opel_Vauxhall  Bosch  M2.8 24C02
Opel_Vauxhall  Bosch  ME 7.9.6 95080
Opel_Vauxhall  Magneti Marelli  MJD 6F3 95320
Opel_Vauxhall  Magneti Marelli  MJD 6F3 v2 95320
Opel_Vauxhall  Magneti Marelli  MJD 6J3 95320
Opel_Vauxhall  Magneti Marelli  MJD 6J3 v2 95320
Opel_Vauxhall  Magneti Marelli  MJD 6JF 95320
Opel_Vauxhall  Magneti Marelli  MJD 6JO 95320
Opel_Vauxhall  Bosch  MSA 11 EDC1.3.1 93C46
Opel_Vauxhall  Bosch  MSA 15.X 24C02
Opel_Vauxhall  GM Multec socket blue MC68HC11F1
Opel_Vauxhall  GM Multec socket blue and grey 27C256
Opel_Vauxhall  GM Multec socket blue and grey MC68HC11F1
Opel_Vauxhall  GM Multec socket red and brown MC68HC11F1
Opel_Vauxhall  GM Multec socket red and white MC68HC11F1
Opel_Vauxhall  GM Multec socket violet MC68HC11F1
Peugeot  Johnson Valeo  95160
Peugeot  Bosch Motronic  MP 3.1 93CS46
Peugeot  Johnson Valeo  v2 95160
Peugeot  Magneti Marelli  1AF.13-14-15-16-17 27C512
Peugeot  Magneti Marelli  48P 29F400
Peugeot  Magneti Marelli  48P.10 29F200
Peugeot  Magneti Marelli  48P.3X 95080
Peugeot  Magneti Marelli  48P2.70 29F400
Peugeot  Magneti Marelli  48P2.XX 29F400
Peugeot  Magneti Marelli  4MP.XX 29F200
Peugeot  Magneti Marelli  4MP2.XX 29F200
Peugeot  Magneti Marelli  5NP 95160
Peugeot  Visteon  DCU 102 ST10F276
Peugeot  Bosch  EDC15C2 (1 socket) 29F400
Peugeot  Bosch  EDC15C2 (3 socket) 29F400
Peugeot  Bosch  EDC15C2 (3 socket) 95P08
Peugeot  Bosch  EDC15C6 95080
Peugeot  Bosch  EDC15C7 95P08
Peugeot  Bosch  EDC16C0 95160
Peugeot  Bosch  EDC16C3 95160
Peugeot  Bosch  EDC16C34 95160
Peugeot  Bosch  EDC16C34 Virgin 95160
Peugeot  Lucas  EPIC MC68HC11E9
Peugeot  Magneti Marelli  G6 MC68HC11A1
Peugeot  Magneti Marelli  IAW 1AP.20 TMS
Peugeot  Magneti Marelli  IAW 1AP.40 TMS
Peugeot  Magneti Marelli  IAW 1AP.41 TMS
Peugeot  Magneti Marelli  IAW 1AP.43 TMS
Peugeot  Magneti Marelli  IAW 1AP.80 TMS
Peugeot  Magneti Marelli  IAW 1AP.81 TMS
Peugeot  Magneti Marelli  IAW 1AP.83 TMS
Peugeot  Magneti Marelli  IAW 1AP.90 TMS
Peugeot  Magneti Marelli  IAW 6LPX.XX ST10F280
Peugeot  Magneti Marelli  IAW 8P.XX MC68HC11A1
Peugeot  Bosch  MA 3.0 93CS46
Peugeot  Bosch  MA 3.1 v1 93CS46
Peugeot  Bosch  ME 7.4.4 29F400
Peugeot  Bosch  ME 7.4.4 v1 95160
Peugeot  Bosch  ME 7.4.4 v2 95160
Peugeot  Bosch Motronic MP 3.2 93CS46
Peugeot  Bosch Motronic MP 5.1 93CS46
Peugeot  Bosch Motronic MP 5.1.1 93CS46
Peugeot  Bosch Motronic MP 5.2 93CS46
Peugeot  Bosch Motronic MP 7.0 24C02
Peugeot  Bosch Motronic MP 7.2 24C02
Peugeot  Bosch Motronic MP 7.3 24C02
Peugeot  Bosch  MSA 11 EDC1.3.8 93C46
Peugeot  Sagem  S2000 95080
Peugeot  Sagem  S2000RPM 95080
Peugeot  Siemens  SID 801 v1 95C56
Peugeot  Siemens  SID 801 v2 29F400
Peugeot  Siemens  SID 801A 29F400
Peugeot  Siemens  SID 801A v1 95C56
Peugeot  Siemens  SID 802 29F400
Peugeot  Siemens  SID 804 29F400
Peugeot  Siemens  SID 806 29F400
Peugeot  Sagem  SL96 1x28F512 TMS374
Peugeot  Sagem  SL96 2x28F512 TMS374
Peugeot 107 Valeo Immo 1000cc 24C04
Peugeot 206 Siemens BSI HDI  Virgin v3 95160
Peugeot 206 Siemens BSI Virgin v1 95160
Peugeot 206 Siemens BSI Virgin v2 95160
Peugeot 307   BSI Virgin 95160
Peugeot 307   BSI Virgin v2 95160
Peugeot Partner Siemens BSI Virgin 95160
Porsche  Bosch  ME 7.1 95040
Porsche  Bosch  ME 7.1.1 95160
Porsche  Bosch  ME 7.1.1 95P08
Porsche  Bosch  ME 7.8 5P08C3
Renault  Magneti Marelli  5NP.01 Hybrid 95160
Renault  Magneti Marelli  5NR.CE1 Hybrid 95160
Renault  Magneti Marelli  5NR.T1 Hybrid 95160
Renault  Magneti Marelli  5NR2-C2 95160
Renault  Magneti Marelli  5NR2-C5 95160
Renault  Magneti Marelli  5NR2-C5 v2 95160
Renault  Magneti Marelli  5NR2-K5 v2 95160
Renault  Bosch  DCM 1.2 95160
Renault  Bosch  DCM 1.2 v2 95160
Renault  Lucas  DCU3R 95080
Renault  Lucas  DCU3R v2 95080
Renault  Bosch  EDC15 (1 socket) 24C02
Renault  Bosch  EDC15 (2 socket) 24C04
Renault  Bosch  EDC15C13 Virgin 5P08C3
Renault  Bosch  EDC15C3 (3 socket) 5P08C3
Renault  Bosch  EDC16C3 v1 95160
Renault  Bosch  EDC16C3 v2 95160
Renault  Bosch  EDC16C34 95160
Renault  Bosch  EDC16C34 Virgin 95160
Renault  Bosch  EDC16C36 Virgin 95320
Renault  Bosch  EDC16C6 95320
Renault  Siemens  EMS 3132 29F200
Renault  Siemens  EMS 3134 29F400
Renault  Siemens  FENIX MC68HC11
Renault  Siemens  FENIX 3MCU MC68HC11E1
Renault  Siemens  FENIX 5 TMS374
Renault  Siemens  HOM BVM MC68HC11E1
Renault  Magneti Marelli  IAW 6R.20 TMS370
Renault  Magneti Marelli  IAW 6R.30 TMS370
Renault  Magneti Marelli  IAW 8R.30 MC68HC11A1
Renault  Bosch Motronic MP 7.0 24C02
Renault  Bosch  MSA 15.5 24C02
Renault  Bosch  MSA 15.5 v2 24C02
Renault  Sagem  S2000RPM 95080
Renault  Sagem  S2000RPM v2 95080
Renault  Sagem  S3000 Virgin 95160
Renault  Siemens  SIM32 95160
Renault  Siemens  SIM32 v2 95160
Renault  Siemens  SIRIUS 32 without CAN 29F200
Renault  Siemens  SIRIUS 32 without CAN v2 29F200
Renault  Siemens  SIRIUS 34 29F200
Renault  Siemens  SIRIUS 34 29F400
Renault  Siemens  SIRIUS 34 v2 29F400
Renault  Siemens  SIRIUS 34 v3 29F400
Renault  Siemens  SIRIUS 35 29F400
Renault  Delphi  TRW 95080
Renault  Delphi  TRW DDCR 95080
Renault  Bosch  Truck MS6.2 24C16
Renault  Bosch  Truck MS6.3 24C16
Saab  Visteon  DCU 102 ST10F276
Saab  Bosch  EDC15M 24C04
Scania  Bosch  MS 6.2 24C16
Scoda  Magneti Marelli  16S.XX MC68HC11F1
Scoda  Digifant  3.2 27C256
Scoda  Siemens  5WP4 SIMOS 1.X (1socket) 93C56
Scoda  Siemens  5WP4 SIMOS 3.X (2socket) 93C76
Scoda  Bosch  EDC16CP34 95320
Scoda  Bosch  EDC16U1 95320
Scoda  Bosch  EDC16U31 95320
Scoda  Bosch  EDC16U34 95320
Scoda  Bosch  M3.2.1 24C02
Scoda  Bosch  M3.8.X 24C02
Scoda  Bosch  M3.8.X v2 24C02
Scoda  Bosch  M5.4.1 24C02
Scoda  Bosch  M5.9.2 24C02
Scoda  Bosch  ME 7.X.X 95040
Scoda  Bosch  ME 7.X.X 95160
Scoda  Bosch  ME 7.X.X 95P08
Scoda  Bosch  MED 9.5.10 95080
Scoda  Bosch  MSA 11 EDC1.3.1 93C46
Scoda  Bosch  MSA 15.X 24C02
Scoda  Siemens  SIMOS 7.X 93C86
Scoda  Siemens  SIMOS 8.1 93C86
Scoda  Siemens  SIMOS 9.1 93C86
Seat  Magneti Marelli  16S.XX MC68HC11F1
Seat  Digifant  3.2 27C256
Seat  Siemens  5WP4 SIMOS 1.X (1socket) 93C56
Seat  Siemens  5WP4 SIMOS 3.X (2socket) 93C76
Seat  Bosch  EDC16CP34 95320
Seat  Bosch  EDC16U1 95320
Seat  Bosch  EDC16U31 95320
Seat  Bosch  EDC16U34 95320
Seat  Bosch  M3.2.1 24C02
Seat  Bosch  M3.8.X 24C02
Seat  Bosch  M3.8.X v2 24C02
Seat  Bosch  M5.4.1 24C02
Seat  Bosch  M5.9.2 24C02
Seat  Bosch  ME 7.X.X 95040
Seat  Bosch  ME 7.X.X 95160
Seat  Bosch  ME 7.X.X 95P08
Seat  Bosch  MED 9.5.10 95080
Seat  Bosch  MSA 11 EDC1.3.1 93C46
Seat  Bosch  MSA 15.X 24C02
Seat  Siemens  SIMOS 7.X 93C86
Seat  Siemens  SIMOS 8.1 93C86
Seat  Siemens  SIMOS 9.1 93C86
Smart  Bosch  EDC15CG 95P08
Smart  Bosch  MEG 1.0 24C02
SsangYong  Delphi Rexton  95160
Suzuki  Hitachi   93LC56
Suzuki  Delphi  DCM 1.2 95160
Suzuki  Delphi  DCM 1.2 v2 95160
Suzuki  Lucas  DCU3R 95080
Suzuki  Bosch  EDC15C2 (1 socket) 29F400
Suzuki  Bosch  EDC15C2 (3 socket) 29F400
Suzuki  Bosch  EDC15C2 (3 socket) 95P08
Suzuki  Bosch  EDC15C3 95160
Suzuki  Magneti Marelli  MJD 6F3 95320
Suzuki  Magneti Marelli  MJD 6J3 95320
Suzuki  Magneti Marelli  MJD 6J3 v2 95320
Suzuki  Magneti Marelli  MJD 6JF 95320
Suzuki  Siemens  SID801 29F400
Suzuki  Siemens  SID801 93C56
Suzuki  Siemens  SID801A 29F400
Suzuki  Siemens  SID801A 93C56
Suzuki  Delphi  TRW 95080
Suzuki  Delphi  TRW DDCR 95080
Toyota  Denso  D4D 93C86
Toyota  Bosch  EDC16C 95160
Toyota Aygo Valeo Immo 1000cc Virgin 24C04
Toyota Yaris Bosch  5 socket Virgin 95080
VW  Magneti Marelli  1AV 27C512
VW  Digifant  3.2 27C256
VW  Magneti Marelli  4MV.XX Virgin 95080
VW  Siemens  5WP4 SIMOS 1.X (1 socket) 93C56
VW  Siemens  5WP4 SIMOS 3.X (2 socket) 93C76
VW  Bosch  EDC15C4 5P08C3
VW  Bosch  EDC16CP34 95320
VW  Bosch  EDC16U1 95320
VW  Bosch  EDC16U31 95320
VW  Bosch  EDC16U34 95320
VW  Bosch  M2.3.2 27C512
VW  Bosch  M3.2.1 24C02
VW  Bosch  M3.8.X 24C02
VW  Bosch  M3.8.X v2 24C02
VW  Bosch  M5.4.1 24C02
VW  Bosch  M5.9.2 24C02
VW  Bosch  MA 1.2.3 27C512
VW  Bosch  MA 1.3 1600cc 87C510
VW  Bosch  ME 7.X.X 95040
VW  Bosch  ME 7.X.X 95080
VW  Bosch  ME 7.X.X 95160
VW  Bosch  MED 9.5.10 95080
VW  Bosch  MSA 11 EDC 1.3.1 93C46
VW  Bosch  MSA 12 EDC 1.3.1 93C46
VW  Bosch  MSA 15.X 24C02
VW  Siemens  SIMOS 7.X 93C86
VW  Siemens  SIMOS 8.1 93C86
VW  Siemens  SIMOS 9.1 93C86
Volvo  GM Delco  27C256
Volvo  Bosch  EDC15 (1 socket) 24C02
Volvo  Bosch  EDC15C3 5P08C3
Volvo  Bosch  EDC16C31 95160
Volvo  Siemens  SIRIUS 32 29F200
Volvo  Siemens  SIRIUS 32 without CAN 29F200
Volvo  Bosch  Truck EDC7 95640
IMMO Service Tool Video Guide: