What is Microtronik AutoHex II?
Microtronik AutoHex II is a diagnostic scan tool for vehicle especially for BMW cars.It support ECU programming and coding,key programming and many other functions.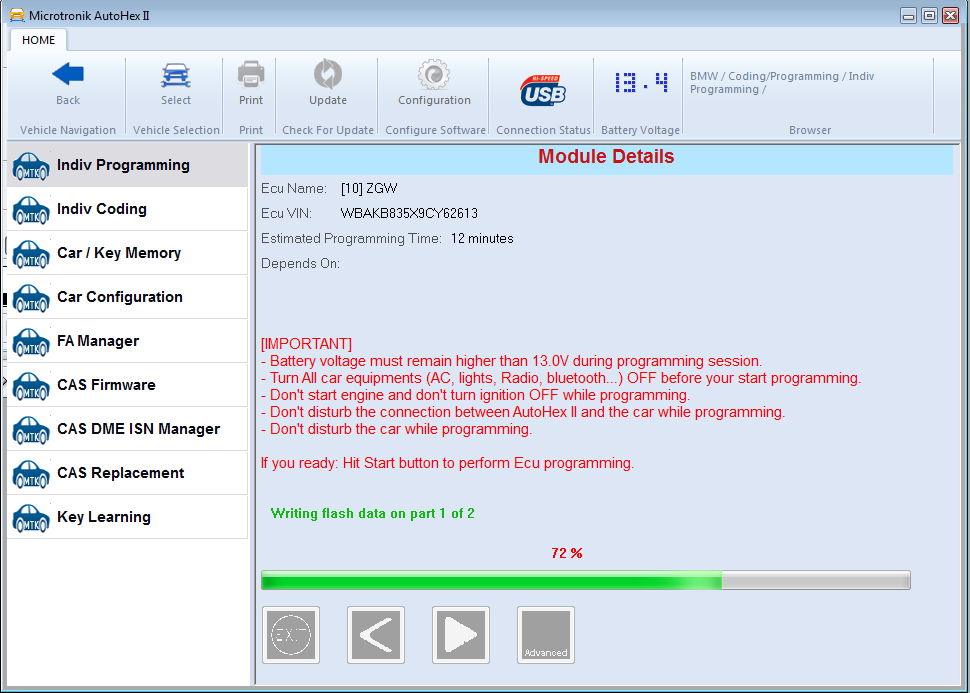 Microtronik AutoHex II Features:
1Easy to use,it is user friendly
2Support many functions
3Comply with all required and some optional standards
4It is safe for you to perform functions operation on your vehicle
Microtronik AutoHex II Functions:
Programming BMW Ecu individually
BMW Ecu Programming is an easy to use with Autohex II, it performs Flashing the Ecu with latest version,code it,Change VIN, and other functions in one step
BMW ISN Reader and Writer Software
BMW ISN Editor Software in Autohex II lets you read ISN from DME, match it with CAS. This is essential for DME or CAS replacement, Autohex reads ISN from wide range of DME/DDE
Coding BMW Ecu individually
Autohex II Ecu coding for BMW is a straight forward function, you can choose between Auto and Manual coding to encode the Ecu you wish
BMW Ecu Manual Coding
Autohex II BMW Software can do two methods of Ecu coding, auto coding which will be calculated from FA, and a manual coding for Ecu modification
BMW Vehicle Order Editor
Autohex II BMW Software can write FA into CAS from other Ecus,backup FA in other Ecus, also you can modify the vehicle order safely
CAS Firmware
For making keys, reading ISN and changing VIN for CAS which comes with specified part numbers, will not work just through direct reading, CAS Firmware function should be done to make it work
BMW Key Programming E Series And Mini
BMW Key programming by Autohex II is done by OBD, No dump is required. including CAS with latest update and all keys lost. it supports all BMW Models as well Mini cooper.
AutoHex II Perform BMW ECU Programming:
You must be connected to the internet before start using BMW Ecu programming procedure, as Autohex II software will need to download the required data flash from Microtronik server database.
It is important to arrange a good battery booster connected to the car, voltage must remain above 13V during all the programming session, and the laptop must be connected to a charger if the Ecu programming period will take a long time.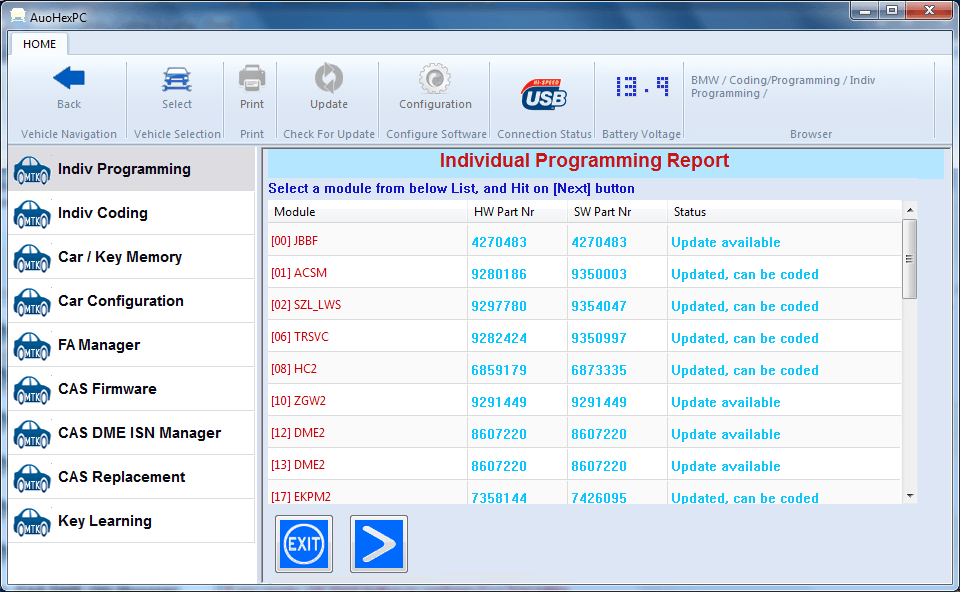 After you select Individual Programming from the Autohex II BMW menu, AutoHex II software will start calculating the Ecus flash updates. This may take:
Few seconds if the car is E series
Few minutes if the car is F series and it is first time to be tested.
Few seconds if the car is F series and being tested before.
The results of the Ecus updates will appear eventually on a list describing each Ecu:
BMW Hardware Part Number
BMW Software Part Number
The Status of this Ecu
The required Action of this Ecu
The status of the Ecu is very important indication, you may find one of the following possibilities:
Update Available: This Ecu is compatible with the stored vehicle order in the car, there is an update for this Ecu.
Updated: This Ecu is compatible with the stored vehicle order, no update is required as it has the latest version, you can only codes it.
Replace with XXXXXXX: This Ecu is NOT COMPATIBLE, and must be replaced (or swapped by expert mode)
Mount XXXXXXX: The Ecu could not be found, it may not responding or it is not mounted (usually you will see BMW Hardware and BMW Software zeros)
Autohex II allows you to jump to next step only if Ecu is compatible, OR marked Replace With if you are in Expert Mode (BMW E series only).
The next step will show Ecu details such current VIN, current Part number, Target part number, and Estimated Required Time for programming.
Once you click on Start, Autohex II will check the conditions like: Car battery voltage, connection method (USB or Wi-Fi), laptop battery status, then it will download required flashing data from server. If all conditions are pass, then will start preparing vehcile for programming, and starts the programming session afterward.
AutoHex II Reading BMW ISN From CAS,DME, and DDE
BMW ISN Reading and writing can be used from Autohex II software: CAS DME ISN Manager, This advanced function can do the following:
Read and Write ISN for CAS1, CAS2, CAS3 and CAS3+ (2 bytes ISN, 4 digits).
Read and Write SK (ISN 128 bits, 32 digits) for CAS1, CAS2, CAS3 and CAS3+.
Read all DME ISN for E series (2 bytes ISN, 4 digits).
Read all DME SK (ISN 128 bits, 32 digits) except MSS65 in E series, it supports SK writing to most of these DMEs.
Read most DDE ISN (2 bytes ISN, 4 digits) in E series (2003-2006).
Read and Write All DDE SK (ISN 128 bits, 32 digits) in E series (2006 and up).
Read ISN for EGS 6HP in E Series, and automatically matching with CAS.
Read and Write BMW ISN for most of BOSCH DMEs in F series.
Autohex II BMW Ecu Coding individually
AutoHex II can perform BMW ECU coding individually by selectiong the desired Ecu to encode, this function is used in same manner in both BMW E and F Series.
After selecting  Individual Coding from BMW main menu, AutoHex II will show you a report of each ECU in this vehicle, the status of the ECU is one of the following:
Ready to encode.
Not Compatible.
Not Responding.
Ecu Has No Coding.
If the status is Not Compatible then you must try to go to  individual Programming function, from there Autohex II will try to program the Ecu with the proper flash program and encode it from there.
If the status of the Ecu is Not Responding, You can check if Ecu is mounted, and connections are correct.
Some Ecus does not require coding like Central Gateway in F Series ( ZGW ), you will get a status like Ecu Has No Coding.
BMW Ecu Manual Coding:
One option inside BMW Ecu coding in Autohex II BMW software is the manual coding.
Manual coding purpose is to let you able to modify some parameters of the Ecu, for instance: a default parameter value of the occupancy sensor in an Airbag Ecu is active, you can make it inactive.
To start Ecu manual coding function, you can select the desired Ecu from the coding list, and then click on Advanced button.
The above picture shows that Autohex II BMW Software lets you chose between Auto coding and manual coding, in Auto coding, Autohex II will calculate the Ecu parameters relying of the vehicle order which is stored in the CAS, this will guarantee a correct coding that will let this ecu works perfectly in the vehicle with other Ecus.
Manual coding will let you chose among these parameters and do the modification, from the above picture; you note some nodes are red, some are blue.
The red means this is what the parameter supposed to be, the blue means it is not the standard.
You can use the reset button to return all parameters to the standard values.
BMW Vehicle Order Managment:
One of advanced functions in Autohex II BMW is the FA Manager (Vehicle Order Editor),
BMW E Series stores the vehicle order in CAS, a backup of this information are stored in Light Module (LM) or FRM.
While BMW F series stores the vehicle order in Central Gateway (ZGW) and there is a backup copy in the CAS.
Autohex II can backup and restore these data from those Ecus, as well as it is able to save this important information in your local disk as a backup.
Basic tasks of this danced feature are:
Read FA from CAS and write them into the backup Ecu (LM, FRM) automatically (Backup function)
Read FA from the backup Ecu (LM,FRM) and write it into CAS (restore function)
Save the FA stored in CAS in your laptop, the file will be named by the VIN of the CAS
Write the saved FA in a file to the CAS
The above tasks are more than enough to do all the required jobs in BMW, like if you replace the CAS with a used one, you must use this function to write the correct FA in the new CAS.
Same if you have replaced the FRM, it is recommended to write a copy of the FA in this FRM for in case the CAS got damaged in the future, so you will have a correct backup FA.
Before we jump to the advanced function in FA manager, it is strongly recommended to always save the FA contents before you do any modification in the FA.
You can use this feature for BMW retrofit such adding or removing features in BMW car.
We made some restrictions for the safety usage of this function, you cannot change engine type, and you cannot change the production year, these two items are the most critical information in the FA.
We added a unique feature in this function to add more safety while using this feature, Autohex II will always notify you about the status of the FA is it is valid or not valid.
Notes:
Autohex II will store the modified Vehicle Order in CAS only, you must do the backup from the basic funtions window.
After a sucsseful modification of the Vehicle Order, you must encode the corresponding Ecus that will get affected by this modification.
BMW CAS Firmware:
The CAS firmware function in the AUTOHEX II is one of the advanced function to easily downgrade or restore your CAS versions. All complex steps are just made simple and user friendly in just one click.
The main functions are:
Flashing  to lower CAS version
Restore back to original version
Read ISN, make keys for non-supported CAS  (eg-938XXXX,939XXXX)
For making keys, reading ISN and changing VIN for CAS which comes with specified part numbers given below will not work just through direct reading. CAS Firmware function should be done to make it work. CAS firmware can do it in just one click.
Part numbers which needs flashing
BMW Nr: 9262360, 9262361, 9267608, 9267609, 9287534, 9287535, 9278745, 9278746, 9389115, 9389116, 9395656, 9395657
Go to CAS firmware from AUTOHEX and you can check the status of CAS, whether it is downgraded before or not on the details provided about CAS on the page.
Before starting to read all the messages and warnings carefully and make sure you are keeping up the required conditions given as IMPORTANT.
Important Note:
Part numbers: 9389115, 9389116, 9395656, 9395657 after downgrade may show some fault codes and car won't start (fault codes AA0A and AA0B).it can be solved by restoring the flash back to original.
Always make backup using tools like BDM before doing CAS firmware for these part numbers
Restore to original flash
The downgraded CAS can be easily restored back to its original version using CAS firmware. For some part numbers it is necessary to restore back to its original version for the proper working of car.
After carrying out all your operations (read ISN, make a key, change VIN,…), for going back to original version go to CAS firmware and do the following steps
In CAS firmware window you can see that the CAS is already downgraded and it is possible to restore it back to its original version.
Click on start and wait for few minutes to complete the automated flashing process by AUTOHEX
BMW and Mini Key Programming For E Series
Autohex II is the best solution for BMW locksmiths who are looking for a single tool that solve all cases in BMW key programming, a tool with a robust functions that will do the job precisely, covering all the cases and able to do job no matter the situation is.
With the special functions for BMW key programming and the help of Microtronik HTag Pro key programmer, locksmiths can read, write, block, unblock,save and delete any key in the CAS.
Autohex II is an advanced tool for Encrypted CAS (CAS3+), locksmiths can add new key with or without working keys available for all versions of CAS3+.
After selecting Key learning from the left list, you will get a list of available functions as in below picture.
Microtronik Autohex II BMW Full Package Official Dealer:
http://www.uobdii.com/wholesale/microtronik-autohex-ii-bmw-full-package.html
AutoHex II Software and HexProg
Windows Vista / Windows 7 (32 bits)
http://www.microtronik.com/support/downloadfiles/Autohex_7_x32.zip
Windows Vista / Windows 7 (64 bits)
http://www.microtronik.com/support/downloadfiles/Autohex_7_64.zip
Windows Windows 8 (32 bits)
http://www.microtronik.com/support/downloadfiles/Autohex_8_32.zip
Windows Windows 8 (64 bits)
http://www.microtronik.com/support/downloadfiles/Autohex_8_64.zip
(Visited 23 times, 1 visits today)