Sometimes,you will find the windshield washer tank or pump leaking,stopped working or damaged by some reason.So you need to replace them,in this article i will share the guide on how to replace windshield washer tank or pump on BMW E46.And this method also apply for other BMW model.
What you need?
1. 10mm spanner(in toolkit)
2. Small-medium flat blade screw driver
3. A new pump(buy from eBay or Autozone)
Procedures of replacing BMW E46 windshield washer tank or pump:
Step 1:Undo the 10mm nut, highlighted in the red circle. This is the only fastener holding down the washer tank. Lift the tank up about 4″, allowing you to unclip the black plastic heatshield around the washer pump. This is where you need the screwdriver, to lift the securing tab from the washer tank (yellow circle). You can actually pull out the complete washer pump from the tank. Just gently pull up, it is a friction fit.
Step 2:Now unclip the washer level sensor plug (green circle). This clip is a little difficult to figure out. I pulled it hard and it came off. Taking a closer look at it once it was off, I couldn't quite see how to unclip it from its securing catch.
Step 3:At this point you have removed the washer tank. The two tabs at the bottom of the tank fit into recesses in the body work, in order to secure the tank. There is a filter screen in the tank, where the washer pump plugs into the tank (blue circle). Just pry this up with a screwdriver to remove it. I had bought a new one, just in case. You can see the fluid level sensor socket on the left side of the tank in this pic.
Step 4:Now unclip the pump connector from the pump. Pinch the tab at the top of the connector. This will unclip the connector from the securing tab. Pull out the water hose from the nozzle on the pump
Step 5:Replace the pump filter screen into the tank, if necessary. Plug in the new washer pump into the filter screen. Connect the water hose back onto the pump.
Step 6:Position the washer tank into its approximate location and clip the sensor for the fluid level back into its socket on the tank.
Secure the heatshield back onto the tank.
Step 7:Now position the washer tank into its secured position and fill with a little water, in order to test the pump out. Fasten the 10mm screw back into the plug.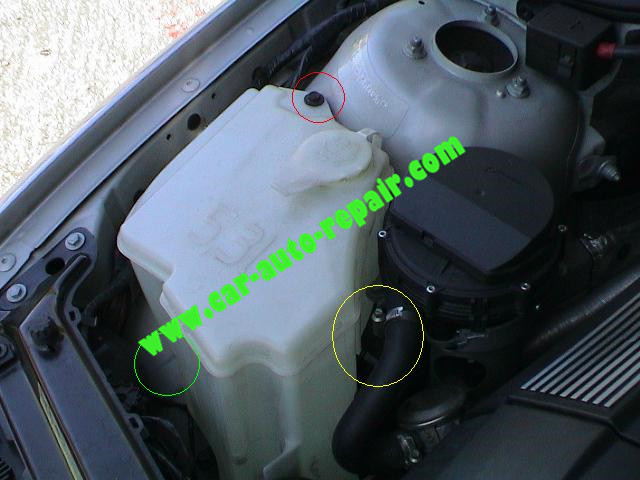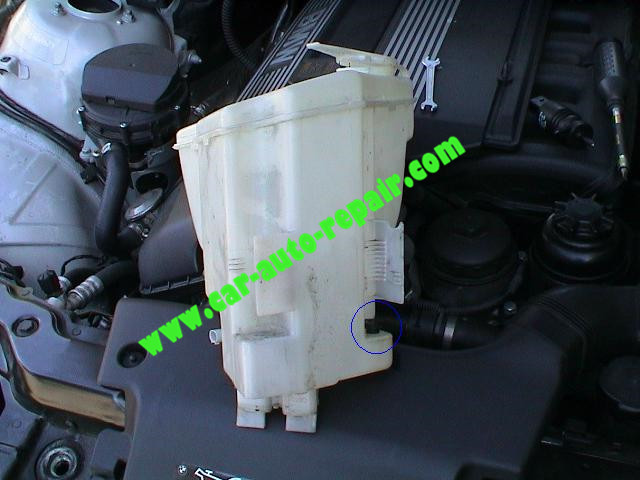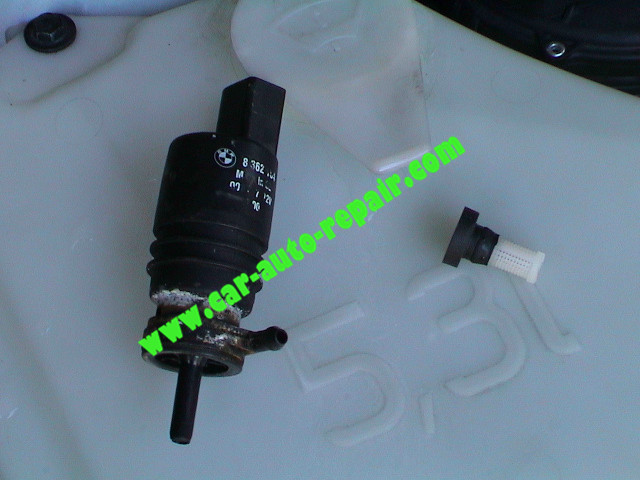 Thanks to Bimmerfest forum member WAM write original post:
http://www.bimmerfest.com/forums/showthread.php?t=114615
(Visited 100 times, 1 visits today)