The instrument cluster on the Mercedes W204 is a single sealed unit with a single wiring connection on the back of it. While complete diagnosis of problems with the cluster are beyond the scope of this article it will show you how to remove the console if you need to replace it or send it out for repairs.
Applies to: C350 (2007-14), C180 (2007-14), C200 (2007-14), C230 (2007-14), C250 (2007-14), C280 (2007-14), C300 (2007-14), C320 (2007-14)
Time: 1 hour
Tab: $1600
Talent: 2
Tools: Trim removal tool, T20 Torx
Hot Tip: Remove the cluster carefully
Performance Gain: Working instrument
Complementary Modification: Detail the interior
Procedures:
Begin by moving the steering wheel as far back (yellow arrow) and as low as it will go (red arrow).If you have a power adjustment there is a lever on the bottom of the column you can use to move it.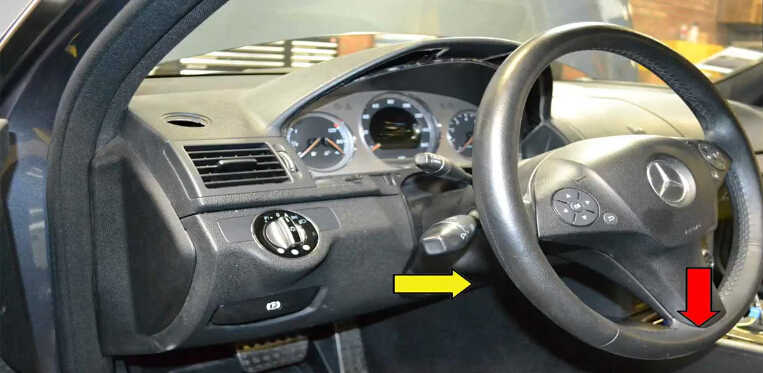 There is a single trim piece that surrounds the front of the instrument cluster (red arrow).Use care when removing it as some of the clips are small.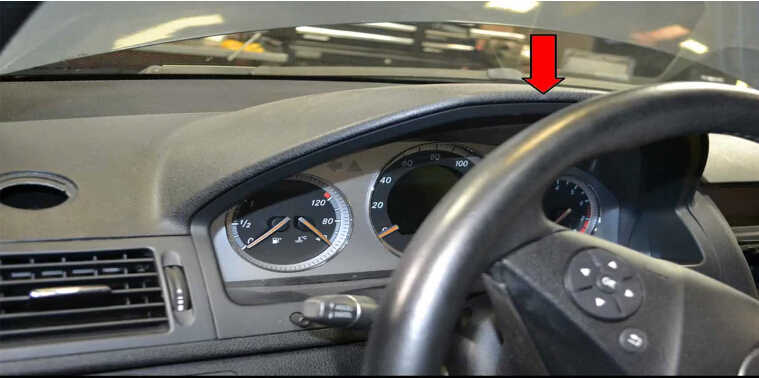 Use you r trim removal too and gently pry the top of the trim piece downwards and out while pulling it out from the sides.There are two small clips that sit in the vent (red arrow).Use care when pulling these out as they are small and can break.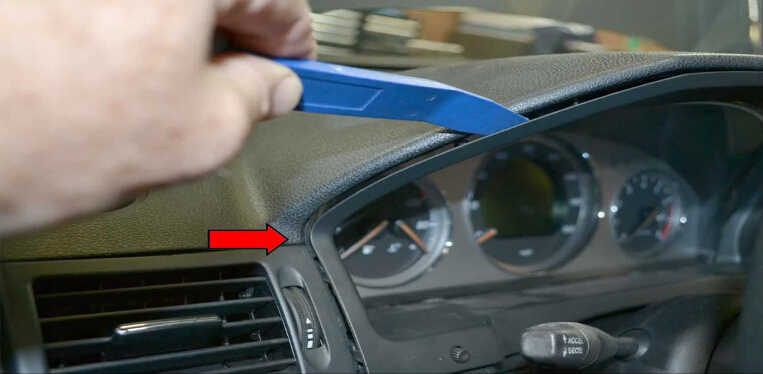 Remove the trim piece from the top (red arrow)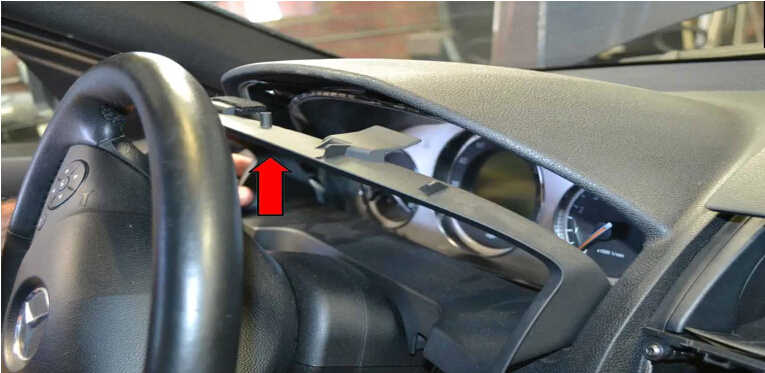 Remove the odometer reset by pulling it straight out.
Use a long handled T20 Torx and remove the four Torx screws (red arrows) holding the cluster in the dash.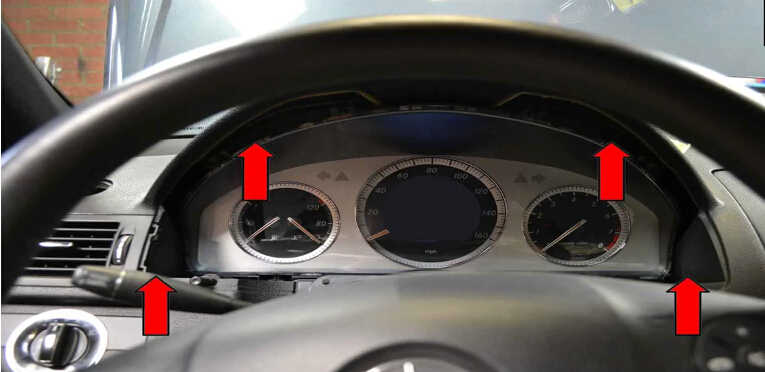 Over the years the sun and gravity will cause the dash to settle.Take your time and carefully remove the cluster from the dash by tilting it down from the top and then removing it.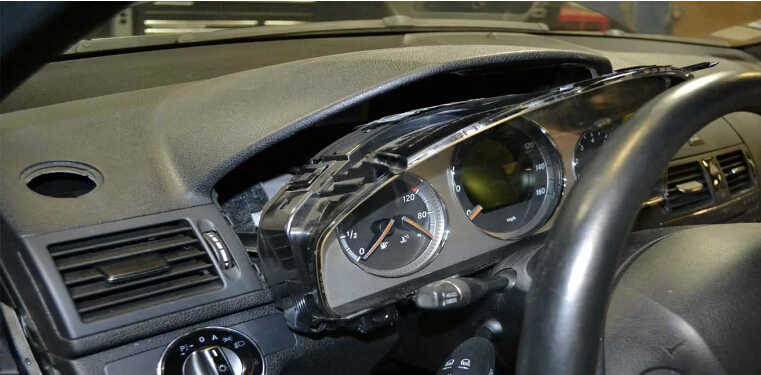 There is a single electrical connection on the back of the cluster on the left side.Push in the tab on the back (red arrow),and slide the gray hinge upwards.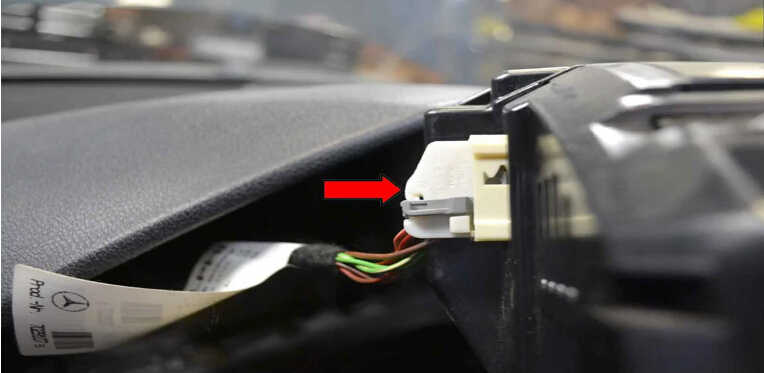 This will push the connector out from the cluster.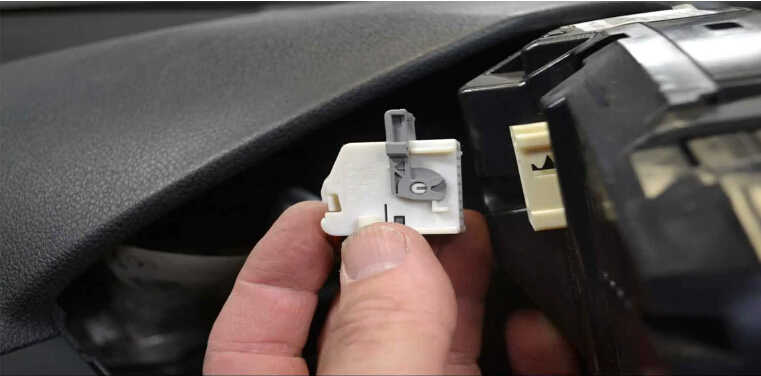 You can now remove the cluster from between the top of the steering wheel and dash.Installation is the reverse of removal.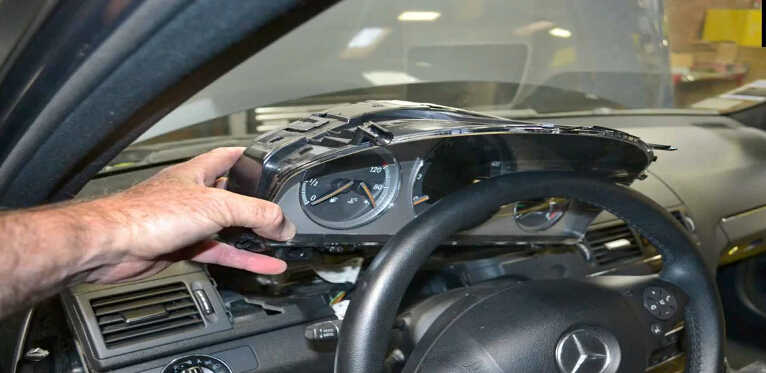 Done!
(Visited 144 times, 1 visits today)