GM vehicles equipped with a digital instrument panel cluster (IPC),and if you replace a IPC you will find you can not start vehicle.It require you to relearn/program the new instrument panel cluster.So here i want to list the procedures on how to program new instrument panel cluster for GM vehicles.And for more GM vehicles projects,check here:GM vehicle repair cases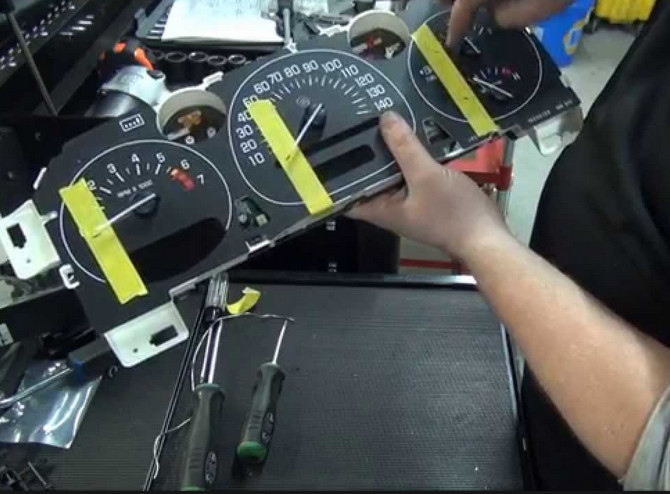 Follow the security system (PASSLOCK) AUTO LEARN procedure outlined below to enable the replacement IPC and the ECC to communicate and learn a new password:
1.Before replacing the ECC, document all existing Diagnostic Trouble Codes (DTC) prior to repair.
2.Place the ignition key in the ON position.
3.Using the clear DTC function, clear all security system (PASSLOCK) and Powertrain DTCs.
4.Rotate the ignition key to the CRANK position (attempt to start the vehicle). The engine will attempt to start and stall. Leave the key in the ON position.
5.Wait 10 minutes. Observe the SECURITY light. The SECURITY light will flash for a few seconds and remain on for 10 minutes.
6.Turn the ignition key to the OFF position after the SECURITY light goes out. Wait for at least 30 seconds.
7.Repeat steps 4-7 two (2) more times. A new password is now ready to be communicated to the security system (PASSLOCK) sensor, IPC and ECC with the next ignition cycle (start attempt).
8.If the engine starts, the Password Auto Learn procedure is complete. If the engine fails to start, perform relearn procedure again.
9.Check for any DTCs. Repair as necessary and clear if present.
IMPORTANT NOTE: Refer to your vehicle's service manual for detailed relearn procedures specific to your application.
(Visited 119 times, 1 visits today)