This article show a step-by step guide on how to memorize and active TPMS sensors for Acura & Honda.I am sorry for the text only without the pics,but it is easy to perform it.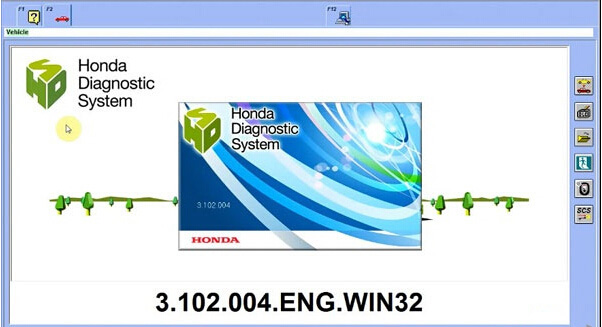 Tools you need:
Autel TS401 TPMS Sensor Initializer Tool
Honda HDS Scan Tool (Honda HDS Software Download)
How to Install Honda HDS Software for DIY
Procedures:
Memorizing Sensor ID
1.This procedure must be performed at least 12 ft away from any other vehicle equipped tire pressure sensors.
2.Turn ignition off and wait about 5 minutes for TPMS sensors to enter sleep mode.Connect scan tool to vehicle data link connector.
3.Turn ignition on.
4.Verify scan tool communication with vehicle and TPMS control unit.
5.Select Sensor ID Learning from the mode menu on the scan tool.
6.Follow scan tool screen prompts to turn on sensor initializer tool. Verify that the power switch is in the low position.
7.Hold sensor initializer tool near any wheel; memorize sensor ID by following screen prompts on scan tool.
8.Repeat step 6 for each wheel until all 4 sensor IDs are memorized. The low tire pressure indicator will blink when all 4 IDs are memorized.
9.Turn ignition off.
10.Disconnect scan tool from vehicle.
11.Drive vehicle at a minimum speed of 28 mph for at least 1 minute.
12.Verify that low tire pressure indicator does not blink.
13.Turn ignition off.
14.Reduce pressure in one tire until it is less than vehicle specification.
15.Turn ignition on without starting vehicle.
16.Drive vehicle at a minimum speed of 28 mph for at least 1 minute.
17.Make sure the low tire pressure indicator turns on and inflate tires to vehicle specifications.
18.Repeat step 12 to 16 for all remaining tires.
19.Clear any DTCs with scan tool.
Sensor Location
1.With the ignition OFF, connect the HDS to the Data Link Connector (DLC) located under left side of the dashboard.
2.Turn ignition switch ON, and verify that HDS is communicating with the TPMS control unit.
3.Select "Function Test", then "Sensor Position check" on the HDS tool.
4.Follow the prompts on the HDS to activate the tire pressure sensors using the TPMS sensor initializer tool. Start with the left-front (LF) wheel. Initialize the wheels in the following order: left front (LF), left rear (LR), right rear (RR), right front (RF).
5.Check the HDS screen, and note the active sensor reception order of tire pressure sensors 1, 2, 3, and 4.
6.Note the sensor locations for future reference.
7.Turn the ignition switch OFF.
(Visited 72 times, 1 visits today)