This instruction show you guide on how to install drive filter hoses for Bendi B40i4 lift truck between the s/n's of 6409 and 6604.More case for Landoll Bendi,please refer to Landoll Bendi Trouble Repair
Related Contents:
Landoll Bendi Forklift Service Repair Manual Download
This modification consists of:
1.Removing the filter bypass tube.
2.Reversing the filter mount as it is installed in the Bendi.
3.Installing a new filter and filter bypass hose.
REQUIRED EQUIPMENT
1.166446 Kit, B40i4 Drive Filter Plumbing. Kit contains parts shown in figure 1.
2.A clean drain pan/container to contain up to 10 gallons of hydraulic fluid. Oil can be saved and reused if a clean drain pan is used and the oil is kept clean during this repair.
3.Various hand tools, including a 7/32 hex wrench and 1-3/8 wrench.
Procedures:
1.Drain hydraulic fluid to a level that is below the upper return tee in the hydraulic reservoir.
2.Remove existing drive filter, p/n: 146356, discard, see Figure 2.
3.Remove bypass tube,p/n:161902, that connects the drive filter mount to the upper return tee and the adapter, p/n:104382, that is in the bypass port of the filter bracket, discard. See Figures 3 and 4.
4.Disconnect filter status indicator wiring connector and cut nylon tie that is holding the wire to filter mount. See Figure 4.
5.Install new adapter, 0018104, into bypass port with #8 port facing down.
6.Remove 4 mounting screws, (7/32 Hex) See Figure 4.
7.Rotate filter mount 180 degrees, bypass port is towards the center of the truck with the filter sensor on the right side of installed filter mount. Re-attach using exiting screws and tighten.
8.Connect drive fluid hoses and tighten.
9.Attach new bypass hose between upper return tee and the new adapter; tighten. See Figure 5.
10.Lubricate element o-ring and threads, Install new filter element on mount; tighten.
11.Add hydraulic fluid to reservoir, fill to a level that is between the two marks in the sight glass. Use Mobil 424 or equivalent to top off fluid level.
12.Start truck, check for leaks.
13.Repair leaks as necessary, return truck to service.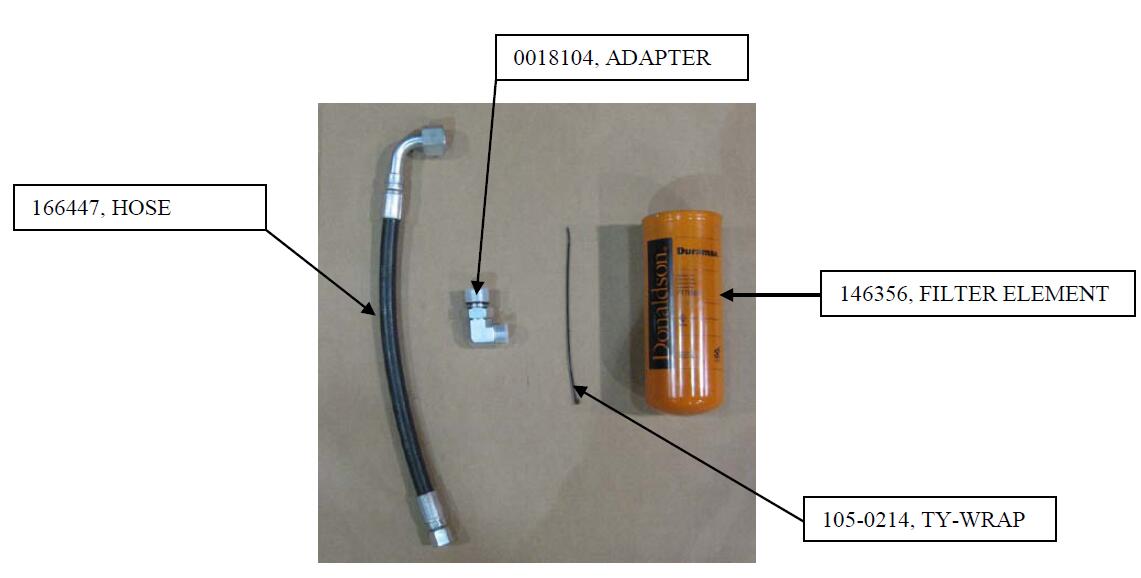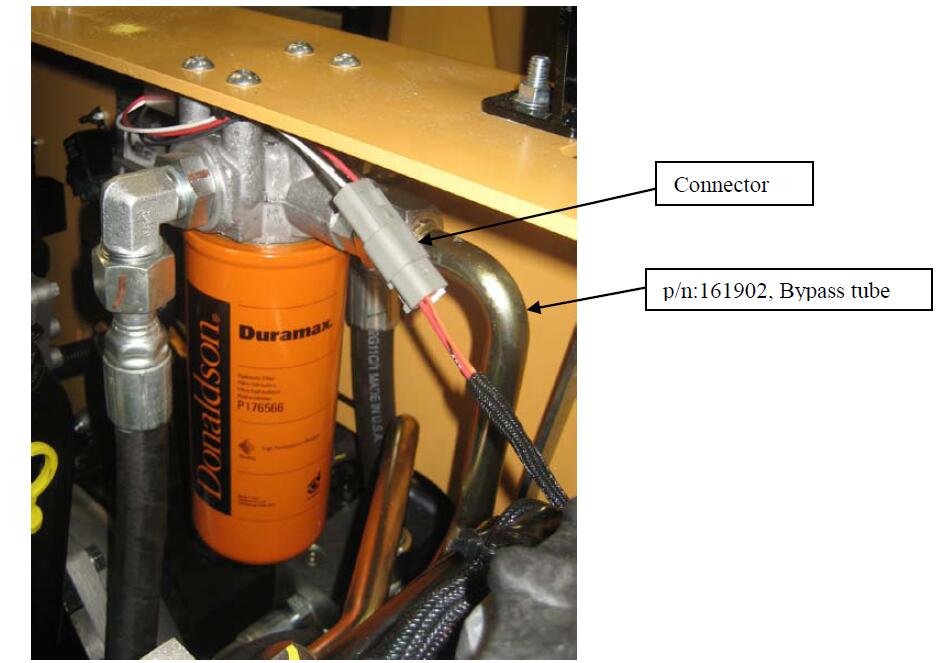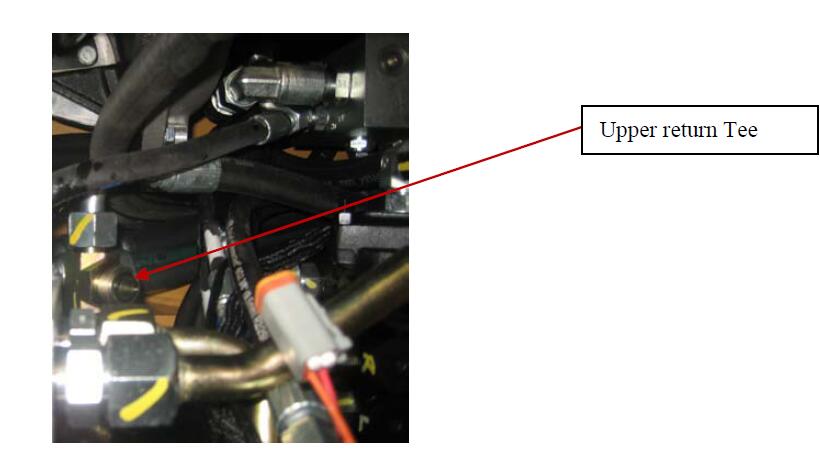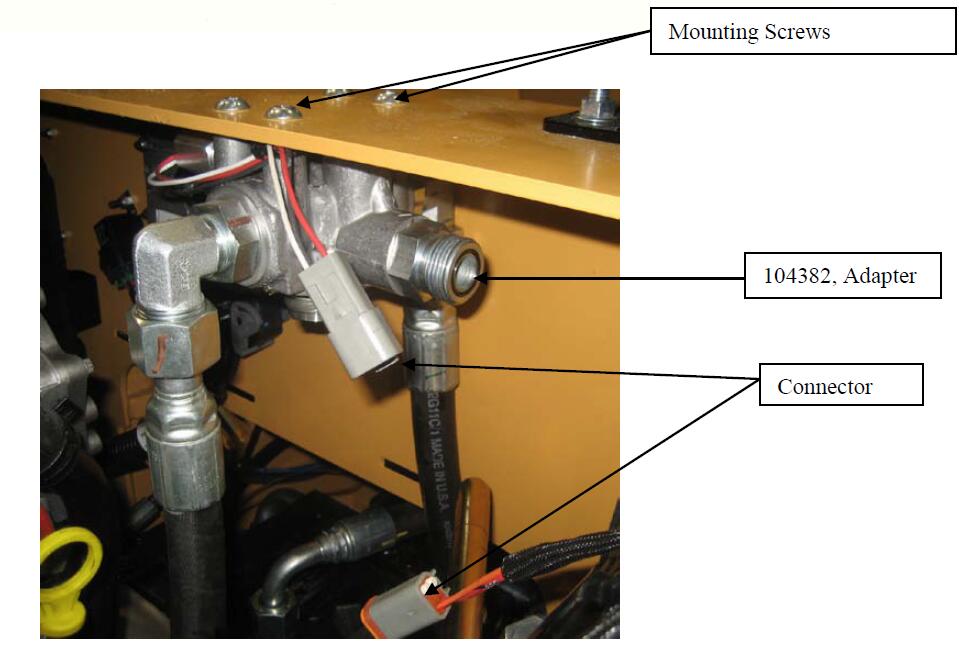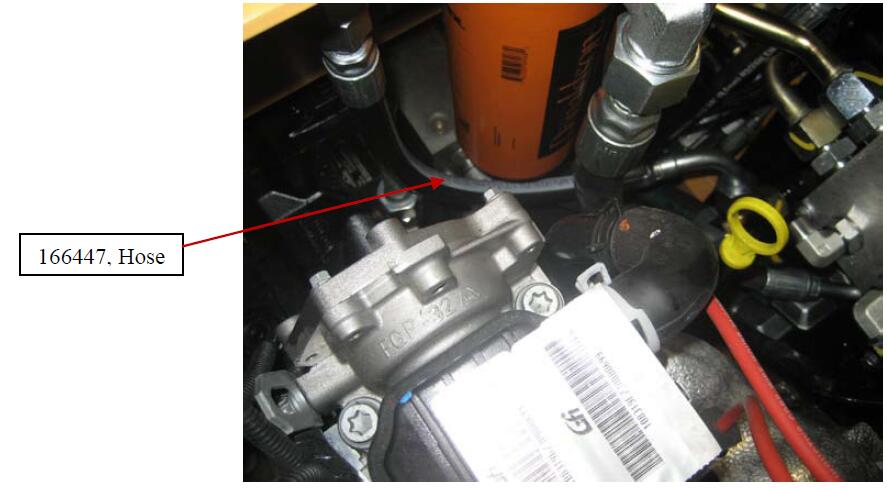 (Visited 9 times, 1 visits today)