As a car locksmith,it is necessary to make a deep understand on Volkswagen immobilization system generations.Because different immo generations need difference chip and key programmer to perform key programming.So here car-auto-repair.com show you guide on how to identify Volkswagen immobilization system generations.If you want to check VW immobilization cases,please refer to VW Key Programming.
There are five generations immobilization system for Volkswagen:
IMMO 1:
IMMO 1 would probably start off from 2004,around 2004 it requires a 4-digits PIN code,but you can get the PIN via OBD,you probably have to do this via bench.It does not require a dealer key and the transponder type is an ID48/PCF7935.
IMMO 2:
IMMO 2 is probably between years 2000 and 2005,it does require a 4-digits PIN code.And it also does not need a pre-coded key.And you use ID48 and T6 chip.
IMMO 3:
IMMO 3 is probably between 2004-2009.It requires a 5-digits PIN code,and it also require pre-coded key.However there are some scenarios where it does not require it.Only VW will know like immobilizer 3 and immobilizer 4,there are a lot of integration between them.It is really hard to just say okay between this this year and this you are gonna get this type of immobilizer.IMMO 3 need ID48 CAN 22-25 chip.
IMMO 4:
IMMO 4 is probably between 2005 to 2019,it requires a 5-digits PIN code and it also need a pre-coded key,and it resemble with IMMO 3 system,need ID48 CAN 22-25 and ID8E.
MQB System:
MQB system is probably from 2013 and up,it requires a 5-digits PIN code and require a pre-coded key.It equipped with MQB ID88 transponder chip.
IMMO 5:
IMMO 5 is probably from 2009 to 2019,it requires a 5-digits PIN code and pre-coded key also required.It with HITAG Keys.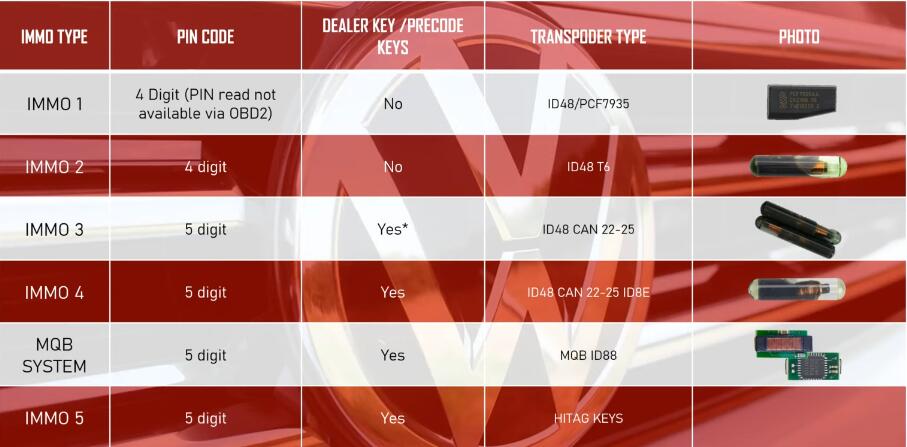 Above mention the chip type used in Volkswagen immobilizer system,if you want to get more transponder chip applied in auto locksmith,please check it here:How To Choose Transponder Key Chip Type:Chips Classification
Some immobilization you can do through OBD and some you can,somebody go to take like a body control module off.So knowing this is would help you in your key coding journey.
IMMO 1:Immobilization Box
IMMO 2:Instrument K-Line
IMMO 3:Instrument CAN
IMMO 4:Instrument CAN,Kessey system,MQB system,EZS system or Comfort module
IMMO 5:BCM2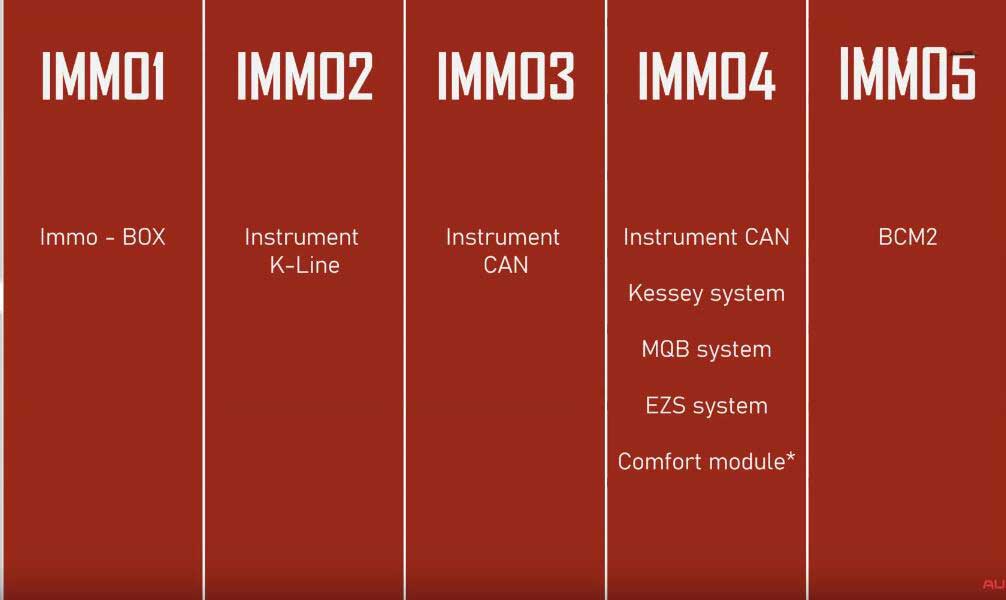 (Visited 1,152 times, 2 visits today)