When the aftertreatment device has been replaced,it is required to rewrite the serial No. of aftertreatment device and upload the data to e-Service.So here car-auto-repair.com show you guide on how to rewrite aftertreatment device serial No. FOR Hitachi ZX890-7 hydraulic excavator.
Preparations:
Hitachi MPDr v2.56 v2.25 Diagnostic Software Free Download
2016 HITACHI Parts Manager Pro 6.5.5 Free Download
2019 Hitachi Workshop Service Manual PDF Download
Procedure
1.Connect MPDr..
2.Set the key switch to the ON position.
3.Select Functions-Engine-Aftertreatment Device No. with MPDr..
4.Input the serial No. after the replacement to the following items of Oxidation Catalyst (DOC), Filter (CSF) and SCR Catalyst.
5.After inputting, select [[F5] Set].
6.Upload the input data to e-Service.
NOTE:When the input data is uploaded to e-Service, the M-Find product specifications and history will be updated.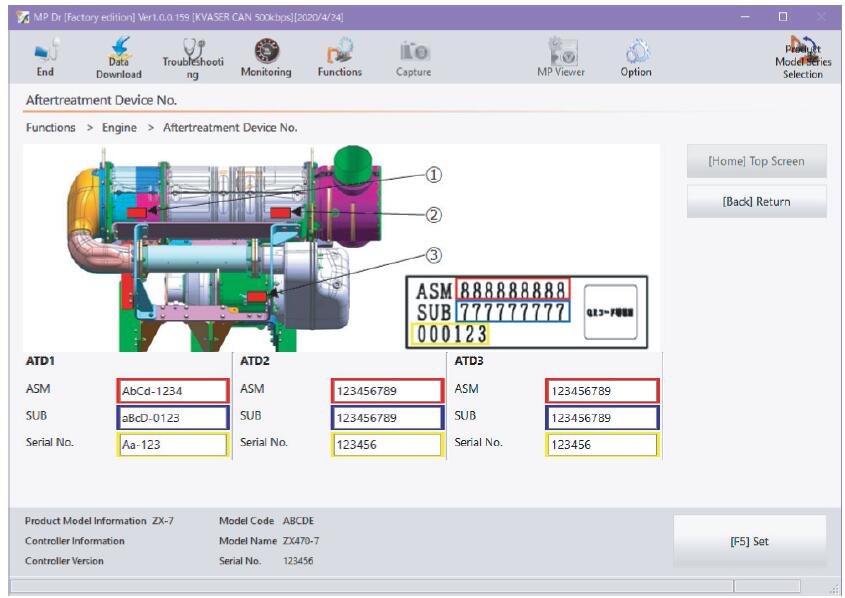 More repair cases for Hitachi excavator,please refer to:Hitachi Excavator Trouble Repair.
(Visited 27 times, 1 visits today)