What is FGTech Galletto?
FGTech Galletto 4-Master this new system developed with high-speed USB2 technology is the fastest and most secure product on the market, it is easy to install and use by anyone.FGTech 0475 is a costive but effective ECU Programmer for all cars , trucks , motorcycles,Marine,BDM MPCxx,BDM Boot Mode,checksum.FGTECH FW0475 ECU Progreammer can commuciate via OBD II and BDM, supports online operation, without tokens limited,multi-languages available and so on.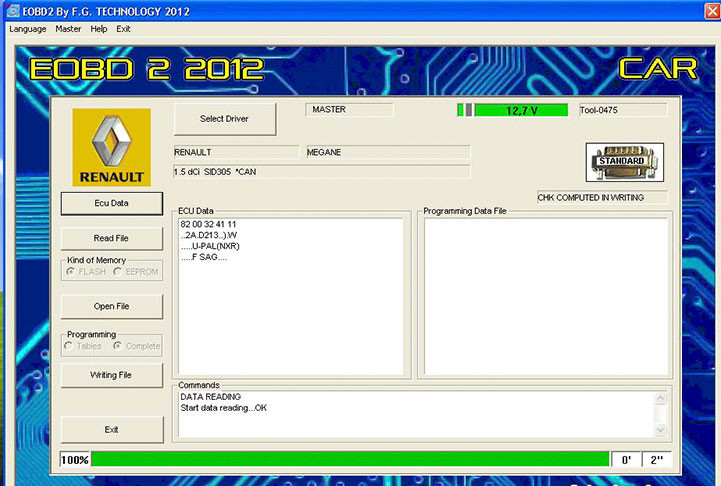 FGTech Galletto Features:
– No crack needed
– No more clock returning
– Tested with several anti virus, anti malware, etc.
– No viruses, malware etc.
– Run on Win7 x32 and x64
– No keygan needed
– No serial needed
– One click installation
– After uninstall no files left behind
After installation, just connect your device and start the software.
FGTech Galletto Functions:
Recovery Mode Completa
Funzione scan tool per eliminare i DTC
Function scan tool for erase the DTC
Controllo tensione di batteria auto in tempo realeCheck tension of battery car in real time
FGTech Galletto Support Languages:
French, Italian, English, Deutsch, Espanol, Portuguese, Czech, Turkish
FGTech Galletto Support Operation System:
Windows XP, Windows 7 32-bit
FGTech Galletto Connection Guide:
FGTech Galletto Boot Connection Diagram: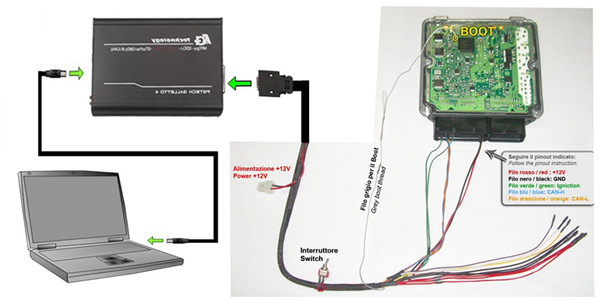 FGTech Galletto OBD Cable Connection Diagram: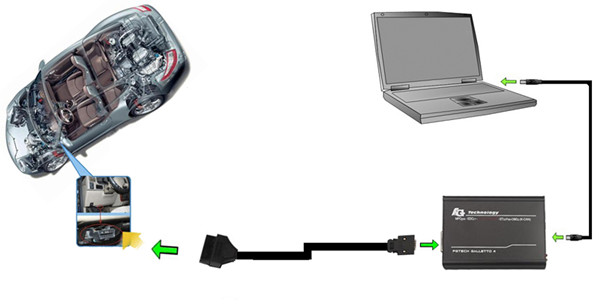 FGTech Galletto V54 Interface Recommended:
Latest Version V54 FGTech Galletto 4 Master BDM-Tricore-OBD Function ECU Programmer
FGTech Galletto V54 Software Free Download:
https://mega.nz/#!51FjSTKA!TwIeJRQGHW6ABU3htne-HUVg_UnMtPG2uTxD1REZkIA
FGTech Galletto Boot Mode System TriCore:
Infineon Tricore Sak TC1766
Infineon Tricore Sak TC1767
Infineon Tricore Sak TC1792
Infineon Tricore Sak TC1796
Infineon Tricore Sak TC1797
NEW JTAG – BDM – MOTOROLA – FREESCALE – INFINEON
Freescale MPC 5553/5554/5565/5566 NEXSUS PORT New IAW MJD 8F2 – Mair 8GMF
New Delphy DCM3.5xx DCM3.7xx TRW
Motorola Freescale MPC 555/556/561/562/563/564/565
Motorola MC 68332 – MC YQQCU – MC 68377 Trionic 5/7/8 GM-OPEL-SAAB
Motorola MC 68376 Campi 01 Lamborghini – Lotus
Motorola MC 68336 MEMS D5 ROVER
Motorola ZC 439615 – ZC 439507 IAW FIAT – VAG
New Line OBD protocols VPM GM – Hummer-Corvette-Munstang-Blazer-Cadilac
New Line OBD protocols Tx-Rx – Subaru – Mitsubischi – Hitachi – Denso ecu
All EDC17 MED17 is good always modify with Boot Mode tricore.
Automatic Checksum:
All old protocols included from Bosch MExx / EDCxx / Marelli / Siemens / Delpy / Lucas / Denso
Boot Mode C167x / ST10, Boot Mode Infineon Tricore With password Bosch , Siemens
Motorola MC68332 – MCYQQCU – MC68377 , MC68376 , MC68336, ZC439615 ,ZC439507
Motorola Freescale MPC 555/556/561/562/563/564/565
Freescale MPC 5553/5554/5565/5566
BDM Tricore.
5-30V Car / Industrial Vehicles, L line / K line KWP, CAN
Can Bus V2.0 50Kb > 1000Kb
J1850 VPW PWM GM -FORD
Rx Tx RS232,
RS 485,
Automatic setup Pull up K-L line 250, 500, 1000 ohm
Automatic setup termination Can bus 0, 60,120 ohm
What's new list of FGTECH 0475 as Old 0386 Version?
11/12 – OBD driver SSangyong Delphy DCM3.7 Read/Write, Checksum
11/12 – OBD driver for Ferrari 458 Italia MED9.6 Ecu Master and ECU Slave Read/Write, Checksum
10/12 – OBD driver for Fiat/Alfa/Lancia Twinair/Multiair 8GMF and 8GSF Read/Write, Checksum
10/12 – OBD driver for Mazda 5, Mazda 6 2.0 Diesel ECU RF8x Read/Write, Checksum
10/12 – OBD driver for Mazda 5, Mazda 6 2.0 Diesel ECU RF7x Read/Write, Checksum
09/12 – OBD driver for Simos 10.xx VAG 1.2 TSI Read/Write, Checksum
09/12 – OBD driver for CRD 3.xx Mercedes 2200 CDI Read/Write, Checksum
09/12 – Simos PCR2.1 VAG 1.6 TDI Unlock Boot Tool – Read/Write EEPROM
09/12 – OBD driver Simos PCR2.1 VAG 1.6 TDI Read/Write, Checksum
08/12 – RSA recognition Peugeot Bipper
08/12 – RSA recognition Citroen Nemo
08/12 – OBD driver Driver for writing Bosch EDC16C34/5 Peugeot Bipper Read/Write, Checksum
08/12 – OBD drive Driver for writing Bosch EDC16C34/5 Citroen Nemo  Read/Write, Checksum
07/12 – OBD driver Delphi DCM3.5 for Tata Safari  Read/Write, Checksum
07/12 – Checksum recognition for DCM3.7 Ssangyong
07/12 – Checksum recognition for DCM3.7 Opel and Saab
07/12 – Checksum recognition for DCM3.7 Kia  and Hyundai
07/12 – Boot Visteon ST10F275 RX-TX Mode
07/12 – Boot ME7.9.10 ST10F275 RX-TX Mode
06/12 – Checksum recognition for Denso Subaru Tribeca
06/12 – Boot Mitsubishi MH7203 Hyundai
06/12 – Checksum recognition for Denso Nissan L200
06/12 – Checksum recognition for Denso Nissan X-Trail
06/12 –  OBD driver Opel Simtec75 CAN  Read/Write, Checksum
05/12 – OBD driver  Porsche SDI3 CAN  Read/Write, Checksum
05/12 – Corvette Utility CAN for change VIN, Code Align, Erase Errors
05/12 – Corvette Utility VPN for change VIN, Code Align, Erase Errors
05/12 – OBD driver Renault SID305 CAN  Read/Write, Checksum
05/12 – OBD driver Maserati ME9 CAN  Read/Write, Checksum
04/12 – Tool Boot Hitaci Phase 3
04/12 – Tool Boot Hitaci Phase 2
04/12 – OBD driver Fiat ME17.31 CAN  Read/Write, Checksum
04/12 – Boot Mitsubishi for L200 MH8102F
03/12 – Boot Mitsubishi for Lancer EVO MH7202
03/12 – Fiat MJ8DF CAN Serial Injectors
03/12 – Fiat MJ8DF CAN Serial Injectors
02/12 – OBD driver Fiat MJ8DF CAN  Read/Write, Checksum
02/12 – OBD driver Fiat MJ8DF K-line  Read/Write, Checksum
02/12 – OBD driver Mercedes Delphi CRD2.xx CAN  Read/Write, Checksum
01/12 – OBD driver Ford Delphi DCM3.5 CAN Read/Write, Checksum
01/12 – OBD driver PSA Delphi DCM3.5 CAN  Read/Write, Checksum
01/12 – OBD driver VAG Simos 3xx Boot mode 29F400 C167 Read/Write, Checksum
12/11 – OBD driver VAG Simos 9.1 Boot mode 29F400 C167 Read/Write, Checksum
12/11 – OBD driver VAG Simos 7.1 Boot mode 29F400 C167 Read/Write, Checksum
12/11 – OBD driver VAG Simos 33 K-line serial Read/Write, Checksum
12/11 – OBD driver VAG Simos 32 K-line serial Read/Write, Checksum
12/11 – OBD driver VAG Simos 3PG K-line serial Read/Write, Checksum
12/11 – OBD driver VAG Simos 3PE K-line serial Read/Write, Checksum
12/11 – OBD driver VAG Simos 3PD K-line serial Read/Write, Checksum
12/11 – OBD driver VAG Simos 3PC K-line serial Read/Write, Checksum
12/11 – OBD driver VAG Simos 3PA K-line serial Read/Write, Checksum
12/11 – OBD driver VAG Simos 9.1 K-line Read/Write, Checksum
11/11 – JTAG MPC55xx
10/11 – New password Tricore Tprot V08-10
10/11 –  OBD driver Renault Valeo V40, Read/Write, Checksum
10/11 – AUD Renesas…
(Visited 1,673 times, 1 visits today)