What is Diagspeed Pro MB Key Programmer?
Diagspeed Pro MB Key OBD2 Programmer is launched by Diagspeed company (www.diagspeed.com).Diagspeed Pro is update version of Diagspeed Key OBD2 programmer.It will allow you to program new keys to your customer's Mercedes, usually without the need for desoldering/resoldering. Features frequent online updates, supports Mercedes Benz keys, reading password and preparing a new key via IR.It can support 705 Moto key,NEC key (2001-2009) and BGA key for Mercedes Benz.
Covers most Mercedes models from 1998-2015.Not only does it make keys, but also can reset used Engine ECU's, Transmission 7G modules, ESL Steering locks, Used OEM keys, ISM Shift modules,  and EIS Electronic Ignition Switches.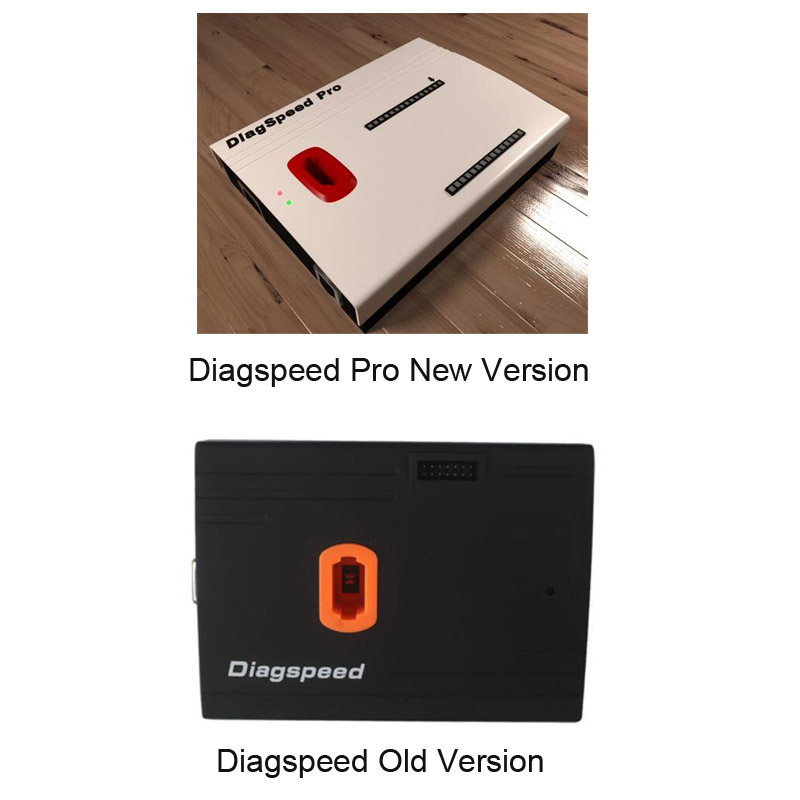 Part 1:Diagspeed Pro MB Features & Functions
Part 2:Diagspeed Pro Support Benz Models List
Part 3:Diagspeed Pro Compare with Old Diagspeed
Part 4:Diagspeed Pro Token Policy
Part 5:Diagspeed Pro Customers FAQs
Part 6:Diagspeed Pro Operational Hardware Parts
Part 8:Diagspeed Pro MB Update Guide
Completely TOKENLESS
Programs all IR keys between 1997-2014. Up to 2016 coming soon!
Supports programming via OBD2 instead of EEPROM more than any other programmer!
SUPERB US TECHNICAL SUPPORT IN THE FIELD!
Supports BE key, read password and prepare new key via IR
NEC V051,V057 supports password retrieval on-board
On-board writing and erasing to all NEC keys
Fast password calculations for BGA and NEC keys (include 51,57 version)
Writes & renews EIS (EZS) and ELV (ESL)
Generates key file (must have Internet access)
Unlocks ELV (ESL)
It supports Read ,Reset and Read of Password of Keyless Go NEC version 22-42 key ( Can Write 42 keys to 212-166-204- EIS versions with Keyless Go )
It supports All Lost keys for Amazonas EIS versions for 164 and 221 version 2006-2008
Key Duplication reads 5 min
All lost keys 10 Min reads , 3 Minute Calculations
UN-lock ( DE-block ) of ESL chip by K line, AND Retrieve PASSWORD from ESL ,no soldering
Reset on board of NEC keys without removing Chip ( Solder wires to points on board )
USA Version will support Sprinter Chassis 906 All Lost keys through OBD ( Will add remote features with later update )  Will add older 901-903 models with update
Will support FBS4 once server completed next year. ( USA only ) ( Additional Package )
Retrieve SSID from Instrument Cluster Via OBD
Write VIN to ME and CDI engine control units and much more functions
2.Diagspeed Pro MB Coverage Benz Models:
Diagspeed Pro MB Support OBD or Bench
Note:All others require EEPROM
C-Class: 1998-2014
CL: 2002-2013
CLA: up to 2015
CLK: 2003 -2009
CLS: 2006 and newer
E-Class: 1998-2014
GL: 2006-2014
GLA: up to 2015
ML: 2006 – 2013
R-Class: 2006 and newer
S-Class: 2002-2012
SL: 2003-2013
SLK: 2005 and newer
A176 A169 A168 B246 B245 C204 C203 C202 E212 E211 E210 E207 S221 S220 CLA117 CLK209 CLK208 CLS218 CLS219 CL216 CL215 SLK172 SLK171 SL231 AMG190 SLS197 M166 M164 W463 W639  W906 GLS166 GL164 GLK204 GLA156 R251
3.Difference Between Diagspeed Pro and Old Diagspeed
Diagspeed PRO will provide faster calculations and data collection compared to current Diagspeed Model.DAS3 EIS versions will be 100% through OBD within the first few updates.
Diagspeed PRO Advantaged:
***OBD reads 10 mins
*** 3 minutes to Calculate on Server
*** Fastest OBD Mercedes Key Programmer
Note:It will only be for-sale in USA, Canada, Australia, and Europe to Current Diagspeed owners or Vetted new customers.
4.Diagspeed Pro MB Token Policy:
This tool comes with free basic updates, NO TOKENS for special functions, USA Tech support ( We Speak English and Spanish ) and has the most functions for All Lost Keys through OBD compared to other Mercedes key tools.  Less need to R&R of the ignition switch to make keys!!
Comes with a manual that's close to 3000 pages long.  This makes the tool very easy to use even for the novice user.
1.When do I have to buy tokens?
Unlike all other Mercedes programmers on the market, the MB Key OBD2 does not require any additional cost such as tokens to pull the password from your customer's vehicle.
2.What models can be programmed via OBD and what models need EEPROM?
For an all-keys-lost situation, Diagspeed can do most by OBD, without the need of EEPROM.
3.How many different keys do I need to stock to use with this tool?
Just 1 !!!!!  Unless your customer requests that you to make them a Keyless Go Style (Proxy ) you can use our own Quality tested BE KEY.   2 Free tester keys come with every tool to try.
4.What support is there for used modules?
You can also reset and program the following:
EIS (electronic ignition switches): All DAS 3 versions (infrared keys)
ESL (electronic steering locks)
ME (engine computer): ME 2.1 and newer
CDI (diesel engine computer): All
7G (transmission computer): Siemens and Continental conductor plates
DCT (dual clutch transmission computer)
ISM (shifter module): Siemens and Continental
NEC OEM keys (all circle panic button keys, including KeylessGo )
6.Diagspeed Pro & Operational Hardware Parts
| | |
| --- | --- |
| Name | Appearance |
| Diagspeed Pro | |
| Diagspeed MB Key Old version | |
| Socket NEC | |
| NEC Board | |
| ESL Adapter | |
| Bench Cable EZS/ESL 204 207 212 172 | |
| OBD Cable | |
| Special IR Key | |
7.How to Setup Diagspeed MB OBD2 Key Programmer:
1.Install drivers USB FTDI D2XX (if you not have installed) .
USB should work not to emulate com port
2.Connect Device to USB and Power Supply from OBD2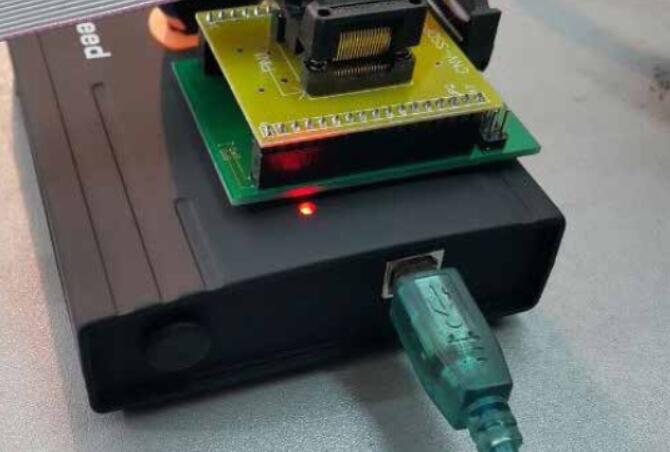 3.Find MB Tools icon on your desktop and run.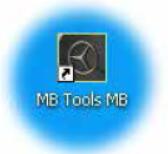 8.How to Update Diagspeed MB OBD2 Key Programmer?
1) Open software
2) Go to tools
3) Find update…
4) After you will see new update setup
General Update Main Device
1) Open software
2) Go to tools
3) Find update…
4) After you will see new update setup
Go to tools
Press on-line update general device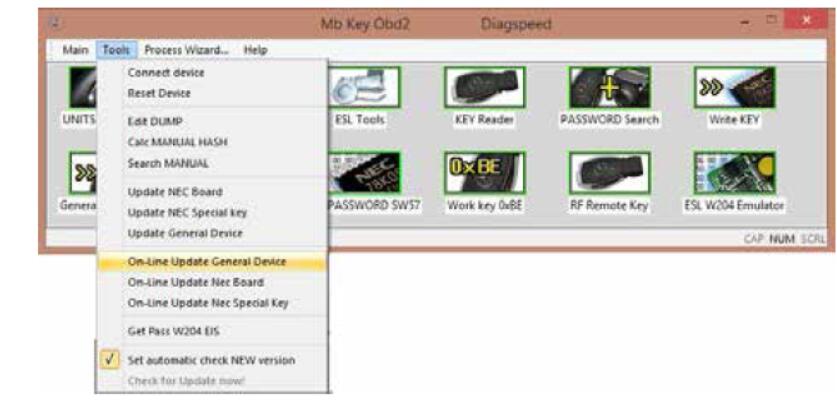 Select update soft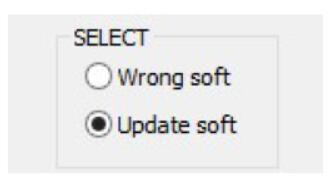 Push flash! Button …And wait
When update finished – push ok button
Online NEC Board Update
Go to tools
On-line update NEC Board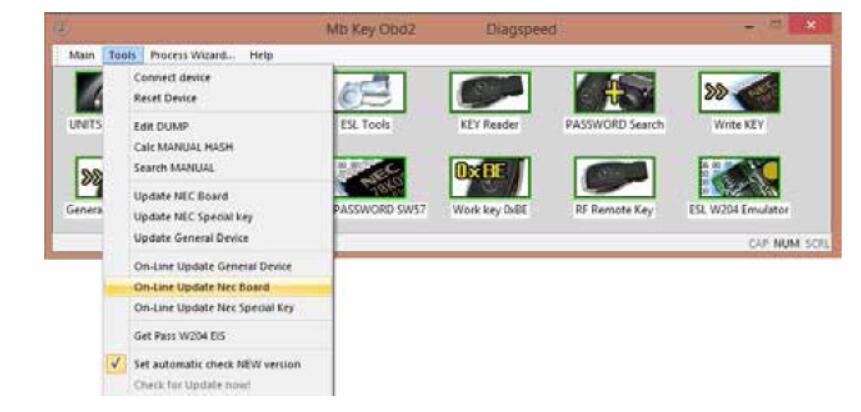 Press flash! Button …And wait
When update finished – push ok button
Online NEC Special Key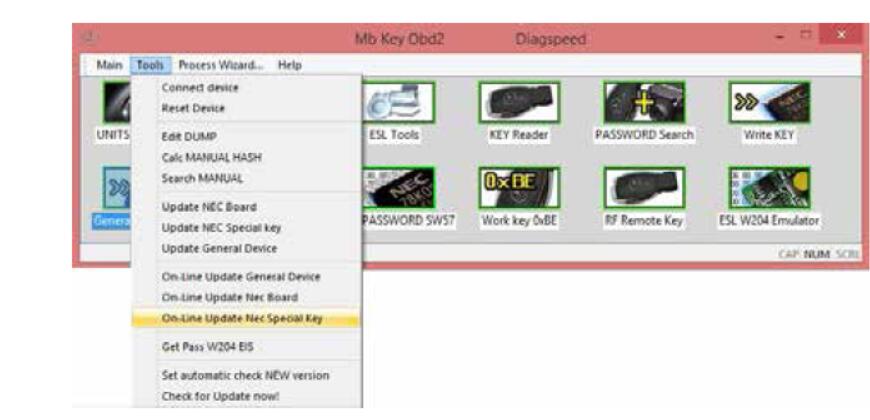 Select on-line update NEC special key
After press flash
(Visited 216 times, 1 visits today)