AVDI (ABRITES Vehicle Diagnostic Interface) is latest generation automobile diagnosis and key programmer interface produced by Abrites ltd.(official website:www.abrites.com)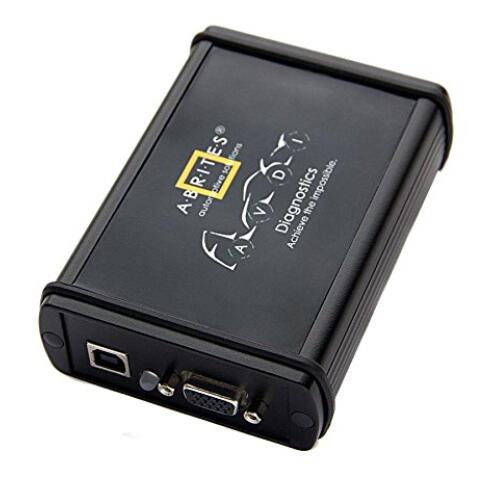 AVDI Diagnosis & Programmer Features:
Compatible with all diagnostic software produced by our company
One year free updates of all applications
One year free customer support
More information about the support plan here
SAE J2534 PASSTHRU compliant driver available for our interfaces
Compatible with many 3rd party diagnostic software
VCI emulator which can allow AVDI to emulate different interface units
Compatibility with VW/Audi/Seat/Skoda/Bentley/Lamborghini ODIS
Compatibility with Fiat EXAMINER
Supporting external communication link with transponder programmer and IC programmer
Compatibility with Toyota/Lexus/Scion Techstream
Compatibility with Honda/Acura HDS
Compatibility with Volvo VIDA
Compatibility with DAS/Xentry – Star Diagnosis
Compatibility with Nissan Consult III+
Compatibility with Ford Scanner
Compatibility with BMW – DIS over K-line and CAN bus
Compatibility with BMW Rheingold ISTA-P
Compatibility with BMW – E-Sys, INPA, EDIABAS, NCS Expert, NFS over K-line and CAN bus
Compatibility with Rover/Jaguar IDS
Compatibility with Subaru Select Monitor III
Compatibility with Bombardier diagnostic software
Compatibility with GM – Tech2Win, GDS2 and SPS diagnostic software
Compatibility with HYUNDAI GDS
Compatibility with KIA GDS
AVDI Diagnosis & Programmer Function List:
Reading Diagnostic Trouble Codes (DTC).
Clearing Diagnostic Trouble Codes (DTC).
Diagnostic Trouble Codes full identification with possible causes and solutions advice.
Live value monitoring, saving to file, analysis.
Actuator testing and monitoring.
Graph and table view of values being listed from multiple modules.
Key programming
Control module coding/programming/flashing
AVDI Diagnosis & Programmer Support Car List:
Support Cars, bikes, trucks, water scooters, ATVs and water scooters
Audi, Volkswagen, Seat, Skoda, Bentley, Lamborghini, Alfa Romeo, Lancia, Fiat, Chrysler, Dodge, Jeep, Renault, Dacia, BMW, Mini, Nissan, Infiniti, Toyota, Lexus, Scion, Ford, Mazda, Jaguar, Land Rover, Volvo, Opel, Vauxhall, Chevrolet, Mitsubishi, Hyundai, KIA, Suzuki, DAF, Subaru, Bombandier Recriational Products, Daihatsu, Ducati and others.
The Abrites Vehicle Diagnostics Interface (AVDI) is designed to comply with the following European Directives: 2004/108 / EC, 2006/95 / EC, 2011/65 / EU, 2012/19 / EU and meets the following safety norms: EN61010-1: 2010, EN61326-1: 2013. It has been tested in the laboratories of TÜV Rheinland and has a GS certificate, which guarantees the high quality of the product. It evolves with every new car model to answer the increasing demands of the automotive business, which makes it the best choice for professionals and advanced enthusiasts.
AVDI Diagnosis & Programmer Technical Specification:
K-line ISO 9141 (100 mA) multiplexed to 24 different pins of the diagnostic connector
ISO14230 compliant
SAE J1850 VPW,PWM compliant (needed additional adapter)
Single wire CAN bus multiplexed to different pins of diagnostic connector
Dual wire low speed CAN bus multiplexed to different pins of diagnostic connector
Dual wire high speed CAN bus multiplexed to different pins of diagnostic connector
CAN bus GMLAN, ISO14229, ISO15765, J1939, ISO22901 compliant
Analog Input
Optional Bluetooth connection
USB interface to the PC
Supply voltage 8..30V DC
OBDII cable
Updatable firmware
AVDI Diagnosis & Programmer Software Download:
Abrites Common Setup
https://abrites.com/en/download-abrites-common
AVDI Diagnosis & Programmer Price:
0
#
Product Description
Price
I18
AVDI basic diagnostic package
€ 888
The set consist of "AVDI diagnostic interface", PC-Windows based software with general diagnostic functions such as displaying/clearing DTCs, measured values (live data) display, actuator tests and basic coding/configuration functions. Covered vehicle brands are Audi, Volkswagen, Seat, Skoda, Bentley, BMW, Mini, Porsche, Opel, Vauxhall, Toyota, Lexus, Scion, Mercedes, Smart, Maybach, Renault, Mitsubishi, Hyundai, Kia, Fiat, Alfa, Lancia, Peugeot, Citroen, Chrysler, Jeep, Dodge, Ford, Mazda, Volvo, Daihatsu, Subaru. Set includes PassThru (SAE J2534) compatible driver will allow usage of 3-rd party Hyundai/Kia GDS, GDS2 and Tech2Win – GM/OPEL, Jaguar, Land Rover, Mercedes DAS, BMW, Mini, Volvo, SkiDoo, SeaDoo, CanAm, Fiat Examiner, Toyota, Honda, VW/Audi/Seat/Skoda/Bentley/Lamborghini ODIS ….). Additionally you will receive VCI emulator which can allow AVDI to emulate different interface units (like K-line interface, ELM327 interface, ..). Emulation allowing you usage of many additional 3-rd party software's – Webasto TT, Evinrude Diagnostics, Suzuki/Yamaha Marine Diagnostics and many other.
Initial purchase of AVDI interface includes one year software update of the basic diagnostic suite, tools and our online services and one year free basic support plan (by email only).
AMS
Annual Maintenance Subscription 12 month subscription to access the latest software releases and online services
€ 200
Your initial purchase of the AVDI interface includes a one year access to the latest software updates of the basic diagnostic suite, tools, and our online services. To keep your software applications up to date and to maintain usage of our online services we recommend the Annual Maintenance Subscription. Annual Maintenance Subscription is a renewable one year subscription. Annual Maintenance Subscription does not provide any support coverage – this is provided separately by the Support Plan.
An active AMS is required to purchase additional special functions
SPS
Support Plan Service
€ 150
The Abrites Support Plan Service (SPS) allows the customers to receive support from the Abrites support team. The support team will analyze, detect, determine and provide possible solutions to issues that customers may face while using the Abrites products.
The SPS works in a written form using an Abrites ticketing platform. Read more here.
Once the SPS is purchased, an account in the platform is created for each customer where all the problem solving takes place instead of email.
The interval for initial response on behalf of ABRITES is up to 24 hours from case registration during business days.
The SPS can only be used with active Annual Maintenance Subscription (AMS). The duration of the SPS is 12 months from the date of purchase.
ZN002
PROTAG Programmer
€ 400
The PROTAG programmer is the latest generation tool intended for operation with keys and transponders used in the latest authentication systems and immobilizers. TA31 Abrites extractor is included in the box.
ZN030
ABPROG programmer
€ 300
The following ICs are supported M35080xx, D080D0WQ, D160D0WQ, SPI 95xxx, I2C 24XXX, Microwire 93XXX, mcu in BCM2 of Audi A4/A5/Q5/A6/A7/A8/ VW Touareg, mcu in BCM of Renault Megane III, Scenic III, Fluence. ABPROG programmer (ZN030) including the ZN031, ZN033 and ZN046 adapters. The ABPROG programmer works with the AVDI interface only.
This package also includes key renewal functionality. Please click here to view a full list of the supported key types.
ZN051
Abrites Distribution Box
€ 200
The Distribution box consists of the following hardware: box with PCB and various sockets, set of cables with pins and fuses, HD15 Direct connection cable, crocodile pins, needle pins and DB25 AVDI connection cable.
VINR
VIN Reader
€ 99
The VIN Reader is a bluetooth-enabled device that allows the user to read the VIN (Vehicle Identification Number) from all modules that contain one in the vehicle. The reported VINs are also compared to all entries in a stolen-vehicle database after the scan.
BSU02
Battery Support Unit Electromem FLASH-MEM 100
contact us
for pricing
100 Amp electronic battery charger and power supply for supply, charging, maintenance and reprogramming
Special Functions
#
Product Description
Price
ABRITES Diagnostics for Audi, VW, Seat, Skoda, Bentley
VN002
VAG Parts Adaptation Special Function
€ 2,500
Special function for adapting electronic modules for VAG vehicles
For owners of functions AN043, AN045, AN046, AN048, AN049, AN052, AN053, AN055, AN056, AN057 please click here to see the pricing for completion
Extracting and displaying immobilizer related data by diagnostic. Ability for alignment of immobilizer related data – cluster/ecu. Displaying immobilizer related data from dump of flash and eeprom of micronas mcu in IPC.
Read/Program memory of instrument cluster immobilizer
Read/Update immobilizer related data
Read/Update immobilizer data in VDO dashboards with NEC microcontroller (2009+) by OBDII
Extracting and displaying PIN code, control module configuration memory content, component security data from engine control units EDC16, MED9.x, Simos PPD 1.1/1.5, Magneti Marelli 4HV,7GV. Emergency start for engine control units EDC16. The whole EEPROM could be read for EDC15/ME7/EDC16. For MED9 and Simos engine control units only the PIN/CS/MAC is displayed.
Advanced Diagnostic Functionality – Ability to manage stored crash data and configuration memory of electronic control unit. Read/Update Config Data of airbag control units Siemens (CAN bus – ISO15765). Audi A6/Q7/Allroad, VW Golf5…, Skoda Octavia II …, Seat Altea … With this special function, you can Read/Update ConfData memory of the airbag module. Clear the crash data of the airbag module.
Covered units for Read/Update ConfData:
1. All Siemens CAN Airbags 2003-2008 like 4F0959655B (Audi A6/Q7/Allroad 2003-2008),
1K0909605AB, 1K0909605C, 1K0909605AD, etc…
2. K-Line Airbags (Siemens and Bosch) – 1C0 909 605 C, 8L0 959 655 A, 1J0 909 609, 6Q0 909
605 C,6Q0 909 605 A, 6Q0 909 605 B, 3B0 959 655 B, 1C0 909 605 F, 1C0 909 605 H, 1J0 909
607, 1J0 909 603, 4B0 959 655 C, 4B0 959 655 J, 4D0 959 655 C, 8L0 959 655 F,8A0 959 655
C, 8A0 959 655 K, 8A0 959 655 K, 4D0 959 655 H, 8D0 959 655 C, 8D0 959 655 L
Preparation of a key ready for adaptation by diagnostic to the vehicles with BCM2 – Audi A4, S4, RS4, A5, S5, RS5, A6, A7, A8, Q5 / VW Touareg
+ ILM Front passenger ((ILM Beifahrer) – Audi A8 2003-2010
Component protection generation 2
EZS-Kessy Audi A6/Q7 2004-2009 by OBDII
Comfort module Audi A6/Q7 2004-2009 by OBDII
Climantronic Audi A6/Q7 2004-2009 by OBDII
Airbag Audi A6/Q7 2004-2009 by OBDII
Airbag Audi A4/A5/Q5 2008+ from Bosch by OBDII
Instrument cluster Audi A6/Q7 2004-2009 by OBDII
Instrument Cluster Audi A4/A5/Q5 2008+ by OBDII
Infotainment electr. Audi A4/A5/Q5 2008+ by OBDII
– All other modules (e.g. DSP) with component protection generation 2
for A6/Q7 2004-2009 and A4/A5/A5 possible only if you have dump from gateway from where module was originally build
+ Adaptation of engine control units to the vehicle – EDC16,EDC17, MED17, MED9, Simos PPD, ME7.5.20, ME7.5.30
Kessy Audi A8/VW Touareg/Phaeton
Comfort module VW Passat B6/CC
Transmission gearbox Audi A6/Q7/Allroad/A8
EZS-Kessy Audi A6/Q7/Allroad
BCM2 immobilzier – Audi A4, S4, RS4, A5,S5, RS5, A6, A7, A8, Q5 / VW Touareg
+read the PIN and CS of the EDC17/MED17 engine control units. With this function is possible to read even engine control units 2012+ which are with
updated software and is not possible to read normally by OBDII.With this special function the EDC17/MED17 is not read through OBDII – you should have direct connection to the engine
control unit. It is possible to make this on the table, you need to connect only 12V, GND, Ignition, CAN-H and CAN-L. It is possible to read the ECU also in the car, but you need to find
somewhere the CAN-H (orange-black) and CAN-L (orange-brown) wires. So connect them to the AVDI and you will be able to read the engine control units.
+ adapt the transmission control unit (TCU) to the immobilizer (BCM2). For that purpose is necessary first to read the TCU. The TCU is not possible to be read by OBDII,
but is possible to read it when you connect the TCU on the table, or when you connect the AVDI to the internal CAN-Bus of the car.
To read from the internal CAN-Bus, find the orange/black and orange/brown CAN wires and make the following connection of the AVDI:
– orange/black <-> CAN-H (PIN6 of the OBDII)
– orange/brown <-> CAN-L (PIN14 of the OBDII)
– Ground <-> GND (PIN4 of the OBDII)
– 12V <-> 12V (PIN16 of the OBDII)
+reading the PIN/CS/MAC of the Simos PCR 2.1 engine control unit.
NOTE: This function requires internet access
New AVDI Interface or active AMS is required to purchase this special function.
VN003
VAG Key Learning Special Function
€ 3,150
Special function for learning keys to VAG vehicles
For owners of functions AN043, AN044, AN045, AN049, AN050, AN059 please click here to see the pricing for completion
+Extracting and displaying immobilizer related data by diagnostic. Ability for alignment of immobilizer related data – cluster/ecu. Displaying immobilizer related data from dump of flash and eeprom of micronas mcu in IPC
Read/Program memory of instrument cluster immobilizer
Read/Update immobilizer related data
Read/Update immobilizer data in VDO dashboards with NEC microcontroller (2009+) by OBDII
+ Extracting and displaying PIN code, control module configuration memory content, component security data from engine control units EDC16, MED9.x, Simos PPD 1.1/1.5, Magneti Marelli 4HV,7GV. Emergency start for engine control units EDC16. The whole EEPROM could be read for EDC15/ME7/EDC16. For MED9 and Simos engine control units only the PIN/CS/MAC is displayed.
+ This function will allow the preparation of a key ready for adaptation by diagnostic to the vehicles with BCM2 – Audi A4, S4, RS4, A5,S5, RS5, A6, A7, A8, Q5 / VW Touareg
+ Guided key adaptation functions, preparation keys suitable for the vehicle (dealer's keys). Included are also Audi A6, Audi Q7, Audi Allroad, VW Crafter(with EDC16 ECU), VW Passat, (BCM2 based vehicles are supported only with the help of ABProg*)
Key programming/adaptation
Reading security code (PIN) and component protection by OBDII – VW CRAFTER
EZS – Kessy (Q7/A6/Allroad) – With this function you can prepare dealer key/learn dealer key- Read/Update ConfData from EZS – Kessy (Q7/A6/Allroad)
Programming keys by OBDII (VAG with 16 bytes Component Security) – VW Crafter, Audi R8, VW Golf 6, VW Multivan 2009+, VW EOS 2009+, VW Caddy 2009+, VW Scirocco, VW Polo 2009+, VW Bora 2010+, VW Jetta 2010+, Skoda Octavia II 2009+, Skoda Superb 2009+, Skoda Fabia 2009+, Skoda Yeti 2009+, Seat Leon 2009+, Seat Altea 2009+, Seat Exeo 2009+, Seat Ibiza 2009+, …
Extracting of the 7th byte Component Security from a working key of the car (Megamos, Hitag2)
LAMBORGHINI GALLARDO
Key learning for Audi A6/A7/A8 with ALL KEYs LOST.
New AVDI Interface or active AMS is required to purchase this special function.
VN005
VN005 – Immo III/IV emulation
€ 750
The function allows to replace immo-related parts in another vehicle, even when the brand is different or the power class is different.
The function works for the transmissions of Audi A6 2003-2010, Audi Q7 2005-2015, Audi A8 2003-2010,
and for all Immo III/IV engine control units where writing is not permitted. (EDC16/EDC17/ME7/MED9/MED17/Simos benzin/Simos PPD/Simos PCR/Magneti Marelli/Delphi). The function requires internet connection and a complete VN002.
Attention:
The VN005 special function requires VN002 as well as an additional cable set (ZN052) that allows you to start and complete the operation. Each module that is adapted (TCU or ECU) will require an EM003 emulator to be built inside the car.
VN006
Immo III/IV Megamos 48 Key Programming
€ 550
The function allows the programming of keys to ALL VEHICLES with Immo III/IV immobiliser systems and Megamos 48 transponders.
The function works both when there is a working key and in ALL KEYS LOST situations.
A ZN053 AVDI extractor cable IS REQUIRED when purchasing the special function.
The procedure also requires a ZN051 Distribution Box and an internet connection.
VN007
Mileage recalibration for MQB vehicles
€ 600
Mileage recalibration for vehicles based on the MQB platform from 2014 onwards. For a full list of supported models please click here
Active AMS and internet connection are required.
VN009
Key programming for MQB vehicles
€ 1,000
Key programming for vehicles based on the MQB platform. This includes all models starting from 2012 onwards.
PROTAG programmer, active AMS and internet connection are required.
VN012
Security data extraction for VAG vehicles with Magneti Marelli 9GV ECU
€ 200
Reading the PIN and Component Security of the Magneti Marelli 9GV ECU. Procedure is done by OBDII with a working key or on the bench (using the ZN051 Distribution Box without opening the ECU) when all keys are lost.
VN013
ECU authorization for all Immo 3 and Immo 4 vehicles
€ 150
Performing authorization (using the ZN051 Distribution Box) of the vehicle ECU in order to update the engine software or to start the vehicle for ALL IMMO 3/IMMO 4 ECUs (Bosch, Siemens/Continental and Magneti Marelli). Allows entering into reflashing mode to update with a SGO/FRF file or to perform an emergency start to the vehicle.
VN015
Odometer recalibration for VAG vehicles
€ 1,000
-Mileage recalibration for Audi A6/A7 (4G) and A8 (D4) and VW Touareg 7P produced from 2010 until 2017 BY OBDII.
The function works with UDS dashboards.
-Reading and updating internal control module configuration memory by diagnostics.
Extracting and recalibration security access codes, PIN, component security bytes, current unit mileage values by K-line, CAN bus and UDS.
-Cluster CAN – With this function you can establish a disgnostic session with the instrument cluster using KWP2000 over TP2.0 or UDS.
You can Read/Update the odometer values. Supported types are: – VDO/MM/Visteon -2007 (CAN TP2.0)- VDO with NEC μC 2009+ (CAN UDS)- JCI with NEC μC
and 95320 EEPROM (CAN UDS)- Magneti Marelli with 9S12 μC (CAN UDS)- A8(4H)/A7(4G)/A6(4G)/Touareg(7P) with 95320 EEPROM (CAN UDS)
-Cluster K-Line – With this function you can establish a disgnostic session with the Instrument cluster via K-Line
(KWP1281 or KWP2000); You can Read/update the odometer value; Read PIN code; Read/Update ConfData; Read ROM/Flash from the Instrument cluster;
Automatic removing of "DEF error" for Audi A4 instrument cluster BOSCH RB8. Supported types are:- VDO66/86, Motometer- External Immobilizer – LT,
VW GOL, VW O GOL( Kostal ), Siemens 6 PIN HC05 Immo/TMS- Audi A4 B5 with/without board computer -1997- Audi A6 -1997- Audi A8 -1999- Magneti Marelli – Shadow 1/2/3/Direct-
VW Sharan/Galaxy -2000- Audi A4 Bosch RBx/RB4/RB4 Crypto/RB8 Crypto 2004+- Golf 4 Bosch RBx- VW Phaeton/Touareg, Bentley Continental,
Porsche Cayenne- Seat Exeo Bosch RB8 Crypto 2008+- Lamborghini Gallardo -2005/2005+
-Read/Update ConfData (VAG-EDC15x, VAG-ME7.1.1, VAG-ME7.1, VAG-ME7.5, VAG-Cartronic ME7.8.)
-Extracting Security access code / PIN (EDC15, ME7.x, VAG-Cartronic ME7.8) – Extracting Component security bytes
(EDC15, ME7.x, VAG-Cartronic ME7.8)- Mileage Calibration (EDC15, EDC16)
VAG Km
Special functions set for VAG mileage recalibration VN007, VN015
€ 1,600
Full set of mileage recalibration special functions for VAG.
VAG Key
Special functions set for VAG key programming VN003, VN006, VN009
€ 4,700
Full set of key programming special functions for VAG. The following hardware IS REQUIRED in order to obtain full functionality:
ZN002 PROTAG Programmer
ZN051 Distribution Box
ZN053 AVDI Extractor Cable
VAG FULL
Full VAG special functions set VN002, VN003, VN005, VN006, VN007, VN009, VN012, VN013, VN015
€ 8,780
Full set of special functions for VAG. The following hardware IS REQUIRED in order to obtain full functionality:
ZN002 PROTAG Programmer
ZN051 Distribution Box
ZN052 Abrites cable set for adapting IMMO parts used together with VN005
ZN053 AVDI Extractor Cable
ABRITES Diagnostics for Mercedes, Smart, Maybach
MN026
Key Programming, EIS/ESL/DAS Manager/7-Gear ETC/ISM/Infra Red and password reader/Personalization/Activation/Coding
€ 2,200
Generating of key dumps for vehicles with DAS-2, DAS-2A, DAS-2B, DAS-3.Smart key programming. Read partially data of the EIS. Read/update configuration data of the ESL. Virgin ESL. Resetting ETC (722.9) and ISM by diagnostic to the factory state without losing of SCN coding. Infra Red and password reader, Personalization, Activation, Coding.
ZN036 IS REQUIRED when purchasing the special function.
MN027
FBS4 Manager
€ 500
This special function is dedicated to the latest generation Mercedes-Benz FBS4 (DAS) related modules. It allows the following for modules installed in Mercedes vehicles equipped with the FBS4 generation of DAS:
– Renewal of FBS4 control modules including 7G Tronic units 722.9. ALL BY OBD or internal CANBUS.
– Renewal of FBS4 CRD 3.X Engine Control Units. ALL BY OBD or internal CANBUS.
Both functions are performed using the new online Mercedes software.
MN028
Instrument Cluster Data Manager, TV, ECU, Airbag Manager
€600
– Updating data memory instrument clusters W221, W216, W219, X164, W164, W203, W251, W463, R171, W209, W220, W215, W169, W245, Smart (2007+), W204, X204, W212, W197, W207, W218,W168, W202, W140, W210, W211, W461, W208, W163, W230, Sprinter, Vito, Viano
– Modifying ASSYST and ASSYST PLUS service history records
– Updating data memory in Battery Control Module, Tyre Pressure Monitor, Electric Seat Adjustment Driver and Electric Seat Adjustment Passenger, Rear Signal Acquisition and Actuation Module 1, Electronic Stability Program (ESP), Airbag, Electronic Parking Brake, Vehicle Power Supply Control Module
– Reading and updating flash and configuration memory of ECUs: Siemens SID, EDC15, EDC16
– Service list update
– TV, AUX on/off configuration
– Managing stored crash data and configuration memory of electronic control unit
– Speed warning for Gulf States, reverse warning
MN00F
Full Mercedes-Benz special functions set MN026, MN027, MN028
€2900
Consists of all special functions for Mercedes-Benz vehicles. (This does note include the necessary hardware)
ABRITES Diagnostics for BMW, Mini
BN010
Car Access System Advanced Coding
€1500
Programming keys by diagnostic. Supported type of units are CAS1, CAS2, CAS3, CAS3+
BN011
Electronic Gearbox System synchronization
€1000
Perform synchronization/recovery between CAS, EGS and ECU (6-speed gearboxes in E-series vehicles) and adaptation of 8-speed gearboxes in F-series vehicles
BN012
Advanced Coding Functionality
€500
Reading and programming vehicle order data, reprogramming flash memory of all electronic control units, E-series unit coding
BN013
Key Preparation by dump of FEM/CAS4
€1500
Preparing keys by dump for BMW models with FEM/BDC and CAS4 immobilizer systems – newest BMW 1, 3, 5 GT, 6, 7, X3 series (body Fxx). Please note this functions also covers mileage reset in FEM/BDC modules in F-series BMW vehicles.
BN00L
BMW special functions set Lite BN010, BN011, BN012
€2500
ZN002 – PROTAG Programmer is required for key programming
BN00F
Full BMW special functions set BN010, BN011, BN012, BN013
€3800
Full set of special functions for BMW. ZN002 – PROTAG Programmer is required for key programming
ABRITES Diagnostics for Renault
RR011
Engine Control Unit Advanced Diagnostic
€250
Reading and updating flash and configuration memory of the ECUs. Clearing IMMO code data
RR012
Key Programming
€1100
Key programming functionality. Please note that this function also includes the RR015 special function.
RR014
Airbags, UCH and EPS renewal
€300
Allows clearing stored crash data in the unit produced from Temic and Continental (it supports units utilizing the CAN protocol). EPS and UCH renewal is also done using RR014. The function allows you to restore the modules to their factory virgin state and install a used module in a different vehicle.
RR015
Key programming for the SMART 453/Renault Twingo III and other Renault models using the same system.
350
This function is designed to assist Smart and Renault specialists when a second key needs to be learned for these cars. The function requires at least one working key for the car to be present as ALL KEYS LOST is still not covered.
RR016
Instrument Cluster Module Recalibration
1000
Reading and updating internal control module configuration memory by diagnostic
RR017
Key programming for Renault Talisman/Megane IV/Scenic IV/Espace V
1250
Key programming functionality both for key addition and ALL KEYS LOST situations for Renault Talisman/Megane IV/Scenic IV/Espace V. RR012 is required for the purchase of this function.
RR00K
Special functions set for Renault key programming RR012, RR015 and RR017
2350
Full set of key programming special functions for Renault vehicles. ZN002 PROTAG Programmer is required in order to obtain full functionality.
ABRITES Diagnostics for Peugeot, Citroen
PN009
Engine Control Unit Advanced Diagnostic
400
Reading and updating flash and configuration memory of ECUs: Siemens SID, EDC15, EDC16. Service list update.
PN017
BSI, Instrument Cluster Data Manager
1380
Update of Instrument Cluster and BSI working data including support for Delphi UDS BSI 2016+
PN018
PIN Manager
1380
Display PIN code – diagnostic access for all PSA vehicles including those with Delphi UDS BSI 2016+
ABRITES Diagnostics for Ford, Mazda
FR005
Instrument Cluster Module Recalibration
330
Reading and updating internal control module configuration memory by diagnostic.
FR008
Key Manager, Advanced Diagnostic Functionality
2000
Key programming functionality , InCode calculator needed for adaptation of new electronic control units (and keys also).
FR009
Airbag clear crash data and renew
350
This function allows the clearing of the crash data from the RCM module using 4 simple button clicks. Read, clear, write, clear DTCs. The function covers the RCMs using the following processor: XC23xx data flash
For FORD/Mazda/JLR and Volvo as well as Ford/JLR RCMs with the following processor: TMS470 + EEPROM 25320/25640
ABRITES Diagnostics for Porsche
PO006
Instrument Cluster/Engine Control Module Recalibration
540
Reading and updating internal control module configuration memory by diagnostic. Recalibration of control unit working characteristics ( time,mileage).
PO008
Advanced Diagnostic Functionality
700
Coding, configuration, key programming, PIN code calculation.
PO009
Module Adaptation
500
Allows the adaptation of modules both part of the Immobilizer system (Immo V) and those with component protection for Panamera, Cayenne 2011+, 911 991/Boxster 981, Spyder, Macan
ABRITES Diagnostics for Toyota, Lexus, Scion
TN007
Advanced Key Programming by Diagnostics and key programming
1000
Key programming functionality. Immobilizer/Smart system reset by diagnostic. Master key preparation by dump of smart system. Identification Control Unit reset by LIN bus. Master key emulation for all models with smart keys. Emergency start in all keys lost situations.
ZN039-2 IS REQUIRED when purchasing the special function.
ABRITES Diagnostics for Fiat, Alfa, Lancia
FN013
Instrument Cluster Data Manager
500
Update of Instrument Cluster working data.
FN014
Engine Control Unit Flash Manager
205
Reading and Updating ECU's flash memory by diagnostic. ECUs supported: IAW 4AF,4EF,59F,5AF,5AM,5NF, 5SF3; MJD 6JF
FN015
Engine Control Unit Configuration Manager
575
Reading and Updating ECU's configuration memory by diagnostic. Reset to factory new state option. ECUs supported: EDC15C5, EDC15C7, MJD 6JF/8F2; Marelli IAW 4AF, 4EF, 59F, 5AF, 5AM, 5NF, 5SF3, 5SF8; BOSCH ME7.3H4 (boot), ME7.3.1 (boot).
FN018
PIN and Key Manager for FCA vehicles
€1500
Key programming. Transponders/Keys preparation. BCM – Configuration data read and update, PIN, component protection data display. Remote control programming. Includes support for Alfa Romeo Giulia/Stelvio
ABRITES Diagnostics for GM (former Opel, Vauxhall)
ON010
Engine Control Unit Flash Manager
€205
Reading and Updating ECU's flash by diagnostics (OBDII).
ON013
PIN and Key Manager
€1100
PIN code calculation and key programming functionality, reading and updating of ConfData of ECU, instrument clusters and BCM units.
ON014
Advanced Configuration
€450
Calibration of instrument cluster and engine control module data, reset of airbag data (for certain models), extraction of radio PIN code by diagnostics (OBDII).
ABRITES Diagnostics for Mitsubishi
MI005
Engine Control Unit Flash Manager
165
Reading and Updating ECU's flash and configuration memory by diagnostic.ECU EDC15
MI007
PIN and Key Manager
450
PIN code calculation and key programming functionality.
ABRITES Diagnostics for Subaru
SB001
Subaru Key learning and smart system reset
700
Key learning for keyless and mechanical key Subaru cars even when all keys are lost. By OBD, no disassembly needed. Smart system reset is also possible.The function allows you to adapt new and used ECU (ECM) and Smart ECM
ABRITES Diagnostics for Nissan
NN006
PIN and Key Manager
550
Calculation PIN code (including 20-digit PIN Code) and programming keys by diagnostic.
ABRITES Diagnostics for Hyundai, Kia
HK007
Instrument Cluster, Engine Control Data Manager
300
Update of Instrument Cluster working data, Flash read/update for ECUs EDC15C2, EDC15C2 configuration memory update.
HK008
PIN and Key Manager
€650
Key programming for all vehicles with smart keys (2018+). PIN code display for vehicles with mechanical keys – Delphi, KEFICO, EDC15/16. Flash Read/update for ECUs EDC16.
ABRITES Diagnostics for Volvo
VL003
Instrument Cluster Data Manager
500
Update of Instrument Cluster working data.
VL004
HITAG 2 Key Learning and Central Car Configuration
500
Key learning for HITAG 2 PCF7945/7953 type of keys for 2008+ cars
ABRITES Diagnostics for Jaguar and Land Rover
JL002
Key learning
150
Key programming functionality.
JL003
Mileage recalibration
150
Update of Instrument Cluster working data.
ABRITES Diagnostics for Chrysler, Dodge, Jeep
CR006
Instrument Cluster Data Advanced Configuration
500
Reading and updating configuration memory instrument clusters.
CR007
Engine Control Unit Flash Manager
165
Reading and Updating ECU's flash and configuration memory by diagnostic. ECU EDC15/16
ABRITES Tag Key Tool – software for TAGPROG/PROTAG
KT010
Tag Key Tool
Free for all owners of ZN002
This software will provide you access to the internal memory and configuration of transponders.Available tool for generation of keys by dump of immobilizer system of the vehicle (more than 1000 models are covered).Provided is the ability for preliminary preparation of transponders to be ready for usage with diagnostic equipment.Available functionality for cloning of Megamos 13, Temic 11, Temic 12, Texas 4C, PIT ID33, Tiris 4D, Tiris 4E, Temic 8C (Mazda, Ford, Proton).
KT011
Key Inspector
1000
Utility for displaying information from different keys (VIN, last drive, mileage,..).
KT012
Porsche BCM
300
Key programming by dump from the Electronics Body Front Section control unit (with Motorola MCU inside – 9S12XDP512, XEP100)
ABRITES ECU Programming Tool
EP001
Bosch EDC17/MED17, Delphi and SIMxx boot mode manager
500
Programming tool dedicated to reading/writing/updating of the Configuration Data (EEPROM), Internal and External Flash of Bosch EDC17/MED17, Delphi and SIMxx by boot mode.
ABRITES Diagnostics for Bikes, Snowmobiles, Water scooters
BK002
Advanced bike diagnostics, BMW bikes keyprogramming
400
ABRITES Diagnostics for DAF
DF002
Key Programming
600
Key programming functionality.
Emulators
#
Product Description
Price
EM001
ABRITES ESL Emulator for Mercedes
50
By using the switches on the emulator, you can benefit from a 3-in-1 solution that supports the following models: W203, W204, W207, W208, W209, W210, W211, W212, W169, W245, Vito, Viano and Sprinter. This is a plug and play solution for most models. You can use the ABRITES Software for Mercedes to personalize the emulator (FREE OF CHARGE, NO TOKENS – available for all AVDI owners with valid AMS and special function MN026) or you can personalize the emulator with a green key in the same way as an original ESL (necessary ONLY for W204, W207 and W212).
5 pcs x EM001 – ABRITES ESL Emulator for Mercedes
225
10 pcs x EM001 – ABRITES ESL Emulator for Mercedes
400
20 pcs x EM001 – ABRITES ESL Emulator for Mercedes
700
EM002
ABRITES ESL Emulator for Renault
30
The ABRITES ESL emulator for Renault vehicles (EM002) is one of the most advanced ESL emulators currently available. The ABRITES ESL emulator is part of the all new ABRITES design, manufacturing and development process which allows the whole emulator unit to be designed, developed and produced in-house by us. The currently supported models include Renault Megane II, Megane III, Laguna III, Scenic III, Clio IV and Fluence.
10 pcs x EM002 – ABRITES ESL Emulator for Renault
250
EM003
Immo Parts Emulator for VAG
40
Used to emulate any IMMO part while emulating using VN005.
10 pcs x EM003 – Immo parts emulator for VAG
300
EM004
ABRITES Video in Motion CAN Filter 125k
40
The CAN filter allows the unlocking of video playback in a moving vehicle in cases when this option is not available in the diagnostic coding options of the vehicle. This filter works with W166/W292 vehicles with NTG5s1 multimedia module (Panasonic).
10 pcs x EM004 – ABRITES Video in Motion CAN Filter 125k
300
EM005
ABRITES Video in Motion CAN Filter 500k
40
The CAN filter allows the unlocking of video playback in a moving vehicle in cases when this option is not available in the diagnostic coding options of the vehicle. This filter works with W221/W216 vehicles with NTG3.5 multimedia module.
10 pcs x EM005 – ABRITES Video in Motion CAN Filter 500k
300
EM008
Odometer calibration emulator for W204, W205, W212 (FBS3/FBS4)
35
The odometer calibration emulator allows mileage calibration for W204, W205 and W212 vehicles (both FBS3 AND FBS4).
10 pcs x EM008 – Odometer calibration emulator for W204, W205, W212 (FBS3/FBS4)
300
EM009
Odometer calibration emulator with jumper cable for dash for W204, W205, W212 (FBS3/FBS4)
40
The odometer calibration emulator allows mileage calibration for W204, W205 and W212 vehicles (both FBS3 AND FBS4) and has jumper cable for the dash for easier installation.
10 pcs x EM009 – Odometer calibration emulator with jumper cable for dash for W204, W205, W212 (FBS3/FBS4)
300
Keys
#
Product Description
Price
TA6
PCB (BCM2) – 868 Mhz
50
10 pcs x TA6 – PCB (BCM2) – 868 Mhz
400
TA20
PCB (BCM2) – 433 Mhz
50
10 pcs x TA20 – PCB (BCM2) – 433 Mhz
400
TA8
PCB (BCM2) – 315 Mhz
50
10 pcs x TA8 – PCB (BCM2) – 315 Mhz
400
TA9
Abrites key (BCM2) – 868 Mhz
40
10 pcs x TA9 – Abrites keys (BCM2) – 868 Mhz
320
TA10
Abrites key (BCM2) – 315 Mhz
40
10 pcs x TA10 – Abrites keys (BCM2) – 315 Mhz
320
TA11
Abrites key (BCM2) – 433 Mhz
40
10 pcs x TA11 – Abrites keys (BCM2) – 433 Mhz
320
TA12
PCB for Mercedes IR key fob case with chrome. Frequency – 433 Mhz
€25
10 pcs x TA12 – PCB for Mercedes IR key fob case with chrome. Frequency – 433 Mhz
€200
TA21
PCB for Mercedes IR key fob case with chrome. Frequency – 315 Mhz
€25
10 pcs x TA21 – PCB for Mercedes IR key fob case with chrome. Frequency – 315 Mhz
€200
TA13
PCB for Mercedes IR key fob case small size. Frequency – 433 Mhz
€25
10 pcs x TA13 – PCB for Mercedes IR key fob case small size. Frequency – 433 Mhz
€200
TA22
PCB for Mercedes IR key fob case small size. Frequency – 315 Mhz
€25
10 pcs x TA22 – PCB for Mercedes IR key fob case small size. Frequency – 315 Mhz
€200
TA14
Abrites KEY for all types Mercedes with IR. Frequency – 433 Mhz
€30
10 pcs x TA14 – Abrites KEY for all types Mercedes with IR. Frequency – 433 Mhz
€240
TA15
Abrites KEY for all types Mercedes with IR. Frequency – 315 Mhz
€30
10 pcs x TA15 – Abrites KEY for all types Mercedes with IR. Frequency – 315 Mhz
€240
TA16
Abrites KEY-CARD for Renault vehicles
€30
10 pcs x TA16 – Abrites KEY-CARD for Renault vehicles
€240
TA19
Abrites Electronic key head (Renault/Dacia)
€30
10 pcs x TA19 – Abrites Electronic key head (Renault/Dacia)
€240
TA23
Abrites Electronic key head with remote control (Renault/Dacia)
€35
10 pcs x TA23 – Abrites Electronic key head with remote control (Renault/Dacia)
€280
TA24
Abrites Chrysler/Dodge/Jeep 2013+ Key
€50
10 pcs x TA24 – Abrites Chrysler/Dodge/Jeep 2013+ Key
€400
TA27
Megane 3/Laguna 3 key PCB
€55
10 pcs x TA27 – Megane 3/Laguna 3 key PCB
€440
TA28
Clio 4/Captur KEYLESS key PCB
€35
10 pcs x TA28 – Clio 4/Captur KEYLESS key PCB
€280
TA29
Abrites FIAT 500X KEYLESS key
€50
10 pcs x TA29 – Abrites FIAT 500X KEYLESS key
€400
ТА30
Abrites DST-AES transponder emulator
€30
10 pcs x TA30 – Abrites DST-AES transponder emulator
€240
TA31
Abrites extractor
€25
10 pcs x TA31 – Abrites extractor
€200
TA34
Abrites Renault Megane 4/Talisman KEYLESS key
€60
10 pcs x TA34 – Abrites Renault Megane 4/Talisman KEYLESS key
€480
TA35
Abrites Renault Clio 4/Captur KEYLESS key
€40
10 pcs x TA35 – Abrites Renault Clio 4/Captur KEYLESS key
€320
TA36
Abrites DST 40bit/DST+ 80bit Electronic key head
€30
10 pcs x TA36 – Abrites DST 40bit/DST+ 80bit Electronic key head
€240
TA38
IC Replacement for Alfa Romeo Giulia/Stelvio
€40
10 pcs x TA38 – IC Replacement for Alfa Romeo Giulia/Stelvio
€320
Additional Cables and Adapters
#
Product Description
Price
ZN031
ABPROG EEPROM/BCM adapter
€100
Adapter for ABPROG programmer. It allows programming of EEPROMs – M35xxx/I2C/SPI/MicroWire. This adapter is a part from ABPROG programmer (ZN030).
ZN032
ABPROG NEC adapter with socket
€50
The adapter is intended for ABPROG programmer ZN030 to be used with NEC MCUs from Mercedes IR-keys.
ZN033
ABPROG NEC adapter
€10
The adapter is intended to be used with the ABPROG Programmer ZN030 for reading NEC MCUs from Mercedes IR-Keys by soldering the MCU to the adapter.
ZN034
ABPROG Flat Cable
€5
The adapter is intended to be used with the ABPROG Programmer ZN030 to read CPUs and MCUs.
ZN036
IR AVDI cable
€50
Cable for reading data from EIS through Infra Red
ZN037
Renault CAN adapter
€20
Adapter for diagnostics of all multimedia modules present in the car (Radio, Navigation, Bluetooth, Telephone, e.t.c)
ZN038
Fiat/Chrysler CAN adapter
€20
Diagnostics adapter for ABS (Anti Lock Brakes), HALF (Haptical Lane Feedback), ESL ( Electronic Steering Lock), ORC (Occupant Restraint), EPS (Electric Power Steering), PAM (Parking Aid Module) present in Fiat 500x and Jeep Renegade
ZN039-2
Toyota Transponder Emulator
€50
Transponder emulator required to complete the key learning/emergency start procedures part of the TN006 special function. You NEED to have TN006 active in order to use the emulator.
ZN040
A6/A7/A8 CAN Adapter
€50
The Abrites A6/A7/A8 CAN Adapter is used in order to make the ALL KEYS LOST procedure for Audi A6/A7/A8 easier providing all necessary connections.
ZN046
Abrites Key Renewal Adapter
€10
The Abrites key renewal adapter is a new product which assists when you need to renew a Hitag 2 type of key. It is soldered to the Hitag 2 PCB and it is then attached to the ABPROG programmer in order to renew used HITAG 2 keys.
ZN047
Abrites Renault key card type field detector
€15
The Abrites Renault key card type field detector has been developed in order to assist when testing to confirm whether or not the electronic ignition switch is functional before starting work. This field detector provides the customer with a reassurance before starting to work on a certain car The ZN047 is activated at 125KHz to confirm the operation of the unit. It indicates that a field is detected by a green light from the LED inside and it is shaped as a Renault key card in order to fit in the key-card slot of modern Renault vehicles.
ZN048
Abrites universal field detector
€15
The Abrites universal field detector has been developed in order to assist when testing to confirm whether or not the electronic ignition switch is functional before starting work. It detects a field of 125KHz and also a field of 20KHz so that it can be used for multiple brands of vehicles Such as Mercedes, Audi, Toyota and other brands which use these frequencies.
ZN049
AVDI Adapter for connection with K-Line BMW vehicles (PassThru ONLY)
€20
Adapter used to connect to K-Line BMW vehicles when using OEM software via the AVDI PassThru driver
ZN052
Abrites cable set for adapting IMMO parts used together with VN005
€50
ZN053
AVDI Extractor Cable
€50
ZN054
Extension cable set for direct CAN connection for VAG vehicles
€20
ZN055
ZN055 – EWS Adapter for ABPROG
€30
ZN062 – 12V/0.5A DC Power adapter IS REQUIRED and is not included in the package
ZN056
Honda K-Line adapter
€10
ZN057
EEPROM wire extender for ABPROG EEPROM/BCM adapter
€10
Wire extender for the EEPROM/BCM adapter to be used for reading chips without having to take them off the PCB.
ZN058
V850E2 adapter for ABPROG
€10
Adapter used to read the V850E2 single-chip microcontroller using the ABPROG programmer.
ZN059
VAG VDO Cluster Adapter
€50
Adapter used to enter service mode for VAG VDO dashboards. ZN063 – 12V/1A DC Power adapter IS REQUIRED and is not included in the package
ZN060
VAG Micronas (new style connector) Cluster Adapter
€50
Adapter used to enter service mode for VAG Micronas dashboards with the new style connector. ZN063 – 12V/1A DC Power adapter IS REQUIRED and is not included in the package
ZN061
VAG Micronas (old style connector) Cluster Adapter
€50
Adapter used to enter service mode for VAG Micronas dashboards with the old style connector. ZN063 – 12V/1A DC Power adapter IS REQUIRED and is not included in the package
ZN062
12V/0.5A DC Power adapter
€10
12V/0.5A DC Power adapter used to give power supply to the ZN055 – EWS3 Adapter for ABPROG
ZN063
12V/1A DC Power adapter
€10
12V/1A DC Power adapter used to give power supply to the following products:
ZN059 – VAG VDO Cluster Adapter
ZN060 – VAG Micronas (new style connector) Cluster Adapter
J1850
SAE J1850 adapter for AVDI
€40
Adapter will allow diagnostic operation with SAE J1850 based diagnostic protocols used in the past from Chrysler, Dodge, Jeep, Plymouth, Ford.
CB002
AVDI cable for 20 pins round diagnostic connector for BMW
€20
CB003
AVDI cable for 38 pins round diagnostic connector for MERCEDES
€20
CB004
AVDI cable for 14 pins round diagnostic connector for MERCEDES Sprinter
€20
CB005
AVDI cable for ESL(ELV) for Mercedes
€20
CB006
AVDI cable for instrument cluster Mercedes W203, W209, W211, W219
€20
CB007
AVDI cable for Bombardier diagnostic connector
€25
CB008
AVDI cable for BMW bike diagnostic connector
€25
CB009
AVDI cable for connection with trucks Deutcsh 6 pin (J1708)
€25
CB100
AVDI OBDII cable (SAE J1962)
15
CB101
AVDI extension cable for PROTAG
€10
This cable is a part of PROTAG and ABPROG programmers (ZN002, ZN030)
CB102
EXT cable for 25 pin F/M
€10
CB103
OBDII Y cable M/2xF
€20
CB104
USB A-B Cable
€5
Cable used to connect the AVDI and PROTAG programmer to the computer
CB201
AVDI cable for connection with Suzuki Marine Engines type 1
€20
CB202
AVDI cable for connection with Suzuki Marine Engines type 2 (round)
€20
CB203
AVDI cable for connection with Yamaha Marine Engines
€25
CB204
AVDI cable for connection with Evinrude Marine Engines
€25
CB205
Evinrude Flash Update cable
€20
CB301
AVDI cable for connection with Aprilia Bikes
€15
CB302
AVDI cable for connection with KTM Bikes
20
CB303
AVDI cable for connection with Benelli Bikes
€20
CB304
AVDI cable for connection with Suzuki Bikes (6 pins)
€25
CB305
AVDI cable for connection with Harley Davidson Bikes (CAN/K-Line)
€40
CB306
AVDI cable for connection with Piaggio Bikes
€25
Abrites Tough Cases
#
Product Description
Price
ATC01
Abrites Tough Case – Small size
€35
ATC02
Abrites Tough Case – Medium size
€90
ATC03
Abrites Tough Case – Large size
€120
(Visited 802 times, 2 visits today)