A Audi A6 with 13000 kilometers,the owner discribed that MMI display black screen after AC drain pipe cleanning.Here i share the whole progress of How to diagnose and solve Audi A6 MMI display black screen after AC drain pipe cleanning.
Trouble Diagnose and Analyse:
After checking the circuit we can make the conclusion,the reasons make MMI black screen:
1. J533(data bus line port) without communication
2. J523 trouble
3. J533 trboule
The MMI and multimedia system communicate data by MOST BUS,it built in ring structure.Each control unit on the ring structure occurs failure will reasult in MOST BUS can not communicate correctly.So,R41(CD conversion box),R119(media player),R129 (camera,DVD player) are likely to malfunction.
By consulting the maintenance manual,we can know that J523 and R41 are located in the glove box show as below picture.And AC internal filters are located below J523 and R41,when cleanning the drain pipe,it need to clean the internal filters firstly.So,it most likely that the cleanning fluid was spreayed into the glove box when cleaning drain pipe due to the operation errors.Then the fluid infiltrated the J523 or R41 harness interface and optical interface resulting in J533 communication errors,MMI black screen.
Troubleshooting:
First,we need to determin whether the fault exists:
Turn the ingition key and found the MMI did not work.Connect auto diagnostic tool to vehicle,read out the trouble mean that:J533 without communication.Below show the circuit diagram: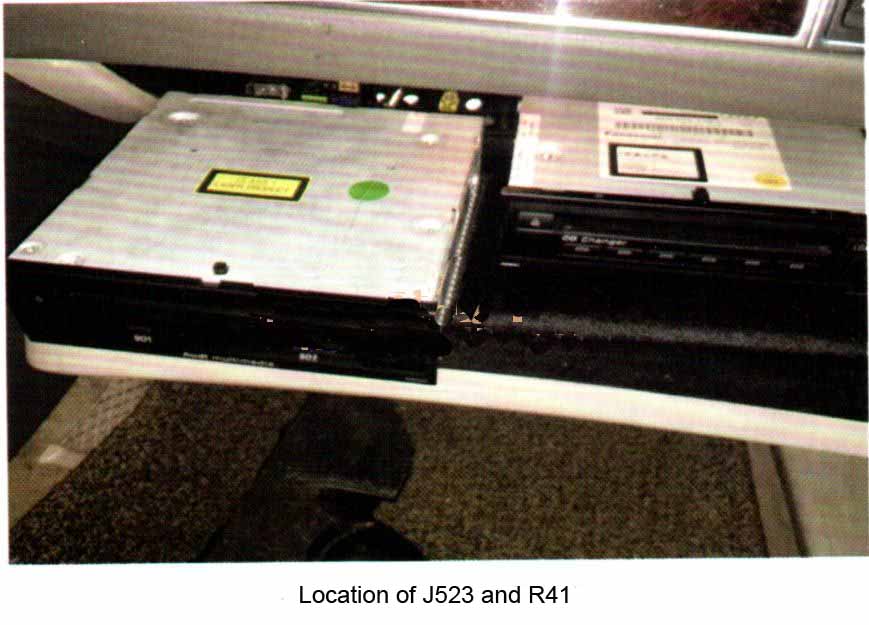 Removed the glove box,J523 and R41,then found that there is a lot of water.In order to troubleshoot,technicians drying the glove box,J523,R41,the wiring harness near the gloves and controller.The installed them back,and tested the vehicle.
This time,the MMI worked correctly but the TPMS warning light on.Check the pressure of four tire and adjust them to normal value.But the MMI system tire pressure storage system is not available when resetting the tire pressure.And found the tire pressure system failure.
Consult the maintenance manual,it found that tire pressure monitoring controller-J502 also within the scope of the water.Removed the tire pressure monitoring controller-J502,found the harness interface inflow water.Technicians drying the J502 and wire harness,then test again.The trouble still exists.Technician check the wire harness and fuse of J505.Found both of them is normal.It most likely the J502 was damaged.
Replaced the tire pressure monitoring controller-J502,tested after coding for J502 found the trouble symptoms disappeared.And read the DTCs by diagnostic tool,found there is no DTCs.
Sloved!
(Visited 86 times, 1 visits today)