What is HITACHI Parts Manager Pro?
HITACHI Parts Manager Pro is special electrical spare parts catalogue software for HITACHI excavators,crawlers,forester,loaders and trucks heavy duty equipment.
This catalog works in a shell Parts Manager Pro, it has an additional drive with the bases on spare parts for all equipment of this brand.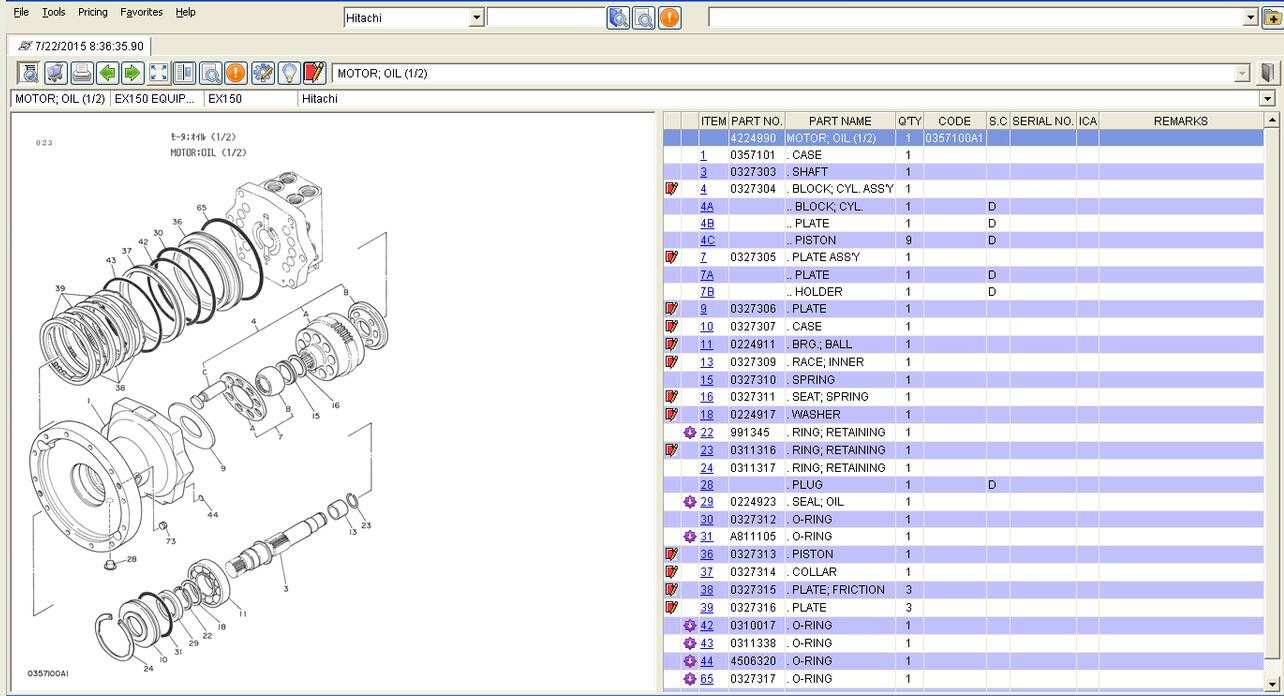 HITACHI Parts Manager Pro Installation Requirements:
– O.S.: Windows XP, Windows Vista, Windows 7, Windows 8, Windows 8.1
– CPU: Pentium/Athlon 2 GHz or higher
– RAM: 512 MB of system memory
– Hard Drive: 5 GB of available space
– DVD-ROM
HITACHI Parts Manager Pro Support Languages:
Languages: English, French, German, Italian, Spanish, Portuguese, Dutch …
HITACHI Parts Manager Pro 2016 Free Download
Hitachi Parts Manager Pro 2016
http://nitroflare.com/view/4E15C1B0EC1C2E6/HITACHI.Parts.Manager.Pro.6.5.5.03.2016.part1.rar
http://nitroflare.com/view/EA1BF81FC65BEFF/HITACHI.Parts.Manager.Pro.6.5.5.03.2016.part2.rar
http://nitroflare.com/view/33B9F89DBCC2838/HITACHI.Parts.Manager.Pro.6.5.5.03.2016.part3.rar
http://nitroflare.com/view/3BC374089CCE62E/HITACHI.Parts.Manager.Pro.6.5.5.03.2016.part4.rar
Hitachi Parts Manager Pro 2016 6.5.5 100% Work Solution
HITACHI Parts Manager Pro MODEL LIST
CRAWLER
DX Series
DX75L-2
DX75M-2
EXCAVATOR
EX Series
EX100
EX1000
EX100WD
EX1100
EX150
EX160WD
EX17U
EX1800
EX200LC
EX2500
EX270LC
EX27U
EX300LC
EX3500
EX35U
EX400LC
EX50UNA
EX5500
EX550LC
EX700
EX8000
EX2 Series
EX100-2
EX1800-2
EX200LC-2
EX25-2
EX300LC-2
EX3500-2
EX 3 Series
EX100-3
EX100M-3
EX1100-3
EX1800-3
EX200LC-3
EX220LC-3
EX300LC-3
EX300LC-3C
EX3500-3
EX400LC-3
EX400LC-3C
EX550LC-3
EX 5 Series
EX100M-5
EX110-5
EX120-5
EX1200-5
EX1200-5C
EX1200-5D
EX160LC-5
EX1900-5
EX200LC-5
EX230LC-5
EX2500-5
EX270LC-5
EX330LC-5
EX3600-5
EX370-5
EX450LC-5
EX5500-5
EX550LC-5
EX750-5
EX80-5
EX 6 Series
EX1200-6
EX1900-6
EX2500-6
EX2600-6
EX2600E-6
EX3600-6
EX3600E-6
EX5500-6
EX5500E-6
EX5600-6
EX8000-6
UH Series
UH02
UH04-7
UH062
UH07-3
UH07-5
UH07-7
UH07LC-7
UH081
UH081LC
UH082LC
UH083
UH083LC
UH10-7
UH122
UH122LC
UH123
UH14-2
UH16
UH171
UH171LC
UH172
UH181
UH20
UH23
UH261
UH30
UH35
UH50
UH501
UH801
ZAXIS Series
ZAXIS120
ZAXIS120-3
ZAXIS130-5N
ZAXIS135US
ZAXIS135US-3
ZAXIS135US-5N
ZAXIS160LC
ZAXIS160LC-3
ZAXIS160LC-5N
ZAXIS17U-2
ZAXIS180LC-5N
ZAXIS 180W
ZAXIS190W-3
ZAXIS200LC
ZAXIS200LC-3
ZAXIS210-5G
ZAXIS210-5N
ZAXIS210LC-5G
ZAXIS210LC-5N
ZAXIS210W
ZAXIS220W-3
ZAXIS225USLC
ZAXIS225USLC-3
ZAXIS230LC
ZAXIS240LC-3
ZAXIS245USLC-5N
ZAXIS250LC-5G
ZAXIS250LC-5N
ZAXIS270LC
ZAXIS270LC-3
ZAXIS27U
ZAXIS27U-2
ZAXIS27U-3
ZAXIS290LC-5G
ZAXIS290LC-5N
ZAXIS330LC
ZAXIS350LC-3
ZAXIS350LC-5G
ZAXIS350LC-5N
ZAXIS35U
ZAXIS35U-2
ZAXIS35U-3
ZAXIS35U-5N
ZAXIS370
ZAXIS380LC-5N
ZAXIS450LC
ZAXIS450LC-3
ZAXIS470LC-5B
ZAXIS50U
ZAXIS50U-2
ZAXIS50U-3
ZAXIS50U-5N
ZAXIS600LC
ZAXIS60USB-3
ZAXIS60USB-5N
ZAXIS650LC-3
ZAXIS670LC-5B
ZAXIS75US
ZAXIS75US-3
ZAXIS80
ZAXIS800
ZAXIS850LC-3
ZAXIS85USB-3
ZAXIS870LC-5B
FORESTER
EX5 Series
EX200-5
EX330-5
EX370-5
ZAXIS Series
ZAXIS200F
ZAXIS210F-3
ZAXIS240F-3
ZAXIS250F
ZAXIS290F-3
ZAXIS350F
ZAXIS370F-3
TRUCK
EH Series
EH1000-416LD
EH1100-3
EH1100-423LD
EH1600
EH1700
EH1700-3
EH3000
EH3500
EH3500ACII
EH4000
EH4000ACII
EH4500-2
EH4500-402MD
EH5000
EH5000AC-3
EH5000ACII
EH700-404TD
EH750-404TD
(Visited 434 times, 1 visits today)