What is IMMO Universal Decoding?
IMMO Universal Decoding is the best software to remove the IMMO code of ECU.IMMO Universal Decoding is the best software to remove the IMMO code of ECU. The software IMMO Universal Decoding is compatible with read file with programmer such as UPA-USB, WELLON Series VP/GP, Galep, Serial and many other (not supplied with the software). Once loaded the read file of the ECU, The software will repair the IMMO code. For many ECU, there is the possibility to make virg in the IMMO in order to recode, according to the value of original key, or to delete definitively (not recode).
IMMO Universal Decoding Software Included:
61 Brand
888 Compatible system for above 10000 model of cars
Box of information
1100 Photos
680 MASK of identification
In this release we have introduced new 1100 Photos ECU, the position of memories, plans, pinout, and much more. (Here are reported some examples that show the location of the memory and the high quality of the photos).It has also been added to auto-verification of EPROM and "ALL Version Auto Check" to identify the version of the ECU. Fixed several minor errors and bugs from previous versions.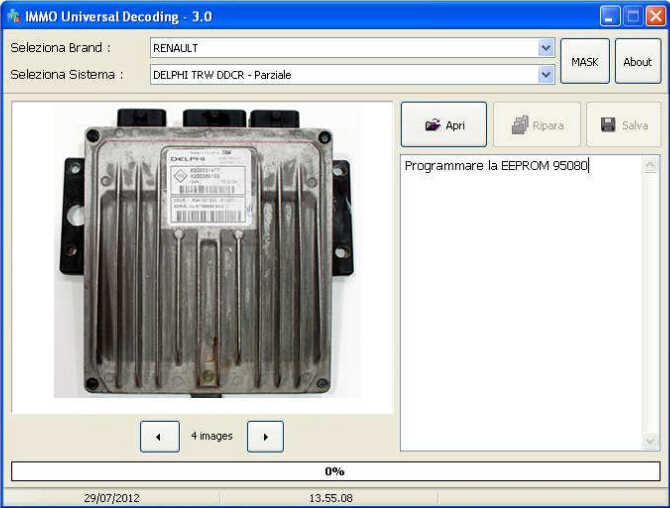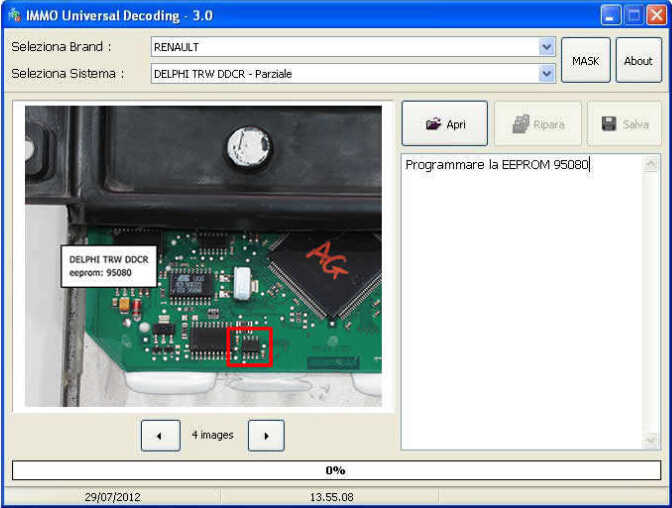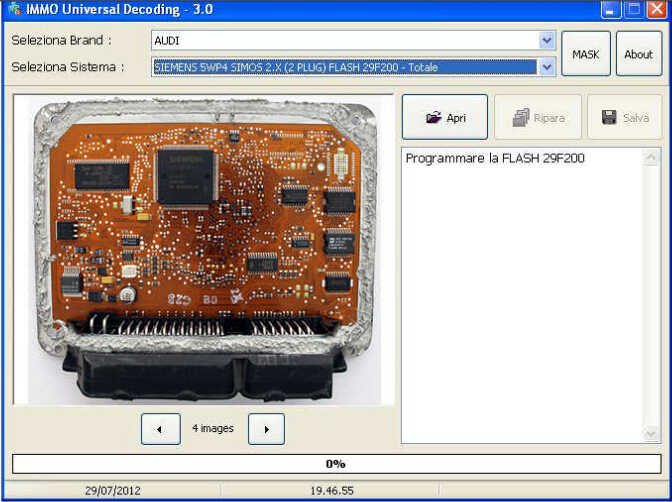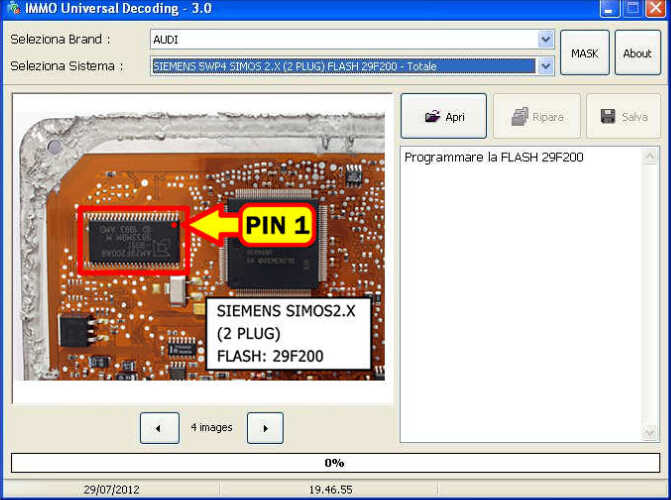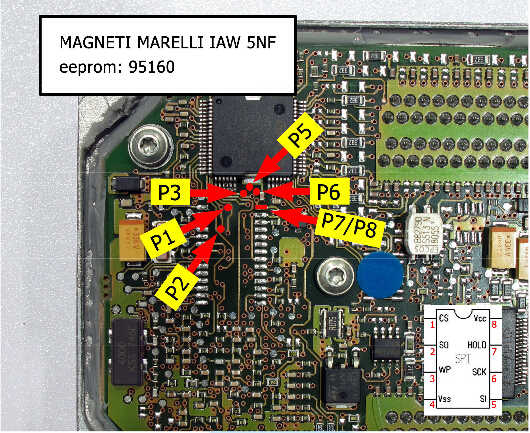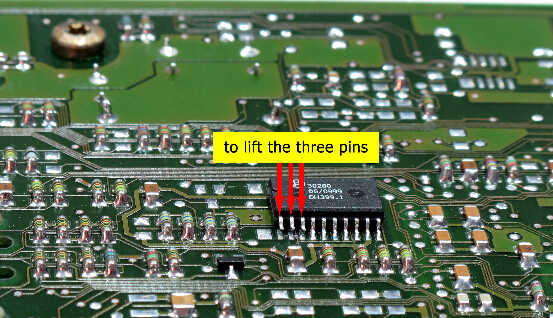 IMMO Universal Decoding has a information box that help the operator to identify the memory to read; also, the button Mask identify a memory catalogued in accordance to standard Bosch and Motorola.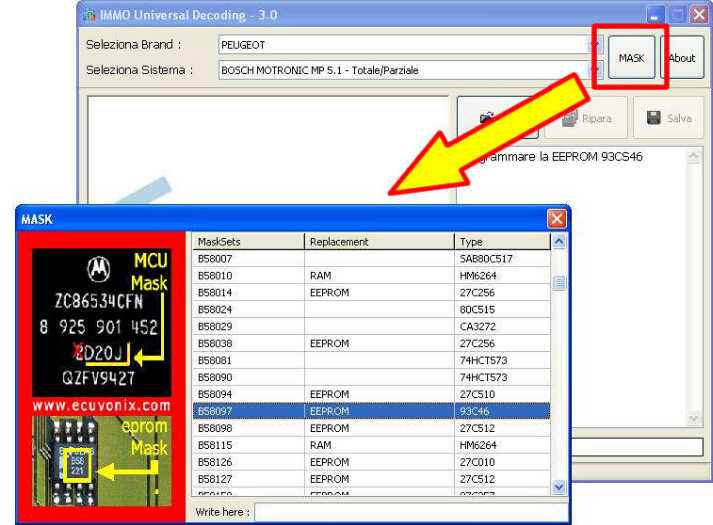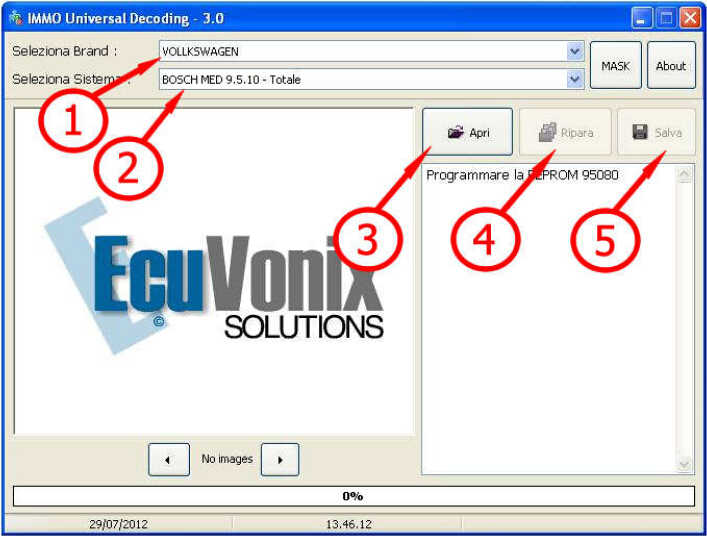 IMMO Universal Decoding Free Download:
Download Link 1:version 3.2
https://mega.nz/#!hkpjxBSI!0MVhoWpO6cbY0zBIrt6p1ngM_aXzkw7X0hY6Ivf5i8Y
Download Link 2:(need password)
http://www.nitroflare.com/view/B3F17CC1DEE45F6/IUDv3.2.rar
IMMO Universal Decoding 4.5
This lastest version only for sell at below:
https://cartechnology.co.uk/showthread.php?tid=30050&highlight=IMMO+Universal+Decoding
IMMO Universal Decoding Requirements:
– O.S.: Windows XP; Windows Vista; Windows 7; Windows 8
– CPU: Pentium/Athlon 800 MHz or higher
– RAM: 128 MB of system memory
– Hard Drive: 500 MB of available space
– CD-ROM
How to install IMMO Universal Decoding
Note:For download link 1
Copy the folder to c:/ IUDv3.2 or location that you prefer.
Run HWIDGen.exe and click "copy".
Open the "Crack" folder and run IUDKeygen.exe
Paste in the "HW-ID" box code obtained above.
Press "Generate License" and closes the window.
Copy lic.key of … IUDv32/Crack/Archives/True to IUDv32/
You can now run IMMDEC3.EXE
How to use IMMO Universal Decoding
1.Choose the Brand
2.Choose the System
3.Open the read file with your programmer
4.Process the file to execute the repair
5.Save the repai file
At this point reprogramming the ECU with the save file
DISCLAIMER: this software is supplied only such as test and for not moving cars. We will not be responsable for any direct and indirect damages from the use of the file created by the software.
How to Update IMMO Universal Decoding
IMMO Universal Decoding can not be updated online,updates will be available through the exit of new versions
IMMO Universal Decoding Support Car ECU List:
ALFA ROMEO
BOSCH EDC15C5 (5 PLUG) – Virgin
BOSCH EDC15C6 – Virgin
BOSCH EDC15C6 EURO 3 – IMMO OFF
BOSCH EDC15C7 – Virgin
BOSCH EDC15C7 EURO 3 – IMMO OFF
BOSCH EDC16C39 – IMMO OFF
BOSCH EDC16C39 – Only 120HP – IMMO OFF
BOSCH EDC16C39 – Version 1 – Virgin
BOSCH EDC16C39 – Version 2 – Virgin
BOSCH EDC16C8 – Virgin
BOSCH EDC16C9 – IMMO OFF
BOSCH EDC16C9 – Virgin
BOSCH M1.5.5 – IMMO OFF
BOSCH M2.10.3 – Virgin & IMMO OFF
BOSCH M2.10.4 – Virgin & IMMO OFF
BOSCH M2.7 – IMMO OFF
BOSCH ME 7.1.1 – Virgin
BOSCH ME 7.3.1 All Version – IMMO OFF
BOSCH ME 7.3H4 – IMMO OFF
BOSCH ME 7.3H4 – Version 1 – Virgin
BOSCH ME 7.3H4 – Version 2 – Virgin
BOSCH ME 7.3H4 – With body computer – IMMO OFF
BOSCH ME 7.9.10 – With 95160 – Virgin File
BOSCH MED 7.1.1 – Virgin
BOSCH MED 7.6.1 – Virgin
BOSCH MED 7.6.2 – Virgin
BOSCH MSA11 EDC1.3.1- Virgin & IMMO OFF
GM MULTEC (PLUG RED & WHITE) MCU – Virgin & IMMO OFF
GM MULTEC (PLUG RED & WHITE) SWAP EPROM – Virgin & IMMO OFF
GM MULTEC (PLUG RED & BROWN) MCU – Virgin & IMMO OFF
GM MULTEC (PLUG RED & BROWN) SWAP EPROM – Virgin & IMMO OFF
HITACI EEPROM 24C02 – Virgin & IMMO OFF
HITACI EEPROM 93C46 – Virgin & IMMO OFF
HITACI MFI 003BC2 – IMMO OFF
HITACI MFI 009 – IMMO OFF
MAGNETI MARELLI IAW 18F.XX MCU – Virgin & IMMO OFF
MAGNETI MARELLI IAW 18F.XX SWAP EPROM – Virgin & IMMO OFF
MAGNETI MARELLI IAW 4Q-J-W MCU – Virgin & IMMO OFF
MAGNETI MARELLI IAW 8F.XX – Virgin & IMMO OFF
APRILIA BIKE
MAGNETI MARELLI 59M Hybrid – IMMO OFF
MAGNETI MARELLI 59M Hybrid – Virgin
MAGNETI MARELLI 5AM Hybrid – IMMO OFF
MAGNETI MARELLI 5AM Hybrid – Virgin
MAGNETI MARELLI 5DM Hybrid – IMMO OFF
MAGNETI MARELLI 5DM Hybrid – Virgin
AUDI
BOSCH EDC15 (1 PLUG) With EPROM 24C02 – IMMO OFF
BOSCH EDC15 (2 PLUG) With EPROM 24C02 – IMMO OFF
BOSCH EDC15M-5.X – EEPROM 24C04 – IMMO OFF
BOSCH EDC15M-5.X – FLASH 29F400 – IMMO OFF
BOSCH EDC15P – EEPROM 24C04 – IMMO OFF
BOSCH EDC15P – FLASH 29F400 – IMMO OFF
BOSCH EDC15V – EEPROM 24C04 – IMMO OFF
BOSCH EDC15V – FLASH 29F400 – IMMO OFF
BOSCH EDC15V P40 EURO3 – FLASH 29F400 – IMMO OFF
BOSCH EDC15VM+ – EEPROM 24C04 – IMMO OFF
BOSCH EDC15VM+ – FLASH 29F400 – IMMO OFF
BOSCH EDC16CP34 – IMMO OFF
BOSCH EDC16U1 – IMMO OFF
BOSCH EDC16U31 – IMMO OFF
BOSCH EDC16U34 – IMMO OFF
BOSCH M2.3.2 – IMMO OFF
BOSCH M3.2.1 – IMMO OFF
BOSCH M3.8.X – Version 1 – IMMO OFF
BOSCH M3.8.X – Version 2 – IMMO OFF
BOSCH M5.4.1 – IMMO OFF
BOSCH M5.9.2 – IMMO OFF
BOSCH ME 7.X.X – ALL Version Auto Check- IMMO OFF
BOSCH MED 9.5.10 – IMMO OFF
BOSCH MSA 11 EDC1.3.1 – Virgin & IMMO OFF
BOSCH MSA 15.X – IMMO OFF
DIGIFANT 3.2 – IMMO OFF
SIEMENS 5WP4 SIMOS 1.X (1 PLUG) – IMMO OFF
SIEMENS 5WP4 SIMOS 2.X (2 PLUG) EPROM 27C010 – IMMO OFF
SIEMENS 5WP4 SIMOS 2.X (2 PLUG) FLASH 29F200 – IMMO OFF
SIEMENS 5WP4 SIMOS 3.X (2 PLUG) – ALL Version Auto Check- IMMO OFF
SIEMENS SIMOS 7.X – ALL Version Auto Check- IMMO OFF
SIEMENS SIMOS 8.1 – IMMO OFF
SIEMENS SIMOS 9.1 – IMMO OFF
BLAZER
BOSCH M2.8 – IMMO OFF
BMW
BOSCH EDC15C4 – Virgin
BOSCH EDC15M-6 DDE 3.0 – Virgin
BOSCH M 1.7.2 – IMMO OFF
BOSCH MSA 11 EDC1.3.1 – Virgin & IMMO OFF
BOSCH MSA 15.5 – IMMO OFF
SIEMENS BMS 46 – Virgin
SIEMENS MMS 50 – Virgin
SIEMENS MMS 52 – Virgin
SIEMENS MS 41.0 DME – IMMO OFF
SIEMENS MS 42 – Virgin
CHEVROLET
BOSCH M2.8 – IMMO OFF
GM MULTEC (PLUG RED & WHITE) – IMMO OFF
GM MULTEC (PLUG RED & WHITE) SWAP EPROM – Virgin & IMMO OFF
KEMSCO – MATIZ – Virgin
KOREA DELPHI Hybrid – AVEO 1400cc – IMMO OFF
CHRYSLER
BOSCH EDC MSA 15.5-5.3 – IMMO OFF
BOSCH EDC MSA 15.5-5.3 – Virgin
BOSCH EDC MSA 15.5-5.5 – IMMO OFF
BOSCH EDC MSA 15.5-5.5 – Virgin
BOSCH EDC15C2 – IMMO OFF
CHRYSLER – White BOX
SIEMENS SIRIUS 34 – Virgin
DACIA
DACIA MEPS CKS – Virgin & IMMO OFF
DELPHI DCM 1.2 – IMMO OFF
DELPHI DCM 1.2 – Virgin
DELPHI TRW – Virgin
DELPHI TRW DDCR – Virgin
SIEMENS EMS 3132 – Virgin
SIEMENS EMS 3132 – Without CAN – IMMO OFF
SIEMENS SIRIUS 32 – Virgin
SIEMENS SIRIUS 32 – Without CAN – IMMO OFF
SIEMENS SIRIUS 34 – IMMO OFF
SIEMENS SIRIUS 34 – Virgin
DAEWOO
DELPHI-DELCO Hybrid – IMMO OFF
GM MULTEC (PLUG BLU & GRAY) EPROM – Virgin & IMMO OFF
GM MULTEC (PLUG BLU & GRAY) MCU – Virgin & IMMO OFF
GM MULTEC (PLUG LIGHT BLUE) MCU – Virgin & IMMO OFF
GM MULTEC (PLUG LIGHT BLUE) SWAP EPROM – Virgin &IMMO OFF
GM MULTEC (PLUG RED & WHITE) MCU – Virgin & IMMO OFF
GM MULTEC (PLUG RED & WHITE) SWAP EPROM – Virgin & IMMO OFF
GM MULTEC (PLUG RED & BROWN) MCU – Virgin & IMMO OFF
GM MULTEC (PLUG RED & BROWN) SWAP EPROM – Virgin & IMMO OFF
KEMSCO D3 – Virgin
SIEMENS MCU TMS374 – Virgin & IMMO OFF
DAF
BOSCH EDC7 – IMMO OFF
BOSCH EDC7 – Virgin
BOSCH MS 6.2 – Virgin & IMMO OFF
DODGE
BOSCH EDC MSA 15.5-5.3 – IMMO OFF
BOSCH EDC MSA 15.5-5.3 – Virgin
BOSCH EDC MSA 15.5-5.5 – IMMO OFF
BOSCH EDC MSA 15.5-5.5 – Virgin
DUCATI BIKE
MAGNETI MARELLI 59M Hybrid – IMMO OFF
MAGNETI MARELLI 59M Hybrid – Virgin
MAGNETI MARELLI 5AM Hybrid – IMMO OFF
MAGNETI MARELLI 5AM Hybrid – Virgin
FENDT TRACTOR
BOSCH MS 6.4 – Virgin & IMMO OFF
FERRARI
BOSCH ME 7.3H4 – BETA TEST – Virgin
FIAT
BOSCH EDC15C2 – IMMO OFF
BOSCH EDC15C5 (5 PLUG) – Virgin
BOSCH EDC15C6 – Virgin
BOSCH EDC15C6 EURO 3 – IMMO OFF
BOSCH EDC15C7 – Virgin
BOSCH EDC15C7 EURO 3 – IMMO OFF
BOSCH EDC15C8 – Virgin
BOSCH EDC16C39 – IMMO OFF
BOSCH EDC16C39 – Only 120HP – IMMO OFF
BOSCH EDC16C39 – Version 1 – Virgin
BOSCH EDC16C39 – Version 2 – Virgin
BOSCH EDC16C8 – Virgin
BOSCH EDC16C9 – IMMO OFF
BOSCH EDC16C9 – Virgin
BOSCH EDC16CP39 – Virgin File
BOSCH M1.5.5 – IMMO OFF
BOSCH M1.7 – IMMO OFF
BOSCH M2.10.3 – Virgin & IMMO OFF
BOSCH M2.10.4 – Virgin & IMMO OFF
BOSCH M2.7 – IMMO OFF
BOSCH M3.8.2 – Virgin & IMMO OFF
BOSCH ME 3.1 – Virgin
BOSCH ME 7.3H4 – IMMO OFF
BOSCH ME 7.3H4 – Version 1 – Virgin
BOSCH ME 7.3H4 – Version 2 – Virgin
BOSCH ME 7.3H4 – With body computer – IMMO OFF
BOSCH ME 7.9.10 – With 95080 – Virgin
BOSCH ME 7.9.10 – With 95160 – Virgin File
BOSCH ME 7.9.6 – Virgin
BOSCH MOTRONIC MA 1.7.3 – Virgin & IMMO OFF
BOSCH MOTRONIC MP 3.2 – Virgin & IMMO OFF
BOSCH MSA 11 EDC1.3.1- Virgin & IMMO OFF
GM MULTEC (PLUG RED & WHITE) MCU – Virgin & IMMO OFF
GM MULTEC (PLUG RED & WHITE) SWAP EPROM – Virgin & IMMO OFF
GM MULTEC (PLUG RED & BROWN) MCU – Virgin & IMMO OFF
GM MULTEC (PLUG RED & BROWN) SWAP EPROM – Virgin & IMMO OFF
HITACI EEPROM 24C02 – Virgin & IMMO OFF
HITACI EEPROM 93C46 – Virgin & IMMO OFF
HITACI MFI 003BC2 – IMMO OFF
HITACI MFI 009 – IMMO OFF
LUCAS DCU3F – IMMO OFF
LUCAS DCU3F – Virgin
LUCAS EPIC MCU – Virgin & IMMO OFF
MAGNETI MARELLI 1AB.XX – IMMO OFF
MAGNETI MARELLI 1AF.13-14-15-16-17 – IMMO OFF
MAGNETI MARELLI 1AG7.XX MCU – Virgin & IMMO OFF
MAGNETI MARELLI 48P – Virgin
MAGNETI MARELLI 48P.3X – Virgin & IMMO OFF
MAGNETI MARELLI 49F – Virgin
MAGNETI MARELLI MJD 6F3 – Version Flash – IMMO OFF
MAGNETI MARELLI MJD 6F3 – Virgin
MAGNETI MARELLI MJD 6J3 – Version Eprom – IMMO OFF
MAGNETI MARELLI MJD 6J3 – Version Flash – IMMO OF
F
MAGNETI MARELLI MJD 6J3 – Virgin
MAGNETI MARELLI MJD 8DF & 8F2 – Virgin File
VISTEON DCU 102 – Virgin
FORD
BOSCH EDC15P – EEPROM 24C04 – IMMO OFF
BOSCH EDC15V – EEPROM 24C04 – IMMO OFF
BOSCH EDC16C3 – Virgin
BOSCH M3.8.1 – IMMO OFF
BOSCH ME 7.1 – IMMO OFF
BOSCH MSA 15.X – IMMO OFF
FORD EEC-IV with TMS (old version) – MOD- IMMO OFF
FORD EEC-V with TMS (old version) – MOD- IMMO OFF
SIEMENS SID 804 – Virgin
HONDA
BOSCH EDC15C7 – Virgin
BOSCH EDC16C31 – Virgin
BOSCH MSA 11 EDC1.3.1- Virgin & IMMO OFF
HITACHI P9L – Virgin & IMMO OFF
HYUNDAI
BOSCH EDC15C7 – Virgin
KEFICO with EEPROM 95160 – Virgin
KEFICO with FLASH 29F400 – IMMO OFF
KEFICO X170 – IMMO OFF
SIEMENS S-11 – 1000cc – DOHC – IMMO OFF
SIEMENS S-11 – 1100cc – DOHC – IMMO OFF
ZEXEL – IMMO OFF
ISUZU
BOSCH EDC15M – Virgin
IVECO
BOSCH EDC15C7 – IMMO OFF
BOSCH EDC15C7 – Virgin
BOSCH EDC15C8 1.31 – Virgin
BOSCH EDC16C39 – Version 1 – Virgin
BOSCH EDC16C39 – Version 2 – Virgin
BOSCH EDC16C39 FLASH – IMMO OFF
BOSCH EDC16C8 – IMMO OFF
BOSCH EDC7 – IMMO OFF
BOSCH EDC7 – Virgin
BOSCH MS 6.2 – Virgin & IMMO OFF
BOSCH MS 6.3 – Virgin & IMMO OFF
MAGNETI MARELLI IAW 1AF.1L – IMMO OFF
JAGUAR
DENSO Old Version – IMMO OFF
JEEP
BOSCH EDC MSA 15.5 – 5.3 – IMMO OFF
BOSCH EDC MSA 15.5 – 5.3 – Virgin
BOSCH EDC MSA 15.5 – 5.5 – IMMO OFF
BOSCH EDC MSA 15.5 – 5.5 – Virgin
BOSCH EDC15C2 – IMMO OFF
KAWASAKI
DENSO – With EEPROM 93C66 – Virgin
KIA
BOSCH EDC15C7 – Virgin
KIA MOST K9AB EU – IMMO OFF
KIA MOST K9BA – IMMO OFF
KIA MOST K9BC – IMMO OFF
SIEMENS K348 1300cc – IMMO OFF
SIEMENS KC11C 1300cc – IMMO OFF
SIEMENS MCU TMS374 – Virgin & IMMO OFF
SIEMENS S-II 1500cc – DOHC – IMMO OFF
ZEXEL – IMMO OFF
ZEXEL K04R – OKI M951G – Virgin
ZEXEL K04R – OKI M951G – IMMO OFF
LADA
BOSCH M 7.9.7 – Virgin
BOSCH M1.5.4 – IMMO OFF
BOSCH MP 7.0 – IMMO OFF
BOSCH MP 7.3 – IMMO OFF
IMMOBOX for BOSCH MP 7.0 & 7.3
LADA TMS374 – Virgin & IMMO OFF
LANCIA
BOSCH EDC15C2 – IMMO OFF
BOSCH EDC15C5 (5 PLUG) – Virgin
BOSCH EDC15C6 – Virgin
BOSCH EDC15C6 EURO 3 – IMMO OFF
BOSCH EDC15C7 – IMMO OFF
BOSCH EDC15C7 – Virgin
BOSCH EDC16C39 – IMMO OFF
BOSCH EDC16C39 – Version 1 – Virgin
BOSCH EDC16C39 – Version 2 – Virgin
BOSCH EDC16C8 – Virgin
BOSCH EDC16C9 – IMMO OFF
BOSCH EDC16C9 – Virgin
BOSCH M1.5.5 – IMMO OFF
BOSCH M2.10.3 – Virgin & IMMO OFF
BOSCH M2.10.4 – Virgin & IMMO OFF
BOSCH M2.7 – IMMO OFF
BOSCH ME 7.3H4 – IMMO OFF
BOSCH ME 7.3H4 – Version 1 – Virgin
BOSCH ME 7.3H4 – Version 2 – Virgin
BOSCH ME 7.3H4 – With body computer – IMMO OFF
BOSCH ME 7.9.10 – With 95080 – Virgin
BOSCH MOTRONIC MA 1.7.3 – Virgin & IMMO OFF
BOSCH MP3.2 – Virgin & IMMO OFF
BOSCH MSA 11 EDC1.3.1- Virgin & IMMO OFF
GM MULTEC (PLUG RED & WHITE) MCU – Virgin & IMMO OFF
GM MULTEC (PLUG RED & WHITE) SWAP EPROM – Virgin & IMMO OFF
GM MULTEC (PLUG RED & BROWN) MCU – Virgin & IMMO OFF
GM MULTEC (PLUG RED & BROWN) SWAP EPROM – Virgin & IMMO OFF
HITACI EEPROM 24C02 – Virgin & IMMO OFF
HITACI EEPROM 93C46 – Virgin & IMMO OFF
HITACI MFI 003BC2 – IMMO OFF
HITACI MFI 009 – IMMO OFF
LUCAS EPIC MCU – Virgin & IMMO OFF
MAGNETI MARELLI 1AB.XX – IMMO OFF
MAGNETI MARELLI 1AF.13-14-15-16-17 – IMMO OFF
MAGNETI MARELLI 48P – Virgin
MAGNETI MARELLI 48P.3X – Virgin & IMMO OFF
MAGNETI MARELLI 49F – Virgin
MAGNETI MARELLI 49F Ver: 1 – IMMO OFF
MAGNETI MARELLI 49F Ver: 2 – IMMO OFF
MAGNETI MARELLI 4AF – IMMO OFF
MAGNETI MARELLI 4AF – Virgin
MAGNETI MARELLI 4EF – IMMO OFF
MAGNETI MARELLI 4EF – Virgin
MAGNETI MARELLI 4GF – IMMO OFF
MAGNETI MARELLI 4GF – Virgin
MAGNETI MARELLI 4MP – Virgin & IMMO OFF
MAGNETI MARELLI 4SF – Virgin
MAGNETI MARELLI 59F Hybrid HW > Ver. 100 – IMMO OFF
MAGNETI MARELLI 59F Hybrid HW > Ver. 100 – Virgin
MAGNETI MARELLI 5AF Hybrid – IMMO OFF
MAGNETI MARELLI 5AF Hybrid – Virgin
MAGNETI MARELLI 5NF – IMMO OFF
MAGNETI MARELLI 5NF – Virgin
MAGNETI MARELLI 5SF – Virgin
MAGNETI MARELLI IAW 16F.XX MCU – Virgin & IMMO OFF
MAGNETI MARELLI IAW 16F.XX SWAP EPROM – Virgin & IMMO OFF
MAGNETI MARELLI IAW 18F.XX MCU – Virgin
MAGNETI MARELLI IAW 18F.XX SWAP EPROM – Virgin & IMMO OFF
MAGNETI MARELLI IAW 1ABB.92 – Virgin & IMMO OFF
MAGNETI MARELLI IAW 1AF.1G – Virgin & IMMO OFF
MAGNETI MARELLI IAW 4Q-J-W MCU – Virgin & IMMO OFF
MAGNETI MARELLI IAW 4Q5 – IMMO OFF
MAGNETI MARELLI IAW 8F.XX MCU – Virgin & IMMO OFF
MAGNETI MARELLI IAW 8P.XX MCU – Virgin & IMMO OFF
MAGNETI MARELLI IAW 8P.XX SWAP EPROM – Virgin & IMMO OFF
MAGNETI MARELLI MJD 6F3 – Version Eprom – IMMO OFF
MAGNETI MARELLI MJD 6F3 – Version Flash – IMMO OFF
MAGNETI MARELLI MJD 6F3 – Virgin
MAGNETI MARELLI MJD 6J3 – Version Eprom – IMMO OFF
MAGNETI MARELLI MJD 6J3 – Version Flash – IMMO OFF
MAGNETI MARELLI MJD 6J3 – Virgin
MAGNETI MARELLI MJD 8DF & 8F2 – Virgin File
LAND ROVER
BOSCH EDC15C4 – Virgin
BOSCH EDC15M – Virgin
BOSCH MSA 11 EDC1.3.1- Virgin & IMMO OFF
BOSCH MSA 15.5 – IMMO OFF
MEMS MKC – IMMO OFF
MSB 1011XX (PLUG ROSSO & NERO) 93C46 – IMMO OFF
MSB 1011XX (PLUG ROSSO & NERO) 93C66 – IMMO OFF
SIEMENS SID 901 – Virgin
LEXUS
DENSO – Virgin
MAN
BOSCH EDC7 – IMMO OFF
BOSCH EDC7 – Virgin
BOSCH MS 6.1 – Virgin & IMMO OFF
MAZDA
BOSCH EDC16C3 – Virgin
DENSO – Virgin
SIEMENS SID 802 – Virgin
SIEMENS SID 804 – Virgin
MERCEDES Benz
BOSCH EDC15.5 – Virgin
BOSCH EDC15C0 – Virgin
BOSCH EDC15C6 – Version 1 – Virgin
BOSCH EDC15C6 – Version 2 – Virgin
BOSCH EDC16 – Version 1 – Virgin
BOSCH EDC16 – Version 2 – Virgin
BOSCH EDC16C2 – Virgin
BOSCH ME 2.0 – Virgin
BOSCH ME 2.1 – Virgin
DEFAULT DAS – EDC15 CR1 Diesel
DEFAULT DAS – EDC15 CR2 Diesel
DEFAULT DAS – EDC16CP3 Diesel
DEFAULT DAS – HFM-VDO 24C04
DEFAULT DAS – ME 2.0
DEFAULT DAS – TEMIC Diesel – Auto Sync
IMMOBOX Siemens – Repair Start Error! Class-A 1.7 CDI – MCU HC05
IMMOBOX TEMIC – Repair Start Error! Sprinter MCU HC08
IMMOBOX TEMIC – Repair Start Error! Vito MCU HC05
IMMOBOX TEMIC – Repair Start Error! Vito MCU HC08
LUCAS MCU HC11E9 – Virgin
LUSAS – IMMO OFF
SIEMENS VDO REPAIR MSE H10 – Version 1
SIEMENS VDO REPAIR MSE H10 – Version 2
SIEMENS VDO REPAIR MSM 1.X – Version 1
SIEMENS VDO REPAIR MSM 1.X – Version 2
MERCEDES TRUCKS
TEMIC – Virgin
MG
BOSCH EDC15C4 – Virgin
BOSCH MSA 11 EDC1.3.1 – Virgin & IMMO OFF
MEMS 3 – IMMO OFF
MEMS MKC – IMMO OFF
MINI
BOSCH EDC15C4 – Virgin
SIEMENS EMS 2 – IMMO OFF
SIEMENS EMS 2 – Virgin
MITSUBISHI
BOSCH EDC15C3 – Virgin
BOSCH EDC16+ – Virgin
DELPHI TRW DDCR – Virgin
LUCAS – IMMO OFF
SIEMENS EMS 3132 – Virgin
SIEMENS EMS 3132 – Without CAN – IMMO OFF
NISSAN TRUCKS
BOSCH MS 6.4 – Virgin & IMMO OFF
OPEL
BOSCH EDC15C13 – Virgin File
BOSCH EDC15C3 – Virgin
BOSCH EDC15M – IMMO OFF
BOSCH EDC15M – Virgin
BOSCH EDC16C9 – Virgin
BOSCH M1.5.X – IMMO OFF
BOSCH M2.8 – IMMO OFF
BOSCH ME 7.9.6 – Virgin
BOSCH MSA 11 EDC1.3.1 – Virgin & IMMO OFF
BOSCH MSA 15.X – Virgin
GM MULTEC (PLUG BLUE & GREY) MCU – Virgin & IMMO OFF
GM MULTEC (PLUG BLUE & GREY) EEPROM 27C256 – IMMO OFF
GM MULTEC (PLUG BLUE) MCU – Virgin & IMMO OFF
GM MULTEC (PLUG BLUE) SWAP EPROM – Virgin & IMMO OFF
GM MULTEC (PLUG RED & WHITE) MCU – Virgin & IMMO OFF
GM MULTEC (PLUG RED & WHITE) SWAP EPROM – Virgin & IMMO OFF
GM MULTEC (PLUG RED & BROWN) MCU – Virgin & IMMO OFF
GM MULTEC (PLUG RED & BROWN) SWAP EPROM – Virgin & IMMO OFF
GM MULTEC (PLUG PURPLE) MCU – Virgin & IMMO OFF
MAGNETI MARELLI MJD 6F3 – Version Flash – IMMO OFF
MAGNETI MARELLI MJD 6F3 – Versione Eprom – IMMO OFF
MAGNETI MARELLI MJD 6F3 – Virgin
MAGNETI MARELLI MJD 6J3 – Version Flash – IMMO OFF
MAGNETI MARELLI MJD 6J3 – Versione Eprom – IMMO OFF
MAGNETI MARELLI MJD 6J3 – Virgin
MAGNETI MARELLI MJD 6JF – Virgin
MAGNETI MARELLI MJD 6JO – Virgin
SIMTEC 56.1 – IMMO OFF
SIMTEC 56.1 – Virgin
SIMTEC 56.5 – IMMO OFF
PEUGEOT
BOSCH EDC15 – PIN PROGRAMMER
BOSCH EDC15C2 (1 PLUG) – IMMO OFF
BOSCH EDC15C2 (3 PLUG) – Version 1 – IMMO OFF
BOSCH EDC15C2 (3 PLUG) – Version 2 – IMMO OFF
BOSCH EDC15C6 – Virgin
BOSCH EDC15C6 FLASH – IMMO OFF
BOSCH EDC15C7 – IMMO OFF
BOSCH EDC15C7 – Virgin
BOSCH EDC16C0 – Virgin
BOSCH EDC16C3 – Virgin
BOSCH EDC16C34 – IMMO OFF
BOSCH EDC16C34 – PIN PROGRAMMER
BOSCH EDC16C34 – Virgin File
BOSCH EDC16CP39 – Virgin File
BOSCH MA 3.0 – Virgin & IMMO OFF
BOSCH MA 3.1 – Version 1 – Virgin & IMMO OFF
BOSCH MA 3.1 – Version 2 – IMMO OFF
BOSCH ME 7.4.4 – PIN PROGRAMMER
BOSCH ME 7.4.4 EEPROM – Version 1 – IMMO OFF
BOSCH ME 7.4.4 EEPROM – Version 2 – IMMO OFF
BOSCH ME 7.4.4 FLASH – IMMO OFF
BOSCH MOTRONIC MP 3.1 – Virgin & IMMO OFF
BOSCH MOTRONIC MP 3.2 – Virgin & IMMO OFF
BOSCH MOTRONIC MP 5.1 – Virgin & IMMO OFF
BOSCH MOTRONIC MP 5.1.1 – Virgin & IMMO OFF
BOSCH MOTRONIC MP 5.2 – Virgin & IMMO OFF
BOSCH MOTRONIC MP 7.0 – Virgin
BOSCH MOTRONIC MP 7.2 – Virgin & IMMO OFF
BOSCH MOTRONIC MP 7.3 – Virgin & IMMO OFF
BOSCH MSA 11 EDC1.3.8 – Virgin & IMMO OFF
BSI – 206 Year 2002 – PIN PROGRAMMER
BSI – 206 Year 2003 – PIN PROGRAMMER
BSI – 307 Year 2002 – PIN PROGRAMMER
BSI – 307 Year 2003 – PIN PROGRAMMER
BSI – 406 Year 2000 – PIN PROGRAMMER
BSI – 406 Year 2003 – PIN PROGRAMMER
BSI – Boxter Year 1998 – PIN PROGRAMMER
BSI – Partner Year 1998 – PIN PROGRAMMER
BSI Peugeot 206 – Siemens – Virgin Version 1
BSI Peugeot 206 – Siemens – Virgin Version 2
BSI Peugeot 206 HDI – Siemens – Virgin Version 3
BSI Peugeot 307 – Virgin 95160
BSI Peugeot 307 – Virgin 95160
BSI Peugeot 307 – Virgin HC912
BSI Peugeot Partner – Siemens Virgin
IMMOBOX – 406 – PIN PROGRAMMER
IMMOBOX Valeo – Peugeot 107 1000cc – Virgin File
JOHNSON VALEO – IMMO OFF
JOHNSON VALEO – Virgin
KEYPAD PSA – IMMO OFF
LUCAS EPIC MCU – Virgin & IMMO OFF
MAGNETI MARELLI 1AF.13-14-15-16-17 – IMMO OFF
MAGNETI MARELLI 48P – IMMO OFF
MAGNETI MARELLI 48P.10 – Virgin
MAGNETI MARELLI 48P.3X – Virgin & IMMO OFF
MAGNETI MARELLI 48P2.70 – IMMO OFF
MAGNETI MARELLI 48P2.XX – ALL Version – Virgin
MAGNETI MARELLI 4MP.XX – ALL Version – Virgin
MAGNETI MARELLI 4MP2.XX – ALL Version – Virgin
MAGNETI MARELLI 5NP – Virgin
MAGNETI MARELLI G6 MCU – Virgin & IMMO OFF
MAGNETI MARELLI G6 SWAP EPROM – Virgin & IMMO OFF
MAGNETI MARELLI IAW 1AP. XX – ALL VERSION – SWAP EPROM – Virgin & IMMO OFF
MAGNETI MARELLI IAW 1AP.20 – Virgin & IMMO OFF
MAGNETI MARELLI IAW 1AP.40 – Virgin & IMMO OFF
MAGNETI MARELLI IAW 1AP.41 – Virgin & IMMO OFF
MAGNETI MARELLI IAW 1AP.43 – Virgin & IMMO OFF
MAGNETI MARELLI IAW 1AP.80 – Virgin & IMMO OFF
MAGNETI MARELLI IAW 1AP.81 – Virgin & IMMO OFF
MAGNETI MARELLI IAW 1AP.83 – Virgin & IMMO OFF
MAGNETI MARELLI IAW 1AP.90 – Virgin & IMMO OFF
MAGNETI MARELLI IAW 6LPX.XX – ALL Version Auto Check- Virgin
MAGNETI MARELLI IAW 8P.XX MCU – Virgin & IMMO OFF
MAGNETI MARELLI IAW 8P.XX SWAP EPROM – Virgin & IMMO OFF
SAGEM S2000 – Virgin
SAGEM S2000 ECU – PIN PROGRAMM
SAGEM S2000RPM – Virgin
SAGEM SL96 TMS374 1x28F512 – Virgin & IMMO OFF
SAGEM SL96 TMS374 2x28F512 – Virgin & IMMO OFF
SIEMENS SID 801 – Version 1 – Virgin & IMMO OFF
SIEMENS SID 801 – Version 2 – Virgin
SIEMENS SID 801A – Version 1 – Virgin & IMMO OFF
SIEMENS SID 801A – Version 2 – Virgin
SIEMENS SID 802 – Virgin
SIEMENS SID 803 – PIN PROGRAMM
SIEMENS SID 804 – Virgin
SIEMENS SID 806 – Virgin
VISTEON DCU 102 – Virgin
PORSCHE
BOSCH ME 7.1 – IMMO OFF
BOSCH ME 7.1.1 – IMMO OFF
BOSCH ME 7.8 – IMMO OFF
RENAULT
BOSCH EDC15 (1 PLUG) – Virgin
BOSCH EDC15 (2 PLUG) – Virgin
BOSCH EDC15C13 – Virgin File
BOSCH EDC15C3 (3 PLUG) – Virgin
BOSCH EDC16C3 – Virgin – Version 1
BOSCH EDC16C3 – Virgin – Version 2
BOSCH EDC16C34 – IMMO OFF
BOSCH EDC16C34 – Virgin File
BOSCH EDC16C36 – Virgin File
BOSCH EDC16C6 – Virgin
BOSCH MOTRONIC MP 7.0 – Virgin
BOSCH MSA 15.5 (Without Pressure Sensor) – IMMO OFF
BOSCH MSA 15.5 – MOD- IMMO OFF
BOSCH MSA 15.5 – Virgin
DELPHI DCM 1.2 – IMMO OFF
DELPHI DCM 1.2 – Virgin
DELPHI TRW – Virgin
DELPHI TRW DDCR – Virgin
LUCAS DCU3R – IMMO OFF
LUCAS DCU3R – Virgin
MAGNETI MARELLI 5NP.01 Hybrid – IMMO OFF
MAGNETI MARELLI 5NR.CE1 Hybrid
MAGNETI MARELLI 5NR.T1 Hybrid – IMMO OFF
MAGNETI MARELLI 5NR2-C2 – IMMO OFF
MAGNETI MARELLI 5NR2-C5 – IMMO OFF
MAGNETI MARELLI 5NR2-C5 – Virgin
MAGNETI MARELLI 5NR2-K5 – Virgin
MAGNETI MARELLI IAW 6R.20 – Virgin & IMMO OFF
MAGNETI MARELLI IAW 6R.30 – Virgin & IMMO OFF
MAGNETI MARELLI IAW 8R.30 – Virgin & IMMO OFF
SAGEM S2000RPM – IMMO OFF
SAGEM S2000RPM – Virgin
SAGEM S3000 – Virgin File
SAGEM SAFIR 1 SWAP EPROM – Virgin & IMMO OFF
SAGEM SAFIR 2 SWAP EPROM – Virgin & IMMO OFF
SIEMENS EMS 3132 – Virgin
SIEMENS EMS 3132 – Without CAN – IMMO OFF
SIEMENS EMS 3134 – Virgin
SIEMENS FENIX 1 MCU – Virgin & IMMO OFF
SIEMENS FENIX 3 MCU – Virgin & IMMO OFF
SIEMENS FENIX 5 – Virgin & IMMO OFF
SIEMENS HOM SWAP EPROM – IMMO OFF
SIEMENS SIM32 – IMMO OFF
SIEMENS SIM32 – Virgin
SIEMENS SIRIUS 32 – MOD- IMMO OFF
SIEMENS SIRIUS 32 – Virgin
SIEMENS SIRIUS 32 – Without CAN – IMMO OFF
SIEMENS SIRIUS 34 (FLASH 29F200) – Virgin
SIEMENS SIRIUS 34 (FLASH 29F400) – IMMO OFF
SIEMENS SIRIUS 34 (FLASH 29F400) – Virgin – Ver.1
SIEMENS SIRIUS 34 (FLASH 29F400) – Virgin – Ver.2
SIEMENS SIRIUS 35 – Virgin
RENAULT TRUCKS
BOSCH MS 6.2 – Virgin & IMMO OFF
BOSCH MS 6.3 – Virgin & IMMO OFF
ROVER
BOSCH EDC15C4 – Virgin
BOSCH MSA 11 EDC1.3.1 – Virgin & IMMO OFF
ECP OKI (PLUG BLU) – MOD- IMMO OFF
MEMS 1.9 MKC – IMMO OFF
MEMS 3 – IMMO OFF
MEMS MKC – IMMO OFF
ROVER MSB – IMMO OFF
SAAB
BOSCH EDC15M – Virgin
VISTEON DCU 102 – Virgin
SCANIA
BOSCH MS 6.2 – Virgin & IMMO OFF
SEAT
BOSCH EDC15 (1 PLUG) With EPROM 24C02 – IMMO OFF
BOSCH EDC15 (2 PLUG) With EPROM 24C02 – IMMO OFF
BOSCH EDC15M-5.X – EEPROM 24C04 – IMMO OFF
BOSCH EDC15M-5.X – FLASH 29F400 – IMMO OFF
BOSCH EDC15P – EEPROM 24C04 – IMMO OFF
BOSCH EDC15P – FLASH 29F400 – IMMO OFF
BOSCH EDC15V – EEPROM 24C04 – IMMO OFF
BOSCH EDC15V – FLASH 29F400 – IMMO OFF
BOSCH EDC15V P40 EURO3 – FLASH 29F400 – IMMO OFF
BOSCH EDC15VM+ – EEPROM 24C04 – IMMO OFF
BOSCH EDC15VM+ – FLASH 29F400 – IMMO OFF
BOSCH EDC16CP34 – IMMO OFF
BOSCH EDC16U1 – IMMO OFF
BOSCH EDC16U31 – IMMO OFF
BOSCH EDC16U34 – IMMO OFF
BOSCH M3.2.1 – IMMO OFF
BOSCH M3.8.X – Version 1 – IMMO OFF
BOSCH M3.8.X – Version 2 – IMMO OFF
BOSCH M5.4.1 – IMMO OFF
BOSCH M5.9.2 – IMMO OFF
BOSCH ME 7.X.X – ALL Version Auto Check- IMMO OFF
BOSCH MED 9.5.10 – IMMO OFF
BOSCH MP 9.0 – IMMO OFF
BOSCH MSA 11 EDC1.3.1 – Virgin & IMMO OFF
BOSCH MSA 15.X – IMMO OFF
DIGIFANT 3.2 – IMMO OFF
MAGNETI MARELLI 16S.XX MCU – Virgin & IMMO OFF
SIEMENS 5WP4 SIMOS 1.X (1 PLUG) – IMMO OFF
SIEMENS 5WP4 SIMOS 2.X (2 PLUG) EPROM 27C010 – IMMO OFF
SIEMENS 5WP4 SIMOS 2.X (2 PLUG) FLASH 29F200 – IMMO OFF
SIEMENS 5WP4 SIMOS 3.X (2 PLUG) – ALL Version Auto Check- IMMO OFF
SIEMENS SIMOS 7.X – ALL Version Auto Check- IMMO OFF
SIEMENS SIMOS 8.1 – IMMO OFF
SIEMENS SIMOS 9.1 – IMMO OFF
SKODA
BOSCH EDC15 (1 PLUG) With EPROM 24C02 – IMMO OFF
BOSCH EDC15 (2 PLUG) With EPROM 24C02 – IMMO OFF
BOSCH EDC15M-5.X – EEPROM 24C04 – IMMO OFF
BOSCH EDC15M-5.X – FLASH 29F400 – IMMO OFF
BOSCH EDC15P – EEPROM 24C04 – IMMO OFF
BOSCH EDC15P – FLASH 29F400 – IMMO OFF
BOSCH EDC15V – EEPROM 24C04 – IMMO OFF
BOSCH EDC15V – FLASH 29F400 – IMMO OFF
BOSCH EDC15V P40 EURO3 – FLASH 29F400 – IMMO OFF
BOSCH EDC15VM+ – EEPROM 24C04 – IMMO OFF
BOSCH EDC15VM+ – FLASH 29F400 – IMMO OFF
BOSCH EDC16CP34 – IMMO OFF
BOSCH EDC16U1 – IMMO OFF
BOSCH EDC16U31 – IMMO OFF
BOSCH EDC16U34 – IMMO OFF
BOSCH M3.2.1 – IMMO OFF
BOSCH M3.8.X – Version 1 – IMMO OFF
BOSCH M3.8.X – Version 2 – IMMO OFF
BOSCH M5.4.1 – IMMO OFF
BOSCH M5.9.2 – IMMO OFF
BOSCH MA 1.2.3 – IMMO OFF
BOSCH ME 7.X.X – ALL Version Auto Check- IMMO OFF
BOSCH MED 9.5.10 – IMMO OFF
BOSCH MSA 15.X – IMMO OFF
BOSCH MSA11 EDC1.3.1 – Virgin & IMMO OFF
DIGIFANT 3.2 – IMMO OFF
SIEMENS 5WP4 SIMOS 1.X (1 PLUG) – IMMO OFF
SIEMENS 5WP4 SIMOS 2.X (2 PLUG) EPROM 27C010 – IMMO OFF
SIEMENS 5WP4 SIMOS 2.X (2 PLUG) FLASH 29F200 – IMMO OFF
SIEMENS 5WP4 SIMOS 3.X (2 PLUG) – ALL Version Auto Check- IMMO OFF
SIEMENS SIMOS 7.X – ALL Version Auto Check- IMMO OFF
SIEMENS SIMOS 8.1 – IMMO OFF
SIEMENS SIMOS 9.1 – IMMO OFF
SMART
BOSCH EDC15CG – Virgin
BOSCH MEG 1.0 – Virgin
SSANGYONG
DELPHI – IMMO OFF
SUZUKI
BOSCH EDC15C2 (1 PLUG) – IMMO OFF
BOSCH EDC15C2 (3 PLUG) – Version 1 – IMMO OFF
BOSCH EDC15C2 (3 PLUG) – Version 2 – IMMO OFF
BOSCH EDC16C3 – Virgin
DELPHI DCM 1.2 – IMMO OFF
DELPHI DCM 1.2 – Virgin
DELPHI TRW – Virgin
DELPHI TRW DDCR – Virgin
DENSO Old Version – IMMO OFF
HITACHI With OKI 93LC56 – IMMO OFF
LUCAS DCU3R – Virgin
MAGNETI MARELLI MJD 6F3 – Version Eprom – IMMO OFF
MAGNETI MARELLI MJD 6F3 – Version Flash – IMMO OFF
MAGNETI MARELLI MJD 6F3 – Virgin
MAGNETI MARELLI MJD 6J3 – Version Eprom – IMMO OFF
MAGNETI MARELLI MJD 6J3 – Version Flash – IMMO OFF
MAGNETI MARELLI MJD 6J3 – Virgin
MAGNETI MARELLI MJD 6JF – Virgin
SIEMENS SID 801 – Version 1 – Virgin & IMMO OFF
SIEMENS SID 801 – Version 2 – Virgin
SIEMENS SID 801A – Version 1 – Virgin & IMMO OFF
SIEMENS SID 801A – Version 2 – Virgin
SIEMENS SID 803 – PIN PROGRAM
TOYOTA
BOSCH 5 PLUG – YARIS – Virgin File
BOSCH EDC16C – Virgin
DENSO – Virgin
DENSO D4D – IMMO OFF
IMMOBOX Valeo – Toyota AYGO 1000cc – Virgin File
UTILITY
AUDI – BOSCH EDC16U1 – Remove EGR Controlls
FIAT – MAGNETI MARELLI MJD 6F3 & 6J3 – Remove EGR Controlls
FIAT – Reset Service – BSI Siemens 95160
FIAT – Reset Service – BSI Valeo 95128
LANCIA – MAGNETI MARELLI MJD 6F3 & 6J3 – Remove EGR Controlls
LANCIA – Reset Service – BSI Valeo 95128
OPEL – MAGNETI MARELLI MJD 6F3 & 6J3 – Remove EGR Controlls
PSA – Reset Service – BSI Johnson Controls 95128
PSA – Reset Service – BSI Siemens 95160
PSA – Reset Service – BSI Siemens 95256
PSA – Reset Service – BSI Siemens Version 1 95128
PSA – Reset Service – BSI Siemens Version 2 95128
PSA – Reset Service – BSI Valeo 24C128
PSA – Reset Service – BSI Valeo 95128
PSA – Reset Service – BSI Valeo 95160
PSA – Reset Service – BSI Valeo MCU HC912
SEAT – BOSCH EDC16U1 – Remove EGR Controlls
SKODA – BOSCH EDC16U1 – Remove EGR Controlls
SUZUKI – MAGNETI MARELLI MJD 6F3 & 6J3 – Remove EGR Controlls
VOLLSKWAGEN – BOSCH EDC16U1 – Remove EGR Controlls
VAUXHALL
BOSCH EDC MSA 15.6 – Virgin
BOSCH EDC15C3 – Virgin
BOSCH EDC15M – Virgin
BOSCH M1.5.X – IMMO OFF
BOSCH M2.8 – IMMO OFF
BOSCH ME 7.9.6 – Virgin
BOSCH MSA11 EDC1.3.1 – Virgin & IMMO OFF
GM MULTEC (PLUG BLUE & GREY) EPROM – Virgin & IMMO OFF
GM MULTEC (PLUG BLUE & GREY) MCU – Virgin & IMMO OFF
GM MULTEC (PLUG LIGHT BLUE) SWAP EPROM – Virgin &IMMO OFF
GM MULTEC (PLUG LIGHT BLUE) MCU – Virgin & IMMO OFF
GM MULTEC (PLUG RED & WHITE) MCU – Virgin & IMMO OFF
GM MULTEC (PLUG RED & WHITE) SWAP EPROM – Virgin & IMMO OFF
GM MULTEC (PLUG RED & BROWN) MCU – Virgin & IMMO OFF
GM MULTEC (PLUG RED & BROWN) SWAP EPROM – Virgin & IMMO OFF
MAGNETI MARELLI MJD 6F3 – Version Eprom – IMMO OFF
MAGNETI MARELLI MJD 6F3 – Version Flash – IMMO OFF
MAGNETI MARELLI MJD 6F3 – Virgin
MAGNETI MARELLI MJD 6J3 – Version Eprom – IMMO OFF
MAGNETI MARELLI MJD 6J3 – Version Flash – IMMO OFF
MAGNETI MARELLI MJD 6J3 – Virgin
SIMTEC 56.1 – Virgin
SIMTEC 56.5 – IMMO OFF
SIMTEC 56.5b – IMMO OFF
VOLLKSWAGEN
BOSCH EDC15 (1 PLUG) With EPROM 24C02 – IMMO OFF
BOSCH EDC15 (2 PLUG) With EPROM 24C02 – IMMO OFF
BOSCH EDC15C4 – IMMO OFF
BOSCH EDC15M-5.X – EEPROM 24C04 – IMMO OFF
BOSCH EDC15M-5.X – FLASH 29F400 – IMMO OFF
BOSCH EDC15P – EEPROM 24C04 – IMMO OFF
BOSCH EDC15P – FLASH 29F400 – IMMO OFF
BOSCH EDC15V – EEPROM 24C04 – IMMO OFF
BOSCH EDC15V – FLASH 29F400 – IMMO OFF
BOSCH EDC15V P40 EURO3 – FLASH 29F400 – IMMO OFF
BOSCH EDC15VM+ – EEPROM 24C04 – IMMO OFF
BOSCH EDC15VM+ – FLASH 29F400 – IMMO OFF
BOSCH EDC16CP34 – IMMO OFF
BOSCH EDC16U1 – IMMO OFF
BOSCH EDC16U31 – IMMO OFF
BOSCH EDC16U34 – IMMO OFF
BOSCH M2.3.2 – IMMO OFF
BOSCH M3.2.1 – IMMO OFF
BOSCH M3.8.X – Version 1 – IMMO OFF
BOSCH M3.8.X – Version 2 – IMMO OFF
BOSCH M5.4.1 – IMMO OFF
BOSCH M5.9.2 – IMMO OFF
BOSCH MA 1.2.3 – IMMO OFF
BOSCH MA 1.3 – IMMO OFF
BOSCH ME 7.X.X – ALL Version Auto Check- IMMO OFF
BOSCH MED 9.5.10 – IMMO OFF
BOSCH MP 9.0 – IMMO OFF
BOSCH MSA 11 EDC 1.3.1 – Virgin & IMMO OFF
BOSCH MSA 12 EDC 1.3.3 – IMMO OFF
BOSCH MSA 15.X – IMMO OFF
DIGIFANT 3.2 – IMMO OFF
MAGNETI MARELLI 1AV – IMMO OFF
MAGNETI MARELLI 4MV.XX – Virgin File
SIEMENS 5WP4 SIMOS 1.X (1 PLUG) – IMMO OFF
SIEMENS 5WP4 SIMOS 2.X (2 PLUG) EPROM 27C010 – IMMO OFF
SIEMENS 5WP4 SIMOS 2.X (2 PLUG) FLASH 29F200 – IMMO OFF
SIEMENS 5WP4 SIMOS 3.X (2 PLUG) – ALL Version Auto Check- IMMO OFF
SIEMENS SIMOS 7.X – ALL Version Auto Check- IMMO OFF
SIEMENS SIMOS 8.1 – IMMO OFF
SIEMENS SIMOS 9.1 – IMMO OFF
VOLVO
BOSCH EDC15 (1 PLUG) – Virgin
BOSCH EDC15C3 – Virgin
BOSCH EDC16C31 – Virgin
GM DELCO
SIEMENS SIRIUS 32 – Virgin
SIEMENS SIRIUS 32 – Without CAN – IMMO OFF
VOLVO TRUCKS
BOSCH EDC7 – IMMO OFF
BOSCH EDC7 – Virgin
YAMAHA
Denso-Virgin
Yamaha TMAX 500 Engine ECU-93C66-Virgin
Yamaha X-MAX-ECU Mitsuba-Version 1-Virgin
Yamaha X-MAX-ECU Mitsuba-Version 2-Virgin
Yamaha YZF R6 Engine ECU-24C01-Virgin
Yamaha YZF R6 Engine ECU-24C02-Virgin
(Visited 361 times, 1 visits today)