What is CMD Flash?
CMD Flash is a ECU programmer that can read and write flash memory for Engine Control Unit.It support OBD,BDM,EOBD K-LINE,EOBD CAN-BUS,EOBD PWM for all the new generation ECUs.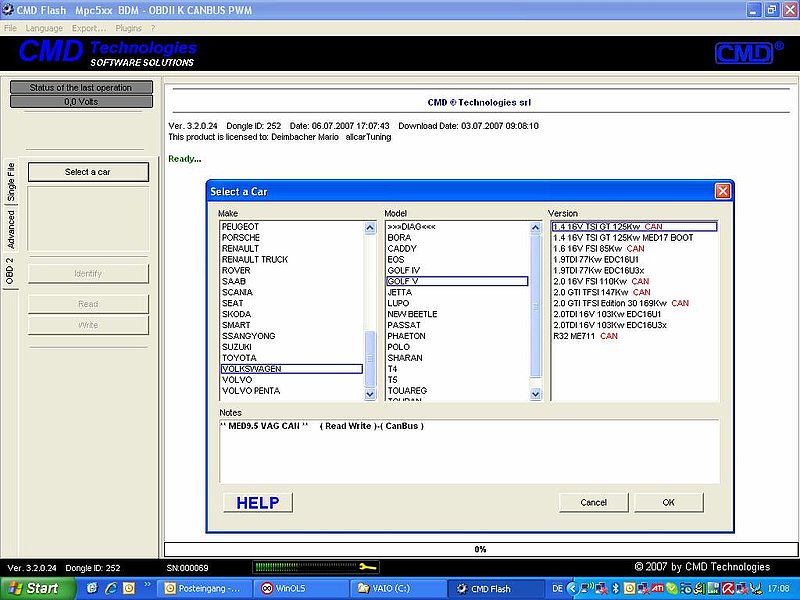 CMD Flash Features:
BDM Motorola Mpc
Bosch MEDC17 TRICORE BOOT
C16x / ST10 BOOT
CAN V2.0B 1Mb/s
K line ISO / KWP
J1850 PWM
Mitsubishi Lancer EVO 5->9
Industrial Vehicles 24V
Automatic resistor switch-KLine 470 ohm pull-up resistor for VAG EDC16
Protection dongle is now inside the black box
Old cars protocols ( i.e. EDC15, ME7, etc ) are now included
Master/Slave
Recovery mode
Automatic checksums
CMD Flash – WinOLS Connector
CMD Flash Interface:
1CMD Flash Tool(official original,website:http://flashtec.ch)
2CMD CAN Flasher V1251 (clone)
Note:Clone version only for OBD type models,original CMD Flash support OBD,BDM,Boot,Tricore.And clone version is cheap $20+,but original over €1800-€11550.
CMD Flash Support Protocols:
OBD,BDM,BOOT,BMW Fxx Toolset
CMD Flash Software Support OS:
Window 7,Window 8,and Window 10
CMD Flash Software Free Download:
CMD flash tool software official download here
CMD CAN Flasher V1251 is only for clone interface,it is free when you buy the interface.
CMD Flash Software Installation:
(For only CMD CAN Flasher V1251)
1.install the software
2.copy the MpcProg_CAN_1251protected in the installation folder of EDC16_BDM_v1251_setup
3.Run the EDC16 BDM flasher. You should see a screen saying: Your machine ID is: xxxx-xxxx-xxxx-xxxx-xxxx-xxxx-xxxx-xxxx
4.Send the above ID to me
5.I will make license and send it to you.
6.Unzip rar file, you will get 4 files.
7.Copy the 4 files to the installation folder of the software
8.Run the license.exe and confirm
9.Run MpcProg_CAN_1251protected. Send it to your desk top for quick start.
CMD Flash BDM Car List:
BOSCH EDC16 ALFAROMEO/FIAT/LANCIA
BOSCH EDC16 AUDI VW
BOSCH EDC16 BMW
BOSCH EDC16 MERCEDES
BOSCH EDC16 PEUGEOT/CITROEN
BOSCH EDC16 RENAULT/NISSAN/SUZUKI
BOSCH EDC7C1/2/3
MARELLI FIAT 1.3 MJ
MARELLI SUZUKI/OPEL 1.3 MJ
SIEMENS MSV70/MSS70 BMW
BOSCH EDC16 FORD
BOSCH EDC16 IVECO
MOTOROLA SCANIA HPI 420R/470R/500R/580R
SIEMENS 5WS-202-206-803/A VOLVO/FORD/PEUG./CITR.
MOTOROLA MERCURY MARINE PCMXXX/ECMXXX
BOSCH EDC16 HONDA
BOSCH ME9 BMW
BOSCH EDC16+ U31/CP34 AUDI VW
SIEMENS MS45 5WK BMW
DELPHI FORD/JAGUAR
DELPHI SSANGYONG/TATA/CITROEN/SUZUKI
PERKINS CAT/LANDINI
BOSCH EDC16 C9 OPEL/SAAB/CHEVROLET
BOSCH MED9.5 AUDI VW
BOSCH EDC16+ BMW
BOSCH EDC16+ C34/CP39 PSA – KIA/HYUNDAI
BOSCH ME9 VOLVO/FORD
BOSCH EDC16+ CP3X MERCEDES/MITSUBISHI/SMART
BOSCH EDC16 TOYOTA
BOSCH MED9.1 AUDI VW
SIEMENS 5WS201/4 JAGUAR/PEUGEOT/LANDROVER
BOSCH ME9.7 MERCEDES
BOSCH EDC16+ U34 AUDI VW
SIEMENS EMS2000-N5D HYUNDAI
SIEMENS MSS65/60 BMW
SIEMENS VAG PPD1.1 PPD1.2 PPD1.3 PPD1.5
DELPHI 4JJ1/4JK1 ISUZU
BOSCH BMSK BMW MOTORCYCLE
BOSCH EDC16+ C39 AR/FIAT/LANCIA/IVECO
SIEMENS SID-301 PIEZO RENAULT
MARELLI FIAT/OPEL 1.3 MJ+
SIEMENS SIM266 MERCEDES
BOSCH ME9+ BMW
BOSCH EDC16+ C31 VOLVO
BOSCH EDC16+ C39 SAAB/OPEL
BOSCH EDC16 C8 MAHINDRA
BOSCH EDC16+ U31/C31 MITSUBISHI
BOSCH EDC16+ C39 SUZUKI
CUMMINS CM848
BOSCH EDC16+ CP33/C36 RENAULT
BOSCH EDC16+ C39 GM DAEWOO GW
DELPHI DCM3.2 SSANGYONG/KIA/MB CRD.11 EURO4
BOSCH EDC7 UC31-C32-U1
SIEMENS SIMOS 6.X VAG
BOSCH EDC16+ C41 NISSAN
DELPHI DAF XF 105
DEERE X30 TIR3
TRW EMS2 VOLVO MPC565
BOSCH EDC16+C39 CASE / UC40 DEUTZ
BOSCH ME9+ OPEL
CUMMINS INDUSTRIAL VEHICLES
SIEMENS SIM90E/SID902
CMD Flash BDM Car List:
ALFA ROMEO,147,1.9 JTD 110Kw EDC16C39,BOSCH EDC16+ C39 AlfaRomeo/Fiat/Lancia
ALFA ROMEO,147,1.9 JTD 16V EDC16C8,BOSCH EDC16 AlfaRomeo/Fiat/Lancia
ALFA ROMEO,147,1.9 JTD 88Kw EDC16C39,BOSCH EDC16+ C39 AlfaRomeo/Fiat/Lancia
ALFA ROMEO,156,1.9 JTD 16V EDC16C8,BOSCH EDC16 AlfaRomeo/Fiat/Lancia
ALFA ROMEO,156,2.4 JTD 20V EDC16C8,BOSCH EDC16 AlfaRomeo/Fiat/Lancia
ALFA ROMEO,159,1.9 JTDm 110Kw EDC16C39,BOSCH EDC16+ C39 AlfaRomeo/Fiat/Lancia
ALFA ROMEO,159,1.9 JTDm 110Kw EDC16C8,BOSCH EDC16 AlfaRomeo/Fiat/Lancia
ALFA ROMEO,159,1.9 JTDm 88Kw EDC16C39,BOSCH EDC16+ C39 AlfaRomeo/Fiat/Lancia
ALFA ROMEO,159,2.4 JTDm 147Kw EDC16C39,BOSCH EDC16+ C39 AlfaRomeo/Fiat/Lancia
ALFA ROMEO,GT,1.9 JTD 88Kw EDC16C39,BOSCH EDC16+ C39 AlfaRomeo/Fiat/Lancia
ALFA ROMEO,GT,1.9 MJ 16V EDC16C8,BOSCH EDC16 AlfaRomeo/Fiat/Lancia
AUDI,>>>DIAG<<<,DTCs CAN,BOSCH EDC16 Audi VW
AUDI,A3,1.6 16V FSI 85Kw CAN,BOSCH MED9.5 Audi VW
AUDI,A3,1.9TDI 77Kw EDC16U1,BOSCH EDC16 Audi VW
AUDI,A3,1.9TDI 77Kw EDC16U3x,BOSCH EDC16+ Audi VW
AUDI,A3,2.0 16V FSI 110Kw CAN,BOSCH MED9.5 Audi VW
AUDI,A3,2.0 TFSI CAN,BOSCH MED9.1 Audi VW
AUDI,A3,2.0TDI 16V 103Kw EDC16U1,BOSCH EDC16 Audi VW
AUDI,A3,2.0TDI 16V 103Kw EDC16U3x,BOSCH EDC16+ Audi VW
AUDI,A4,1.9TDI 85Kw,BOSCH EDC16+ Audi VW
AUDI,A4,2.0 TFSI CAN,BOSCH MED9.1 Audi VW
AUDI,A4,2.0TDI 16V 103Kw,BOSCH EDC16+ Audi VW
AUDI,A4,2.5TDI 120Kw,BOSCH EDC16+ Audi VW
AUDI,A4,3.0TDI 150Kw,BOSCH EDC16+ Audi VW
AUDI,A4,3.0TDI 171Kw,BOSCH EDC16+ Audi VW
AUDI,A6,2.0TDI 16V 103Kw CAN,BOSCH EDC16+ Audi VW
AUDI,A6,2.0TDI 16V 103Kw,BOSCH EDC16+ Audi VW
AUDI,A6,2.7TDI 132Kw CAN,BOSCH EDC16+ Audi VW
AUDI,A6,2.7TDI 132Kw,BOSCH EDC16+ Audi VW
AUDI,A6,3.0TDI 165Kw CAN,BOSCH EDC16+ Audi VW
AUDI,A6,3.0TDI 165Kw,BOSCH EDC16+ Audi VW
AUDI,A8,3.0TDI 171Kw CAN,BOSCH EDC16+ Audi VW
AUDI,A8,3.0TDI 171Kw,BOSCH EDC16+ Audi VW
AUDI,Q7,3.0TDI 171Kw CAN,BOSCH EDC16+ Audi VW
AUDI,Q7,3.0TDI 171Kw,BOSCH EDC16+ Audi VW
CHRYSLER,300 C,3.0 V6 CRD Euro 4 160KW CAN,BOSCH EDC16+ CP3x Mercedes/Mitsubishi/Smart
CHRYSLER,300 C,3.0 V6 CRD Euro 4 160KW,BOSCH EDC16+ CP3x Mercedes/Mitsubishi/Smart
CITROEN,DIESEL-BOSCH EDC16 ECU,1.4 HDi EDC16C3,BOSCH EDC16 Peugeot/Citroen
CITROEN,DIESEL-BOSCH EDC16 ECU,1.4 HDi EDC16C34,BOSCH EDC16+ Peugeot/Citroen/Ford/Volvo/Kia
CITROEN,DIESEL-BOSCH EDC16 ECU,1.6 HDi 16V EDC16C3,BOSCH EDC16 Peugeot/Citroen
CITROEN,DIESEL-BOSCH EDC16 ECU,1.6 HDi 16v EDC16C34,BOSCH EDC16+ Peugeot/Citroen/Ford/Volvo/Kia
FIAT,CROMA,1.9 MJT 110Kw,BOSCH EDC16+ C39 AlfaRomeo/Fiat/Lancia
FIAT,CROMA,1.9 MJT 88Kw,BOSCH EDC16+ C39 AlfaRomeo/Fiat/Lancia
FIAT,CROMA,2.4 MJT 147Kw,BOSCH EDC16+ C39 AlfaRomeo/Fiat/Lancia
FIAT,DOBL?1.3 MJ 16V,MARELLI Fiat 1.3 MJ
FIAT,GRANDE PUNTO,1.9 MJT 120 88Kw,BOSCH EDC16+ C39 AlfaRomeo/Fiat/Lancia
FIAT,GRANDE PUNTO,1.9 MJT 130 96Kw,BOSCH EDC16+ C39 AlfaRomeo/Fiat/Lancia
FIAT,IDEA,1.3 MJ 16V,MARELLI Fiat 1.3 MJ
FIAT,IDEA,1.9 MJ,BOSCH EDC16 AlfaRomeo/Fiat/Lancia
FIAT,MULTIPLA,1.9 MJT 120 88Kw,BOSCH EDC16+ C39 AlfaRomeo/Fiat/Lancia
FIAT,PANDA,1.3 MJ 16V,MARELLI Fiat 1.3 MJ
FIAT,PUNTO,1.3 MJ 16V,MARELLI Fiat 1.3 MJ
FIAT,PUNTO,1.9 MJ,BOSCH EDC16 AlfaRomeo/Fiat/Lancia
FIAT,STILO,1.9 MJ 16V,BOSCH EDC16 AlfaRomeo/Fiat/Lancia
FORD,C-MAX,1.6 TDCi EDC16C3,BOSCH EDC16 Ford
FORD,FOCUS,1.6 TDCi EDC16C34,BOSCH EDC16+ Peugeot/Citroen/Ford/Volvo/Kia
HONDA,ACCORD,2.2i-CTDi EDC16C7,BOSCH EDC16 Honda
HONDA,CIVIC,2.2i-CTDi EDC16C2,BOSCH EDC16 Honda
HYUNDAI,GETZ,1.5CRDI 81kw Euro 4 EDC16C39,BOSCH EDC16+ Peugeot/Citroen/Ford/Volvo/Kia
HYUNDAI,SANTA FE,2.2CRDI 4WD 110kw EDC16C39,BOSCH EDC16+ Peugeot/Citroen/Ford/Volvo/Kia
HYUNDAI,TUCSON,2.0CRDI VGT 103kw Euro 4 EDC16C39,BOSCH EDC16+ Peugeot/Citroen/Ford/Volvo/Kia
IVECO,DAILY,29 L 10 2300 EDC16,BOSCH EDC16 Iveco
IVECO,DAILY,29 L 12 2300 EDC16,BOSCH EDC16 Iveco
IVECO,DAILY,35 C 10 2300 EDC16,BOSCH EDC16 Iveco
IVECO,DAILY,35 C 12 2300 EDC16,BOSCH EDC16 Iveco
IVECO,DAILY,35 C 13 2800 EDC16,BOSCH EDC16 Iveco
IVECO,DAILY,35 C 14 3000 EDC16,BOSCH EDC16 Iveco
IVECO,DAILY,35 C 15 2800 EDC16,BOSCH EDC16 Iveco
IVECO,DAILY,35 C 17 3000 EDC16,BOSCH EDC16 Iveco
IVECO,DAILY,35 C 9  2800 EDC16,BOSCH EDC16 Iveco
IVECO,DAILY,35 S 10 2300 EDC16,BOSCH EDC16 Iveco
IVECO,DAILY,35 S 13 2800 EDC16,BOSCH EDC16 Iveco
IVECO,DAILY,40 C 15 2800 EDC16,BOSCH EDC16 Iveco
IVECO,DAILY,65 C 15 2800 EDC16,BOSCH EDC16 Iveco
IVECO,TECTOR,130hp 4cyl EDC7C1,BOSCH EDC7C1/2/3
IVECO,TECTOR,150hp 4cyl EDC7C1,BOSCH EDC7C1/2/3
IVECO,TECTOR,170hp 4cyl EDC7C1,BOSCH EDC7C1/2/3
IVECO,TECTOR,180hp 6cyl EDC7C1,BOSCH EDC7C1/2/3
IVECO,TECTOR,210hp 6cyl EDC7C1,BOSCH EDC7C1/2/3
IVECO,TECTOR,240hp 6cyl EDC7C1,BOSCH EDC7C1/2/3
IVECO,TECTOR,280hp 6cyl EDC7C1,BOSCH EDC7C1/2/3
JEEP,Cherokee,2.8 CRD 120KW,BOSCH EDC16 Mercedes
JEEP,Grand Cherokee,3.0 V6 CRD Euro 4 160KW CAN,BOSCH EDC16+ CP3x Mercedes/Mitsubishi/Smart
JEEP,Grand Cherokee,3.0 V6 CRD Euro 4 160KW,BOSCH EDC16+ CP3x Mercedes/Mitsubishi/Smart
KIA,RIO,1.5CRDI 81kw Euro 4 EDC16C39,BOSCH EDC16+ Peugeot/Citroen/Ford/Volvo/Kia
KIA,SPORTAGE,2.0CRDI VGT 103kw Euro 4 EDC16C39,BOSCH EDC16+ Peugeot/Citroen/Ford/Volvo/Kia
LANCIA,MUSA,1.3 MJ 16V,MARELLI Fiat 1.3 MJ
LANCIA,MUSA,1.9 MJ,BOSCH EDC16 AlfaRomeo/Fiat/Lancia
LANCIA,THESIS,2.4 JTD 20V,BOSCH EDC16 AlfaRomeo/Fiat/Lancia
LANCIA,YPSILON,1.3 MJ 16V,MARELLI Fiat 1.3 MJ
MAN,TG-A,350hp 6cyl EDC7C3,BOSCH EDC7C1/2/3
MAN,TG-A,390hp 6cyl EDC7C3,BOSCH EDC7C1/2/3
MAN,TG-A,430hp 6cyl EDC7C3,BOSCH EDC7C1/2/3
MAN,TG-A,480hp 6cyl EDC7C3,BOSCH EDC7C1/2/3
MAN,TG-A,530hp 6cyl EDC7C3,BOSCH EDC7C1/2/3
MERCEDES,A Klasse,160CDI 60Kw EDC16CP31 CAN,BOSCH EDC16+ CP3x Mercedes/Mitsubishi/Smart
MERCEDES,A Klasse,160CDI 60Kw EDC16CP31,BOSCH EDC16+ CP3x Mercedes/Mitsubishi/Smart
MERCEDES,A Klasse,180CDI 80Kw EDC16CP31 CAN,BOSCH EDC16+ CP3x Mercedes/Mitsubishi/Smart
MERCEDES,A Klasse,180CDI 80Kw EDC16CP31,BOSCH EDC16+ CP3x Mercedes/Mitsubishi/Smart
MERCEDES,A Klasse,200CDI 103Kw EDC16CP31 CAN,BOSCH EDC16+ CP3x Mercedes/Mitsubishi/Smart
MERCEDES,A Klasse,200CDI 103Kw EDC16CP31,BOSCH EDC16+ CP3x Mercedes/Mitsubishi/Smart
MERCEDES,B Klasse,180CDI 80Kw EDC16CP31 CAN,BOSCH EDC16+ CP3x Mercedes/Mitsubishi/Smart
MERCEDES,B Klasse,180CDI 80Kw EDC16CP31,BOSCH EDC16+ CP3x Mercedes/Mitsubishi/Smart
MERCEDES,B Klasse,200CDI 103Kw EDC16CP31 CAN,BOSCH EDC16+ CP3x Mercedes/Mitsubishi/Smart
MERCEDES,B Klasse,200CDI 103Kw EDC16CP31,BOSCH EDC16+ CP3x Mercedes/Mitsubishi/Smart
MERCEDES,C Klasse,200CDI EDC16C/C2,BOSCH EDC16 Mercedes
MERCEDES,C Klasse,220CDI EDC16C/C2,BOSCH EDC16 Mercedes
MERCEDES,C Klasse,270CDI EDC16C/C2,BOSCH EDC16 Mercedes
MERCEDES,C Klasse,320CDI V6 EDC16CP31 CAN,BOSCH EDC16+ CP3x Mercedes/Mitsubishi/Smart
MERCEDES,C Klasse,320CDI V6 EDC16CP31,BOSCH EDC16+ CP3x Mercedes/Mitsubishi/Smart
MERCEDES,CLK Klasse,270CDI EDC16C/C2,BOSCH EDC16 Mercedes
MERCEDES,E Klasse,200CDI EDC16C/C2,BOSCH EDC16 Mercedes
MERCEDES,E Klasse,220CDI EDC16C/C2,BOSCH EDC16 Mercedes
MERCEDES,E Klasse,270CDI EDC16C/C2,BOSCH EDC16 Mercedes
MERCEDES,E Klasse,280CDI V6 EDC16CP31 CAN,BOSCH EDC16+ CP3x Mercedes/Mitsubishi/Smart
MERCEDES,E Klasse,280CDI V6 EDC16CP31,BOSCH EDC16+ CP3x Mercedes/Mitsubishi/Smart
MERCEDES,E Klasse,320CDI EDC16C/C2,BOSCH EDC16 Mercedes
MERCEDES,E Klasse,320CDI V6 EDC16CP31 CAN,BOSCH EDC16+ CP3x Mercedes/Mitsubishi/Smart
MERCEDES,E Klasse,320CDI V6 EDC16CP31,BOSCH EDC16+ CP3x Mercedes/Mitsubishi/Smart
MERCEDES,ML Klasse,280CDI V6 EDC16CP31 CAN,BOSCH EDC16+ CP3x Mercedes/Mitsubishi/Smart
MERCEDES,ML Klasse,280CDI V6 EDC16CP31,BOSCH EDC16+ CP3x Mercedes/Mitsubishi/Smart
MERCEDES,ML Klasse,320CDI V6 EDC16CP31 CAN,BOSCH EDC16+ CP3x Mercedes/Mitsubishi/Smart
MERCEDES,ML Klasse,320CDI V6 EDC16CP31,BOSCH EDC16+ CP3x Mercedes/Mitsubishi/Smart
MERCEDES,ML Klasse,420CDI V8 225kw EDC16CP36 CAN,BOSCH EDC16+ CP3x Mercedes/Mitsubishi/Smart
MERCEDES,R Klasse,320CDI V6 EDC16CP31 CAN,BOSCH EDC16+ CP3x Mercedes/Mitsubishi/Smart
MERCEDES,R Klasse,320CDI V6 EDC16CP31,BOSCH EDC16+ CP3x Mercedes/Mitsubishi/Smart
MERCEDES,S Klasse,320CDI EDC16C/C2,BOSCH EDC16 Mercedes
MERCEDES,S Klasse,320CDI V6 EDC16CP31 CAN,BOSCH EDC16+ CP3x Mercedes/Mitsubishi/Smart
MERCEDES,S Klasse,320CDI V6 EDC16CP31,BOSCH EDC16+ CP3x Mercedes/Mitsubishi/Smart
MERCEDES,VIANO,CDI EDC16C/C2,BOSCH EDC16 Mercedes
MERCEDES,VITO,CDI EDC16C/C2,BOSCH EDC16 Mercedes
MITSUBISHI,Colt,1.5 DI-D 70Kw Euro 4 CAN,BOSCH EDC16+ CP3x Mercedes/Mitsubishi/Smart
MITSUBISHI,Colt,1.5 DI-D 70Kw Euro 4,BOSCH EDC16+ CP3x Mercedes/Mitsubishi/Smart
NEW HOLLAND,TS,100A EDC7C1,BOSCH EDC7C1/2/3
NEW HOLLAND,TS,110A EDC7C1,BOSCH EDC7C1/2/3
NEW HOLLAND,TS,115A EDC7C1,BOSCH EDC7C1/2/3
NEW HOLLAND,TS,125A EDC7C1,BOSCH EDC7C1/2/3
NEW HOLLAND,TS,135A EDC7C1,BOSCH EDC7C1/2/3
NISSAN,PRIMERA,1.9dCi EDC16C3-9,BOSCH EDC16 Renault/Nissan/Suzuki
NISSAN,PRIMERA,EDC16C3 NOZZLES CODER CAN,BOSCH EDC16 Renault/Nissan/Suzuki
OPEL,AGILA,1.3 16V CTDI,MARELLI Suzuki/Opel 1.3 MJ
OPEL,ASTRA,1.7CDTi 16v 74Kw EDC16C9 CAN,BOSCH EDC16 C9 Opel/Saab/Chevrolet
OPEL,ASTRA,1.9CDTi 16v 110Kw EDC16C9 CAN,BOSCH EDC16 C9 Opel/Saab/Chevrolet
OPEL,ASTRA,1.9CDTi 16v 88Kw EDC16C9 CAN,BOSCH EDC16 C9 Opel/Saab/Chevrolet
OPEL,CORSA,1.3 16V CTDI,MARELLI Suzuki/Opel 1.3 MJ
OPEL,SIGNUM,1.9CDTi 16v 110Kw EDC16C9 CAN,BOSCH EDC16 C9 Opel/Saab/Chevrolet
OPEL,SIGNUM,1.9CDTi 16v 74Kw EDC16C9 CAN,BOSCH EDC16 C9 Opel/Saab/Chevrolet
OPEL,SIGNUM,1.9CDTi 16v 88Kw EDC16C9 CAN,BOSCH EDC16 C9 Opel/Saab/Chevrolet
OPEL,TIGRA TwinTop,1.3 16V CTDI,MARELLI Suzuki/Opel 1.3 MJ
OPEL,VECTRA,1.9CDTi 16v 110Kw EDC16C9 CAN,BOSCH EDC16 C9 Opel/Saab/Chevrolet
OPEL,VECTRA,1.9CDTi 16v 74Kw EDC16C9 CAN,BOSCH EDC16 C9 Opel/Saab/Chevrolet
OPEL,VECTRA,1.9CDTi 16v 88Kw EDC16C9 CAN,BOSCH EDC16 C9 Opel/Saab/Chevrolet
OPEL,ZAFIRA,1.9CDTi 16v 110Kw EDC16C9 CAN,BOSCH EDC16 C9 Opel/Saab/Chevrolet
OPEL,ZAFIRA,1.9CDTi 16v 74Kw EDC16C9 CAN,BOSCH EDC16 C9 Opel/Saab/Chevrolet
OPEL,ZAFIRA,1.9CDTi 16v 88Kw EDC16C9 CAN,BOSCH EDC16 C9 Opel/Saab/Chevrolet
PEUGEOT,206,1.4 HDi 8v EDC16C3,BOSCH EDC16 Peugeot/Citroen
PEUGEOT,206,1.4 HDi EDC16C34,BOSCH EDC16+ Peugeot/Citroen/Ford/Volvo/Kia
PEUGEOT,206,1.6 HDi 16v EDC16C3,BOSCH EDC16 Peugeot/Citroen
PEUGEOT,206,1.6 HDi 16v EDC16C34,BOSCH EDC16+ Peugeot/Citroen/Ford/Volvo/Kia
PEUGEOT,307,1.4 HDi 8v EDC16C3,BOSCH EDC16 Peugeot/Citroen
PEUGEOT,307,1.6 HDi 16v EDC16C3,BOSCH EDC16 Peugeot/Citroen
PEUGEOT,307,1.6 HDi 16v EDC16C34,BOSCH EDC16+ Peugeot/Citroen/Ford/Volvo/Kia
RENAULT,LAGUNA,1.9dCi EDC16C3-9,BOSCH EDC16 Renault/Nissan/Suzuki
RENAULT,LAGUNA,EDC16C3 NOZZLES CODER CAN,BOSCH EDC16 Renault/Nissan/Suzuki
RENAULT,MASTER,1.9dCi EDC16C3-9,BOSCH EDC16 Renault/Nissan/Suzuki
RENAULT,MASTER,3.0dCi EDC16C3-9,BOSCH EDC16 Renault/Nissan/Suzuki
RENAULT,MASTER,EDC16C3 NOZZLES CODER CAN,BOSCH EDC16 Renault/Nissan/Suzuki
RENAULT,MASTER,EDC16C3 NOZZLES CODER CAN,BOSCH EDC16 Renault/Nissan/Suzuki
RENAULT,MEGANE,1.9dCi EDC16C3-9,BOSCH EDC16 Renault/Nissan/Suzuki
RENAULT,MEGANE,EDC16C3 NOZZLES CODER CAN,BOSCH EDC16 Renault/Nissan/Suzuki
RENAULT,SCENIC,1.9dCi EDC16C3-9,BOSCH EDC16 Renault/Nissan/Suzuki
RENAULT,SCENIC,EDC16C3 NOZZLES CODER CAN,BOSCH EDC16 Renault/Nissan/Suzuki
SAAB,9-3,1.9TiD 16V 110Kw EDC16C9 CAN,BOSCH EDC16 C9 Opel/Saab/Chevrolet
SAAB,9-3,1.9TiD 16V 88Kw EDC16C9 CAN,BOSCH EDC16 C9 Opel/Saab/Chevrolet
SAAB,9-5,1.9TiD 16V 110Kw EDC16C9 CAN,BOSCH EDC16 C9 Opel/Saab/Chevrolet
SEAT,>>>DIAG<<<,DTCs CAN,BOSCH EDC16 Audi VW
SEAT,ALTEA,1.9TDI 77Kw EDC16U1,BOSCH EDC16 Audi VW
SEAT,ALTEA,1.9TDI 77Kw EDC16U3x,BOSCH EDC16+ Audi VW
SEAT,ALTEA,2.0 16V FSI 110Kw CAN,BOSCH MED9.5 Audi VW
SEAT,ALTEA,2.0TDI 16V 103Kw EDC16U1,BOSCH EDC16 Audi VW
SEAT,ALTEA,2.0TDI 16V 103Kw EDC16U3x,BOSCH EDC16+ Audi VW
SEAT,LEON,1.9TDI 77Kw EDC16U1,BOSCH EDC16 Audi VW
SEAT,LEON,1.9TDI 77Kw EDC16U3x,BOSCH EDC16+ Audi VW
SEAT,LEON,2.0 16V FSI 110Kw CAN,BOSCH MED9.5 Audi VW
SEAT,LEON,2.0TDI 16V 103Kw EDC16U1,BOSCH EDC16 Audi VW
SEAT,LEON,2.0TDI 16V 103Kw EDC16U3x,BOSCH EDC16+ Audi VW
SEAT,TOLEDO,1.9TDI 77Kw EDC16U1,BOSCH EDC16 Audi VW
SEAT,TOLEDO,1.9TDI 77Kw EDC16U3x,BOSCH EDC16+ Audi VW
SEAT,TOLEDO,2.0 16V FSI 110Kw CAN,BOSCH MED9.5 Audi VW
SEAT,TOLEDO,2.0TDI 16V 103Kw EDC16U1,BOSCH EDC16 Audi VW
SEAT,TOLEDO,2.0TDI 16V 103Kw EDC16U3x,BOSCH EDC16+ Audi VW
SKODA,>>>DIAG<<<,DTCs CAN,BOSCH EDC16 Audi VW
SKODA,OCTAVIA,1.6 16V FSI 85Kw CAN,BOSCH MED9.5 Audi VW
SKODA,OCTAVIA,1.9TDI 77Kw EDC16U1,BOSCH EDC16 Audi VW
SKODA,OCTAVIA,1.9TDI 77Kw EDC16U3x,BOSCH EDC16+ Audi VW
SKODA,OCTAVIA,2.0 16V FSI 110Kw CAN,BOSCH MED9.5 Audi VW
SKODA,OCTAVIA,2.0 TFSI CAN,BOSCH MED9.1 Audi VW
SKODA,OCTAVIA,2.0TDI 16V 103Kw EDC16U1,BOSCH EDC16 Audi VW
SKODA,OCTAVIA,2.0TDI 16V 103Kw EDC16U3x,BOSCH EDC16+ Audi VW
SKODA,SUPERB,1.9TDI 77Kw EDC16U1,BOSCH EDC16 Audi VW
SKODA,SUPERB,1.9TDI 77Kw EDC16U3x,BOSCH EDC16+ Audi VW
SKODA,SUPERB,2.0TDI 16V 103Kw EDC16U1,BOSCH EDC16 Audi VW
SKODA,SUPERB,2.0TDI 16V 103Kw EDC16U3x,BOSCH EDC16+ Audi VW
SMART,ForFour,CDI 50/70Kw Euro 4 CAN,BOSCH EDC16+ CP3x Mercedes/Mitsubishi/Smart
SMART,ForFour,CDI 50/70Kw Euro 4,BOSCH EDC16+ CP3x Mercedes/Mitsubishi/Smart
SSANGYONG,REXTON,2.7 Xdi 121Kw,DELPHI Ssangyong/Citroen
SSANGYONG,RODIUS,2.7 Xdi 121Kw,DELPHI Ssangyong/Citroen
SUZUKI,GRAND VITARA,1.9DDiS EDC16C3-10,BOSCH EDC16 Renault/Nissan/Suzuki
SUZUKI,GRAND VITARA,EDC16C3 NOZZLES CODER CAN,BOSCH EDC16 Renault/Nissan/Suzuki
SUZUKI,IGNIS,1.3 DDiS 16V GL,MARELLI Suzuki/Opel 1.3 MJ
SUZUKI,SWIFT,1.3 DDiS 16V GL,MARELLI Suzuki/Opel 1.3 MJ
SUZUKI,SX4,1.9DDiS 88Kw EDC16C39,BOSCH EDC16+ C39 Suzuki
SUZUKI,WAGON R+,1.3 DDiS 16V GL,MARELLI Suzuki/Opel 1.3 MJ
VOLKSWAGEN,>>>DIAG<<<,DTCs CAN,BOSCH EDC16 Audi VW
VOLKSWAGEN,CADDY,1.9TDI 77Kw EDC16U1,BOSCH EDC16 Audi VW
VOLKSWAGEN,CADDY,1.9TDI 77Kw EDC16U31,BOSCH EDC16+ Audi VW
VOLKSWAGEN,CADDY,2.0SDI 51Kw EDC16U1,BOSCH EDC16 Audi VW
VOLKSWAGEN,EOS,2.0 16V FSI 110Kw CAN,BOSCH MED9.5 Audi VW
VOLKSWAGEN,EOS,2.0 TFSI CAN,BOSCH MED9.1 Audi VW
VOLKSWAGEN,GOLF V,1.4 16V TSI GT 125Kw CAN,BOSCH MED9.5 Audi VW
VOLKSWAGEN,GOLF V,1.6 16V FSI 85Kw CAN,BOSCH MED9.5 Audi VW
VOLKSWAGEN,GOLF V,1.9TDI 77Kw EDC16U1,BOSCH EDC16 Audi VW
VOLKSWAGEN,GOLF V,1.9TDI 77Kw EDC16U3x,BOSCH EDC16+ Audi VW
VOLKSWAGEN,GOLF V,2.0 16V FSI 110Kw CAN,BOSCH MED9.5 Audi VW
VOLKSWAGEN,GOLF V,2.0 TFSI CAN,BOSCH MED9.1 Audi VW
VOLKSWAGEN,GOLF V,2.0TDI 16V 103Kw EDC16U1,BOSCH EDC16 Audi VW
VOLKSWAGEN,GOLF V,2.0TDI 16V 103Kw EDC16U3x,BOSCH EDC16+ Audi VW
VOLKSWAGEN,JETTA,1.6 16V FSI 85Kw CAN,BOSCH MED9.5 Audi VW
VOLKSWAGEN,JETTA,1.9TDI 77Kw EDC16U1,BOSCH EDC16 Audi VW
VOLKSWAGEN,JETTA,1.9TDI 77Kw EDC16U3x,BOSCH EDC16+ Audi VW
VOLKSWAGEN,JETTA,2.0 16V FSI 110Kw CAN,BOSCH MED9.5 Audi VW
VOLKSWAGEN,JETTA,2.0 TFSI CAN,BOSCH MED9.1 Audi VW
VOLKSWAGEN,JETTA,2.0TDI 16V 103Kw EDC16U1,BOSCH EDC16 Audi VW
VOLKSWAGEN,JETTA,2.0TDI 16V 103Kw EDC16U3x,BOSCH EDC16+ Audi VW
VOLKSWAGEN,PASSAT,1.6 16V FSI 85Kw CAN,BOSCH MED9.5 Audi VW
VOLKSWAGEN,PASSAT,1.9 TDI 77Kw EDC16U3x,BOSCH EDC16+ Audi VW
VOLKSWAGEN,PASSAT,2.0 16V FSI 110Kw CAN,BOSCH MED9.5 Audi VW
VOLKSWAGEN,PASSAT,2.0 TDI 103Kw EDC16U3x,BOSCH EDC16+ Audi VW
VOLKSWAGEN,PASSAT,2.0 TFSI CAN,BOSCH MED9.1 Audi VW
VOLKSWAGEN,PHAETON,3.0 V6 TDI 165Kw,BOSCH EDC16+ Audi VW
VOLKSWAGEN,T5,1.9 TDI 77Kw EDC16U1,BOSCH EDC16 Audi VW
VOLKSWAGEN,T5,1.9 TDI 77Kw EDC16U3x,BOSCH EDC16+ Audi VW
VOLKSWAGEN,T5,2.5 TDI 128Kw,BOSCH EDC16 Audi VW
VOLKSWAGEN,TOUAREG,2.5 R5 TDI,BOSCH EDC16 Audi VW
VOLKSWAGEN,TOUAREG,3.0 V6 TDI 165Kw,BOSCH EDC16+ Audi VW
VOLKSWAGEN,TOUAREG,5.0 V10 TDI EDC16U1,BOSCH EDC16 Audi VW
VOLKSWAGEN,TOUAREG,5.0 V10 TDI EDC16U31,BOSCH EDC16+ Audi VW
VOLKSWAGEN,TOURAN,1.4 16V FSI 103Kw CAN,BOSCH MED9.5 Audi VW
VOLKSWAGEN,TOURAN,1.6 16V FSI 85Kw CAN,BOSCH MED9.5 Audi VW
VOLKSWAGEN,TOURAN,1.9TDI 77Kw EDC16U1,BOSCH EDC16 Audi VW
VOLKSWAGEN,TOURAN,1.9TDI 77Kw EDC16U3x,BOSCH EDC16+ Audi VW
VOLKSWAGEN,TOURAN,2.0 16V FSI 110Kw CAN,BOSCH MED9.5 Audi VW
VOLKSWAGEN,TOURAN,2.0TDI 16V 103Kw EDC16U1,BOSCH EDC16 Audi VW
VOLKSWAGEN,TOURAN,2.0TDI 16V 103Kw EDC16U3x,BOSCH EDC16+ Audi VW
VOLVO,S40,2.4 D5 132Kw,BOSCH EDC16+ C31 Volvo
VOLVO,S60,2.4 D5 136Kw,BOSCH EDC16+ C31 Volvo
VOLVO,V50,2.4 D5 132Kw,BOSCH EDC16+ C31 Volvo
VOLVO,V70,2.4 D5 136Kw,BOSCH EDC16+ C31 Volvo
VOLVO,XC70,2.4 D5 136Kw,BOSCH EDC16+ C31 Volvo
VOLVO,XC90,2.4 D5 136Kw,BOSCH EDC16+ C31 Volvo
(Visited 584 times, 6 visits today)