A Chevrolet Cruze made 2015 with 30,000 miles,the owner described that the remote function can not work.This article show the experience of how to repair Chevrolet Cruze remote trouble.
Trouble analysis:
Technicians found the remote function is invalid and can not use remote to control the car.But the center panel work correctly,it suggests that only the remote malfunction.
And technicians found below DTCs:
B3101: Keyless Entry Data Link Circuit
B3031:Security System Controller In Learn Mode
After consult relevant manual,the BCM communicate with door lock acceptor by keyless entry serial data circuit.Transporter sent a signal to remote door acceptor when pressing any button on the keyless entry system.According to the signal sent by remote door lock acceptor,the BCM perform relevant action.
DTC B3031 Description:
When learning a coded key, the theft deterrent module (TDM) is placed in learn mode. DTC B3031 will set automatically as an indicator that the system is in learn mode and not as a fault indicator. Once the coded key is learned, learn mode will be exited and the DTC cleared. If the TDM does not exit learn mode, B3031 will remain current and indicate a fault.
DTC B3101 Description:
The body control module (BCM) communicates with the remote control door lock receiver through the keyless entry serial data circuits. When any button on the keyless entry transmitter is pressed, the transmitter sends a signal to the remote control door lock receiver. The remote control door lock receiver sends a function request to the BCM, depending on which button is pressed on the transmitter. The BCM receives the message and performs the appropriate function.
The DTC B3101 is related to owner's trouble,technicians focus on this problem.Techinicians checked:
1. Detect the GND and power of remote door lock acceptor.  Work fine
2. Detect the conduction from acceptor 3 terminal of remote door lock acceptor to X1 26 terminal of BCM connector,found it open circuit.
Consult the diagram,found there are two connectors on this circuit,X200 and X210.Detect connector X210 located right side of dashboard.Check the wire harness and found it was damaged,technicians found it located on the car roof.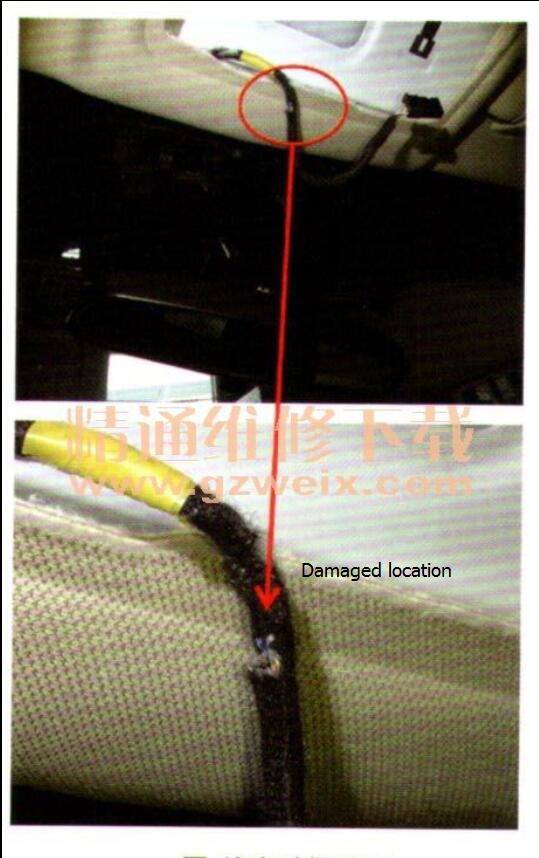 Solution:Fix the damaged wire harness.
(Visited 359 times, 1 visits today)