Here I want to share how to setup Subaru FreeSSM software and adapter.And it introduce the setup guide work for Window,Linux and MacBook Air.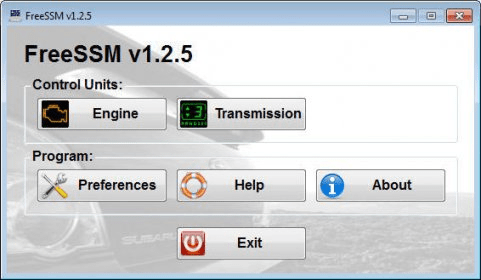 Preparations:
Subaru FreeSSM Software Free Download
SUBARU FreeSSM V1.2.5 Hardware
Subaru FreeSSM Installation for Window & Linux:
-Plug in your cable, let your computer find the drivers automatically.
If not the cables usually come with a cd with the drivers, use this.
If not do some searching on the internet.
It really depends on which cable you get.
The VAG COM cable I purchased required no setup, plugged in, found, done. Works on XP, Vista and 7 I tested all these OS's.
-Install the software
On the main screen go to Preferences
On the drop down: Serial Port
Select which COM port your adapter is on
If you have no idea wth I am talking about:
On your keyboard hold the windows button and push Pause/Break
Click Device Manager
Select Ports (COM & LPT)
Your adapter should be listed here
Right click the adapter, select Properties
Under Port Settings, Advanced you can see which port it is on, you can change this to another # if you want.
This path may be different depending on which OS you use.
-Plug into the OBD II connector with the key on and "Test Diagnostic Interface" under Preferences.
If it all checks out you are good to go.
Subaru FreeSSM Install on MacBook Air:
First, I downloaded and installed the FTDI VCP drivers for OSX (driver ver.2.3), and installed them as per the FTDI instructions. This may not be necessary if you are running OSX Yosemite or newer, because Apple has their own built-in drivers now, but that's what I did.
Then after you plug in the Subaru diagnostic cable to your USB jack on the Mac, you open a terminal and check the /dev directory of your Mac, and you see the name of the new USB device, which should be something like "tty.usbserial-A601XXXL". The digits at the end of the name will be the serial number, if it's a genuine FTDI chip in your USB cable.
So now you have the path and filename to the Subaru USB diagnostic cable, as the Mac sees it. You need to create a "symbolic link" so that Wine can use this. Do this by opening a terminal, and changing directories to user/Wine Files/dosdevices. Then, type:
ln -s /dev/tty.usbserial-A601XXXL com1
If you now close the terminal and navigate to the dosdevices folder by using the Mac Finder app, then you will see a new icon there, labeled "com1". If you forgot to change directories in the terminal before creating the symlink, then your "com1" icon will be located in your Home or User folder, or wherever you were pointing to in the terminal when you created the symlink. Find the icon and cut and paste it into the "Wine Files/dosdevices" folder.
Now, use the Mac Finder to navigate into "Wine Files", and you'll see a text file icon there, "system.reg". Open that with the Mac's "TextEdit" program. Add the following lines to this file (I added them near the top, just after the entry #arch=win32):
[HARDWARE\\DEVICEMAP\\SERIALCOMM] 1131331688
"COM1″="COM1"
"COM2″="COM2"
Then, save this new version of the system.reg file.
Now go back to the Wine dropdown list of options, and choose "Registry Editor". This looks just like a Windows registry.
Navigate to the folder, HKEY_LOCAL_MACHINE\HARDWARE\DEVICEMAP\SERIALCOMM in the file tree on the left. Probably there will be no entries in this folder, so create two new keys:
"COM1″="COM1"
"COM2″="COM2"
This gives the new keys a Value name of COM1 (or COM2), and a Vaue data of COM1 (or COM2).
Now leave the Registry open without exiting it, start up FreeSSM through Wine's File Manager, and FreeSSM should give you COM1 and COM2 as options.
Since I had set my Subaru FreeSSM USB cable to COM1 by the symlink, above, that's what plugged into the Subaru and worked perfectly at this stage.
(I actually created a second symlink in the dosdevices folder, as COM2, pointing to cu.usbserial-A601XXXL, which I found in my /dev directory, but I think this was unnecessary. The symlink described above, with COM1 defined as tty.usbserial-A601XXXL was all that was needed to have FreeSSM connect to the Subaru USB cable on COM1.)
While everything else in this "How To" is a permanent change, the Registry entry changes are apparently volatile. I have not experimented with this, but I believe that the folder HKEY_LOCAL_MACHINE\HARDWARE\DEVICEMAP\SERIALCOMM will be blank every time you start Wine fresh. So you may have to edit the Registry through Wine every time you start FreeSSM, unless you just leave it open in the background.