What is DELPHI DS150E?
DELPHI DS150E is a window base to give technicians assess to OE-level diagnostic capability. You will be able to perform in-depth diagnostics of the key vehicle systems on an extensive range of brands and models.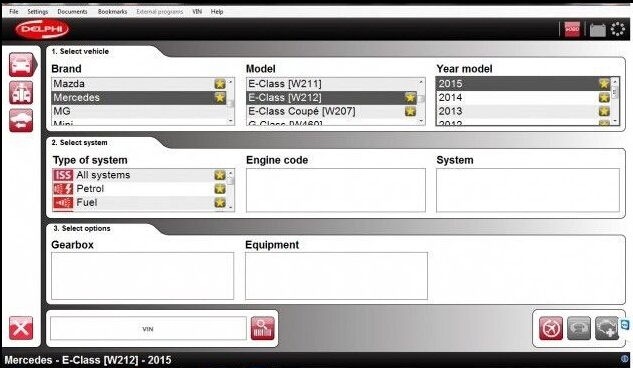 DELPHI DS150E Functions List:
Full system coverage.
Service light reset.
Read and erase fault codes.
Read and graph live data parameters.
Intelligent system scan (ISS)- full vehicle ECU scans.
Programming.
Component activation and adjustment.
ECU coding.
Print and save diagnostic reports.
Full OBD flight recorder.
VIN recognition.
Battery voltage monitoring.
Intelligent system updates (ISU).
Intelligent system identification (ISI).
DELPHI DS150 Support Vehicle List:
Abarth,Alfa Romeo,Audi,Bentley,BMW,Cadillac,Chevrolet,Chrysler,Citroën,Dacia,Daewoo,Daihatsu,Dodge,Ferrari,Fiat,Ford,Foton,Great Wall,Honda,Hyundai,Isuzu,Iveco,Jaguar,Jeep,Jinbei,JMC,KIA,Lamborghini,Lancia,Land Rover,Lexus,Lotus,Mahindra,Renault,Maserati,Mazda,Mercedes,MG Mini,Mitsubish,Multicar,Nissan,Opel,Vauxhall,Peugeot,Porsche,Renault,Rolls-Royce,Rover Saab Samsung,Seat,Shuanghuan,Škoda,Smart,SsangYong,Subaru,Suzuki,Tata,Toyota,Volkswagen Volvo
DELPHI DS150E Installation System Requirements:
Processor Intel® Pentium® 4 1.7 GHz or better (or similar)
Operating System Windows 8, Windows 7, Windows Vista®, Windows® XP* SP3
Internal Memory 1024-2048MB RAM (depending on operating system)
Hard Disk Space 1500MB
Screen Resolution 1024 x 768 or higher
Connections and Communications Internet connection, Bluetooth (SPP) or USB
Third-party Software Microsft .NET Framework 3.5, Adobe Acrobat Reader 4.0 or later
DELPHI DS150E Free Download:
2015.R3 Clone [include Keygen and licence key]