This article show a guide on how to uninstall Audi MMI map activator (Uninstall Keldo's activator from MMI),hope it helps!
Related Contents:
How to Active Audi MMI Map:3G &3 GP
How to update Audi MMI 3G Firmware
How to Enable Audi MMI Green Menu (Hidden Menu) by VCDs & Script
Download the uninstaller script
https://mega.nz/#!xY4XkQYD!7UG0rfukWgukRuybgivHeQLkwQfJeOWN532qh4dR1ZU
Format your SD in FAT32.
Transfer uninstaller files to the SD card root:

Caution: Do NOT insert the SD until MMI has fully booted.The uninstall script only works with SD, it doesn't work with USB.Remove all devices from car (Others SD, USB…) for avoid errors.
Start the car and wait until MMI is fully loaded (usually 5-10 minutes)
Make sure that MMI is fully booted (press all buttons once RADIO CAR NAV MEDIA TEL).
Wait until all options are working (no options in gray) even when all options are working wait a minute more.
Insert the SD card into the first MMI slot.
A screen will appear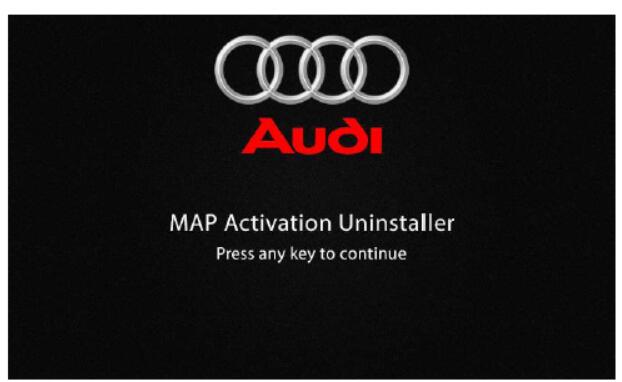 Press any key (usually the one big knob)
Don't touch anything
Wait 15-60 seconds, if everything is done according to the instructions, the next screen will appear:
Remove the SD card (for avoid re-run the script) and reboot the MMI.
Reboot Your MMI
MMI 2G                 SETUP + Main (Big) Button + Top Right Button
MMI 2G (A8)        TEL + Main (Big) Button + Top Right Button
MMI 3G                 SETUP + Main (Big) Button + Top Right Button
MMI 3GP               MENU + Main (Big) Button + Top Right Button
MMI 3GP (A1)       TONE + Main (Big) Button + Top Right Button
RMC (A1/Q3)         BACK + Main (Big) Button + Top Right Button
RMC (A6/A7)         MENU + Main (Big) Button + Top Right Button
MIB                          MENU + Main (Big) Button + Top Right Button
(Visited 400 times, 8 visits today)