The air oil separator on the Benz can wear out and fail over time. Most of the time the gasket fails on the separator and starts leaking oil onto the head. If your separator is failing replacement is quick and easy.This article show a guide on how to replace Mercedes Benz air oil separator.
Applies to: C350 (2007-14), SLK350 (2004-14), CLS350 (2004-14), CLK350 (2005-14), E350 (2005-14), S350 (2005-14), SL350 (2005-14), R350 (2006-14), ML350 (2006-14), Viano (2005-14), Sprinter (2006-14), CLC350 (2008-14), GLK350 (2008-12)
Time: 1 hour
Tab: $15 to $45
Talent: 1
Tools: T10 Torx
Mercedes Benz Air Oil Separator Replacement:
First,you need to remove the engine cover and air intake ducts,for detail check this article I wrote before: How to Remove Benz C Class W204 Engine Cover
The air oil separator is located on the top front of the left valve cover (red arrow).The hose from the separator runs along beside the intake manifold and attaches to the top of the throttle body (yellow arrow).This hose gets dried out and brittle over time so when working with it use care.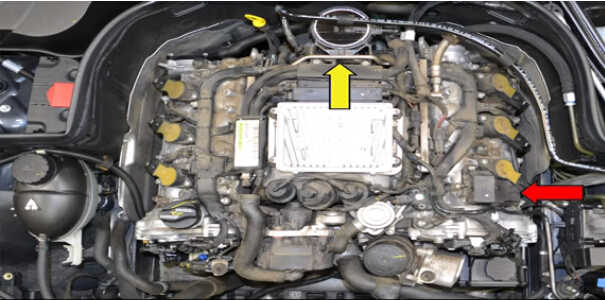 This photo illustrates the AOS (red arrow).Begine by using your hand and slipping the vacuum hose out from the mount on the side of the AOS (yellow arrow)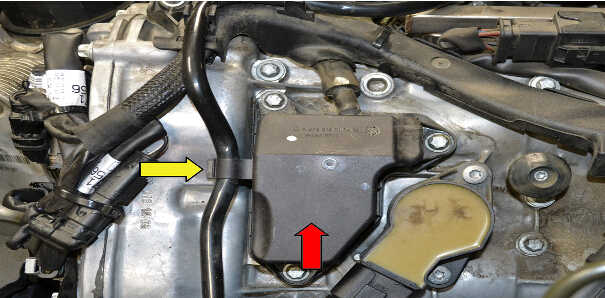 Next use an E10 Torx and remove the three bolts (red arrows)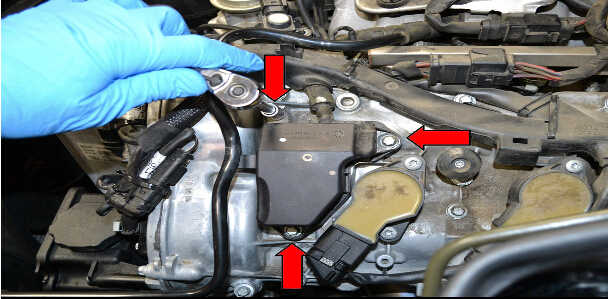 Pull the AOS off the valve cover and gently separate the hose from the top of the AOS (red arrow).These hoses get very old and brittle so use care.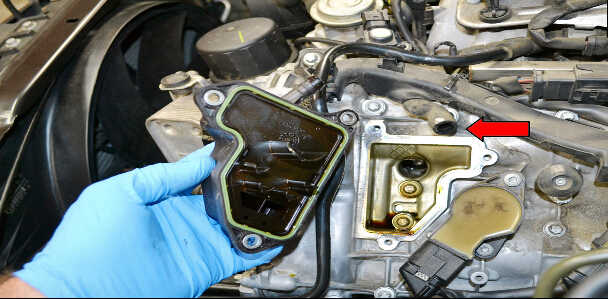 With the separator off there is a direct hole into the valve train so make sure you plug it right away with a cloth or paper towel.If something falls in there you will have to remove the valve cover to get it out.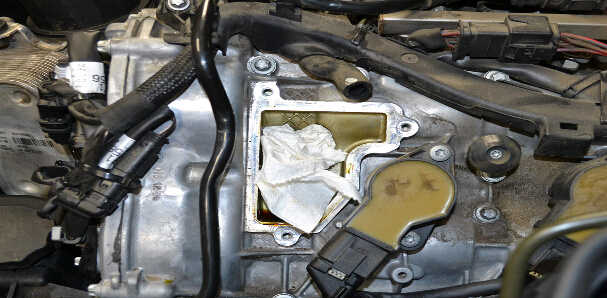 If you have removed the separator for any other reason than replacement and are reinstalling it make sure to replace the gasket (red arrow).Installation is the reverse of removal.
Note:At this time the gasket is not available individually;check for availability when ordering.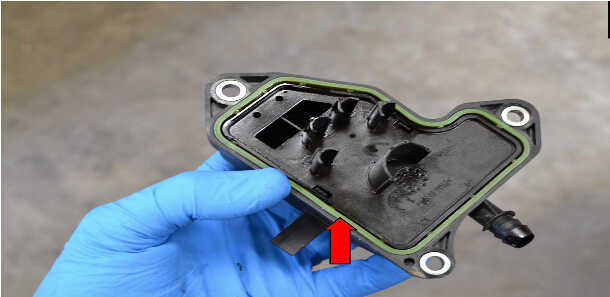 Done!
(Visited 404 times, 2 visits today)