In this article I will share guide on How to check and reset BMW E39 5 Series Airbag fault by BMW INPA diagnostic software.Hope this little article is helpful.
Tool you need for BMW E39 Airbay Resetting:
* A laptop installed with BMW INPA Software
You can download it at this article:BMW INPA Free Download
After download,follow this article to install:
How To Install BMW Ediabas/INPA On Win XP/Vista
* K+CAN run for BMW INPA
Procedures of Checking and resetting BMW E39 Airbag Fault:
1. Hook up the cable between the serial port and the car
2. Run "INPA (_.IPO)" from Start… Programs… EDIABAS INPA ELDI NCS NFS…
3. Select car model (e.g. F5 for E39 5 series)
4. Choose the area of the car you want to work on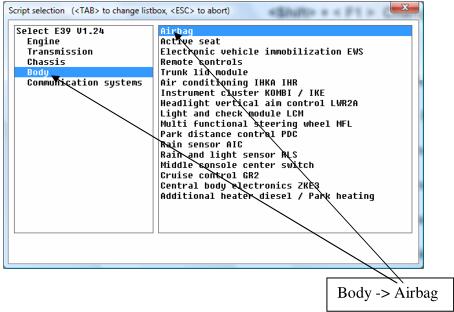 5. You'll now see the specific options for the airbag. E.g. F4 to view faults, F5 to clear faults
(not sure if it's actually F4 / F5 but you get the idea).
(Visited 18 times, 1 visits today)