What is Cummins PowerSpec?
Cummins PowerSpec is an electronic tool that makes it possible to tailor the operation of Cummins engines in every on-highway engine application.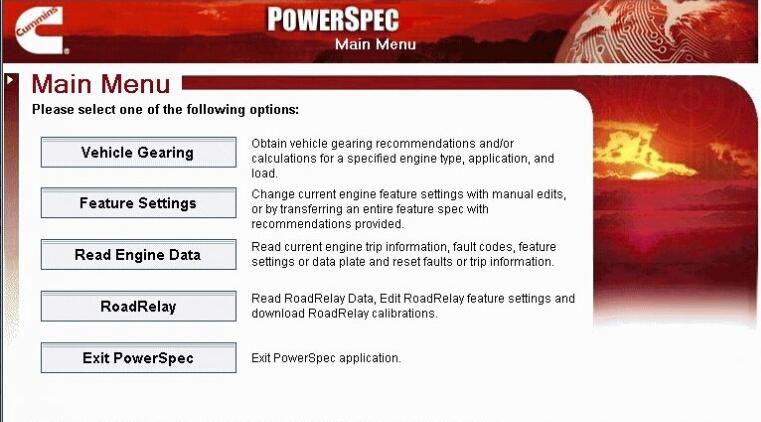 Cummins PowerSpec Functions:
Obtain vehicle gearing recommendations and/or calculation for a special engine type,application,and load.
Change current engine feature settings with manual edits,or by transferring an entire feature spec with recommendations provided.
Read current engine trip information,fault codes,feature settings or data plate and reset faults or trip information.
Read Road Relay Data,Edit Road Relay feature settings and download RoadRelay calibrations.
Cummins PowerSpec Support Installation Requirements:
– O.S.: Windows Vista, Windows 7, Windows 8, Windows 8.1
– CPU: Pentium/Athlon 2 GHz or higher
– RAM: 512 MB of system memory
– Hard Drive: 500 MB of available space
– Optical Drive: CD-ROM
– Required Hardware: INLINE 6 adapter cable
Cummins PowerSpec Support Models:
Support all Cummins 2013 On-Highway engine products (ISX15, ISX12, ISL9, and ISB6.7), 2010 engine products (ISX15, ISX12, ISL9, ISC8.3 and ISB6.7), 2007 products (ISX, ISM, ISL, ISC, ISB), some of the Natural Gas products (ISL G and ISX12 G) and earlier products. Features include a gearing calculator, complete descriptions of electronic features, instructions on how to optimize parameter settings, and access to trip information and fault code data. It also supports fault codes and trip information on Euro 3/4.5/5, ISBe, N14+ and M11+ CELECT Plus engines.
Cummins PowerSpec Free Download
http://nitroflare.com/view/10DD8263FFBDA00/Cummins.PowerSpec.6.1.1.0.Plus.Activator.part1.rar
http://nitroflare.com/view/FA83F9C503957EA/Cummins.PowerSpec.6.1.1.0.Plus.Activator.part2.rar
(Visited 146 times, 1 visits today)